No doubt that surviving and thriving in the dropshipping world is really a tough thing to look forward to. Since, paid ads across social media platforms like Facebook, Instagram, and TikTok are considered the founding pillars of the dropshipping business; keeping an eye on your competitors' ads can help in making better promotional strategies while hunting for some trendy products as well.
One such ad spying tool that can work on TikTok ads is PiPiADS, and in this PiPiADS review, we'll be covering all the important aspects of this TikTok ads spying tool. PiPiADS is one of those Premium TikTok ad spy tools that has the biggest database of TikTok Ads. With its unmatched data collection capabilities and a bunch of filters, it becomes much easier to start your first TikTok Ad campaigns by just checking out top winners' ads and replicating them in a few clicks.
In addition to that, I'll also be covering some ways that can help you get the highest discount on PiPiADS, on the other hand, you can also get yourself a $1 PiPiADS trial which is available on the Starter and VIP Plan.
So, without any further adieu let's get started with this PiPiADS review and have a better look into the tools and everything else offered by this TikTok ads spy tool.
BONUS: Get up to 50% discount using our special PiPiADS Coupon Code.
Let's take a closer look at this Tiktok ads spy tool:
Exclusive PiPiADS Discount Coupon (🔥Flat 30% + 20% OFF)
If you are just looking to try out this TikTok ads spy tool and save money on its subscription, Then here we have very exclusive PiPiADS promo codes that let you save maximum bucks.
What is PiPiADS? Detailed PiPiADS Review for Media Buyers
PiPiADS is one of the world's leading TikTok Ads collection platform. Finding the right TikTok ad for your business is easy with this tool. It is an advertising spy tool that may be used to monitor a TikTok account. You can use the app to find ads by using various filters.
Its Ads filters include the primary keywords, location, eCommerce platform, and action buttons. If you know the exact name of the product you're looking for, you can enter its URL directly into the search box.
You can review and analyze TikTok ads in various different ways. It offers inspirational ads from various social media sites, selections for reference, Etsy, and Shopify stores. It lets you come up with creative ad campaigns. It allows you to keep track of the latest marketing strategies of your competition. PiPiADS makes sure that you're always one step ahead.
Find winning products for.
Monitor your competitors' ad campaigns.
Find out which niches would be best suited for your dropshipping business.
Analyzing ads that are performing well across different demographics
What can PiPiADS do for you?
Gone are the days when affiliate marketers and drop shippers just used to advertise on Facebook and Instagram.
It's time to expand your reach to TikTok and Snapchat, Well, dropshippers and content creators have been using TikTok to get along with the possible outcome.
From a dropshipper/marketers perspective, just imagine you have two options, either to burn your money in new ad campaigns where you do not know the target audience or demographics. Or the other option where you have a complete analysis of which TikTok ads and products are performing well in the best aspect possible.
No doubt that preferring the second option is a much better option to move ahead with, where you have thorough research being performed on what are the popular ads and products that are performing under certain demographics, and other parameters like ad cost, etc.
Here are some of the primary use cases of using PiPiADS for your dropshipping operations:
Find out which products sell well: Find out which products sell well through ads and check their popularity using ad data. Discover hot-selling products from advertising videos and verify hot items by ad data.
Monitor and study multiple ad strategies: Find out your competitors' ad strategies by analyzing their ads through metrics such as views, likes, shares, and more. Check detailed ads of competitors with in-depth analysis using a vast variety of filters.
Gain access to quality advertising materials: You can get tons of ideas for ads from their extensive library and stay up to date on the latest trends in advertising. You may also download ad resources, videos, and other data needed to quickly run a similar type of ad in seconds.
Material Inspiration: One of the other upsides of having an ad spying tool for TikTok is getting along with better ad materials, and this basically includes getting along with ads that are doing well over the platform, as PiPiADS can help you in getting along with Ads Videos that can fill you up with some ad creativity and inspiration for your dropshipping or marketing campaigns.
Discover the most popular items using TikTok ads: It contains a lot of TikTok advertisements for e-commerce, brand marketing, and game apps.
With its comprehensive advertising platform, intelligent filtering system, and easy-to-find product recommendation feature, PiPiADS makes finding relevant products to sell easier than ever before.
Track your competitors: You can now master the advertising strategy, sell direction, and hot-selling items of your competition, and then quickly follow in their footsteps to achieve fast profits. PiPiADS contains the most comprehensive competitor analysis available anywhere.
Another filter section that PiPiADS offers is for the Period. This filter basically includes First seen- Last seen, what you want to exclude in the search, and the section for not selecting/viewing the ads you already saw. In simple words, these different filtration options can let you get along with the searchable ads on TikTok as you need.
Use Competitor's Ads to expand yourself in dropshipping:
Well, one of the major factors that make dropshipping and ad campaign spying even better is its downloadable option, as you can explore using the downloaded ads for making strategies using the plans and everything, and just as a friendly reminder, beware of any copyrights and using someone else's video TikTok for your own use. If I talk about an honest opinion, I would recommend using your own videos. Still, downloadable ads can work as a bypass for making better strategies and using PiPiADS for ad analysis.
PiPiADS Key Features
PiPiADS is the largest searchable database of TikTok ads in the world. It powers to monitor international short-form video ads and products. Currently, in the ad spy industry, there is no other TikTok Ad Spy tool. I can say this is the first and most efficient ads spy tool for TikTok that gives more comprehensive results. You can search ads by Advertiser name. Landing page URL, keywords, and ad textual content.
Its top categories are Ecommerce, Game, App, Dropship, and brand. There are dozens of powerful filters available like Checking Branded ads or NON Branded ads, searching ads by com platforms like WooCommerce, Shopify, Magento, Wix, BigCommerce, and more., You can also search ads by landing page or without a landing page. Let's check out some of its eye-opening features.
Find Best-Selling Products
PIPiADS, the biggest TikTok ad database, is the best place to look for TikTok ads. It lets you search for hot products online using video ads. They're also used for advertising new products.
PIPiADS offers a wide range of TikTok ad types that can be used for brand awareness, e-commerce, and submission purposes.
You may want this tool if you're starting an online business. Through this global TikTok database, you can see all of the promotions offered by your competition. You'll also find a wide array of the latest and greatest ads for brand exposure, app development, and eCommerce sales. Its global database contains intellectual filtering and broad-reaching advertising purposes. More than anything else, you can also find incredibly useful information about ads, including their dates, impressions, and popularity.
Furthermore, they offer an organized approach to ad testing by providing methods for investigating ads and target groups, as well as additional ad planning for landing pages, costs, and so forth.
Spying Competitors' Ads
PIPiADS is also capable of providing this awesome feature. It lets you compare the ad data of your competitors. To learn the ad policies of your competition so you can better plan your own marketing strategy.
You can view the number of views, likes, and ads for each competitor. Learning the sales methods used by your competition is always interesting. It lets you easily track the creation and execution of ads so they can be improved for greater profits. You can also track competitors' ads and check out their highest performing ads and what strategies they used, where you get a copy that was written for their ads.
Along with this, you can also see what they are doing good and their lapse, which you can improve upon in your ad campaign. You also get to see a more comprehensive approach in the analytics section, where you get to see the views, likes, and percentage performance along with the duration of ads. Not only this, but you can also view their scheduled upcoming ads as well. You can use this tool to keep an eye out for your competition's upcoming ad campaigns.
Access to High-Quality Ad Content
With PIPiADS, one of the world's biggest searchable databases for TikTok ads, you can easily find lots of high-quality content inspiration and ad copy. With this amazing new feature, you'll be able to keep up with the latest market trends that might impact your business. PiPiADS offers quality ad material that can help you run your TikTok Ads more effectively.
Moreover, this ad material keeps on getting updated according to the latest trends and information regarding PiPiADS or your sales. This ad material can help you to navigate your path toward discovering profitable niches that can boost your revenue. Regardless of your niche, PIPiADS will help you find it! It can help you identify profitable niches.
PPSPY Shopify Spy Chrome Extension
One of the critical aspects of the PiPiADS tool is that it is not only for TikTok ads but for an entire dropshipping business. PiPiADS does come with an exclusive Shopify spy tool for business owners. With this feature, you can do a complete analysis of your store, like its theme, operations, best-selling products store, newly added products, and also the social channels it operates on.
Plus, you can also monitor sales as they are made. You just have to keep your sales page open for this. The Shopify spy tools will also help you to sneak into your competitor's stores and also grant you hidden access to the tools and apps that your competitors have used to boost their revenue.
The Etsy product feature offered in PiPiADS is no longer available but you can get along with another tool named Etsyshop.ai which was showcased on PiPiADS' official website. I have added a complete section for Etsyshop.ai below.
Find Best TikTok Ads & Products with Etsyshop.ai
What if you are not a dropshipper who has his own website, but sells on Etsy, Etsyshop.ai is going to be the perfect companion for you. Etsyshop.ai has been helping Etsy sellers in different aspects including Etsy keyword research, product research, shop analysis, and much more.
Etsyshop.ai is an AI-powered Etsy keyword research and product research tool that can help make things better for your business operations. Certainly, there is a series of tools offered by Etsyshop.ai including:
Product Research
Store Research
Top Store
Etsy for TikTok
Well, these features can be extended to a great level in terms of Etsy's selling operation. What makes everything better is the Etsyshop.ai free trial, i.e. you can get along with the free trial which offers around 200 free credits redeemable for all the features offered by Etsyshop.ai.
There are basically 3 different plans offered by Etsyshop.ai for almost every type of Etsyshop.ai:
Starter Plan: The plan starts at a cost of $9.9 per month and can be availed at a 30% discount if opted for the annual plan, making it around $7/month.
Advanced Plan: The advanced plan is suitable for intermediate-level Etsy sellers, The plan costs around $49/month and can be available for $34/month if opted for the annual plan.
Unlimited Plan: The unlimited plan can be of great value for users who have quite extensive usage in terms of Etsy SEO, keyword research, product research, and everything else. The plan costs around $99/month and is available for $69/month if you opt for the annual plan.
---
How to Use PiPiADS?
So in this section, we will see how you can use PiPiADS and how to get started with it.
Step 1: Signup for the Platform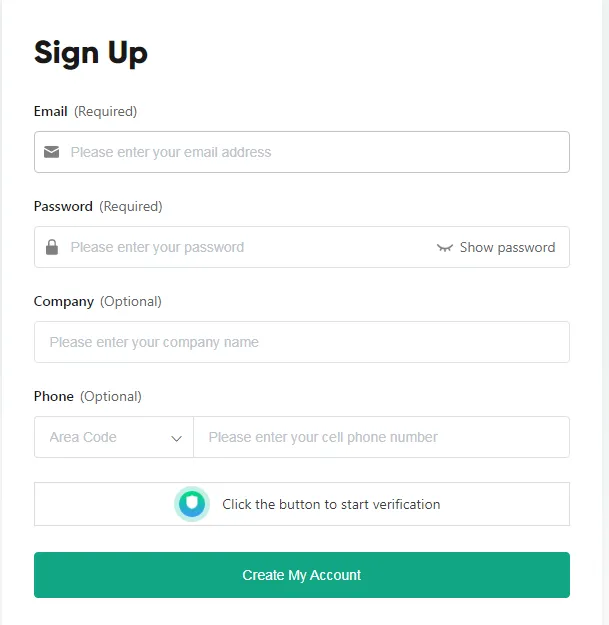 The first & foremost thing is to Sign up for PiPiADS. You can choose the free trial option, or you can move ahead with any of the pricing plans. The pricing plans will be discussed later in this article. After you have signed up, you will see various icons that are arranged on top of the page.
Step 2: Researching the Ads
PiPiADS have 2 main types of searches available. One is the TikTok Ad search, and another is the Product Search. Under the TikTok Ad search, you can find that you are brought across a display of products that have high performance on TikTok.
Further, you can search by Ad keyword, Ad Text, Advertiser Name and Landing Page. To narrow down your search, you get filters like E-commerce, Games, App, Dropship and Brand. You also get other filters like the Basic ones where you can filter by Country/Region, CTA button, Ecom Platform, Ad types and Landing Page. You can also filter by data where you get filters like Ad Impression, Total likes, Popularity, Days, and Like rate.
Step 3: Searching Ads for Desired Products
So if you use Shopify, you have to determine which products to run ads on; you then go the AliExpress to search for the products. After that, you look for a supplier on AliExpress. And then, you copy the product description and head towards uploading it to your dropshipping website. After that, you start running the ads on TikTok.
And here as well, PiPiADS does offer a Chrome extension Shopify tool. With this tool, you can check out products that are currently selling, like live sales. You can also check how many quantities of different products are being sold per time.
Tips for Selecting the Best Tiktok Ads on PiPiADS
1. It is critical to see that while you select products on which you want to run ads, you should avoid the products that are oversaturated in the market, i.e., the products that many people are selling.
2. Also, we would recommend you for those products that are slightly undersaturated but have a high record of sales. 
3. And, of course, we also recommend you to go for PiPiADS Free Trial before you decide to upgrade your plan. This will help you to know more about the tool and its usage. 
Estimated Cost: 1 USD
PiPiADS Pricing Plans
PiPiADS has got 5 different pricing plans including the free and enterprise plan as well. These PiPiADS plans are tailored in such a manner that they can fulfill all the needs of different segments of the user base; whether you are dropshippers, digital marketers, or business owners, PiPiADS has got a tailored plan for you.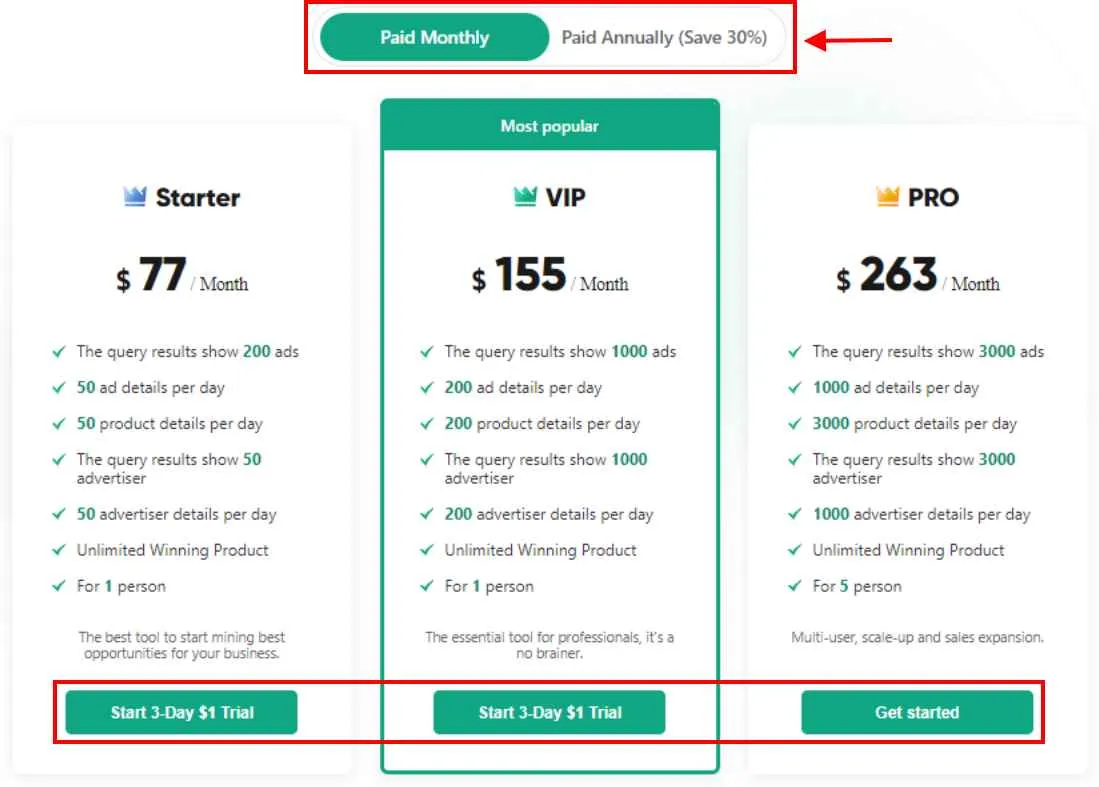 PiPiADS Free Plan
PiPiADS free plan is not only limited to any specific time period, i.e. it is a free forever plan. Since everything has got its pros and cons, this free forever plan has got limited features and most of them are pretty basic. On the brighter side, this free plan can be an excellent way to get known to the user interface offered by PiPiADS. It is worth mentioning that the PiPiADS free plan does not give access to top products, new products, and top stores.
PiPiADS Starter Plan
As the name suggests, the starter plan is best suitable for businesses, dropshippers, and social media influencers that have very limited use of the PiPiADS. The starter plan starts at a cost of $77/month and can be reduced to around $61 per month by using the coupon code "BLOGE20", and can be reduced to an even more extent if you opt for an annual pricing plan. Well, I would highly recommend you get along with the annual plan along with our exclusive coupon code being used so that you can redeem the highest discount on PiPiADS plans.
If we consider the brief around the features that are offered under the Starter Plan, you can access up to 50 ad details per day and 50 advertiser details per day, providing you with an extensive source of information to analyze and strategize. You can also run up to 200 ads per query and search for 50 advertisers per query, giving you a broad spectrum of options to choose from. The plan also offers unlimited access to winning products, with the ability to delve into 50 product details daily
PiPiADS VIP Plan
The VIP plan by PiPiADS can be considered as one of the most popular plans offered by PiPiADS. This plan is most suitable for users that have a moderate use of competitor ads analysis, the dropshippers and marketers can take complete leverage of PiPiADS. The VIP plan costs around $155/month and gives access to all the features which were offered in the Starter plan, in addition to that, you can also get along with the $1 PiPiADS trial to explore the premium features offered by PiPiADS under the VIP Plan.

Now, if we look at the features offered by PiPiADS VIP Plan, this plan offers an impressive 2000 ads per query and 200 ad details per day, providing a comprehensive view of the advertising landscape. It also includes 200 product details per day and the ability to query up to 1000 advertisers, with 200 advertiser details per day.
PiPiADS Pro Plan
The PiPiADS Pro plan is the highest tier plan offered by PiPiADS, the plan is best suitable for moderate to large-scale dropshippers and marketing agencies as well. As this plan is specifically tailored by keeping the teams and agencies in mind. The PiPiADS Pro plan costs around $263/month and gives access to all the features that are offered by PiPiADS.
Considering the features and tools, the PiPiADS Pro plan allows you to run up to 5000 ads per query and access 1000 ad details per day, offering an extensive overview of the advertising market. It also provides 1000 product details per day and the ability to query up to 3000 advertisers, with 1000 advertiser details per day.
Similar to all the plans, you can get yourself up to 50% discount on PiPiADS pro plan, in order to get this much amount of savings, it is highly recommended to get started with annual billing if possible so that you could get 30%, now by applying our exclusive PiPiADS coupon code "BLOGE20" you will be able to get an additional 20% discount on PiPiADS, making it a whopping discount of $1422 on PiPiADS Pro Plan.
PiPiADS Enterprise Plan
This plan includes all the features of the VIP and Pro plans. But the pricing of this plan is not mentioned as it is a fully customized plan which you can make according to your dropshipping business.
FREE
Try PiPiADS for $1 Only
Get started with PiPiADS 3 day free trial for just $1 only.
Get started with PiPiADS 3 day free trial for just $1 only.
Show Less
PiPiADS support for users
PiPiADS does offer decent customer support where you get a Support page. You also get help via Whatsapp and Skype. The support page is helpful enough can you can access it quite easily. The support team is also very much active on both Whatsapp and Skype, by which you can contact them quickly. You can also contact them by email at [email protected].
We can say that the customer support offered by PiPiADS is decent enough to solve your queries.
PiPiADS Alternatives Worth Trying in 2023
PiPiADS is the leader in TikTok ads spy and competitive intelligence on the global video advertising platform, hence there is no other tool offering the same exclusive features. PiPiADS is built just for TikTok and it's a standalone TikTok advertising intelligence tool. However, there is also Another Ad spy tool: BigSpy that offers Tiktok ad spy in its bundled plan.
🆚 BigSpy Vs. PiPiADS
It's an ads spy tool. With 1 billion data points and 1 million updates per day, Covering nine major ad platforms, including Facebook, YouTube, Instagram, etc., It can be considered as a closed alternative to PiPiADS for TikTok. However, since TikTok is just a part of BigSpy and it's not fully meant for TikTok. Whereas if you are someone who is looking forward to getting along with ad campaigns and marketing across different social platforms, Bigspy can be one of the best options that are available to you.

With BigSpy, one can find your next potential ad in seconds with our proprietary search engine, filter by ad type and format, target countries, industry type, and CTA. Explore trends and benchmarks to find the top-performing ads.
Also read: BigSpy Review + 30% OFF Lifetime Discount(#1 Ads Spy Tool)
🆚 PiPiADS Vs. AdSpy
AdSpy, as the name implies, is another Ad spy tool that helps you track your ads and also that of your competitors on various social media platforms. Most of the features are the same as that of PiPiADS, except that AdSpy also covers other social media platforms like Facebook and Instagram ads. It does not feature TikTok ads; therefore, you have to only run ads on TikTok; AdSpy cannot be recommended for your usage.
AdSpy also offers a free trial, and its pricing plans begin from $149/month. Also, it does not come with a sales consultant unless you subscribe to the highest plan.
🆚 PiPiADS Vs SimplyTrend
SimplyTrends is basically a different tool compared to what is offered by PiPiADS, AdSpy, and BigSpy. SimplyTrend is a completely different tool that works on running analysis and collecting insights on Shopify stores.
Some of the key insights that one could get on SimplyTrend include revenue, sales, ads, traffic, apps, products, etc. Well, you can try SimplyTrend for free without any credit card details required, in addition to that, SimplyTrend also offers a Chrome extension that can be used to run a good analysis over Shopify stores.
Also read: AdSpy Review: $150+ $75 OFF Coupon [Best FB Ads Spy Tool]
TikTok Sales Trends in 2023
TikTok, the wildly successful social media platform which has become one of the most-watched apps in the US, has partnered with an advertising technology company called Sense360 to create new tools for marketers. TikTok is an online platform where people share short videos. They allow viewers to leave comments on these videos.
With its growing popularity among more people than ever before, the business has become extremely large and is now valued at hundreds of millions of dollars. It's good news for investors, but it also means that TikTok will be profitable. TikTok has recently started offering advertising opportunities to thousands of media buyers and advertisers. All of these reasons have led to the creation of PiPiADS.
PiPiADS Case Study: Dropshipper's Success with TikTok Ad Analysis
PiPiADS is a TikTok Ads spy tool that helps dropshippers and e-commerce businesses find winning products, analyze successful ad campaigns, and improve their advertising strategies on TikTok. In this case study, we will explore how a dropshipper used PiPiADS to achieve better outcomes in their TikTok ad analysis.
Background
The dropshipper in question managed a Shopify store and was able to generate $570k in just 5 days through TikTok ads alone. They partnered with Ben Harvey, who had a 50/50 stake in the business. The success of their store can be attributed to their product selection process, ad creation, and store-building strategies.
Using PiPiADS for Product Selection and Ad Analysis
The dropshipper utilized PiPiADS to find winning products on TikTok, which helped them identify a product with a passionate audience and no competitors. The product was attached to a short-lived but large trend on TikTok, making it popular among customers. It was easy to source, low ticket, and had a high margin.
PiPiADS provided the dropshipper with access to a vast library of TikTok ads, allowing them to analyze successful campaigns and learn from their competitors. They were able to find the best ad-targeting audience on TikTok and gain insights into how other advertisers were running their ads.
Implementing Best Practices for TikTok Ads
The dropshipper followed best practices for creating TikTok ads, such as using diverse creatives in the beginning stages and avoiding bulk adding similar creatives to one ad group. They also leveraged Automated Creative Optimization (ACO) to identify winning creatives and save time in the optimization process.
Using PiPiADS and following best practices for TikTok ads, the dropshipper was able to achieve impressive results in a short period. Their success demonstrates the potential of using a TikTok Ads spy tool like PiPiADS to improve ad analysis and drive better outcomes for e-commerce businesses.
How to Use TikTok to Find Winning Dropshipping Products?
In the current scenario, dropshippers rely strongly on social media platforms to get the best results on their dropshipping operations. And TikTok is one of those platforms that has got really a great user base with quite an engaging marketing strategy.
Since the platform has a huge user base, it provides an opportunity for small businesses to advertise their products and compete with bigger brands. The learning curve of this app is very easy to move along with. You just need creativity and social media marketing knowledge.
Well, basically tools like PiPiADS offer good research and competitive ad analysis across the much-needed parameters. Some of the key aspects covered by these types of tools include advertiser research, product hunting, and even using Shopify store inspection tools like PPSPY.
Using PPSPY you can use the complete analysis across things like live sales, best-selling products, the theme used by that Shopify store, the Facebook pixel ID, and much more. From my perspective having a complete analysis of the live sales alone can deliver some great insights to make your website a complete dropshipping solution for the users
Top FAQs on PiPiADS
🙄 What is PiPiADS?
PiPiADS is the leading TikTok ads spy tool that provides the largest searchable database of TikTok ads. The unparalleled array of data helps users to find ads campaigns, products, strategies, and many more. You can quickly and easily identify what ads are worth your time.
💻 What kind of data does PiPiADS provide?
By using PiPiADS, the user can effortlessly discover hot-selling products from advertising videos. The tool also helps you to see your competitor's ads strategies that you can use to build a winning ad campaign. You will also get access to various material inspirations, ad copy, etc.
🥈 Can I track my competitor's ads strategies using PiPiADS?
PiPiADS is a powerful tool that can help you get all your competitors' information. Get the latest information on products and ads of your competitors and follow their ads to find more products and create more ads for your own business.
🚀 Can I try PiPiADS for free?
Yes, PiPiADS allows its new user to test its features for free. The user can easily sign up for PiPiADS free trial.
🔥 What's the highest discount available on PiPiADS?
Users can get around 50% discount on PiPiADS with verified coupon codes like "AFFCOUPON" and "BLOGE20". In order to get 50% savings on PiPiADS, it is recommended to opt for the annual plan and apply the coupon, this would activate the 50% discount on your selected PiPiADS plan.
🚀 What are the free tools offered by PiPiADS?
PiPiADS offers a whole set of features when it comes to free tools, this includes dropshipping traffic calculator, CPA calculator, TikTok Ad cost calculator, profit calculator, profit calculator, and profit margin calculator. You can also get along with around 4 to 5 different types of policy generators including the privacy policy, refund policy, etc.
❓ Why should I go for PiPiADS?
Navigating through the many TikTok ads is a difficult and time-consuming process. It's hard to find the ones that work best for your business. PiPiADS is designed to be a one-stop tool for all your searching needs in the world of TikTok ads. With PiPiADS, you can research and analyze the best TikTok ads so that you can find what works for you and what's not. You can even track your competitors' ads, products, and strategies and then use that information to get ahead in your business.
🤔 What are the best alternatives to PiPiADS?
If you are looking for the other best alternative to PiPiADS, then you can go for BigSpy. BigSpy is another best and most affordable ad spy tool that helps people to discover TikTok ads, Facebook ads, Google ads, etc.
😎 What are the benefits of using a TikTok ads spy tool?
Having a TikTok ads spy tool by your side can help in running an in-depth competitive ad analysis across different advertisers, best-performing ads, and advertisers running ads on TikTok. In addition to that, you can have an analysis around the competitor's ad data which can be used to make your dropshipping strategies accordingly.
❓ How to upgrade the PiPiADS subscription plan?
In order to upgrade your PiPiADS subscription, you have to simply click on the current membership plan. There you will see an "upgrade" icon that you can click on. It will display the other membership plan, which you can click and upgrade as you desire. If you decide to upgrade your subscription before the expiration of the current plan, rest assured that you will not lose out on time left in the previous plan. The remaining days or months left will be added to the duration of the new plan.
🙄 Can you cancel PiPiAds subscription if you don't like it?
Of course, you can. But you can only cancel a subscription when the current one expires. You will receive a notification email as you head close to 7 days to your renewal date. Then you can decide whether you need to renew it or cancel it. This also means that once you have subscribed to the plan, there is also no refund.
Conclusion: PiPiADS Review 2023
PiPiADS is undoubtedly an excellent TikTok ad spying tool overall, whether it is for product research, advertiser analysis, or keeping an eye over your competitor's Shopify store, PiPiADS does it all. Since PiPiADS is not only limited to a single segment of dropshipping, it can be of great value to new dropshippers as well as advanced-level dropshippers.
A few additional features and tools like PPSPY turned out to be an excellent things from dropshipping perspective. The insights on live sales, best-selling products, and new product listings turned out to be one of those favorite features offered by PPSPY. You can also analyze the theme used by competitor Shopify store using PPSPY; a complete Shopify inspection tool.
As a friendly suggestion, I would recommend getting along with the $1 trial if you are not sure whether PiPiADS is the right choice for your dropshipping business operations. Once you are pretty much sure about PiPiADS being your TikTok ads spy companion, you can look forward to using our exclusive PiPiADS coupon code "BLOGE20" to get an extra 20% discount on PiPiADS.
To be successful as an entrepreneur, choose wisely when making decisions for your business. If you want a greater ROI from your ads for your dropshipping business, PiPiADS might be the perfect tool for you.🤞🤞
PiPiAdS Review: The Best TikTok Ad Spy Tool to Make $$$
Search the world's largest database of TikTok ads with PiPiADS. The unparalleled data set allows you to see what's trending and find the best ads to help you stand out from the pack. With PiPiADS, the user can quickly search & watch TikTok ads within seconds. Join millions of other users who are using PiPiADS to find their next great campaign.🚀
Pros
The largest searchable database of TikTok ads.
Provide a free trial to the new user.
Comprehensive ad search function & filtering.
Extremely informative ad data.
Cons
Little pricey
No Affiliate marketing ads
PiPiADS – #1 TikTok Ads Spy Tool
Get started with PiPiADS for free & seize every advertising trend opportunity. 
Quick Links: