Readymade content you can post instantly? Get original content from the top wellness professionals and life coaches in the world? Affordable content-rich PLR platform?
PLR.me is a PLR platform that is as old as the industry itself. They have been providing high-quality original content to their users since 2008.
They have maintained their position in the market over these 13 years because of the sheer utility you get from their marketing materials available at very affordable rates.
Their content library is constantly updated to provide courses, coaching tools, and other quality PLR content for health and wellness professionals. Another reason they are ahead of the curve is that instead of creating a product or membership-based model, PLR.me is a complete solution that offers both, which is rare among content marketing tools.
Many such decisions set them apart from others, and one can see that is why they came to be associated with some of the biggest brands in the business like Toronto Street and Entrepreneur 100.
Find out everything you need to know about PLR.me to help you decide to join their fantastic platform in our detailed ✅PLR.me Review.
---
In-Depth PLR.me Review | Content Categories Offered by PLR.me
The platform's content providers mainly focus on providing action guides, slide decks presentations, and other PLR content in the health and wellness niche. Users in these niches can generally get help with any type of content they want as their catalog is constantly expanding. Their PLR materials are mostly centered around the following topics:
Self-Care, Self-Esteem, and Confidence
Anxiety and Panic Attacks
Depressions
Business & Marketing
Job & Career
Safety & Health
Money Management
Dating and Relationships
Motivational
Self-Improvement
Stress Management
Weight Loss
Life Coaching PLR content
This is a very brief list of some of the popular topics on which they provide PLR products. Their actual content library is very massive. A big chunk of the users who use these platforms are digital marketers; most of them focus on providing PLR materials around digital marketing and its associated industries.
We were happy to know that in addition to giving those PLR products, they also provide materials that can benefit many different sets of users. Despite maintaining one of the most extensive databases of PLR content, the focus on prioritizing quality over quantity is very apparent and dramatically enhances the user experience.
---
How Does PLR.me Work?
Most PLR providers either create membership-based plans or offer their services as a pay-as-you-go product store.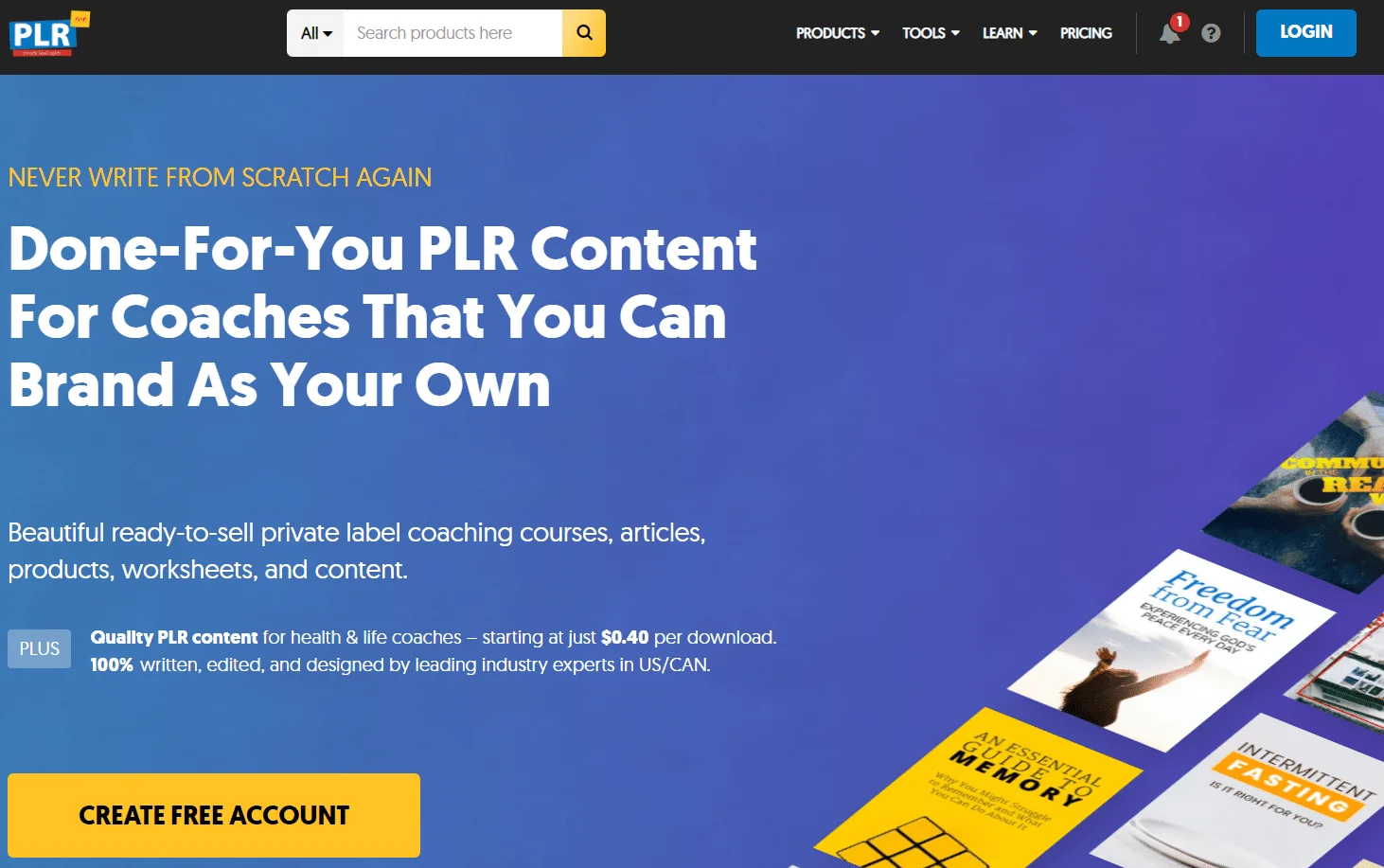 With PLR.me, you can access their content library and buy quality content as a one-off purchase, or you can choose one of their monthly or annual plan(s) to save yourself a lot of money if you plan on downloading a lot of brandable content from them. Their pricing plans are highly affordable, but you can use their credit system if you do not choose to use them. Then you will have to purchase extra credits every time you want to make a purchase.
---
Benefits of PLR.me Membership | PLR.me Review
The primary purpose of the tool is to provide you with content. The content is purchased from them using credits, and having a membership entails a lot of benefits in their credit system. You do not have to worry about your unused credits as they do not expire as long as you remain a member. The additional credits you might require are also offered to you at a cheaper rate. You get up to 90% off on the credits than if you were using the platform in a pay-as-you-go model. These cheaper credits save you a significant amount of money in the credit per product system.
The Facebook group allows you to network with the top professionals in similar verticals as you. Their support team is also very active on the Facebook group, so you have a direct real-time channel with them 24×7.
Exclusive Content Marketing Tools:
The PLR.me platform comes with 13 web-based tools and plugins, which exclusively become available to you at no extra cost if you become a member.
Complete Private Label License:
The source file downloads you make from PLR.me are completely editable documents. You can edit them according to your brand image and use them as branded content, use it to complete your blog post, or resell it again to someone else.
Even if you close your membership, you will continue to hold the rights to the quality material you purchased from them
---
What are the Types of Content You Can Get from PLR.me?
It should be noted that PLR.me does not focus on individual credit per product sales. They mainly offer attractive product bundles. Their total number of available quality materials amounts to nearly 14,000 (13,982 to be exact). Any of these content can quickly fulfill your need for fresh content and give you a headstart on whatever project you're working on.
This massive database covers many different PLR product types, and we will be going over some of the most popular content types on their platform;
📝Articles & Blog Posts
If you check out the PLR.me store right now, you will find nearly over 5000 ready-to-use articles and blog posts in the categories we mentioned earlier. PLR.me ensures that all pieces are without any grammatical or technical errors. Most PLR sources offer low-quality content that has to be edited extensively to be of any use to anyone.
You might have to edit some content from PLR.me to avoid plagiarism and ensure a good SEO adherence but as for the overall quality of the content is to be considered, it is rather splendid. Despite being a private label rights provider, they only accept content from the best sources.
🎓Workshops, Coaching Programs, & Courses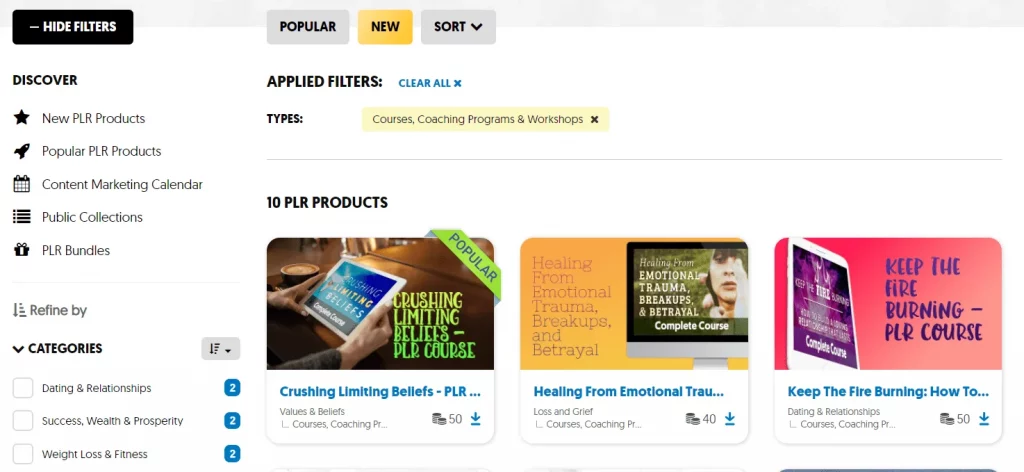 This is one of the most popular content types among PLR.me users. A wide range of topics is covered here with workshops, programs, and courses on everything from weight loss to wealth. We hope they will cover more categories in the content on offer, but the currently featured ones are still valuable to users.
With a simple rebranding with your particular kind of call-to-action branding, you can resell any of these courses as premium products with prices anywhere between $100-$300. These are primarily large product bundles that include a complete set of quizzes, checklists, lessons, affirmations, and handouts.
📚Action Guides, Lead Magnets, & Coaching Handouts
Like the other categories, you also get action guides of various lengths on a wide range of topics. Get engaging materials that contain actionable step-by-step directions which can be used to give rapid coaching lessons to your audience. 2-5 page products are visually appealing guides that can significantly boost your reach when given away for free.
💯Affirmation Reactions
Single sheet coaching resources are available on a PLR basis here. These generally contain a few paragraphs of informative text with some self-reflective questions included later.
📜Reports & eBooks
Most users of PLR platforms generally give up trying to get usable reports and eBooks as they are of unusable quality or too short.
PLR.me has quickly taken the lead in this regard by sourcing reports and e-books from only the best sources. A small preview is available for every book, so you can ensure you're getting what you pay for before you download.
💻Slide Deck Presentations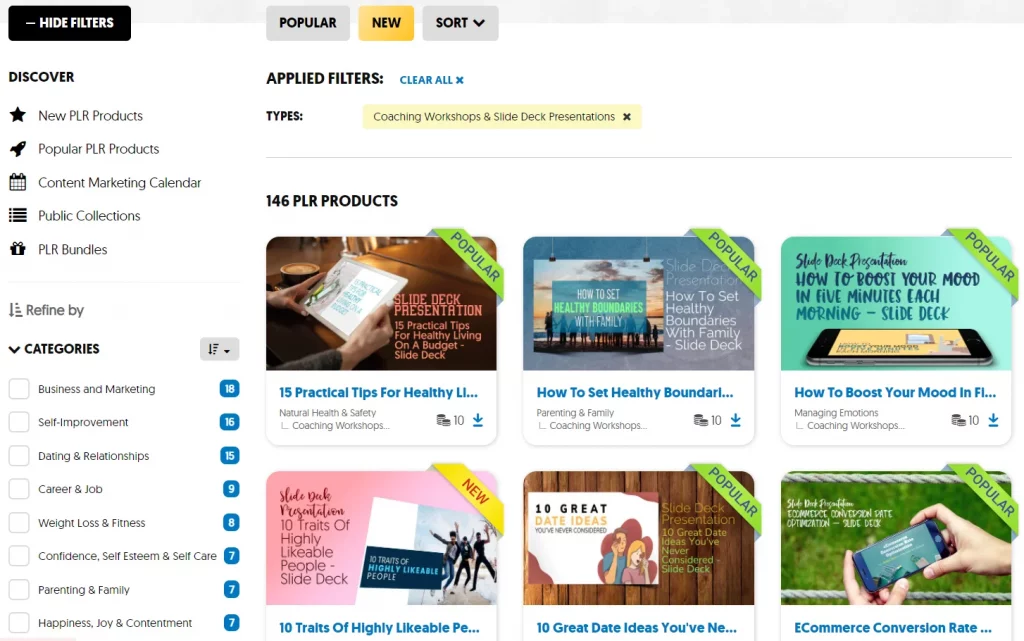 The good thing about these presentations as they include only a bare minimum amount of text in the slides.
This ensures that the presentations you download from PLR.me are focused on creating an impact than on being filled with text that does not hold the user's attention. Mostly 200 slide presentations in PPT format in every niche imaginable are available on the platform.
---
Tools Offered by PLR.me
A total of 13 exclusive in-house tools become available to you when you start an active subscription with them. We have shared some details on the tools that we enjoyed the most in our usage:
Content Auto Loader: PLR.me's Content Auto Loader tool is designed to help you schedule and load large sets of content for WordPress users.
PDF Brander: Add links, CTA, brand imagery, and customizations to your PDF files.
Coaching Email Templates: readymade email templates designed to be used by health & wellness professionals.
Image Brander: Add brand watermarks and logos on images.
Email Formatter: They offer a perfect email formatter that helps you optimize emails for mobile devices.
Virtual Fax Machine: Send and receive documents in a secure channel.
Product Showcase: Showcase relevant products by creating attractive grid-style images for your brandable products.
---
PLR.me Pricing Plans
The pricing plan which will serve you better is decided by how much quality PLR product you will be downloading from the platform.
As we mentioned earlier, you can download content as you please on a credits per product basis or get a subscription to PLR.me. Most people with regular and large-scale needs of special PLR products should purchase a subscription as the credits are significantly cheaper in the plan.
It should be noted that even though the plans are called monthly, or annual plans, the plan's duration is not really what they are charging you for here. They are changing you for the number of credits available in the plan.
So decide the plan you will buy based on the number of credits available in the plan, not the duration.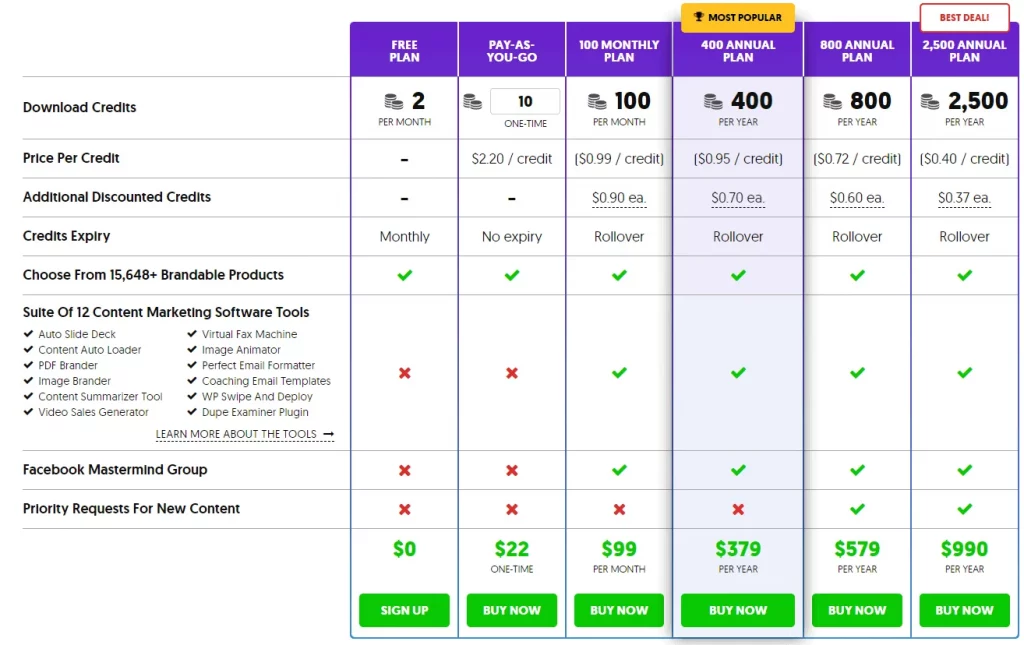 The pricing options are listed below:
Pay-as-you-go: $2.20 per credit (minimum purchase of $22, i.e., 10 credits)
Monthly Plan: $99 for 100 credits ($0.99 per credit)
Annual Plan (400 credits): $379 for 400 credits ($0.95 per credit)
Annual Plan (800 credits): $579 for 800 credits ($0.72 per credit)
Annual Plan (2500 credits): $999 for 2500 credits ($0.40 per credit)
The critical difference between the annual and monthly plans (other than credits being significantly cheaper in the Annual plan) is the duration until you remain a member of the platform. So the in-house tools and other member-only access parts of the tool are decided by your membership length.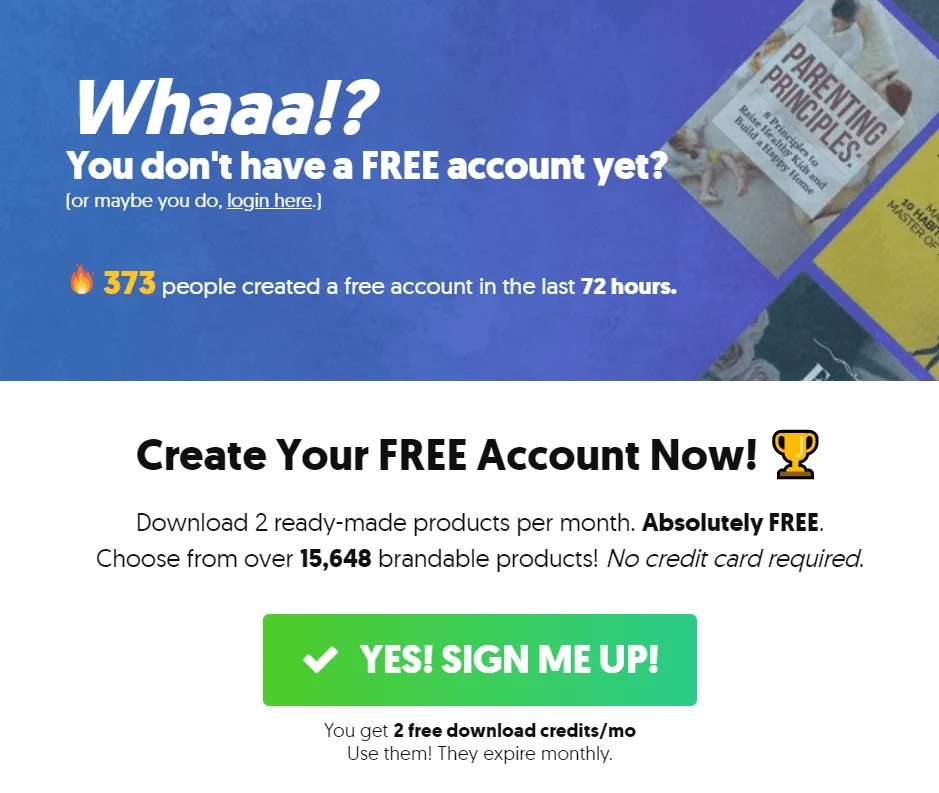 It is rather apparent that the annual plan provides a significantly higher amount of value than the monthly plan. If you're getting a subscription, we advise you to go with the yearly plan closest to your credit requirement.
---
🌟 PLR.me FAQ
🙄What is PLR.me?
PLR is an acronym for "private label rights," It is also referred to as brandable content, licensed content, or done-for-you content. PLR.me offers Private label content of high quality for health and life coaches.
🙄What differs PLR.me?
PLR.me is solely dedicated to health, self-help, and personal development content. Hires industry experts from the United States and Canada to create authoritative content for you.
🙄Can I use the PLR.me content in its entirety?
Yes, you most certainly can! When you buy a license to PLR.me content, you can brand, give away, or sell it under your name or business as if you created it. You can do this without having to pay any royalties or fees. It's as simple as that.
🔎How do I cancel my subscription to PLR.me?
You can cancel your subscription at any time. Go to your billing page and cancel yourself at any time.
🤔Is there a free trial available at PLR.me?
Yes, a 14-day free trial is available. You can cancel your subscription at any time. If the subscription isn't a good fit for you, we'll refund your money within 14 days of the original invoice date.
🤔Is it possible to request specific topics on PLR.me?
Without a doubt! Contact plr.me with your topics of interest, and they will gladly forward your request to our Content Creation Team.
---
Conclusion: PLR.me Review 2023 | Should you really go for it?
The content race is not ending anytime soon. To engage the attention of every user that you have, you need to provide them with content constantly. PLR as a concept was started as a result of the content race.
It would be safe to conclude on the fact that PLR.me is a high-quality provider of different types of content in all product categories. If you want to survive the content race then it is necessary that you take PLR.me to run alongside you.🙂
Affiliate Disclosure: This post may contain some affiliate links, which means we may receive a commission if you purchase something that we recommend at no additional cost for you (none whatsoever!)