Besides having good content and attractive on-screen offers, there are many other elements in digital marketing which help you to make quick revenue.
Here in this post, we will discuss the top 8 Pop-Under Ad Networks for affiliates and publishers. Pop-under ads are another significant component of online advertising which every webmaster must try.
What is Pop-Under, and how is it useful?
A variant on the pop-up window, the pop-under ad, opens a new browser window under the operating window.
Pop-unders do not intrude on the user directly but emerge on the screen when the user closes the casing window, making it difficult to guess which website generated them.
Some online marketers avoid the idea as they think that it will disturb the user and reduce the traffic for next time. But indeed, the pop-under ads have a high conversion rate when compared to other ad formats; reaching 300% plus a boost in ROI.
Role of Pop-Under Ad Networks for Publishers
Pop-Under Ad Networks work both for advertisers and publishers. Advertisers use these networks to promote their products and services, and the publisher uses this medium to make money from your site. There are many impressive pop-under ad networks in the market which offer reasonable rates and strikingly advanced features. Overall these pop-under ad networks are for both advertisers and publishers.
There are many impressive pop-under ad networks in the market which offer reasonable rates and strikingly advanced features. Overall these pop-under ad networks are for both advertisers and publishers.
These Ad networks offer fully-functional solutions to both the advertisers and publishers can always track down highly adaptive ad campaigns and advertisers get the wide-ranging audience extent. Pop-Under Ad Networks let you push highly converting traffic towards your website so that you can choose the highly accomplished ad campaigns.
You will get the actual exhaustive stats of your campaign along with far-reaching experienced support. So, let's get started without a well-searched list of the top 8 Pop-Under Ad Networks for Affiliates.
---
8 Pop-Under Ad Networks for Affiliates
Here is the updated list of best 8 Pop-under or popup Ad Networks for publishers which enables higher earnings and better optimization of Ads according to your website or blog's niche.
It is the smartest PopUp ad network for publishers and advertisers. Being of the oldest in the industry with maximum advertisers. Popads has highest CPM rates ion industry that pays from $5-$15 per 1000 views.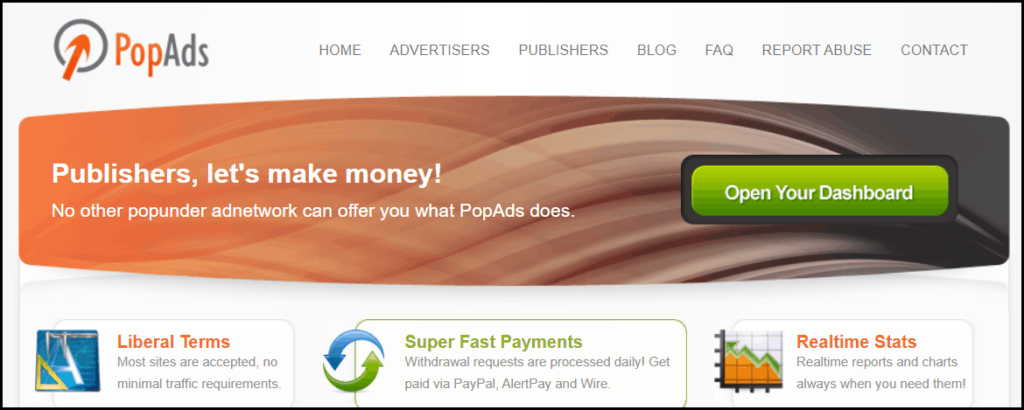 The company has advertisers from over 40 countries. The publisher can also control the rate and minimum bid price to get desired payouts. PopAds.net has been in limelight in almost every Digital marketing conferences and events all over the globe.
Features of PopAds for publishers:
Daily payments within 24 hours via PayPal, Wire, Check, etc..
Guaranteed Highest CPM rates in the industry
instant approval of sites
control your ad rates by setting a minimum bid
Superfast publisher support via Emails.
Code generator for easy placement and in-depth tutorial to placing popup code
Smart Ad delivery that deploys most relevant ads out of your niche.
10% referral earnings from other publishers referred.
If you are looking to monetize from popups and popunder, PopAds should be your first preference. Try PopAds now to maximize your online revenue without even altering your blog or website design.
---
Looking for a network with the performance-powered ad platform, then PropellerAds is the top choice for you as a publisher or an advertiser. It is designed explicitly for conversion-focused campaigns. You can reach billions of audiences with their extremely operational ad solutions.
It is an extensive and self-service advertising network offering wide-ranging and industry-leading ad-serving and gilt-edged technologies for online marketers and web publishers. They deliver 70k Ad campaigns monthly, 25 million tracked conversions monthly with 32k active advertisers.
It is a good option for the pop-under ad network as drives traffic to any vertical. Its ad networks give you full advantage of flawless integration through XML/RTB. Their profitable cover 100% of your web and mobile traffic with their cross-platform solutions.
Features of Propeller Ads Network:
A full controlled system with no frauds and lewd content
AdSense compatibility
Monetizes 100% traffic
AdBlock ByPass increase profits by 20%
Giant publisher community.
Weekly payouts on Thursdays.
CPA and CPL conversions.
Minimum payout is $5
Payments accepted thru PayPal, ePayments, WebMoney, Payoneer, Skrill, and Wire Transfer.
Propeller Ads is undoubtedly #1 Ad network which works on natives, popups, push, etc. The company strives to offer industry-leading payouts.
---
Adsterra is an exceptional advertising network providing over 25 billion geo-targeted ad impressions monthly. It links products and users with their smart advertising platform to build brand recognition universally, mend ROI, and grow ad revenue.
They have various ad formats for desktop and mobiles like display banners, popunders, direct links, pre-roll video, push notifications and interstitials. You gain access to 10000+ Direct Publishers with Adsterra. You just design, start, handle, and evaluate your advertising campaigns in a trouble-free and cost-effective way.
Features of AdSterra Network:
5% referral commission for every publisher or advertiser you refer
On-time payment with NET 15.
Preferred mode of payments –PayPal, Bitcoin, Wire Transfer, Paxum, WebMoney, ePayments
Payment model: CPM, CPA, CPC, CPL, CPO, CPI (PPI).
Conversion tracking and real-time stats.
24/7 customer support.
Adsterra offers the highest CPM rates with maximum security through its internal and third-party fraud detection systems.
---
RevenuHits is a self-service Ad Network platform for publishers. It is established, possessed and run by top ad technology corporation Intango.
RevenueHits is a powerful solution, promoting a smart set of rules intended to monetize your online property to the maximum. You gain access to the premium demand sources and give a boost to your income across all digitized platforms.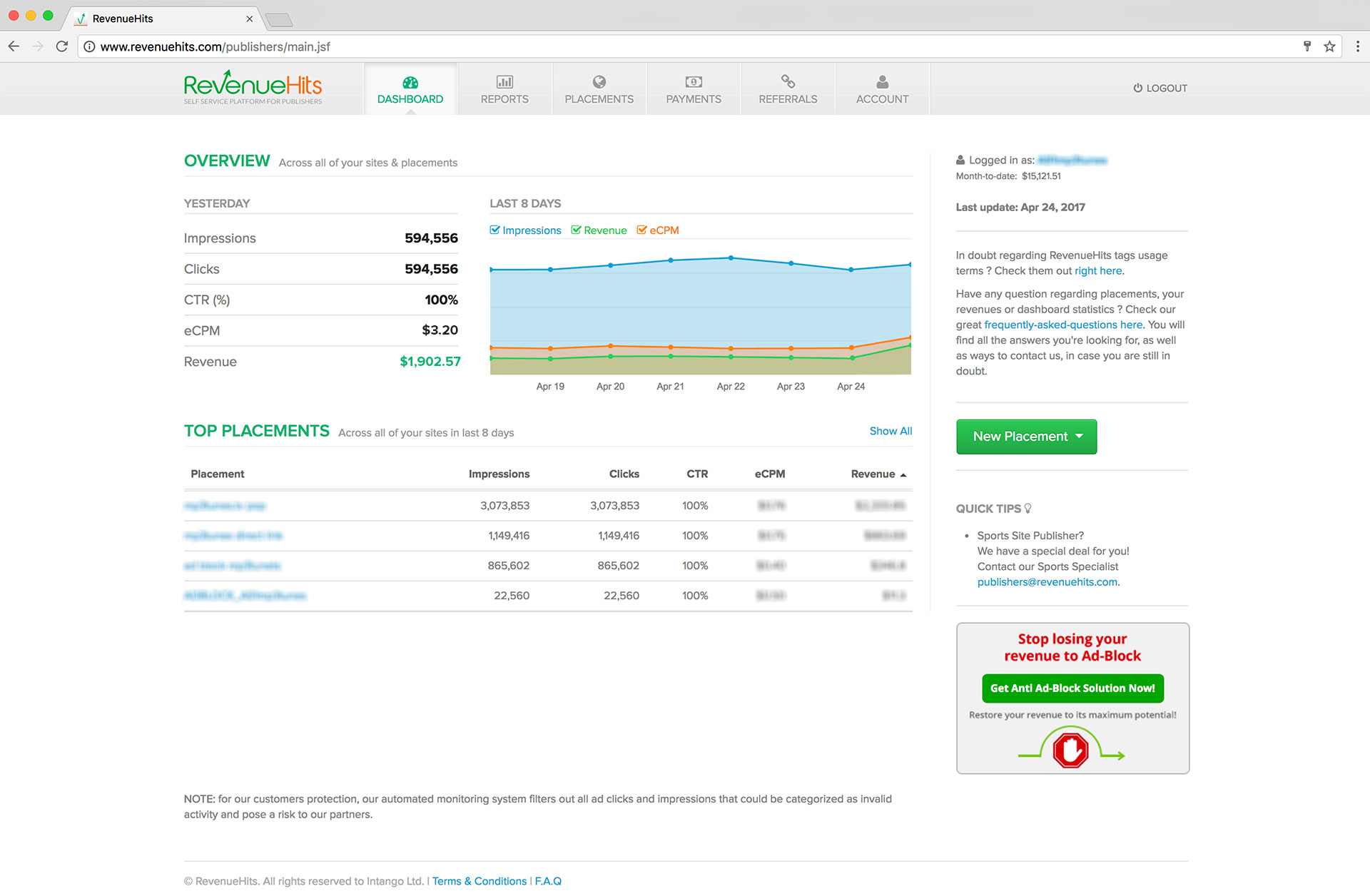 RevenueHits paid out approximately $7 million to its publishers. It can help you turn your ad space into a total money-making zone. Your website does not require heavy traffic to get started with RH. Just install the RHs spontaneous ad code. RevenueHits will offer you a portfolio consisting of only high-performing advertisements that are appropriate for your visitors, which facilitates conversion rates and, subsequently, profits making.
Features of ReveueHits Ad Network:
Quick and easy payments.
Minimum payout $20.
Payment methods available are PayPal, Payoneer, Wire Transfer and Bitcoin
5% to 10% referral bonus.
5000+ advertisers.
Timely payments NET30
100% Fill rates.
2 billion ad impression worldwide
24/7 supervision.
RH gives you access to numerous ad presentations like text ads, shadow boxes, video ads, and GIFs. They have their anti-pop-adblocker which impeccably dodges any adblocker software.
---
PopCash is yet another popular PopUnder network that provides worldwide coverage, guaranteed results and personalized support. Publishers can make huge profits by joining PopCash as the whole mechanism to make money is stress-free. You can manage your campaign and decide when to stop, pause or start.
They are fully flexible and compliant towards any project requirements regardless of their level. Their ad codes work flawlessly on all devices that can be unified easily. No viewer's experience is interrupted by the ads they place on the website. You need to focus on getting more traffic.
If you decide to join the PopCash ad network, be assured that your website will hardly take one hour to get approved
Features of PopCash Network:
Fast payments on a daily basis.
Minimum withdrawal- $10.
80% Rev share.
Reports updated on an hourly basis.
Full support thru the live chat on skype or email.
Plugins are available for WordPress and Blogger.com websites.
Boost your site's earnings with the help of banner ads.
10% referral program.
On PopCash Every ad is monitored thoroughly by their experienced team utilizing both in-house and third-party software. The entire team has been working towards offering the best online ad campaigns. Try it today to soar your profits high from popup advertising.
---
AdCash is a self-service platform that combines the best automation tech with a spontaneous User Experience. With 11 years of experience in hand, it offers your website with digital advertising tools that bring desired results. The platform empowers advertisers to influence worldwide viewers and publishers to monetize website traffic with the least possible work.
It has a global reach of 200 million unique users every day; with robust anti-fraud technology and technical help from the experts, AdCash saves time and energy. They also offer flexible pricing models that will suit your ad stratagem. They also provide multilingual account management for support.
Features of AdCash Network:
10 thousand plus active campaigns.
Anti-fraud technology.
24/7 ad tech professionals.
Pricing models – CPA, CPC, and CPM.
Regular reporting, tracking, and automated optimization.
Ad formats-native, display, popunders, banners, interstitial.
High eCPM and worldwide coverage in 196 countries
Payment method -Bitcoin, PayPal, Skrill, Payoneer, and bank payment.
---
ClickAdu is a premium digital ad network for web and mobile mediums. With exceptional knowledge, distinctive competences, and experience in profits boosting, ClickAdu is an excellent choice for publishers and advertisers. It has over 400 million-plus daily impressions and 1.5 million regular conversions, making it an excellent choice for Pop-Under Ad Networks affiliates.
At present ClickAdu has 1300 active publishers along with 6500 aggressive campaigns with high eCPMs in over 240 countries. It has a user-friendly self-serving platform with top-notch optimization technologies. It completely covers the 380-degree angle of your ad. The advanced targeting includes all geo locations, websites, and apps.
It deals with all kinds of ads like push up dialog ads, video ads/pre-roll, skim, pop-under, push notifications/native subscriptions, and banner ads.
Features of ClickAdu Network:
Automated weekly payouts.
High CPM rates.
Safe ads and multiple ad formats.
Smart CPA and CPM price models.
Payment methods- WebMoney, Wire Transfer, PayPal, Paxum, Epayments, and credit cards
$100 minimum payout.
ClickAdu is beneficial for both publishers and advertisers. It explicitly serves the purpose of website monetization and traffic conversions.
---
AdMaven is persistently developing an apparatus that produces a multiplied return for publishers while empowering advertisers to get high implementation and massive supply for their ad resources. It is a fully customized solution where you can select the suitable ad formats and payments plans along with access to the detailed reports regularly.
AdMaven's advanced and internally developed technology gives you 100% performance-oriented results. It is wholly affiliated with the market's highest benchmarks related to the look and feel of its ad formats, keeping your website safe and clean.
With over ten years of experience, the AdMaven team has become the market leader in campaign optimization. Their up-to-the-mark calculations and experts' opinion will get you the required ROI. Over 25000 publishers and ad networks rely on AdMaven's monetizing solutions for their website.
Features of AdMaven's network:
Ad formats- full screen, banners, lightbox, native push notifications, and in-between.
Full coverage with high eCPM.
Easy ORTB/XML FEED integration and dedicated support.
Flexible payment plans with -PayPal, Payoneer, ePayments, Paxum, Wire transfer, Bitcoin, and WebMoney.
Brand protection via anti-malware software.
25 plus billion ad impressions
Global inventory of Ads.
Price models- CPA, CPM, and CPC.
---
Pop-under Vs Adsense Vs Affiliate Marketing
When it comes to online monetizing, there are numerous profitable methods such as traditional das, native, Adsense, In-text Ads, Push notifications Ads, Popups, and affiliate marketing. All of these hold their significant presence and woks on different verticals.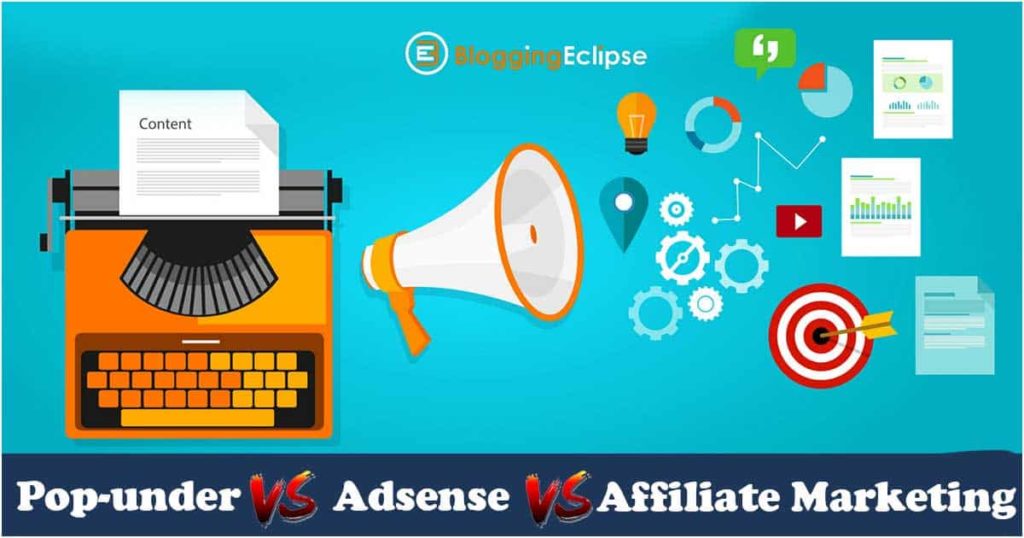 Affiliate marketing is considered as the best source for online monetization. It can monetize wide varieties of traffic and always gives you higher ROI; However, Popups and popunder are again considered as a good source of revenue when it is placed strategically. If you have massive traffic or websites like movies download, songs, games, etc. where you can't promote an affiliate program, then monetizing with popups is the best way.
Also Read: Top 9 Dating CPA Affiliates Network in the world
Also, if you are a media buyer or internet marketer and looking for cheap traffic for your CPA or CPL affiliate campaign, Popup traffic is one of the most affordable traffic sources, which can give good results.
---
🔥 FAQ on Popup Ad Networks
What is the best pop up Ad network?
As per the honest user opinions, PopAds has been rated as best pop-under ad network due to best VPN rates, daily payments, $5 payment threshold, and average CPM $5-$15/1000 views.
What is Popup advertising?
Popup or Pop-under advertising involves the automated opening of a new tab or window with the advertorial. This enables them to make extra money allowing popup ads on their site. Advertises can get cheap traffic form popup ads.
Popup Ads or Adsense? which is better for publisher?
Adsense is indeed the best revenue generation for ethical websites bu displaying ads. However, Pop-under and pop up ads are an additional source of income without altering your website design or display banners beside the content.
Is Popup ads better than Push advertising?
Push advertising is the new trend in the online ad industry, Push works only on subscribers of the publishers. However, Popup works on desktop, mobile, and does not require any permission from the users. Most of the high traffic websites still use popups to make money.
---
Conclusion: Top Pop-Under Ad Networks
I hope this post on top 8 Pop-Under Ad Networks proves to be beneficial for you. There are many other Pop-Under Ad Networks for affiliates, but we have tried to pick the best ones in the market.
If you are still confused about which one to choose then Ad mediation services like AdSpyGlass will help you out in the process. Ad mediation services play an intermediary's role between publishers and numerous ad networks, helping publishers find the perfect offer for their website.
Using AdSpyGlass will lessen your burden as it automatically picks the best offers from your linked ad networks and shows only those ads with the highest CPM. There is a sure shot spike in the revenue generated, and you get all the detailed statistics from all stock ad networks in AdSpyGlass accounts. Also, you don't have to modify ad tags to respond on your website's templates.
So, if you too have tried any other feature-rich Pop-under network, then do let us know in the comment sections below. Don't forget to integrate your ad network with ad mediation services to double your profits. 🤞🤞