Are you tired of looking at irrelevant Pop ads on your desktop screen? We, as viewers, do not like seeing an unrelated ad every time we visit a website. To ease you into, today we are going to cover for you ✅10+ Best PopAds Alternatives & Competitors.
If you are a publisher, going to the right ad network can work wonders for your site! But since there are hundreds of ad network platforms out there, choosing the right one can be a little overwhelming.
Many people's choice is PopAds, which is no doubt one of the excellent networks out there! They have advertisers from around 50 countries, and they have a basic guide plan for the publishers. PopAds might always be your first choice when you start monetizing your domain because they offer the best business.
But what if we tell you about other options that could be better than PopAds? Because going for the obvious is fine. But going out of the box to reach out for the best is better. Also, it is always better to weigh your choices before settling with anything permanently. Therefore, we have a list of PopAds alternatives that you can give a try.
---
What is PopAds?
PopAds is a specific ad network, and it deals with pop advertisements such as pop-under, pop up, tabs up, and tab under ads. It is also one of the oldest ad networks around. PopAds was established in 2010, and since then, it strives to keep the status of the premium, specialized pop-under network.
The specialty of PopAds is that they provide both mainstream traffic and dating campaigns and use the CPM and CPV cost models. Other than that, it has dynamic customer support, faster payment methods, and high-tech security. By using PopAds, you can have complete control over your ad network and work independently. The rest of the issues will be taken care of by the PopAds security.
---
10+ Best PopAds Alternatives & Competitors
When it comes to PopAds alternatives, Adsterra is one of the best options to go for. Professional affiliate marketers and webmasters founded the company in 2013 and have managed to deliver their best since then.
Adsterra is a well-known network with a good reputation in the market. Top affiliates and bloggers recognize it as one of the best adtech platforms in the industry. Publishers can start monetizing any traffic that includes Desktop and mobile website traffic as well. It offers a unique combination of innovative technology and human intelligence.
Key features of Adsterra
High-Tech Security
Self-serve platform
Smart and innovative traffic estimator
Multiple ad formats
Tailored payment options
API integration
Anti Ad-block solutions
Also read: Adsterra Review: Is it the best digital Advertising Network??
---
If you are looking to monetize your website with x-rated ads, then nothing can beat Adxxx to it. It is a Singapore-based ad network having a worldwide presence and operates on the CPM model. Adxxx gives both publishers and advertisers an excellent solution and ensures that they get the exact value of their time and money.
At present, Adxxx provides over 950 Million daily ads, which is enough to prove the dominance of the Adxxx network. Adxxx even provides an excellent rate for Asian traffic and ensures that you get what you pay for.
Key features of Adxxx
Worldwide coverage
Performance Network
Real-time Bidding System
Real-time Reporting
24*7 Customer Support
Convenient Payment Methods
Adxxx is one of the few advertising networks that integrate on a NET 7 basis. Therefore they pay weekly to the publishers.
You can request payment via Paxum, PayPal, ePayments, Webmoney, Wire transfer, etc.
Also read: Adxxx Adult Ad Network Review: Premium Advertising network for publishers
---
Traffic Nomads is a nomad self-service advertising network created by MOBIPIUM media buyers to support advertisers in developing their campaigns.
This advertising platform is created by a professional team of media buyers who belong to Lisbon, Portugal.
With Traffic Nomads, you get different ad formats to make your advertising campaign and reach your audience. Another reason to choose this platform is getting traffic from its own 50 Million+ user base, which is huge
Nomads also provide different campaign verticals. This means that the advertisers or publishers can monetize their traffic in any area/niche they want.
Some of the verticals types on Traffic Nomads are:
Different ad formats with various benefits will offer you more conversion rates and boost your business with a J curve. We highly recommend this network and choose this platform to build an excellent image for your customers.
---
HilltopAds is again an advertising network that enables publishers to monetize their traffic via pop-unders. All small and medium-sized enterprises are welcome with a $50 minimum earning on hand to provide a modest target for sites to aim for.
Launched back in 2014, Hilltop offers a direct approach to both site owners and advertisers. It strives to give them the highest performance and earnings potential possible.
HilltopAds does not rely on just one form of display advertising. Instead, they are currently serving millions of impressions, pop-unders, and banner ads daily across their network of sites.
The following are the different ad formats you get with HilltopAds:
Desktop banners 300×250 – in-video, bottom banners
Mobile banners 300×250 –footer, header, middle;
IM (Instant Messenger)
Mobile pop-under
Desktop pop-under
In-Player ads
Whether you are looking to make some extra money by monetization or looking to scale your campaign reach and brand to a whole new audience, Hilltop keeps you covered.
---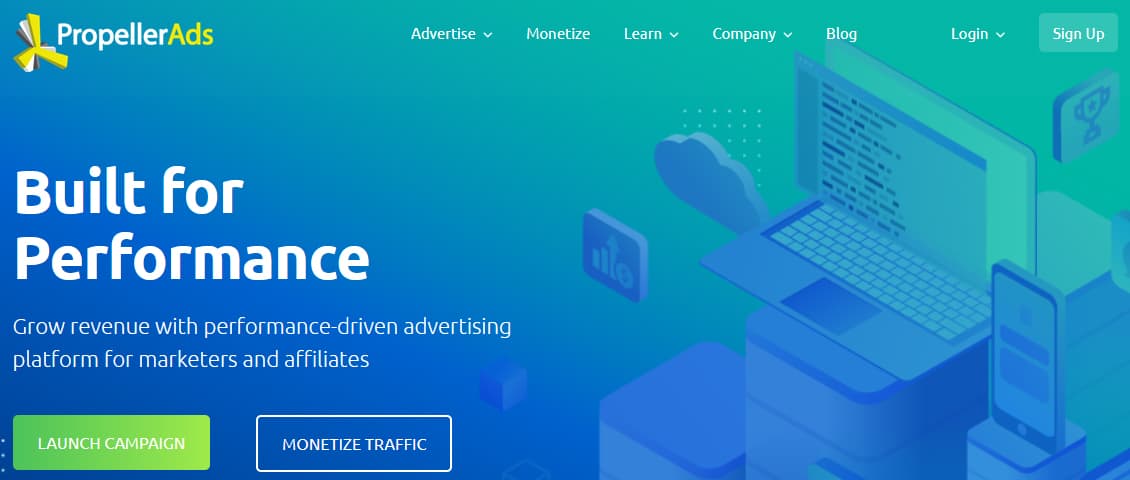 PropellerAds was founded back in 2011 and was known as the largest source of PopUnder Traffic. Other ad formats like Pop, Interstitial, Push Notification, and Native Ads (widgets) appeared later in the network.
At present, PropellarAds are one of the largest sources known by an affiliate. PropellerAds has reached more than 3 billion ad impressions per day and 350+ million push subscribers from 195 countries.
This particular advertising platform works with all popular verticals like finance, forex, e-commerce, mainstream dating, Nutra, sweepstakes, betting, games, gambling, cryptocurrency.
Payment options are pretty straightforward in PropellarAds. They offer various alternatives like Debit/Credit Cards (Visa/Mastercard), UnionPay, PayPal, ePayments, American Express, Webmoney, Skrill, and Wire Transfers.
---
PopCash network was started in 2012 by Allex and Radu. After 1 year of launching, they began to focus on mobile traffic. It is an ad network that enables publishers to make money via pop-under advertising.
Advantageous features like the 10-minute sign-up process and daily payments make PopCash a hit in the industry.
Key featuresof PopCash
80% revenue share
Global coverage
Fast approval: Your site would get approved on the same day.
The users could experience clean and safe ads.
Competitive CPM rates
Low threshold payout ($10)
On-time payments
It can be used along with Google AdSense
PopCash delivers only 1 ad every 24 hours per 1 IP address.
Dedicated customer support via Skype and email
On-time reporting system
---
Like the other excellent ad networks, AdMaven is also Known as one of the best Pop Under Ad networks.
It is one of the renowned online platforms that focus on pop-under ads. AdMaven is an experienced platform when it comes to online advertising.
For years, it is working like a miracle for all the publishers.
It provides the publishers with a range of additional ways to monetize their websites, including traditional pop-ups, banners, lightbox ads, sliders, new tab options, etc.
AdMaven launched a new product known as 'Native Push Notification' in 2018. It is again an effective monetization method that is developed for better relevancy. And that makes it 100% compliant with Google policy and can be used alongside AdSense.
Network push works excellent on mobile and desktop but generating high conversion rates. As a result, publishers can make great money while offering the best user experience to their customers.
The minimum deposit for AdMaven Advertisers is $50 to advertise on AdMaven Ad Network. The advertiser can deposit the money using PayPal, Paxum, Payoneer, and Wire Transfer methods.
---
AdPushup is a revenue optimization platform created to multiply publisher's ad revenue by increasing their CPMs and CTRs. They manage to do this by publisher-side ad layouts with automated A/B testing, besides other things.
The AdPushup has an award-winning team backed by Microsoft ventures. It has received various rounds of funding from the leading companies.
AdPushup was launched back in 2014. The idea for AdPushup came when the founders realized that nobody was using A/B testing to improve performance for published-side ad layouts.
AdPushup has expanded a one-stop revenue optimization platform for publishers and is serving 4+ billion ad impressions each month for 300+ publishing partners.
Key features of AdPushup
Ad Layout Optimization
Innovative Ad Formats
AMP Converter
Adblock Recovery
Header Bidding
Ad Mediation
The payment methods of AdPushup are very upfront. But sometimes, they offer different rates depending on the scope of work and services provided to publishers.
AdPushup offers 24*7 customer support. The team is very supportive and tends to resolve all your queries in minimal time.
---
Push Notifications are the fastest-growing ad unit of 2019. Push Toast is the best way to reach and monetize your audience.
It serves as a lucrative revenue stream by allowing quality advertisers to deliver interactive, clickable messages to your audience without taking up valuable inventory on your site.
With the help of PushToast, you get:
Incremental Revenue
Global Advertising Demand
Comprehensive Reporting
Key features of PushToast
Advanced Segmentation
Scheduled Notifications
Automated Notifications
A/B Testing
Custom Branding
In-Depth Reporting
Unlimited Websites
Your Subscribers and Data
Expiring Notifications
& many more.
---
ViralGains intersects marketing and advertising technology. It helps marketers understand how customers feel about their brand and product and respond with relevant ads that speak to their interests, needs, and desires.
ViralGains also allows brands to turn their ads into conversations. In those conversations, customers say what they feel. Then, they create interactive ad experiences for the viewer.
Instead of retargeting consumers with the same ad, marketers can predict their sentiments. Then, they can either serve them a more relevant ad based on their buying stage with a brand or remove them from future ads if they are not a good fit.
This helps marketers to:
Spend their budget more wisely
Divide consumers who watch videos into three groups: high, medium, and low brand intenders — each of the groups can be targeted with different messages simultaneously.
Scale their audience retargeting to cover millions of customers.
---
Why are Ad Networks Valuable?
Ad Networks aggregate ad inventories from supply sources and match them with the demand sources. Demand sources are made from advertisers who are looking to place their ad in another app.
Ad Networks are a critical monetization element in mobile advertising. They act as a technical intermediary between advertisers and publishers.
Attention:
---
🌟 PopAds Alternatives FAQ
🙄 What are Popup Ads?
Popup Ads are also known as popups, a popular ad format technique that appears in the browser. Popup Ads is nothing but a graphical interface containing video, audio, or even a game to grab users' attention.
🔎 How do Popup ads work?
Popup ads are Javascript applications; when the user clicks on the popup, it redirects the user to the new browser with new content. Popups are better than banner ads because it has high click-through rates.
🤔 Are Popup ads powerful?
Yes, Popup ads are very effective only when the person uses the right strategy. Popup ads are a powerful way to attract user attention or convince them to sign up for your email list or purchasing your products.
😎 How do I choose the best ad network?
To choose the best ad network, it becomes essential for you to evaluate your marketing needs. Following are the major factors that one should consider while choosing the ad network:
1. Target audience
2. Niche
3. Budget
🔥 Which is the best ad network?
It becomes very challenging to pick the best ad network that helps you to monetize your website. Check the following list if you are looking for the best ad networks that help you to enhance your revenue.
1. Propeller Ads
2. Revenuehits
3. Infolinks
4. Bidvertiser
---
Conclusion: 10+ Best PopAds Alternatives & Competitors 2023
While there are many ad networks available in the market, you need to choose the best. The above list of all the ad networks will help you with that.
If you are a beginner, then you can start with Adsterra. That specific platform has got all the specifications, which any beginner can easily understand.
Secondly, professional networks like Traffic Nomads and PopCash will offer you the best deal in payment.
If you are a publisher or a blogger, you cannot start your advertising without the help of a professional tool. Also, in these modern times, it is irrelevant to depend on manual tactics. When you can get better support with an automated ad network, then why would you choose vice-versa?
With this, we will wrap our review on PopAds alternatives. If you have any doubts or suggestions, they are welcome in the comments section below.
Until then, keep networking!