Are you looking to spy on your competitor's Facebook ads?
If so? – You need a powerful spying tool that gives you insights into Facebook Ads at a snap.
If you are a media buyer, advertiser, Affiliate, ad agency or anyone who is running Facebook ads daily, weekly or monthly then you should grab this super powerful tool.
PowerAdSpy is one amazing ad spying tool with abundant features to help you analyze your competitor's behavior. It has a powerful database of FB ads to provide the best experience in spying activities of those who are running better ads than yours.
Now is the chance to earn more than others using Facebook with a powerful spying tool that helps you collect abundant information on competitor's FB ads.
So, read this complete PowerAdSpy Review and increase your online revenue at rocket speed.
Introduction to PowerAdSpy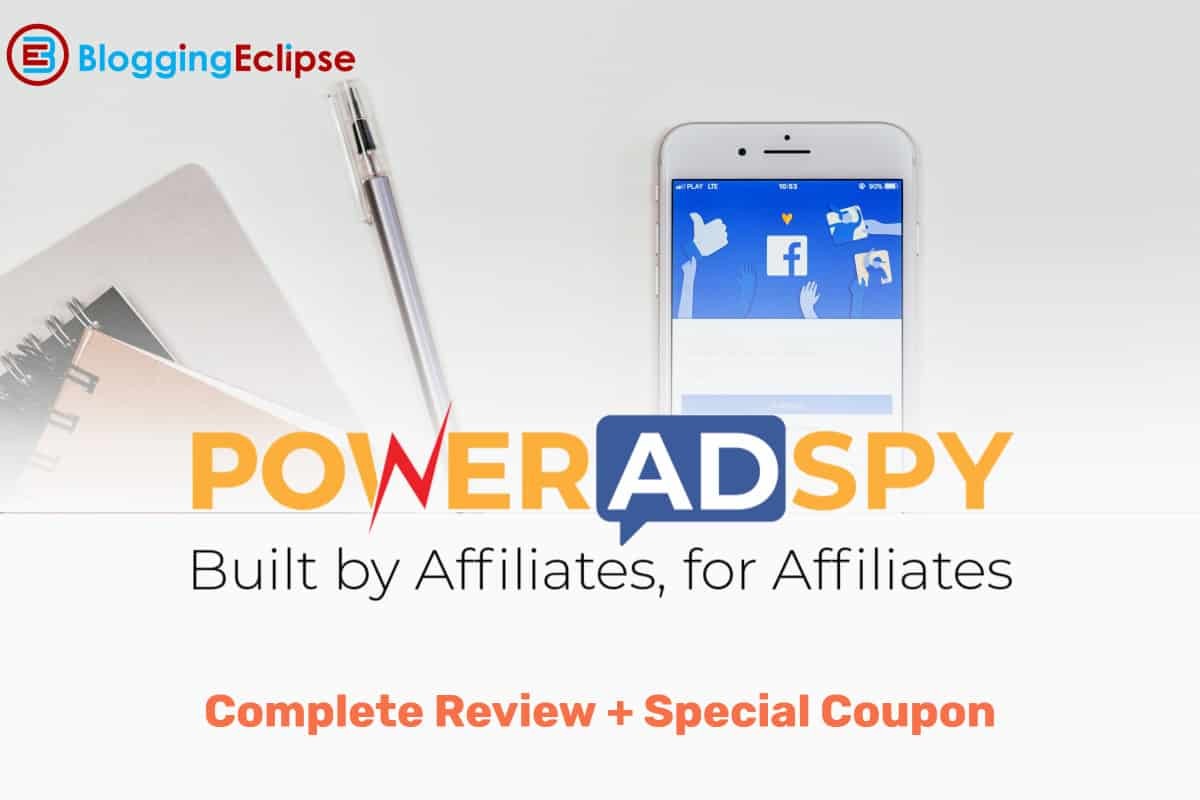 If you want insights of popular ads on FB then PAS is the right choice for you. It is an ocean of database comprised of FB ads that offer compelling service to advertisers, media buyers, publishers and more.
It provides abundant quality ads for business growth with a snap. You can know which are the most popular ads and keep audiences engage most of the time.
PAS allows users to spy on their competitors' techniques. You can insights to your opponents running quality ads so by spying on their ads even you can aim high.
PowerAdSpy offers ad examples composes of attributes like:
Demography and Location-based Ad examples – by choosing any location you can know popular ads running in that region.
Suggest keyword searching – In case you are not sure how to find the best converting ads so can search by using keywords.
Boost ROI – With insights into trending ads you can increase your ROI tremendously.
You have complete support through-out your project submission. This is why it has been trusted by Fortune 500 companies in the world.
Most of the big companies decide their marketing based on what their competitors are executing. PowerAdSpy is the best means to keep an eye on the most popular ads run by competitors for a successful marketing strategy.
---
PowerAdSpy power-packed features
If you want to improve your FB advertising campaigns then PAS is the best advertising tool with power-packed features that immensely improve your ROI.
It removes your burden of spending a lot of time in content creation, identifying campaign targets and more by automatically searching for the hidden niches & lucrative opportunities.
Now you can focus more on your business strategies instead of looking for new marketing ways for your Facebook advertising.
Get all the features to lower your burden of finding profitable niches. Save our time and your money with PowerAdSpy spying tools.
---
Filter by Ad-positions
What if you could test the best positions that perform well for your FB campaigns? You have complete control over researching ads based on the position such as Newsfeed or Side location. By researching FB ads based on the position you can analyze ads to perform well for higher conversions.
Crystal Clear Visibility:
Want to see live ad posts? This is why PowerAdSpy is the top converting tool that allows you to visit live ad posts from the platform itself. By offering crystal clear visibility you can know your audience's opinion over the ads. This lets you analyze their engagement over the ads.
Huge ads data:
There is a huge database of ads that keep adding up every day to deliver the best converting ads. With a few clicks, you can look for the best performing ads from data collected from 15+ countries with millions of ads.
Search with keywords:
To broaden your search experience, PowerAdSpy gives you the ability to search for ads based on keywords in your niche. You can search advertisers, competitor's domain and also by visiting top-performing advertisers, see maximum ads run by them.
Bookmark Ads:
It is daunting to search for the most popular ads again & again. To save your time on searching the same ads you can bookmark them with just a click. Once you bookmark ads for your upcoming ad campaigns you can see it in your personalized ads inventory.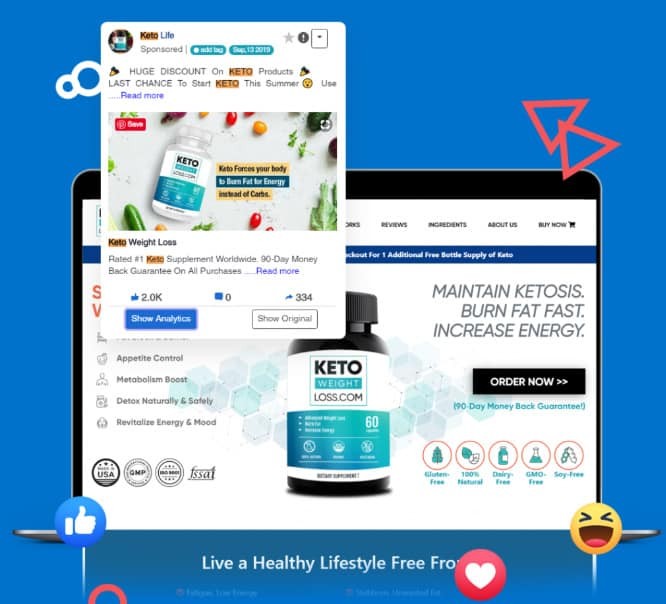 Ironclad Search Algorithm:
You can search for ads based on keywords, phrases, and terms within ads and get exact results that you hope for. To outperform others you can then sort out these ads by date, share, likes or comments so as to run the best performing ads.
Engagement oriented details:
Segmenting ads based on gender or age helps you identify the winning ads in your niche. Who is engaged in a particular type of ad gives you a good idea about the audience so you could run ads based on the audience's age or gender?
Not just Image Ads but Videos too:
PAS is not limited to image ads but displays video ads too. Images are always converting but video ads are now becoming popular on FB. With a vast category of video ads, you can understand and decide the best video ads that keep your audience engaged. You can download these ads for your own video ad campaign.
Geo-targeted:
PAS has a massive datacenter of millions of ads to provide exact information about the Geo-targets of your competitors. This really helps you in identifying your audience interested in your product/services.
CTA:
CTA is most important if you want your ad campaigns to be successful. With PAS call to action based sorting, you can identify the most outperforming CTAs working in your niche.
Funnel breakdown:
Not just winning ads but you can also see the top converting landing page to which maximum traffic is being sent. Now along with winning ads, you can also replicate the winning funnels.
Save Money:
Spend Less: Gone are the days when you had to edit & test your ads. With PAS you don't have to overthink generating traffic with FB ads. You don't have to waste money on ads that are not generating enough traffic. Simply search for keywords, domains, advertisers & more to see popular and winning ads.
What more to offer:
You can identify Shopify ads of your competitors to find out the ads that are engaging and run by successful Shopify owners. With insights into Shopify ads, you can analyze them and manage your upcoming ad campaign for maximizing the profits. You can broaden your ads search with relevant & exact keywords for better analysis & higher profits.
---
👉PowerAdSpy Pricing
Whether you are marketing on FB, Instagram, Google or YouTube, you are all covered with PowerAdSpy.
Choose any plan and pay only for the social media platform that you want to run your ads on.
To start with testing all the features, PAS offers a free plan with limited searches up to 20. With the free plan, you can test all the features on all the 4 social networks.
Apart from the free plan, you can choose from any of the 4 paid plans.
The basic plan costs $49/month. This plan supports only Facebook Advertising. It includes features such as keyword search, sorting ads by likes, comments, share, etc., data interval search, and bookmark.
The standard plan costs $99/month. This plan supports FB as well as Instagram. It includes all the features of the Basic plan along with features such as CTA, search by advertiser & domain, filter by country, ad position, viewers age & gender, and ad insights.
The premium plan costs $149/month. This plan supports FB, Instagram & YouTube. It includes all the features of the Standard plan along with features such as tracking system, eCommerce platform, funnel, filter by a device like iOS, Android, mobile, desktop, and search top running ads by niche.
Platinum is the most expensive plan costing $249/month. This plan supports all four social networking platforms. It includes all the features of the Premium Plan with the only difference being that this plan supports YouTube advertising which is not supported in other plans.
You can try a basic plan at just $1 and the other three plans at just $7. [Click on above coupon button to activate this offer]
[Update October 2021] PowerAdSpy Coupon Codes: Highest Discount
If you are looking to save some money, Use this 100 % verified PowerAdSpy Coupon codes which give you 10 days complet5e free access [No credit card required] or you may also use another mentioned coupon to get flat 25% OFF on any paid subscription. Try it risk-free.
10 days FREE
10 Days Free usage [Special Deal]
Spy on your competitors FB Ads-free for 10 Days [Premium plan] NO credit card required
Spy on your competitors FB Ads-free for 10 Days [Premium plan] NO credit card required
Show Less
---
PowerAdspy Extension overview
PowerAdSpy chrome extension lets you spy on your competitor's Facebook ad in a single click. The new innovative extension works flawlessly to give you deeper insights into Facebook Ads on chrome while browsing FB.
it lets you discover effective advertisements in a click and also motivates you on your next Ad campgian. Once you open your Facebook profile on chrome will activate this extension and will give you live insights of ads on your newsfeed. Try it free today
---
Some useful pwoerAdSpy video tutorials:
---
PowerAdSpy Affiliate Program Review
Here's a great opportunity to earn online income by referring others to use PowerAdSpy tools.
If you help them grow their business then you are just one step away from earning affiliate commissions.
Promote their affiliate link on your blog or website or even on social media platforms. No technical or coding skills required. Simply insert referral links in your blog post or website.
This is not a one-time income. You can earn for a lifetime until the customer uses their service.
You can earn a 30% commission until the customer is attached to their platform. It is easy to withdraw your earnings. You can monitor your clicks, conversions & payout with an intuitive dashboard.
Conclusion: 🔥Power your FB Ads with PowerAdSpy
PowerAdSpy is one heck of a solution for spying on FB ads and growing your overall income.
With power-packed features, you can search for ads based on niche, gender, and even domains. This gives insight to the best converting ads.
Power your ad campaign analyzing technique with PAS!