So, finally! We bring you the most awaited differentiation between Printify Vs. Printful– Which one would we choose? Which one of them offers the right balance between print-on-demand service and affordability? You are just one article away to get to know all about that! Choosing the right fit will not be an easy choice, but our detailed comparison will help get the right decision.
Every start-up custom print company's future depends on the quality of the print they are offering. It is not easy to go with any printing company because once the reputation is compromised, there is nothing much to do in profitability in the future. As a start-up, you only get one chance. If you snooze, you lose.
Not only a start-up, even if you already are an established firm, you also have a lot at stake, and the most important thing is customer satisfaction. You need to keep your already existing customers satisfied to multiply your profit. So, in both scenarios, selecting a random company is nearly out of the question. Where there is QUALITY, there is a need for QUANTITY.
Let us not waste any more time and directly jump into the ultimate comparison between ✅Printify Vs. Printful! Before we get into the detailed comparison, one needs to know about a Print On Demand provider, the services they offer, and how a good POD provider could help a customizing printing company achieve nothing but the best!
---
What is Print on Demand?
The first question arises here: if you already google for Printify or Printful, you already know what these companies offer. Don't you? There might be two conditions, whether you are already an established customizing merchandise company or in the future, you are looking to sell custom prints online or offline.
Here, all the operations come under multiple roofs. As a custom print company, you need to get your hands finalized with your prints' designs. Secondly, select the product in which you want to print. The product could be anything like t-shirts, mugs, mobile covers, pillows, hats, or bags. And finally, you need to forward your consignment to the supplier you choose to print down.
One might say this sounds like an easy task to do. But in reality, it is certainly not. A lot here is at stake, and you do not want to end up with negative feedback on your products. Here, you can also take the printing part's responsibility on your shoulders, but believe us, you do not want to get your hands in this daunting process.
Hence, it is always a good idea to let an expert do the job. It is always a good idea to rely on an outsource company for the daunting process—one with the right expertise and enough equipment to produce high-end quality products. Here exactly print-on-demand services as Printify and Printful come to the rescue. They provide custom prints service to customers on behalf of the clients.
They do not only offer that. They fit a whole pipeline of work, including taking the orders, shipping, and delivering on behalf of their clients. Therefore, you need to worry about designing the right design; the print-on-demand services like Printify and Printify will take care of the rest. But here, you cannot let go of the attribute, and that is QUALITY, so to help you choose the exemplary service, below down, we have provided you the main difference between these two service providers.
---
Printify Vs. Printful: Overview
Here in this section, we are going to see a detailed comparison between these two service providers. Read this section carefully, as this part contains your decision to go with which platform.
Key Features of Printify
Printify is an extraordinary print-on-demand service provider. They are the latest solution to all e-commerce platforms and service providers out there. They take care of almost Everything. Everything means they give their clients the privilege to create products, a platform where they can sell the products, including dropshipping the products worldwide.
As in the current status, they are one of the best alternatives to all the print-on-demand services out there! In a nutshell, Printify takes care of product sourcing, printing, and order fulfillment, leaving you to worry just about running the business. There are multiple lines of products you will find here. Printify offers a vast list of products to get started with. Some of the products which they provide to do their print-on-demand services are:
Clothes
Accessories
Mugs and Cups
Brockery
Jewelry
Home decor items, etc.
But, the printing process isn't just done in a single location. They have partners in multiple countries like China, Australia, Germany, UK & the US.
Printify's comprehensive handling of all the printing processes is managed comfortably and on time between all these partner companies. But how does this thing happen? Managing all the process so quickly? Here is a list of 6 steps which includes Printify's pattern of work:
The commencement is, of course, integrating Printify with your online store or marketplace account. You need to find a compatible app version, install it on your source of the platform, and then create an account.
Once your account is up and running, you can go ahead and pick the specific products you'd like to sell. Printify offers more than 200 types of products- ranging from shirts to shoes, Bags, and even phone covers.
In addition to a wide range of responsive design tools, Printify grants you a powerful Mockup Generator to help you develop the perfect designs for your products.
Printify works with a vast array of top-class printing companies; you have the freedom to choose your preferred partner. For print quality assurance, this platform further allows you to request print samples from your selected companies before proceeding with the final order.
Publish and Start Selling
Once you're satisfied with the samples' print quality, you can move and pick out the products on your eCommerce store. When the orders start to barge in, you can count on Printify to handle the billing, supplier requests, packaging, and shipping (shipping rates).
Key Features of Printful
The main difference between Printify and Printful is that Printify depends on third-party suppliers for the sourcing of their products. Whereas, Printful produces all in-house! Yes! You heard it right! Printful is an independent Print-On-Demand service provider, which does not rely on any other platform to do any work.
They offer all the steps, including production, dropshipping, delivering. And yes, just like Printify, this platform target dropshippers from worldwide. They include various e-Commerce platforms and marketplaces in them. The printing inventory is all done in-house. Instead of replying to third-party suppliers, Printful chooses to produce all the inventories in-house, making them even more capable than all the other competing platforms.
Every product is channeled from Printful's in-house warehouses, after which the selected designs are printed mindfully along with the label, and then packaging along with shipping rates comply. So, in short, Printful liberates you from the struggle of processing and accomplishing the orders. Your role as a merchant is diminished to managing sales singly, without worrying about order satisfaction.
---
Printful's High-Selling Merchandise Includes
Clothing Includes T-shirts, Hoodies, Sweatshirts, Leggings, Shorts, Tank tops, Polo shirts, Long sleeve shirts.
Accessories Include stickers, Phone cases, Bracelets, Necklaces.
Bags Include Tote bags, Laptop cases, Drawstring bags, Backpacks, Fanny packs.
Home & Living Include Coffee mugs, Blankets, Pillows, Posters, Canvas prints, Bean bags, Beach towels, Embroidered aprons.
Collections Include Sportswear, Streetwear, Workwear, Beachwear.
Printful prints, packs, and delivers all the products made by the client without any effort. Their services are so efficient that you won't need to worry about inventory, printing, and dropshipping. As an entrepreneur, your only job would be worrying about running your business correctly.
The only bad news with Printful is that you do not get a free package or introductory trial to start with. Do not get us wrong, with this negative aspect, Printful still manages to be over the top of the line compared to its alternatives. And the good news is, all the customers can sign up for free in Printful.
Now, once you've created an account, you'll see that Printful's UI is just as manageable and straightforward to use as Printify's. Plus, it just so happens that the two platforms follow pretty much the same setup method, with a few negligible variations here and there.
---
Printify Vs. Printful: Pricing
Now, it is time to compare the pricing plans of these two platforms. Firstly, we will check Printify's pricing plan following Printful's pricing plan.
Printify Pricing
The biggest flex Printify offers is a free package to get you started with! The subscription plan of Printify goes like this:
As already said, the primary/free package gives you a help center along with 24/7 merchant support, integration with Shopify, Etsy, eBay, and more, the Mockup generator, unlimited product designs, along with five stores per account, to give you s start.
This Premium package stretches the number of stores to 10 per account! All this for only $29 per month. Moreover, it grants you up to 20% discount on all products, custom order import. This Plan is what most users end up with all the time.
The Enterprise plan will cost you a custom rate based on your needs. Some of its advantages include; branded customer support, a dedicated account manager, custom API integration (via API key), fast access to new features, up to 20-25% discount on all products, a self-serve help center along with 24/7 merchant support, unlimited product designs, plus unlimited stores per account.
Printful Pricing
If you want to sell white-label products, you can do this Printful with much ease. All you need to do is request inside labels to be tagged on any POD product you want to sell.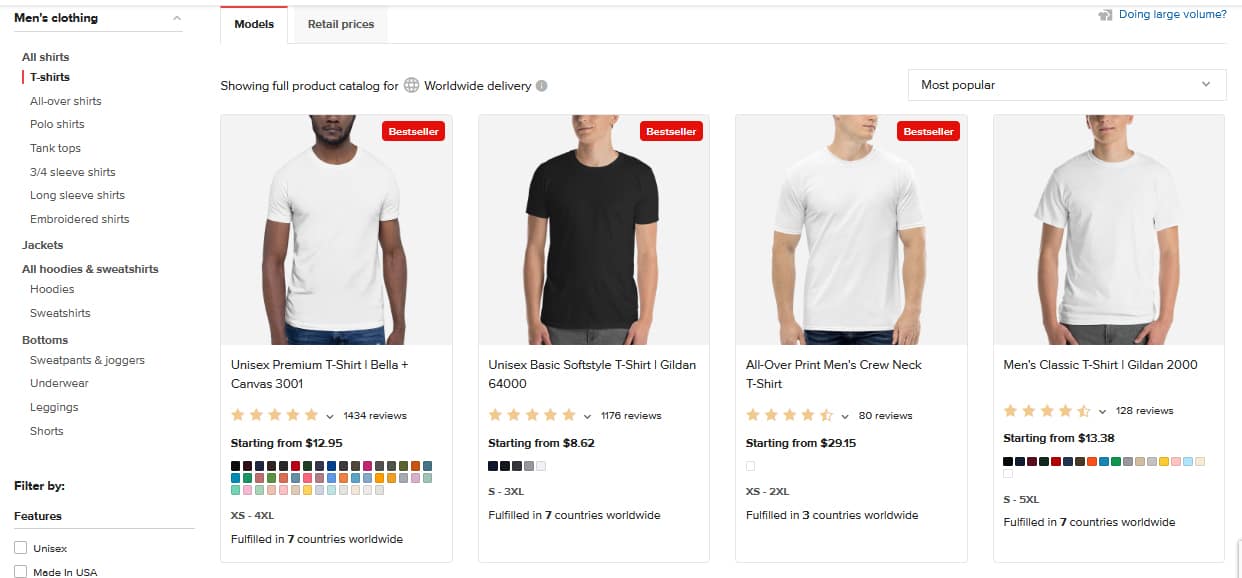 An inside label primarily includes the garment's size, material information, manufacturer's tag, or logo. With print-on-demand, you have the ultimate option to personalize the label to display your brand. Printful charges cost is $2.49 per label. That is the most common marketing hack used by most marketers to make their brands valuable in the market.
Some other services that Printful offers its clients are:
Outside label: $2.49 per label
Long sleeve print: $ 5.95 per sleeve
Short sleeve print: $ 2.49 per sleeve
Embroidered logo: $2.95 per additional placement
There is one more advantage in going with Printful, and that is you can capture your logo, and printful will print the logo on the shipping boxes for free. As you can see above, that all the customizations come up with its price. Therefore, the genuine concern is how much profit I end up in th end? That is a thinkable party for all the dropshippers and custom print owners if they think of going with this business.
The profit at the start is minimal; you will have to develop different strategies to make your business profitable. There's a profit calculator in Printful to help you descend on the most practical profit margin suggestions to ease down your work. While there are no boundaries to pricing, Printful advises a 30% minimum profit margin. Printful offers volume discounts to users when they reach a stipulated amount of sales per month.
---
🌟 Printify Vs. Printful FAQ
✔What is Printify?
It is the best print-on-demand provider that enables you to create and sell your custom products online. Printify is the all-in-one platform that easily integrates with other giant ecommerce platforms that give the privilege to dropshipper for selling products.
✔What is Printful?
Printful is another cloud-based print-on-demand provider that offers all the required tools for creating and selling custom products online. Printful allows its user to sign up for free.
✔Is Print on Demand still profitable in 2021?
Yes, print-on-demand is profitable, and it is great to make money online. Sign up either on Printify or Printify to start your ecommerce journey. Simultaneously, the profits depend on various other factors, including your marketing strategy, design skills, the platform you select, etc.
✔Which is best Printify Vs. Printful?
Both Printify and Printful are the best print-on-demand services at their place. Both the platform easily allows you to start your POD business. But at the same time, it becomes very crucial to consider their selling point. One can surely go with Printful as it offers more integration options as compared to Printify. Printful also offers a cost-effective pricing plan for growing business.
---
Conclusion: Printify Vs. Printful 2023 | Which is Best for POD?
In the end, we do not have much to say. Both the platforms Printify and Printful, are equally important and influential. If you are a start-up or already an expert, both of these providers will come in handy. So, we can finally conclude that it is a TIE between Printify Vs. Printful. After comparing their working method, their features, and pricing plan, we decided to go with both.
It is still up to you what to choose in the end, according to your business requirement. I hope you liked our detailed comparison between Printify Vs. Printful. If you have any suggestions, feel free to comment in our sections below.🙂