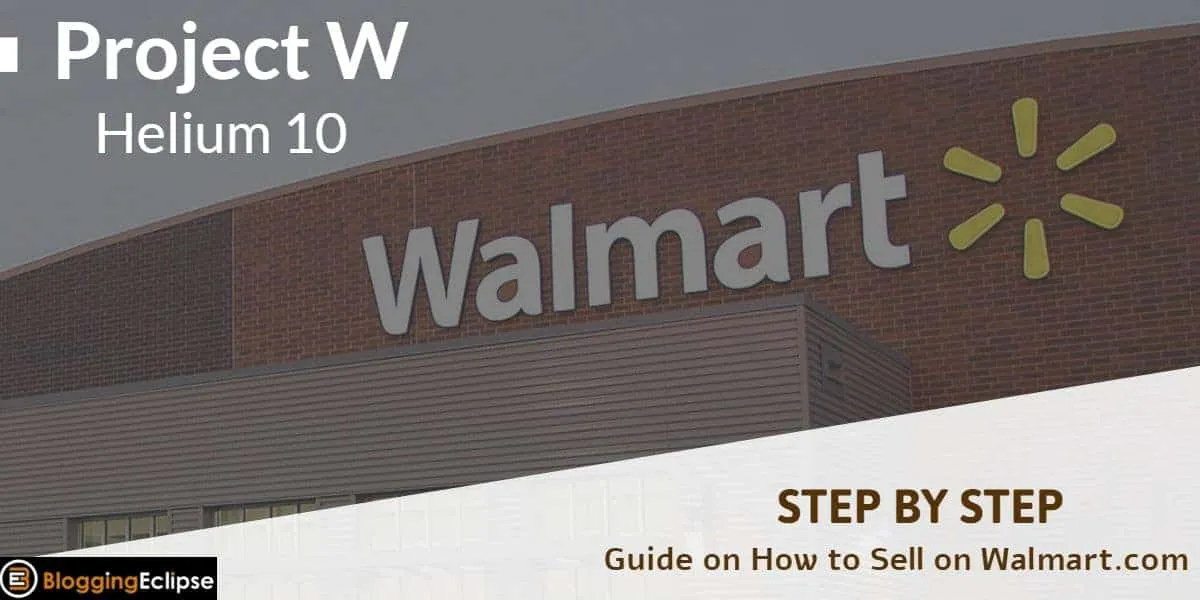 Walmart marketplace is the talk of the town now. And Project W is all about Walmart, from how you can get exponential growth to some of the leading suggestions from industry experts themselves. Know more about it all now!
From shopping to driving, to paying, to interacting – slowly but steadily, everything shifted online so as to sell products too. For the past few decades, selling products online has been alien to almost every seller out there. But all hail to the extreme digitization and the Covid-19 pandemic, sellers now have access to the global market, all by just a click away.
Ecommerce is now a multi-billion industry, and as compared to brick and mortar business models, online sellers are making more dollars here. Words like Black Friday Sale, Cyber Monday Sale, New Year Eve's Sale, and Prime Day sales simply excite both the sellers and the customers. And the sole reason does not only do buyers get their favorite product at steal deal offers; even sellers reach out to millions of customers in just a day.
Talking numbers just from the last year that is the Covid-19 phase, shoppers shopped so many products online that the total retail sales jumped from 16% to 19%. Not just this, by the 2025 year-end, the online retail market size is forecasted to be around $73 billion.
So, what do all these numbers depict? The trend is here to rock, and you should make the most out of it as a seller.
Amazon and eBay are among the top choices of sellers to step into the world of ecommerce. But as a seller, did you know that there is one more such exclusive marketplace you can explore to earn hefty profits? And that's nothing but Walmart, which is known for its customer-centric approach. They have won customers to date because of their steal deal offers on quality products, and there's more to come in the near future.
In this article, we will walk you through some of the amazing insights about Walmart, and the Talk Of The Town, Walmart marketplace. Also, we will be covering the amazing case study by Helium 10 – The Project W, and a bit of Helium 10 tools that would help you kickstart your Walmart marketplace journey!
---
Walmart – Brief History
The great mind behind the success of Walmart was Sam Walton, who has got this amazing idea of selling quality products to customers at lower prices, and of course, great service.
Initially, Walmart started out its local operation in 1962, and the company went completely public in 1970. Back then, generating such a huge capital was next to impossible! This year, Walmart generated more than $12 billion in sales.
Coming to the year 2023, Walmart became one of the most prominent brands of the U.S., and it reached the number one spot on Fortune 500 list. Until 2016, Amazon's operations increased vividly in the west and the time when Walmart paved its way to e-commerce.
In 2020, Walmart's Black Friday and Cyber Monday sales became a big hit. The brand sold all of its strongest categories so quickly that it became the third-most-shopped retailer in just a few years.
Until today, Walmart.com has beaten out other industry giants like eBay, Costco, and Target. As compared to Amazon, Walmart is yet to acquire the space the latter brand has. So why is the reason we are asking you to start your seller journey on Walmart marketplace? Although there are plenty of reasons to sell on the Walmart marketplace, we would like to mention a few notable ones!
---
5 Exclusive Reasons to Sell on Walmart Marketplace
In the U.S. and most Western countries, Walmart is a trusted brand having millions of customer base. The brand is competing against industry giants and, on that note, succeeding too because of its exclusive offerings.
For example, Walmart's free 2-day shipping tag is a strategic trick against Amazon's Prime membership program. With this tag, capturing buyers gets a lot easier, and product visibility increases too. But certainly, to get into this, you have to qualify the listed criteria, like
Low cancel rate
On-time shipping
On-time delivery
Valid tracking rates
The cancel rate should be less than 1.5%, while the others must be above 95%. Excited much? Let's check out some more reasons to sell!
One of the biggest and the best perks of selling on Walmart is a low competition itself. Even though Walmart has gained popularity with its brick-and-mortar business, the online field is yet to grow. There are just a few sellers around selling on Walmart when compared with industry giants like Amazon and eBay.
Yet another reason why the competition is less here on Walmart is the choice of the seller the brand chooses for its marketplace. Yes, you heard that right. Walmart is highly customer-centric when it comes to business, and if your products match the quality check of the brand, then only you will be able to sell here.
If you are simply so sure that your product is of great quality, you would know that there are just a very few players in the market selling high-quality products. Understood the trick here?
Apart from product quality, you will even have to provide great customer service, have competitive pricing (because Walmart is popular for this), and offer a unique product assortment.
Thus, the above quality check process limits the pool of sellers. If your brand has certainly all of this, you can quickly step into the world of Walmart!
The name Walmart itself has become a synonym for awesome products at the best possible price. So, when you list your brand on Walmart, chances are your brand will be exposed to customers who are on a quest for quality products. And thus, whenever they will think about buying anything, even your brand name will be considered to be a superior one (high-quality, of course).
Till date, there has not been any correlation between increased web traffic and Walmart marketplace, but the sellers who have been selling on this marketplace for a long attracted a great number of audiences. In short, the brand exposure you would get with Walmart will be a quality one, and indeed, it will last for long!
Both online and offline, Walmart has a massive customer base. So the day you will register yourself to become a seller on Walmart will be the day you will reach out to millions. Hence, all in all, this would be a great opportunity for you to capture new leads in a new marketplace having a good interest in your product.
As mentioned previously, Walmart is a trusted brand name and is known for its picky behavior when it comes to choosing sellers for their marketplace. Their buyers are very much confident about the purchase they would be making. Moreover, Walmart is great with customer service as well. To date, they have built utmost trust and confidence in their shoppers with their shopping experience.
Directly or indirectly, when you list your products in Walmart, you will inherit the trust and authority the brand owns. This quality authority will not only increase your buyer numbers on Walmart, but even you will get customers outside the marketplace.
Access to Premium Analytics Tools
The journey just doesn't end when you list your products on Walmart. Instead, it starts from there. And at every point, Walmart and its great team of qualified individuals will help you grow, from zero to millions.
Having said this, Walmart offers exclusive analytics tools to help you monitor your journey. With this tool, you can monitor your sales performance and tips and tricks to improve product listing.
---
Step by Step Guide to Open a Seller Account on Walmart.com
So now that you are aware of the extreme benefits of selling on Walmart, are you interested to know how you can join this marketplace? If yes, we have got you covered with that too!

Start Application
To get started, you have to click on the Request To Sell button available at marketplace.walmart.com. After clicking on this, make sure you have your information available by your side.
The first one includes U.S. business address, then U.S. business TAX ID, W9 or W8 and EIN verification letter from the department of treasury, address or place of physical operations, planned integration of the product catalogue, and other relevant information. If you have all of this available at your side, the application process would barely take 10-15 minutes.
Company Registration
In this step, you will have to insert your name, official email I.D. and contact number, preferred tax classification of your company, country and state of incorporation. You must even have your legal company name, U.S. Tax ID, DUNS number, and year of foundation details. You are even required to add your legal U.S. address, postal code, and warehouse details.
Product and Integration
After registering comes the product integration process. Over here, you have to make sure that all of your product listings are of premium quality and you, at current are, have a complete catalogue of your products, including descriptions and pictures.
Shipping and Operations
At this step, you will have to mention the mode of operations you would be using for the Walmart marketplace. This process just takes a few minutes, but make sure to add relevant details only.
Confirmation
Once you have filled in all the required details, re-check it, and click on the confirmation tab. Now all your data will go for approval, and once approved, you will get an invitation from the team to set up your marketplace seller account.
After approval, you will have to sign the retailer agreement (contract by Walmart), complete your seller profile and connect your payment account, choose an integration method of your choice to add items, and request a launch!
---
Everything You Need to Know about Project W by Helium 10
Helium 10's Project X about Amazon was a great hit, and Project W is just another great sequel of that hit, and now it's all about Walmart.
Project W (stands for Walmart) is a 12-episode video series illustrating the ins and outs of Walmart Marketplace. If you are an existing Amazon seller, now is the right time to spread your wings and get in Walmart; FOR YOUR GOOD.
Project W series is all about exploring Walmart, optimizing Walmart listings, the logistics Walmart fulfilling Services, marketing, and just so much more. Project W is led by none other than Helium 10's Walmart Marketplace experts. These experts have incredible knowledge about how the marketplace works on the ground level. Not just this, the only goal of these experts is to help thousands of Amazon sellers build their business on Walmart through amazing Helium 10's tools. Wondering who they are and how they will give you quick success? Well, read below to get all your queries answered!
Carrie Miller has been in the Ecommerce space since 2016 itself. She has successfully helped thousands of sellers reach their selling goals through Helium 10's suite of tools. Other than this, she is a brand evangelist and customer advocate at Helium 10. She is even well versed with the ins and outs of the Walmart marketplace!
Being the founder of Hickory flats, full-service sourcing, logistics, and warehousing operations, Tim Jordan has extreme knowledge about eCommerce. He is a passion podcaster and hosts the AM/PM podcast. Moreover, he has been offering additional resources to sellers at Private Label Region for years now!
---
Here's What They Have Covered in the Video Series
The Walmart marketplace is still dealing with a massive gap because it's still new to the market yet growing incredibly. And although we won't be covering the details of all the episodes, we have made sure to cover the important ones so that you check all of them instantly.
This is basically the introduction episode by Helium 10 speakers where they are talking about some real statistics of Walmart.com. Some of the questions that are answered best in this episode are:
Is Walmart even a good marketplace to start with?
How are Amazon and Walmart listings similar? Or are they different?
Can a seller compare their sales for the same product on Amazon Vs. Walmart?
Can a seller compare their sales for the same product on Amazon Vs. Walmart?
Is this a legitimate opportunity?
What's the number of Walmart's monthly visitors as compared to Amazon's?
In this introductory episode, you will explore the differences Between each market and, of course, the similarities as well.
Now, if you are content with Walmart's reach, the very next step is to begin the Walmart Seller journey, and this episode is all about the same. In this episode, the speakers will walk you through the process, including the requirements, tax documentation, product-related queries, and much more. Over here, the important questions covered are:
How much time is required to register yourself as a Walmart Seller?
How to plan the overall listing process?
After approval comes the growth stage, and in this Project W episode by Helium 10, the speakers have given detailed information about how users can use keyword research tools to boost their Walmart sales. Some of the important questions covered are:
How to use Helium 10 tools for Walmart keyword research?
How different is Helium 10's Amazon keyword research tool from the Walmart keyword research tool?
How Helium 10's Xray, Magnet, and Cerebro tools will be helpful to sellers?
This episode is amazing because speakers here are exploring Walmart's search result page. You will get a real-time look at the current Walmart search results page, and the listing mistakes current sellers are making. Some of the questions covered here are:
What the heck is Walmart+?
How to leverage multiple product variations on Walmart Marketplace?
As we all know how photos play a crucial role for sellers to stand unique from the crowd, Carrie and Time, in this episode, are focusing on the same. What's in the box? Over here, you will explore what makes a good photo a good one and a tidbit about bad photos, too, with live examples.
Not just this, in this episode, the speakers are even talking about the guidelines Walmart has listed for product listings, to be specific, the layout. Questions here covered are:
What are specific formats and sizes allowed by Walmart?
What does Walmart expect from a product image?
What to learn from the sellers who have already listed out their products on the marketplace?
A marketplace-friendly listing can do wonders for a seller, and in the case of Walmart, it's a Walmart-friendly listing. The speakers will walk you through tips and tricks to write a listing from scratch to the end in this episode. Questions covered in this episode are:
What is Walmart's listing quality score? How to find one for your business?
How to balance relevant keywords with traditional writing?
This episode is altogether a compilation of the above episodes. Still, over here, the speakers would actually be doing the listing process in front of you – TRULY AN AMAZING PRACTICAL LEARNING!
After listing, comes ranking, and Helium 10 Project W speakers are well aware of this fact. So basically, this episode is all about how to rand products organically on Walmart and increase visibility. Questions covered here are:
How difficult is ranking on Walmart.com?
What is the importance of product reviews on Walmart Marketplace?
The only way to win at the Walmart marketplace is by winning the hearts of the buyers. And in this Project W episode 9, Carrie and Tim will help you understand how to manage buyer expectations; some more questions covered here are:
Can Walmart Fulfillment Services completely handle your new product?
This episode is all about Walmart Fulfillment Services and the specifics, which you would explore nowhere. Some of the questions covered here are:
What is WFS, and when would you need it?
What is the best way to manage inventory?
What does the WFS application look like?
This episode simply covers the ins and outs of PPC, that is, paid advertising on Walmart.com. Some questions covered here are:
How robust is Walmart's PPC?
Where to apply for Walmart PPC?
How to create a Walmart Ad Campaign?
Here comes the most awaited episode. An episode is full of insights and data you would love to watch. Questions covered here are:
What are the factors that determine product ranking at launch?
How to understand whether the Project W test product is actually working?
This was just a quick sneak peek into the Helium 10's Project W episodes. All of these episodes are live on their official website and YouTube too! Make sure to discover the most by watching them in-person online.
But the special occasion lies here; if you are very much interested in joining the Walmart Marketplace, get ready to join the Live AMA Project W episode that will air on March 3rd.
---
Helium 10 Exclusive Tools for Walmart Marketplace
Helium 10 as, similar to Amazon, is all set to simplify your Walmart marketplace seller journey. With a Helium 10 subscription, you would not even have to worry about logging into a dozen apps to manage your business or even bother about growth because over there, all the tools are tried and tested by industry experts.
In short, Helium 10 has nearly everything and anything you will require to boost your Walmart sales, from tools to resources.
Here we are presenting a few suites of tools by Helium 10 you could use for your Walmart journey:
Product research tools – for finding products from across a huge database
Keyword research tool – for exploring high-demand keywords
Listing optimization tools – for optimizing the listing according to customer demand
Operations tools – for smoother and quick operations
Analytics tools – for creating better products, positioning and building competitive strategies with smart, real-time metrics.
Marketing tools – for marketing the product with confidence, plus PPC management and automation
Not just this, Helium 10 offers world-class 24/7 support to its users. With just a click, you can get answers to all your tool and software-related questions. The software even provides cutting-edge to everyone who is thinking of setting up their brand online. To help more, Helium 10 gives every seller access to exclusive community expert groups, workshops, and more.
Also read:
Last but not least, with Helium 10, you can manage your account from anywhere – all thanks to its integrated mobile app. You will get instant alerts on orders, activities, and almost everything!
---
🌟 Top FAQs on Helium 10's Project W
✔What is Project W?
Project W is an exclusive 12-episode video series by Helium 10 covering different aspects and working of Walmart Marketplace for sellers.
✔Is Walmart marketplace good for sellers?
Yes, definitely. Walmart Marketplace is an emerging yet popular marketplace for sellers to step into 2023.
✔Amazon Or Walmart, What to choose?
Both the marketplace come with their own set of features and target audience. However, it would be great if a seller could sell on both marketplaces so as to increase their profit levels and popularity.
✔What software do I need to sell on Walmart?
Since Walmart is relatively a new marketplace, only a few software like Helium 10 provide users access to the whole suite of tools to quickly excel.
---
Conclusion: Is Walmart the right marketplace to step in 2023?
Given the growing popularity of marketplaces around, taking the right foot forward at the right time can do wonders for you. The motto here is to stand unique from the crowd already there, and since Walmart is not saturated at this time, you have to enter into this marketplace.
Know that, with just you stepping into the Walmart marketplace, you would be opening doors of your products to a considerably massive, MASSIVE AUDIENCE. This kind of massive access was never available before (at least in these 10 years), and looking at scenarios around Helium 10's Project W is your major help now.
If you are thinking of stepping into the world of Walmart (we'll say profits), Helium 10's industry-leading Walmart seller tools would really benefit you. All tools come with amazing potential to help you grow your revenue with minimal effort. Be it from rock bottom to skyrocketing success.
So, what are you waiting for?
A massive marketplace is waiting for you. Explore the Walmart marketplace know-hows in the exclusive Helium 10s Project W! And make sure to bring the most of your Walmart sellers badge with Helium 10's amazing tools!
Helium 10 – All-In-One Software for Amazon & Walmart
Sign up on Helium 10 for free & start selling on Walmart.