Are you a blogger? Or a website developer who is looking for a better SEO optimization tool? No matter, what you do, even if you want to work on the WordPress website, you need a professional SEO optimization tool.
Therefore, today we bring you a recently launched SEO plugin tool, i.e., ✅Rank Math Review. If you are a little bit experienced in this field, you must know about the two popular SEO plugins, i.e., Yoast SEO and the all in one SEO plugin.
These two were usually the ones to which we used to go for SEO ranking, but after launching Rank Math, not anymore. Though Rank Math is a newly launched SEO plugin, many professional bloggers like Matthew Woodward, Adam Connell immediately started using this tool after its launch. So, what was the reason that made this SEO plugin tool took a huge leap even after the existence of such professional tools?
That is what we are going to talk about in this article. If you want to know the exact details of Rank Math and the reasons behind its popularity, then keep reading this article till the end. Rank Math is a WordPress SEO plugin tool developed by MyThemeShop. If you're blogging for a while, you must already know about MyThemeShop as it's a popular platform for premium WordPress themes and plugins.
Rank Math plugin swiftly generated a lot of buzz around the blogosphere because of its incredible features. Yes, the Yoast SEO plugin is still the #1 most downloaded SEO plugin in WordPress history, but Rank Math has generated many positive buzz and raving reviews from users. It is time to know about Rank Math's history a little more.
---
Detailed Rank Math Review
Rank Math WordPress plutin was discovered in 2018, based out of New Delhi, India, and from Day 1, it took to the SEO market by wind, offering more freebies and benefits than the competition. Under the authorship of CEO Nimit Kashyap at the company's helm, CMO Bhanu Ahluwalia looks after online and offline marketing. CTO Suraj Vibhute serves as the chief technological advisor and also looks after the R&D department.
A closely-knit team of 25+ tech-savvy people passionate and committed to their cause serves an active user base of around 775,000+ users. Restrictions come with a free service since funding is essential if Rank Math wanted to give you the most advanced and cutting-edge best in technology.
To expand their horizons, their horizons, they decided to launch a premium version of their service in November 2020 after the success of the free version. It is time to have an in-depth review of the tools and features offered by Rank Math. These features answer your question that why Rank Math has gained so much popularity in just a few days!
---
Key Features of Rank Math | Rank Math Review
There are several features of Rank Math, which makes it such a big hit among the users.
You can make adjustments and edit snippets like meta title, meta description, etc.
While typing keywords in the targeted keywords box, it offers suggestions on long-tail keywords, which you can utilize.
For your On-Page SEO, it rummages the content and checks whether the targeted keywords are in the page title, Meta description, URL, and throughout the range.
It advises if internal and external linking is missing in the blog post, which is a must reminder for SEO Optimization.
It also checks the keyword density for the focused keyword because the KD of the focus keyword should always be more miniature and sets to the criteria.
It fits the Title Readability, which means it suggests if improvements are required to make the title better.
It recommends introducing a table of content in your blog post, recommended by Google.
---
Rank Math User Interface
The user interface of any SEO tool should always be cleaner and easy to understand. Rank Math surely justifies the demand. The Interface is so much easy to deal with, and when a plugin is designed in such a way to keep their customers understand, then how could it not make a hit?
But the type of the customers is always different. Some seek the platform as a professional blogger, and some are just getting started with an SEO tool. So, there is a big chance that they need different modes according to their uses.
Rank Math developers knew this, so they have designed two Modes for it:
Accessible: For those who want Rank Math to do all the work. If you select this one, you won't need to do anything with Rank Math settings.
Advanced: For people who want to have complete control over their website SEO. Professionals, time to come in the game!
However, there is no such thing called as "Modes" in Yoast SEO. They have designed one for everyone.
Maybe they think all users want the same from their SEO optimization tool.
---
Rank Math Content Optimization
If you have earlier used Yoast SEO, you must have observed one thing: whenever it detects an issue in our content, they do not clearly mention which section is the error.
Also, the errors are the general errors and usually are the same for every article. But in Rank Math, things are different. The errors are customized according to the article. And since SEO changes every day, we can't say all these optimization techniques work or are helpful. However, Rank Math assures you to use the most updated and efficient techniques to optimize your content.
For instance, in Yoast SEO, you have to place the target keyword within the first sentence.
However, Rank Math asks you to put your keyword within the first paragraph and not the first sentence. You must be aware that a keyword is not required in the first sentence to obtain position 1 in rankings or featured snippets. Therefore, this is a clear indication that, compared to the Yoast SEO, Rank Math uses updated benchmarks.
---
Rank Math Content Optimization Scoring
In the Content Optimization scoring, the scoring ranges from 1 to 100. If your content score is above 80, the Rank Math shows green color, which means your article is published.
However, you can also check the panel and make changes according to the scoreboard and take that upto 95. That shows that Rank Math provides your scoring divided by 100, which gives a precise instance about the quality of the article. The better the optimization score, the more the demand for your article.
---
Rank Math Free Vs. Pro Version
This section will discuss why you should you for a Rank Math Pro version than the free version. Those all of you who do not know, Rank Mat has recently launched its Pro version, which is roughly $59/year but has all the benefits to optimize your WordPress site's SEO. Let us discuss some of the reasons that make the Pro version a hit compared to the basic version.
#1. Advanced Google Analytics
Rank Math Pro gives you a way to an in-built powerful Google Analytics, so you don't have to leave your WordPress dashboard to analyze your search traffic. It will also let you see a list of posts along with the title, SEO score, schema, links, and traffic so you can enhance their SEO scores anytime you want.
#2. Exceptional Schema Generator
We are already aware that Google started showing more "rich snippets" (or schema) in the search results. So it became mandatory to add schema into your posts, job postings, reviews, recipes, local business entries, and so on. For that, Rank Math Pro offers an integrated schema out of the box, so you don't need to install any external plugins to integrate schema markup within your site.
Here are examples of some of the types of schema markups it supports.
Article Schema
Book Schema
Course Schema
Event Schema
Job Posting Schema
Local Business Schema
Music Schema
Person Schema
Product Schema
Recipe Schema
Restaurant Schema
Review Schema
Service Schema
Software/App Schema
Video Schema
FAQ Schema
HowTo Schema
#3. Track Upto 1000 Keywords
With the pro plan, you can track upto 500 keywords (1000 during launch offer)
With the business plan, you can track upto 1000 keywords(2000 during launch offer)
If you want to track more keywords, you can contact their support system at [email protected], and they will help you create a customized plan according to your needs.
You can also go on add more keywords, and the rank tracker will let you see;
Impressions
Clicks
Position etc
#4. Image SEO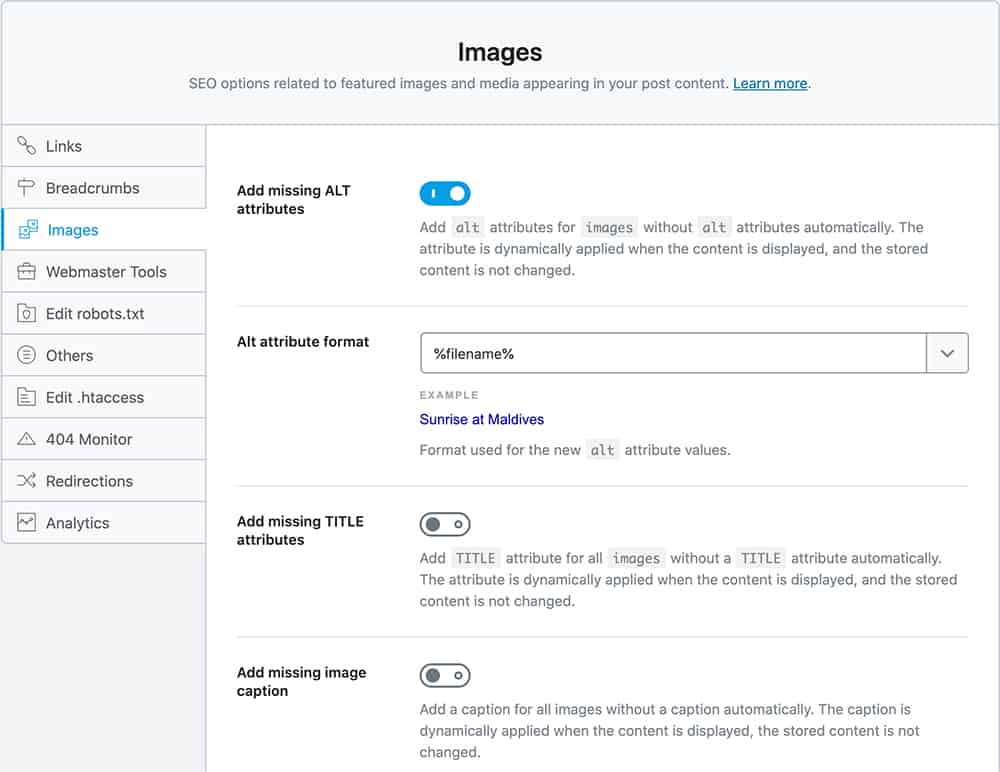 If you are not aware of this fact, let us tell you that the Rank Math Pro version automatically adds ALT text and title images to your article. Isn't this great? You can automatically move to a further stop without worrying about the ALT text and titles anymore.
To enable the settings, you need to visit Rank Math > General Settings, and you'll see the Images functionality where you can make the specific changes. The image attributes are functionally applied when the content is displayed, and the stored content is not changed at all. Like this, you can also add missing Title and Caption attributes for images according to your site's needs.
---
Rank Math Pricing Plans
RankMath keeps pricing straightforward and easy to understand with a yearly billing cycle and no hidden costs. They provide two plans at different sets of and price points, Pro which starts at $59, can be installed on unlimited websites.
It can track up to a maximum of 500 keywords and enjoy 24/7 customer support; this plan focuses on entry-level users. The second plan they provide is the Business pack which costs you $199, and this brings the best RankMath has to offer.
Suppose you choose to go ahead with this plan. In that case, you get the capability to sustain up to 100 client websites, which can give a massive boost in terms of business, track up to a whopping 10,000 keywords, which is more than enough for any amount of written material; business users also enjoy 24/7 priority support.
---
Pros & Cons
This Rank Math review will not be able to complete without discussing the pros and cons. Let us see some essential advantages and disadvantages of Rank Math which will help you develop a better decision.
Pros
It is straightforward to use as it offers an intuitive layout that helps you use the plugin.
You can quickly import settings from other SEO plugins such as Yoast, AIO plugin, etc.
It provides a free version.
Provides Google Search Console Integration which assists you with everything from crawling issues to keyword tracking.
It's a lightweight plugin (doesn't affect the speed of your site at all).
Offers rich snippets.
It has a community on the Facebook group (they also provide 24/7 customer support on their website).
Offers a redirection module.
It lets you optimize for up to 5 keywords.
It supports almost all the WordPress themes.
Automatically adds alt tags for missing images.
Constructive support as they have a dedicated forum as well.
Cons
Other WordPress SEO plugins do NOT support import from Rank Math as of now (so if you want to move from Rank Math to any other SEO plugin after using it for a while, you'll face difficulties).
---
Rank Math 🆚 Yoast
| | | |
| --- | --- | --- |
| Features | Rank Math | Yoast |
| Lines of Code | 51.3K | 87.2K |
| Plugin ZIP size | 2.85 MB | 7.18 MB |
| Keyword Rank Tracker | Yes | No |
| Advanced Google Analytics Integration | Yes | No |
| Import Schema From Any Website | Yes | No |
| Google Trends Integration | Yes | No |
| Speakable Schema | Yes | No |
| The Most Advanced Schema Generator | Yes | No |
| Google Video SEO Sitemap | Yes | Yes |
| Google News SEO Sitemap | Yes | Yes |
| WooCommerce SEO PRO | Yes | Yes |
| Local SEO PRO With Multi Locations | Yes | Yes |
| Image SEO PRO | Yes | No |
| Advanced Content SEO Overview | Yes | No |
| Add Custom Schema Using JSON+LD/HTML | Yes | No |
| Check Ranking Keywords for Each Post | Yes | No |
| Track Top 5 Losing Posts | Yes | No |
| Track Top 5 Winning Posts | Yes | No |
| 840+ Schema Types Supported | Yes | No |
| Add Unlimited Multiple Schemas | Yes | No |
| Dataset Schema | Yes | No |
| Advanced Redirections Module | Yes | No |
| Official Site | 👉 Visit Rank Math | 👉 Visit Yoast |
Source of comparison (Rankmath.com)
---
🌟 Rank Math FAQ
✅What is Rank Math?
Rank Math is the all-in-one SEO plugin that one can easily install on their WordPress website. Rank Math makes SEO easy for everyone as it tells you everything about how you bring your website to the search engine.
✅Can I download Rank Math for free?
Yes, one can download a free version of Rank Math easily. But at the same time, the Rank Math free version has limited features. Use the above-mentioned Rank Math coupon code if you are looking to upgrade the Rank Math Pro version.
✅How can I download Rank Math?
✅Which is better; Rank Math Vs. Yoast?
Both RankMath and Yoast are the best SEO plugin in their own place. But we highly recommend you to go with Rank Math because of its amazing features. Rank Math improves the chance for your sire to appear on the search engine.
---
Conclusion: Rank Math Review 2023 | Should you go for this SEO plugin?
Overall, Rank Math has defeated all the existing SEO plugins with a big knock. Since its launch, we have been using Rank Math, and it has provided a great result to our websites. The basic version also has many benefits. If you are a novice and have just decided to go into blogging, then you can start using Rank Math right away.
The basic version is elementary to understand and will not take any of your hard work to make it better. With this, we will wrap our today's Rank Math review. If you have any questions about the article, please punch them down in the comments section below.🙂