Real Estate Affiliate Programs in which only those people participate in making money without investing their money in property or becoming agents in the market. Basically, in this program, you strategize to earn money through a commission by sharing other firm's product links.
Working of Real Estate Affiliate Programs
Web-based programs run different ads, and if the guest registers or purchases the product mentioned, a commission is given to you for running the ad.
The commission depends upon the product advertised on the website.
You can get a commission in the form of- Cost Per Clicks, Cost Per Action and Shared Revenue partnership.
---
Top 14 Best Real Estate Affiliate Programs to use in 2023
All Things Real Estate program acts like an online store where you will be provided with a 20% commission, including a 30-day tracking cookie for the online orders, which helps you grow your business rapidly. It offers you branded goods like phone accessories, hats, decals, and signs, etc, to grow your business.
It also offers you to measure and report the performances, and you will get affiliate approval the moment you sign up. Though cheap products have lower profit margins, they still help you compete with a community that does not have real estate tools.
---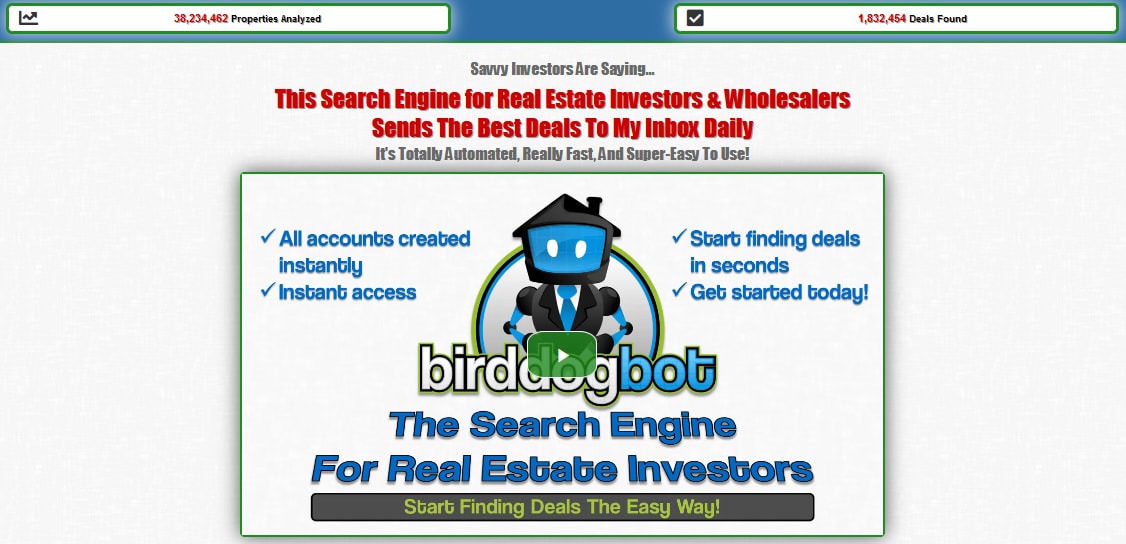 BirdDogBot is considered the best real estate program because it helps you find the best deals that go best with your investing strategy without wasting even a minute. It regularly updates you about the new posting the minute they are posted.
In addition to this, it works on its own. After you have set it up, you have to relax because it will routinely run searches, monetize ads, share the email, etc without logging in again and again. It will help you secure your data, access your deals anytime, share your values with investors, and provide you with video tutorials if you are in a problem. In short, it will be there for you in every step.
---
Bold Leads is considered the most influential lead creation software because it gives all the investors the tools required. The essential service provided by BoldLeads is that it automatically follow-up with the customers. As we all know, regular follow-ups result in more conversions. Bold Leads make it simple for us to follow up by automated emails and texts, 2-way messaging, presets, etc. In short, everything is taken care of on its own, whether it is lead generation or filling pipeline so that more deals are closed in less time.
---
When you become a part of the Buildium program, the only thing you do is earn a profit. Buildium generates the best-qualified leads for you and offers you a 25% commission for each monthly subscription. You can get connected with Buildium easily, and everything is done on its own. It pays you for the lead and the sale and helps you look after your commissions anytime you like.
The best part about this program is that anyone who has a website and has an interest in property management software can sign up and start earning money. Start applying today to bring in profits online!
---
HBO's primary work is to advertise rental property owners who want to market their land to companies and traveling professionals. It looks after every individual and pays equal attention to everybody because property owners are essential to CHBO.
CHBO has teamed up with ShareASale.com, which offers you the facility of merely signing up. Just after you sign up with CHBO, you will start getting commissions from ads you will be posting on your website. A commission of 15% of the total sale is given to realtors after listing their property with CHBO.
---
DealCheck Real Estate Affiliate program offers you an excellent and easy chance to earn good money in no time. DealCheck pays you 30% commission for each new customer you refer(there is no limit to referring to people, you can earn as much money as you like) and offers you an additional bonus along with the commission.
Working of DealCheck is very simple. You have to create an account and wait for the referral link, which will help track the customers, and then you can start sharing this link on different social media platforms. As mentioned above, you will be paid a 30% commission on each subscription at the beginning of each month through PayPal.
---
For Sale by Owner 50 states affiliate program gives you a commission of 20% if somebody signs up or make a purchase using your website. You will also earn an extra 5% commission if you sign up as an affiliate on any website.
To become a part of For Sale by Owner, you have to sign up. There is no requirement or anything; you must have a website and start earning money in no time. After setting up the links, you can easily track all your leads and commissions you have earned, and you will be paid through a check of the earnings you made each month.
---

Foreclosure Real Estate affiliate program helps you in earning additional something without making any effort. You can be a part of this program today by signing up at 0 charges. After becoming a part of this program, the only thing you do is earn profits.
Foreclosure pays you 25% for all the sales made with your website's help, along with additional rewards for the hard work done by you. It follows a simple process wherein a visitor browses the site and places the order, and you will be updated automatically and get your commission. Give business and have your money!
---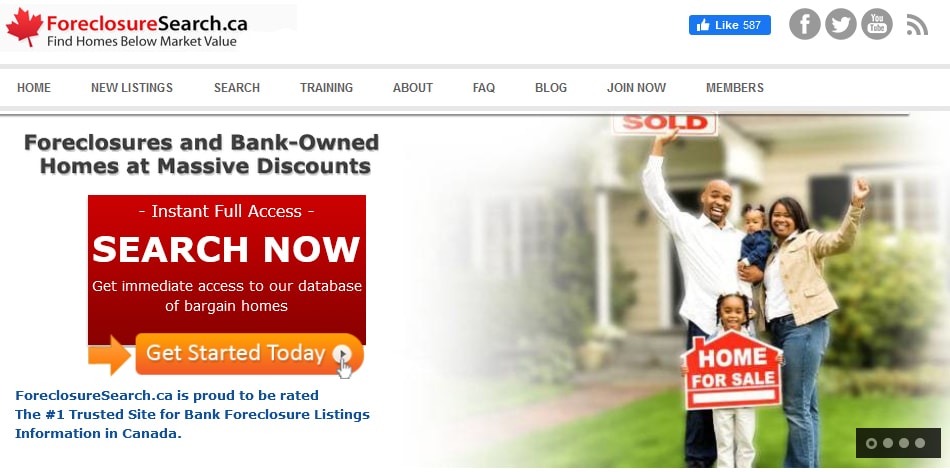 Foreclosure Search Real Estate affiliate program can be joined by anybody who owns a website at free cost. The foreclosure Search program pays you a good commission for each referral. You will be paid 50 to 75% commission if the generated lead is converted using your website.
Not only 75% but if you generate 50 new sign-ups in a month, you will be rewarded with an extra 10% commission, and if there are 100 new sign-ups, then you will be paid 20% additional commission, which is a full package for you because you are earning 95% commission in total. This is the highest commission anyone can pay. So, sign up today!
---
HomeAway, Uk's number 1 holiday rental website, offers you two ways to earn money. First, you can earn an E50 commission on each new PPB listing along with a 60-day cookie to look after new referrals. Secondly, you can make a 3% commission on each holidaymaker referred by you.
To earn more money mention below are a few steps which can be of help:
Fifty holidaymaker bookings per month- 2% for each booking.
More than 50 holidaymaker bookings in a month- 2.25% for each booking.
More than 100 holidaymaker bookings in a month- 2.5% for each booking.
More than 500-holiday maker bookings in a month- 3% for each booking.
---
House Plan Gallery Real Estate affiliate program helps you earn a 15% commission, which varies between $100 to $480 for each sale of a house, or each conversion made using your site. As soon as the order is registered for sale, you will get a commission of 15%.
Additional advantages are as follows:
You can easily track your reports and performance.
10% discount offer given to your customers for better attraction.
Extra commissions on re-visits of your customers (valid only till 12 months)
At the end of each month, you will receive your commission through PayPal or Bank transfer.
---
LeadsBridge Real Estate affiliate program is best suitable for entrepreneurs, digital marketers, and bloggers because they can easily convince people to subscribe for sale by generating affiliated links. LeadsBridge is the world's number 1 integration partner, which takes you forward and helps you in each step you take. If you also want to be on top, register today, and be a part of this beautiful program. You will be paid a 20% commission for each sale with a cookie duration of 90 days. This digital service will help you to be on top.
---
Lending Tree Real Estate affiliate program is one of the world's largest lending networks that help you acquire the best loans. To be a part of this affiliate program, you have to sign up with FlexOffers.com, and you will start getting commissions. Lending Tree helps you compare and compete with others and create traffic on your website so that you can earn dollars of commissions easily and assist you in every situation. It processes your problem and tries to solve it in a second.
---
Above mentioned programs are the most appropriate programs if you are looking forward to earning tons of money. Sign up with the plan which best suits your investment criteria and start making some good commissions!
---
Advantages & Disadvantages of Real Estate Affiliate Programs
This the most respectable and reputed business. You will be seen as a trustworthy and helpful person.
It provides you with extra income. In this business, you can easily earn money without putting in lots of effort.
If the posted product on your website is not up to the mark, you can lose trustworthiness.
You have to put effort into competing with big sites because they have already spread their network.
TIP: Try to interact and communicate with your visitors by regularly posting the content. This will help in re-visits on your site.
---
🌟 Real Estate Affiliate Programs FAQ
🤔What is a real estate affiliate program?
A real estate affiliate program is a marketing strategy that allows you to make real money from real estate without investing in property or becoming a real estate agent. If someone buys any real estate product or service through your affiliate link, which is placed on your real estate website or blog, then real estate companies pay you a huge commission.
🙄Does Zillow have an affiliate program?
No, Zillow does not offer any affiliate program but provides an advertising platform called Zillow Premier Agent that allows agents to grow their business.
🔎How do I become a Redfin partner agent?
Click here if you want to become a Redfin partner agent at zero cost. Within 24-48 hours, Redfin provides you an invitation link to complete the application. On submission, the company will review your application and get back to you with the further process.
🤑What are the highest paying real estate affiliate programs?
If you are looking to join the highest paying real estate affiliate programs, check the list mentioned above to earn a huge commission.
---
Conclusion:
Now that we have discussed everything about the real estate affiliate programs, it is time for you to start signing up in the same to earn good money. These programs will help you grow in the market quickly, and after putting your time and hard work in the same, soon you will be the most reputed and wanted person in the real estate market.
Go in Flow and Grow!🚀🚀