The best way for affiliates and publishers to understand the performance of their ad campaigns is to use tracking tools that allow them to analyze and optimize the data.
There is a lot of tracking software available on the market these days. But today, I will review just one of them – RedTrack.io, SaaS affiliate, and performance campaign tracker.
Suppose you're looking to ease your affiliate campaigns & performance tracking in a better way or looking for an expert solution with automatic tracking solutions. In that case, RedTrack.io is one of the best, easy-to-use affiliate tracking platforms that work ultra-fast & give you results in real-time for your campaign's performance.
---
RedTrack.io Review: Track your Affiliate Campaigns & performance with ease
RedTrack.io is an international, leading affiliate marketing platform that facilitates tracking and analytics for affiliate marketers. Their simple and intuitive platform allows advertisers to create new campaigns at a low cost, track their results and get a clear view of their ROI in real-time.
The company was founded in Lithuania and had been operating for the last 5 years to provide a platform to help brands get higher ROI. The company's AI-powered software suite provides various tools for media buying teams to simplify and automate the process of advertising on various online media channels, saving them time and money. Now their team works in 5 countries and engages with customers from 107 countries daily.
RedTrack offers a variety of powerful tools like the Analytics platform and affiliate marketing tracker, which helps media buying teams affiliates and get higher returns. The software comes fully equipped to provide the latest advanced modes of data deployment on all conventional forms of technology, including Cloud, SaaS, Web, and many others. With an extensive experience in digital advertising data, they can track a wide range of metrics and data points gathered from various sources, including advertiser's websites or social media marketing campaigns.
It has been lauded globally for its prompt and thorough customer support, as well as its thorough customer training to get customers back on their feet when they experience any technological problems.
RedTrack has a complete set of features for a demanding performance marketer. It is built with the motive to ease performance tracking and better analytics for optimizing profit. The tool is straightforward, with dozens of video tutorials available from them. It also comes with smart solutions that enhance the monitoring of each CPA campaign with its feature-rich dashboard.
---
Why Affiliate Marketers & Agencies Should Use RedTrack?
First, a bit of background. RedTrack is not just yet another tracking solution. It is the tool that was created by the team that stands behind Affise – performance marketing platform, nominated for the Global excellence by Performance Marketing Rewards.
At the heart of RedTrack are people with 15+ years of experience in the affiliate marketing industry and profound background in developing affiliate programs and traffic analysis platforms. This is probably why RedTrack has resulted in such an innovative and advanced tracking solution.
---
✅Latest RedTrack Discount Coupon Codes (💯 Verified)
50% OFF
RedTrack Coupon Code - Get 50% OFF on all Plans
25% OFF
Save 25% OFF with 6 Months Subscription + Special Bonuses
---
RedTrack.io Features at a Glance
Here we have reviewed a bunch of RedTrack Features & unique benefits which make it stand different from other affiliate trackers in the market.
Custom dashboard enhances tracking and reporting. It has hundreds of powerful features like a detailed performance log for clicks, conversions, etc. It also allows group data across multiple variables and exports it for reporting purposes.
Support multiple cost models:
RedTrack supports multiple Affiliate models and verticals, which includes CPC, CPA, CPI, RevShare and CPM
Diverse analytical data points:
RedTrack tracks the following attributes for each click: source, network, offer, campaign, lander, GEO, OS, browser type & version, device, connection type, IP address, click date & time, referrer.
RedTrack allows you to use your own custom domain for tracking purposes. With the custom domains feature, one can manage traffic with custom rules.
It also enhances the branding of your affiliate marketing agency when you share the tracking URL with your own branded domains to others.
Visitor cap limiting enables you to limit the number of times an offer is shown to the same visitor for a definite time, week or month. If the user has already seen the offer, he will be shown a different offer within the same campaign.
A conversion cap enables you to set a daily limit of conversions for a particular offer.
Click cap, in its turn, limits the number of clicks you want to receive for your offer.
By using Smart Streams, one can craft multiple streams for different objects like traffic distribution, A/B testing and numerous complex rule system based on pre-set and custom parameters.
With Auto scaling, you don't need to worry about upgrading your plan or increasing your resources anytime. Even if your clicks and traffic increase significantly, your redirects will be super fast and always real-time. You won't lose your paid traffic ever with RedTrack.
RedTrack was one of the pioneers adopting Facebook Conversion API technology that has rapidly evolved over the past few years. With RedTrack, you can:
Automatically send enriched conversion data back to Facebook via postback for further optimization of the platform.
Simple CAPI Integration
You can also verify domains even for third-party domains, which is a new rule from Facebook that all the affiliates should adapt to.
All conversions should be attributed to the last browser used- this is true for Facebook and other ads. If a user from an FB app goes to Safari, then you need to attribute that conversion to Safari.
Optimize Aggregated Events Measurement
While most advertisers and the network have rolled our cookie-less tracking system on their backend due to the new browsers updates from chrome not supporting cookie tracking, RedTrack has smartly integrated cookie-less tracking features that track the entire funnel journey in the cookieless era.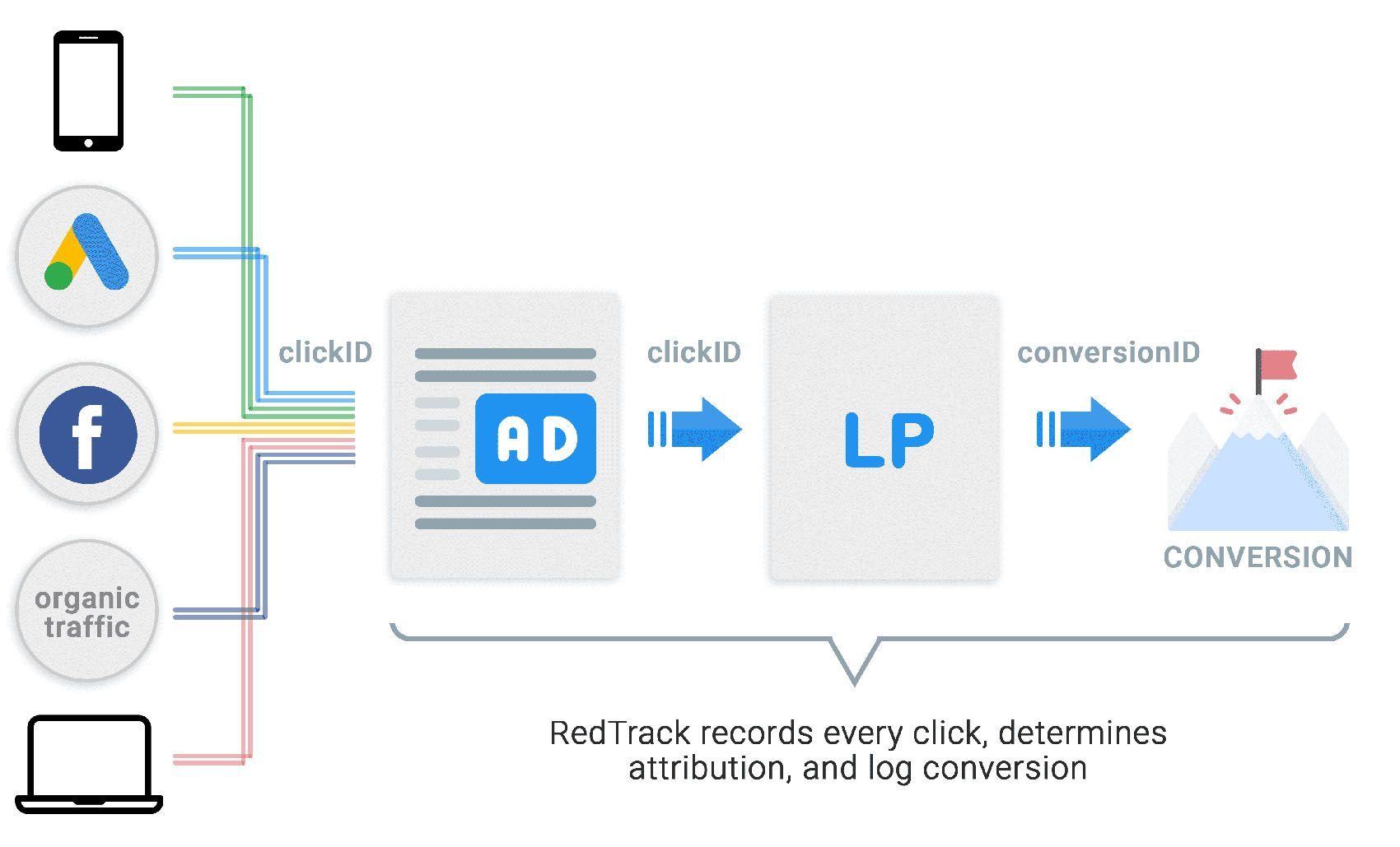 This smart solution by RedTrack enabled media buyers, advertisers and agencies to accurately identify every single click and connect it with the conversion. This ensures highly accurate tracking for web traffic with less than 5% session loss which results in more insights into the effectiveness of digital ad campaigns.
RedTrack has partnered with almost all the fraud detection companies to ensure clean statics. Every single click is scanned by its IP to detect any unethical activity.
RedTrack became one of the first ad trackers which implemented this cookie-less method solution. It saves information about user ID directly to the server of an offer provider, RedTrack and the chosen Affiliate Network.
This feature is especially valuable now when the world of digital marketing is entering the 3-rd party cookie-less era. The flexible S2S postback tracking method allows users to track ads across all browsers with no limits.
Utilizing a powerful and advanced distributed infrastructure, this tool can support your campaigns with predictable performance across multiple regions.
Each click based on past performance can be distributed using data-analysis-based algorithms, ensuring that maximum ROI is obtained.
RedTrack offers a set of 4 automated features. A great opportunity for those who can't wait for reliable AI-based alternatives. Three main features are campaign, ad placement, and creatives auto-optimization.
Their work mechanism is quite simple: you set desired KPIs for your traffic and, if they are not met, algorithms pause campaigns, distribute traffic between creatives or pause ad placements based on EPC / ROI / CR. All this helps you save time and money.
Create rules to auto-pause campaigns: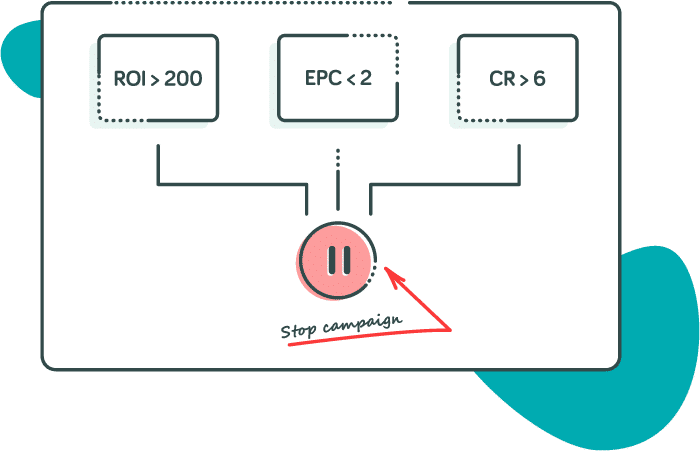 Just set a KPI for your affiliate campaign to auto-pause sending traffic on the particular campaign if the source level is not met.
Distributive traffic based on performance:
With the new Redtrack's auto-optimization feature, you can create several rules for landers, offers, creatives inside the campaign, and it will automatically distribute traffic on the basis of performance.
Receive alerts if your ROI is not met or unexpectedly changed:
While other campaign does not alert you if your KPI to ROI is changed suddenly. RedTrack will notify you immediately if any campaign is a sudden loss or KPI is not met.
The auto-update cost feature stands a little apart. It updates your campaigns cost automatically
You can see the whole list of Traffic sources where they are available here.
RedTrack.io LP tracking pixel:
With conversion tracking pixels, split test affiliate offers or rotate even for direct traffic.
---
Here are my Top Reasons why you should choose RedTrack.io as your tracking solution.
Reason 1 – They are constantly advancing and innovating:
If compared with some "pioneers" of the affiliate tracking industry, RedTrack is still in its early days. Still, while reviewing the tracker, I can't but note the pace they develop it.
Reason 2 – Every month, they release at least 2 major updates:
Add new features and upgrade the old functionality. I can predict that they will overtake the industry players quite soon.
Besides, they have recently launched their Telegram channel, where users can share their needs and suggestions about making their tracking experience with RedTrack better.
Reason 3 – They innovate but stay simple:
RedTrack has one of the most user-friendly interfaces. Despite the constant changes and upgrades they implement, the tracker's interface remains simple – you won't see a bunch of "what-for"-buttons you should click on to extract some statistical data.
RedTrack markets itself as the tracking solution for both newbies and advanced users. Those who are not stable with tracking and analytics will leverage the tracker's ease of use.
Reason 4 – They listen, and they help:
Their support team does an exceptional job in offering profound assistance to the users of their tracking platform. You should admit that not every tracker is ready to provide a FREE one-on-one onboarding to every customer – help in setting up the postbacks, adding Networks and Sources by choice of the user, etc.
This is another big reason why RedTrack might become an excellent choice for starters.
Besides, they always update their Knowledge Base with detailed manuals and video tutorials. By now, they have 30+ step-by-step integration guides for Affiliate Networks: PeerFly, AdCombo, CrakRevenue, MaxBounty, LeadBit, BitterStrawberry, etc. and such Traffic Sources as MGID, PopCash, ExoClick, PropellerAds, Mobusi and many more. They claim to add new Networks at the request of their users too.
Reason 5 – For Starters:
It offers the easiest to use the trackers. With the right tools and natural learning curves, ReadTrack will make you feel oracle. They offer state of a art platform that doesn't require any geek knowledge.
It is easy to set with your offers, networks, and traffic and gets started running up instantly. It also offers in-depth video training and tutorials so even a newbie can start using it.
Reason 6 – For Experts:
If you are an authority in the affiliate marketing industry, RedTrack is an efficient platform to scale up your Campaigns.
With advanced features like Articifical intelligence optimized smart links, custom domains, GEO balancing, API access, Filters and cloaking, RedTrack is powerfully built for experts in this industry.
RedTrack overview video:
Reason 7 – They offer highly competitive plans & pricing:
The huge benefit of RedTrack.io is their price. They have 5 different subscription plans, and the first one is absolutely free if you send up to 50,000 events in a month. If compare subscription plans of different SaaS trackers, it can be summed up in the following table:
Tracking platform
Events
Free plan
Plan 1
Plan 2
Plan 3
Plan 4
RedTrack
Clicks, conversions
Trial
$41
3 mln events
$783
20 mln events
$533
100 mlnvents
Custom
500 mln events
Voluum
Visits, clicks, conversions
–
$53 1 mln events
$399 10 mln events
$999 30 mln events
AdsBridge
Visits, clicks, impressions
trial
$89 1 mln events
$379 10 mln events
$799 25 mln events
ClickMeter
Clicks, views
–
$69 100k events
$199 1 mln events
$990 10 mln events
---
RedTrack Pricing Plans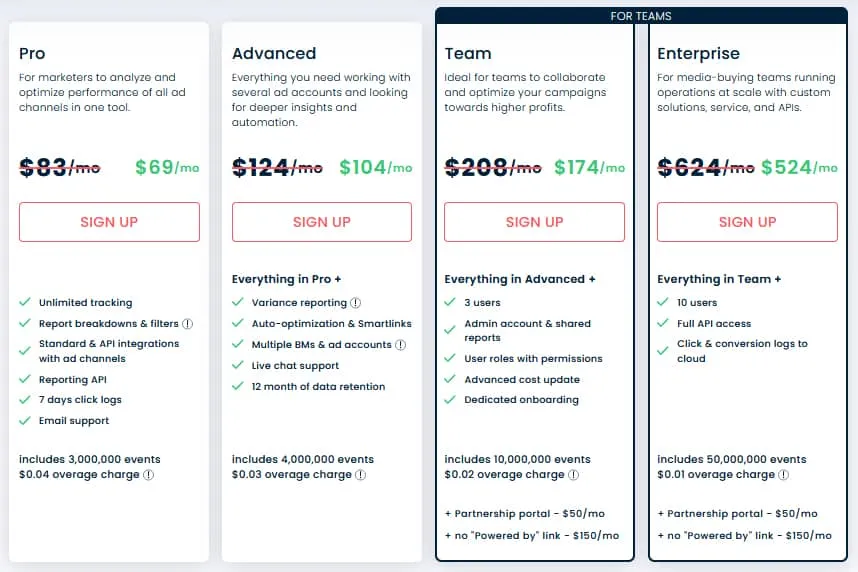 This plan is especially for marketers to analyze and optimize the performance of all ad channels in one tool. With this plan, you get:
Unlimited tracking
Report breakdowns & filters
Standard & API integrations with ad channels
Reporting API
7 days click logs
Email support
It also includes 3,000,000 events and a $0.04 overage charge.
This plan is best suited for people who need to work with several ad accounts and who want deeper insights and automation. With this plan, you get everything in Pro +
Variance reporting
Auto-optimization & Smartlinks
Multiple BMs & ad accounts
Live chat support
12 months of data retention
It also includes 4,000,000 events and a $0.03 overage charge.
This plan is ideal for teams to collaborate and optimize their campaigns toward higher profits. With this plan, you get everything in Advanced +
3 Users
Admin account & shared reports
User roles with permissions
Advanced cost update
Dedicated onboarding
It also includes 10,000,000 events and $0.02 overage charge.
This plan is for media-buying teams running operations at scale with custom solutions, services, and APIs. With this plan, you get everything in Team +
10 Users
Full API access
Click & conversion logs to cloud
It also includes 50,000,000 events and $0.01 overage charge
With every plan you get:
Unlimited tracking whether online, offline, mobile, media buying and partner's events.
You also get real-time reports that too without 3rd party cookies
You also conversion API support with Google, Facebook, Bing, TikTok, Taboola etc.
There is no hidden cost for automation.
All the real-time reports are without sampling and aggregation.
If you require any custom plan or want to schedule a demo for yourself, you need to contact them on their website.
---
RedTrack Pros & Cons
A good set of features and performance-based rules.

Traffic source template and parallel tracking.

Affiliate network support and Multi-lingual support.

Multi-offer landing page and conversion report.

Redirects are always fast, and reports are always real-time.

No Limit on data storage.

Protection to your page from being followed by spy-tools bots.

Payment through cryptocurrency.
Some features are hidden

Also, there are a few limitations in their starter plan.
---
How to Setup RedTrack for Facebook Ads
With RedTrack, you can seemingly set up Facebook conversion API and track your conversions from Facebook, and you can also be sure of the accuracy of the information, which would help you to get the help of non-redirect tracking. Also, make sure that redirect URLs are forbidden on Facebook; if Facebook detects it, it will ban you.
This non-redirect setup consists of 3 easy steps:
Begin by adding Facebook as a traffic source.
After that, you would have to create a campaign with Facebook as a traffic source and Save the tab. Then Scroll down where you can see all the dynamic macros that would store additional information about your audience. Also, traffic source parameters are configured by default.
Just Copy and put your automatically generated Direct Traffic Script to your landing page.
👉 Facebook Ads Setup
Here as well, you need to follow quick 3 steps:
You can use the existing campaign or create a new campaign where you need to go to the "Create Ad" section and set up your campaign parameters.
Copy LP URL (the link without macros) to Destination/Website URL.
Then Add macros to URL parameters with the help of the 'Add Parameter' option. Also, make sure they do match the ones which you have set up in RedTrack.
If you face any problems in regards to this setup guide, you can contact their support team at [email protected].
---
RedTracking Integration with Affiliate Networks, Traffic Sources & Media Partners
When it comes to using any affiliate tracker or performance marketing software, it is always better to check its compatibility with vast CPA Networks, plugins, analytics and others. The tool should be easy to integrate with pre-defined templates and plugins.
Also Read: Top 5 CPA Affiliates Network in the world with highest paying offers:  Updated 2023
RedTrack has partnered with some of the best Affiliate networks, traffic Sources, technology partners & media partners for easy 1 click integration of their offers, traffic, etc. This is one of the best things I Like about RedTrack is Just simple signup, Select your network and import your offer in one click!
How to automate your Ad tracking with RedTrack.io?
Automating your ad tracking with RedTrack.io. is much easier than ever before. RedTrack automation makes it incredibly easy to set rules for your traffic and get alerts if the benchmark KPI isn't met.
Let's just quickly go through a few of the steps which are required.
Step 1: You need to create rules that would stop the campaign when metrics drop.
This first step is to set KPIs for your campaign, and here you can control the campaign on a Source level. For example, if your clicks don't meet the minimum number you want, RedTrack will automatically pause the traffic sent to this campaign.
Step 2: Distributing traffic for offer/lander creative-based performance
ReadTrack can automatically distribute your traffic once one of your creatives performs better than others.
Step 3: It stops the campaign if the performance is poor
By using a feature of rules and alerts, RedTrack will quickly identify those publishers or placements on your traffic source that mainly perform poorly and act accordingly to pause them right away.
Step 4: You can receive alerts once the set KPIs are not met
RedTrack will check your KPIs for your ad campaigns and send you an email if something seems amiss. As well they'll also send notifications to your preferred messenger for different situations.
---
RedTrack Alternatives
One of the foremost RedTrack competitors that come up forefront is Voluum. Voluum offers similar ad tracking and management tools. Voluum is easily one of the best choices for affiliate marketers who want to take advantage of an automated optimization service that notifies them about changes to their campaigns. With Voluum, you can set custom alerts and keep yourself notified when some changes happen. They also react immediately by making adjustments to their campaign settings.
Also read: Voluum Review: #1 Affiliate Marketing Tracker in Budget
Voluum and RedTrack go neck and neck when we compare them. But when Voluum does stand out in a few ways. Following are a few ways in which Voluum gives tough competition to RedTrack:
Voluum can catch bots more effectively because of its invisible links which are on their landing pages.
One more feature which stands out from Voluum from others is the Shared Report feature, which would allow you to create reports and also show them to your clients or team members, which are automatically updated when any new information is available.
You can also collect rewards more excitingly via Voluum's loyalty program, where you can exchange points for bonuses.
FunnelFlux Pro is another tool that lets you track marketing campaigns from various platforms like Google, Facebook, Taboola etc. It has many different features, such as analyzing page visits, creating visual journeys, and providing click and conversion options. You can use it without ever needing to learn any lines of code. Its a pretty popular platform that many might know and would help you to accomplish your ideas without having to worry about any programming or coding. You can create funnels easily the way you want.
Many people have loved the platform for its robust reporting system, which is full of insights that help you gain good ROI. This is a platform that also seamlessly integrates with many other tools as well, which would again help you to get maximum benefits from marketing.
---
🌟 RedTrack F.A.Q
What is Affiliate Tracking Software?
Affiliate Tracking solutions are tools that work as a platform to track ad spends and earnings from affi.liate offers. It's more like a management platform for affiliates and media buyers,
How does redtrack handle high load campaigns
The company uses modern technology with a robust infrastructure that offers exceptional performance and fast redirects. The company serves over 7 million clicks a day and has a record of 99.99 % uptime in the last 12 months.
Can you buy Traffic/Ads from RedTrack?
RedTrack Demand-side platform (DSP) allows you to integrate traffic sources and directly buy from redtrack's dashbaord only. It provides access to multiple traffic exchanges inside the tracker interface.
How fast are redirects with RedTrack?
Being complete Saas solutions, Redtrack does not depend on n server-side performance, and hence it gives instant fast redirects worldwide.
How does RedTrack work?
RedTrack offers you an ad tracking and conversion attribution platform for media buyers and affiliates. It provides a robust Saas Solution that can handle billions of monthly events and give you real-time data and insights into all the affiliates worldwide at a reasonably low cost of ownership.
---
Conclusion: RedTrack Review 2023 | Should you go for this tool?
RedTrack has the core set of features with sophisticated technology for Affiliate Marketers. It offers the best tracking solution at cost-effective prices and is far more affordable than others. With the state of the art technology, new updated features, RedTrack has proved to be #1 in the performance marketing and tracking industry.
RedTrack free plan comes with 50,000 events or less in a month and is forever free. You can upgrade it anytime or choose its other premium plans. If you have a higher click volume, You can request their team for a customized plan according to your requirements.
RedTrack Analytics tool is robust to handle the ups and downs of your affiliate marketing campaigns and help you monitor and predict the results for better performance.
Try RedTrack feature-rich panel today, which is easy to start, requires no servers or software install and comes with templates, pre-sets and dozens of video tutorials.