If you are a marketing agency, are you sure that your marketing tactics are correct? No one can deny the fact that marketing is one of the significant investments in any company. And every ideal marketer is incomplete without advertisements. Therefore, we bring today an ultimate comparison of two robust ad tracking solutions, ✅RedTrack Vs. BeMob.
Without advertisements, it becomes challenging to attract the right set of audiences. And also, if you do not align your business functions properly, it becomes tough to stand out from the competitors. Also, creating just an advertising campaign is not enough. It even can lead to an ultimate loss when you decide to run ads if certain aspects are not appropriately considered. For example, ads only work when done in the right way. But does this make ideal advertising challenging to go through? The answer is NO.
To overcome all the advertisement hurdles, you can take the help of an ad tracker. Ad tracking helps measure clicks and conversions and get a proper insight into better advertising techniques. There are various ad trackers available in the market, but we will only focus on the best ones. RedTrack and BeMob happen to be two leading companies when it comes to excellent advertisement marketing.
You can consider both of them almost similar to each other, with just minor differences. The following article will offer the best characteristics of both platforms, and you can choose the best one according to your advertising requirements.
---
What is an Ad Tracking Tool?
Ad tracking is a process of keeping track of how much of an impact an advertising channel has. You can also use ad tracking to track the ROI for a particular ad spending. You can see how effective your ad campaigns are and how much your ad spends translates to increase sales.
While the advertisers before the internet struggled in having almost no data to back up with their old ad campaign, modern advertisements, on the other hand, have too much data. Therefore, they have to devote their maximum time to pick up the valuable data from the plethora of data set. Ad tracking makes it easier to gather the effectiveness of the particular ad format and tests new campaigns with minimum investment.
Ad tracking is a more complex process than it seems to be. Therefore it is essential to lay your hands on the tracking software that will benefit you.
Also read:
---
RedTrack Vs. BeMob 2023: Overview
Both the platforms are considered to be the best in the business. However, there are slight differences in the characteristics of the tools.
Let us get to know more about these tools individually.
RedTrack is one of the excellent options to go for. Consider it your best shot when it comes to tracking online advertising.
The platform was founded in Lithuania in 2015 to help affiliates and media buying teams worldwide get higher ROI. This particular service offers many powerful tools like an Affiliate marketing tracker and analytics platform to support the affiliates.
Famous media companies like Advice, Mobfolio, Genesis, and Ynot Media rely on RedTrack to get their work done. This platform supports all types of advanced modes of data deployment, including Cloud, SaaS, Web, etc.
RedTrack is praised globally for helping its customers overcome complex hurdles of advertising. There is much more to know about RedTrack but let us see a little something about BeMob first.
Also Read: RedTrack Review: The Best easy to use- Affiliate Tracker
Moving on to BeMob, you will find that it is one of the fastest-growing advertising companies. You must know that with BeMob, you will get access to a variety of ad formats and traffic sources.
BeMob is often the first choice of affiliate marketers and media buyers because it is a complete optimization package. That makes it easier for them to keep track of any running ad campaign.
If you use ROT to get the best results for your ad campaign, then BeMob might be the ideal choice for you.
Due to the automatic functionality, there is no need to focus on a routine or ad budget.
Also, you will not have to waste your entire day by keeping an eye on the tracker. Instead, anytime you see the dashboard, you will get a comprehensive overview of how exactly your campaign is performing.
---
Key Features of RedTrack
RedTrack offers a different set of solutions for every customer type.
#1. Affiliates and Media Buyers
RedTrack is an excellent pick for the people who run ad campaigns on social media like Facebook, Instagram, or even Google.
It has direct API integration that uploads conversions to these ad sources. For the affiliates, there are features like:
With auto-optimization, you get 24*7 rules that keep your ad campaign clean from all the low-performing banners. In addition, it sets rules for the desired KPIs, and RedTrack will inform you when specific benchmarks are not met.
No 3rd party cookies tracking
With RedTrack, derive organic traffic from platforms like Facebook, Instagram, or even Google without redirecting to other sites or third-party cookies.
Multi-Access and teamwork
Make all your work accessible to the other team members. For example, you can limit access to certain accounts while granting access to each user.
#2. Ad Agencies
RedTrack is an end-to-end platform for advertising analytics and reporting. For Ad agencies, there are features available like:
Integrate data from any source
Connect all data sources in a single dashboard to check everything that happens to your traffic. Then, with RedTrack, turn insights into actions with rules and notifications.
Instead of wasting hours analyzing and making reports, you can focus that time on your business growth. With RedTrack, create automatic reports in just one click and share them with your teammates, partner, and customers.
Protect your advertising budget
If your advertising money is getting served to bots and non-human traffic, then report back it immediately. With RedTrack, evaluate the quality of every click and save your bucks.
You also get a holistic overview of the traffic you buy.
With RedTrack, you also get additional features for advertisers and publishers.
Key Features of BeMob
Just like RedTrack, BeMob also offers a list of endless features. These features help to make your advertising game even more robust.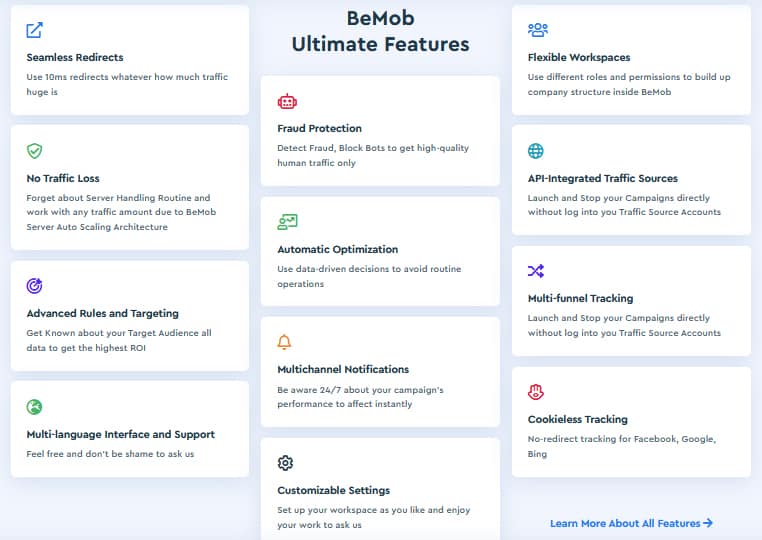 #1. Tracking With or Without Redirect
With BeMob, you can forget about campaign blocks and bans. Instead, you can easily track your Facebook, Google Ads, Bing campaigns when the campaign link is not accepted.
All the traffic data will be displayed on the dashboard as though you are using redirects.
#2. Multi-cost and Payout Tracking
Knowing how much you will earn is one of the most critical aspects of advertising. With BeMob, set the cost model(CPA, CPM, CPV, or Revshare) and choose the convenient payout method.
And have detailed information on the most complex data on profit-based metrics.
#3. Multi-offer, Landings, and Banners Tracking
With BeMob, you are in charge of the traffic: campaign visit, click on the landing page, banner impression, different types of conversion.
BeMob integrates all your data in one report to show the progress of your running campaign.
#4. Custom Domains with SSL
Each of your domains and links is provided with free SSL to prevent your campaigns from looking suspicious by Google, Safari, or other browsers.
BeMob knows that secure tracking is one of the top priorities of all the affiliates or media buyers, and they fulfill that priority.
#5. Custom Dashboard
Organize your dashboards and workspaces with tons of customization options. BeMob offers you the best ready-made templates to ensure the most convenient tracking experience.
#6. Custom Conversions
With BeMob, you get to stay on top of the industry by working with upsells and post-installs. BeMob will take care in tracking the rest of the event.
#7. Anti-Fraud System
Bot or non-human traffic will not pass if you are using BeMob. However, you could quickly detect the non-human traffic for further optimization on the side of your traffic source.
With BeMob, you get an option to make your black & safelists and forward bots to the trash, protect your landing pages from spy tools.
Other key features of BeMob also includes:
No Traffic Loss
Flexible Workspaces
API-Integrated Traffic Sources
Automatic Optimization
Multi-funnel Tracking
Advanced Rules and Targeting
Multichannel Notifications
Cookieless Tracking
Multi-language Interface and Support
Customizable Settings
---
RedTrack Vs. BeMob: Pricing Plans
RedTrack Pricing
RedTrack offers two types of pricing plans. One is for individuals, and one is for Team/Organisations.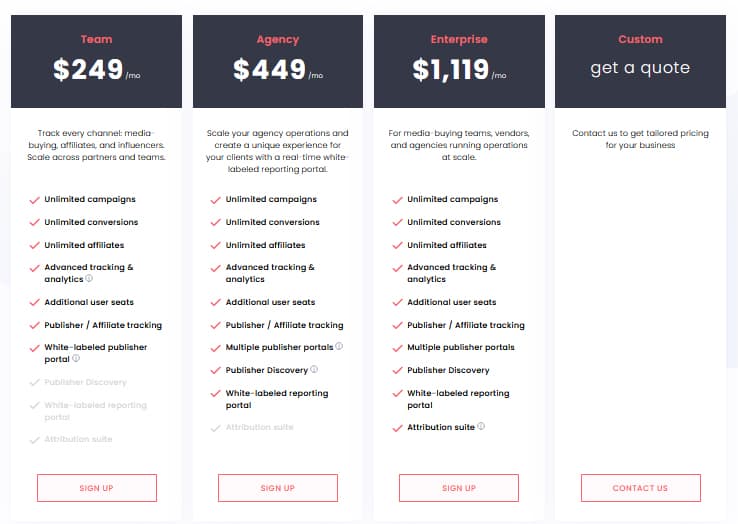 Individual pricing plans are as follows:
Basic @ $49/mo.
Pro @ $99/mo.
Advanced @ $149/mo.
Team/ Organisations pricing plans are as follows:
Team @ $249/mo.
Agency @ $449/mo.
Enterprise @ $1,119/mo.
20% OFF
20% OFF on Monthly Subscription - RedTrack Coupon Code
You can also opt for a custom plan according to your requirements.
Every plan of RedTrack will allow you to go with unlimited ad campaigns, conversions, and advanced reporting and targeting.
Also, RedTrack offers a 14-day free trial. So, if you want to understand its functionality first, you can test the tool for 14 days straight.
BeMob Pricing
BeMob offers 4 pricing plans:

Basic @ $0/mo.
Professional @ $49/mo.
Business @ $249/mo.
Enterprise @ $499/mo.
There is an option for you to check out the free features before you opt for the paid plan. So, if you are just a beginner, you can get started with the basic plan. The best part is there is no restriction on time in learning how BeMob generally functions.
---
RedTrack Vs. BeMob: Customer Support
RedTrack Support
There is no live chat feature for RedTrack. However, the customer support team is terrific.
As soon as you contact them through a call or even an email, they are there to support you fully.
You can get in touch with the RedTrack support executives with the following details:
BeMob Support
Unlike RedTrack, BeMob does offer a live chat option. If you visit their website for information purposes, the live chat window will pop open and clear all your doubts through that. The live chat window is available for even visitors.
You can also contact them through the ticket window or via the support desk. Other than that, you also get the option to write down a letter to them (just like some old times.)
---
RedTrack Vs. BeMob: Pros & Cons
RedTrack
Following are the pros and cons of RedTrack:
Pros
Performance-based rules
Parallel tracking (Google Ads)
Traffic source templates
Affiliate network templates
Landing page multi-offer
Offer conversion reporting
Redirects are always fast, and reports are always real-time
Advanced and robust distributed infrastructure
Protect your landing page from being followed by spy-tool bots.
Track clicks across display, mobile, app, native, push, email, organic.
Cons
No multi-currency support
Strict limitations in the Starter plan
BeMob
Following are the pros and cons of BeMob:
Pros
Automated platform
Fast servers
Preconfigured ad traffic sources templates
Reliable customer support and resources
100% free basic plan
Manual Bot Blacklister
Notifications and updates
Good security
Third-Party integration with ad traffic sources
BeMob API
Cons
Shared default domains
No Phone compatibility
Cannot create landing pages
No direct split testing tool
---
🌟 RedTrack Vs. BeMob FAQ
✔ What is RedTrack?
RedTrack is the industry-leading ad tracking and conversion attribution software that enable media buyers and affiliate marketers to track, manage and optimize their ads on all channels. Grab our exclusive RedTrack coupon code that enables you to get some discount on its major pricing plans.
✔ What is BeMob?
BeMob is a universal ad tracking platform that allows affiliate marketers and media buyers to track and optimize their ad campaigns. Compared to the other ad tracking software, Bemob offers affordable plans, and it is the one-stop solution for your advertising challenges.
✔ Can I use RedTrack with my team?
Yes, you can easily use RedTrack.io with your team as you only need to activate Multi-user access in your main account.
✔ Can I use BeMob for mobile tracking?
You can use BeMob for mobile tracking as they offer all the essential tools you need to track App installs.
✔ Does RedTrack offer a free trial?
If you want to test RedTrack.io for free, then it provides 14 days free trial to all its new users. Start RedTrack free trial and optimize your campaign effectively.
✔ Can I start free with BeMob?
Yes, if you want to start free with BeMob, you can start with a Basic plan, which is FREE for all its customers. Sign up for BeMob Basic plan and test all its features for free.
✔ Does RedTrack offer any discount coupons?
If you choose annual billing, then for the price of 10, you will get RedTrack for 12 months. One can even use the above-mentioned RedTrack.io coupon code that allows you to save money on all its plans.
✔ Is there any active BeMob discount coupon?
Click here to activate our exclusive BeMob coupon that helps you to get upto 25% off discount.
---
Conclusion: RedTrack Vs. Bemob 2023 | Which one is best for you?
BeMob is helpful for all the affiliates and media buyers because they offer a lot for them. Also, they offer a 100% free basic trial. So, if you are an affiliate who is just getting started in their field, we will highly recommend you to go with BeMob.
However, RedTrack has more comprehensive options in their features and is the best choice for advertisers and publishers. So, the final call is yours. Now with this, we come towards the end of our RedTrack Vs. BeMob review. If you have any doubts or suggestions, they are always welcome in the comments section below.🙂
Affiliate Disclosure: This post may contain some affiliate links, which means we may receive a commission if you purchase something that we recommend at no additional cost for you (none whatsoever!)