Hello everyone! We are back today with an exclusive take on ✅Best RichAds Alternatives and Competitors.
If you onboard with earning some extra cash via push networking, then this article is the one for you!
Push Ads network's demand is increasing day-to-day with the rise of digital technologies. No matter which business we are in, we will always need 'Something Stronger' to make it a huge hit as long it is on-screen.
The RichAds network is a prevalent choice among all the push ads networks, and there are several reasons for it. Say it is the reliability, security, pricing, or efficiency. There are many to go with RichAds.
But there are some tough competitors of RichAds in the market that are equally efficient or maybe more. So we thought, why not make a list out of it? Therefore, today, we will be providing a glimpse of all its alternatives.
But first, let us start by telling you about RichAds a little more.
---
RichAds Overview
RichAds is an excellent performance marketing ad network made especially for affiliates, marketers, and agencies.
In 2018, the founders started with their ad network called 'Rich Push,' a top leading ad network provider globally. That specific network is now evolved to comprise Push, Native and, Pop formats in their 2.0 platform upgrade.
That is a piece of great news for all the affiliate marketers, who look forward to managing multiple advertising formates under the banner of just one ad platform.
RichAd's platform is a complete overhaul for all the marketers who wish to make their campaign management and revenue optimization a walk in the park. All the traffic you receive in RichAds is 100% genuine humans, resulting in a bot-free network.
Below are some of the extensive features of RichAds that make them a hit in the network industry.
---
Why Go for RichAds?
Intuitive dashboard to keep you updated with the tiniest information of your running campaign.
If you ever run out of ideas, you can use the creatives templates from the dashboard. You can use the destination URL, Headline, Message and then upload your icon. You can also lookout for a creative image for this ad.
After selecting GEO(Country, region & city), choose the type of device you will use. After this, you can fine-tune your campaign with regional and device targeting and impressions cap.
With an automated bidding option, you get the best price of all your running campaigns. The pricing is set according to the latest market trend, and you do not need to worry about your profit.
With advanced targeting, you get the following options:
OS
Browser
Browser language
Connection type
Carrier targeting
IP
There is a never-ending list of the features you get from RichAds. But there are now some advanced network platforms, which offer much more than RichAds.
This section will include a short review of the following push ads network:
Traffic Nomads
Mega.push
Push.House
EvaDav
RichPush
AdPushup
Adsterra Push
Now is the time to get started with the best alternatives to RichAds!
Attention:
---
7 Best RichAds Alternatives & Competitors 2023
Traffic Nomads is an advertising platform situated in Lisbon, Portugal, with an experienced professional media buyer team.
It is a self-regulated advertising network created by media buyers to provide high-converting traffic to advertisers. Here you get clock format and various ad formats to choose from. With Traffic Nomads, you get all the ad formats, including Push, Pop, In-Page push, Calendar, Banners, and Native.
All the ad formats support both desktop and mobile to help you get better traffic monetization.
Traffic Nomads Features
High-performing Verticals
With Traffic Nomads, you get access to different niches to increase traffic monetization. You can choose whichever niche suits you, including Crypto, Dating, eCommerce, Sweepstakes, and MVAS.
Push notifications are the most advanced technologies to increase traffic on your websites. You can use different ad formats, including push notifications, Pops, In-Page push, Calender, Native, or Banner, to engage your audience.
With Traffic Nomads, you get 24*7 customer service. Every affiliate receives a dedicated manager with every account who helps them in making the apt choice.
The tips provided by the account manager helps you grow yourself in the network. Also, you can reach out to the executive with the tickets anytime you want.
---
MegaPu.sh was discovered in 2017 and since then has remained a hit in the ad networking industry. For a while, it was operating in private and later was rolled in public usage.
MegaPu.sh then started gaining popularity with the massive amount of quality and affordable traffic it had to offer. MegaPu.sh is considered the best in the business because of the high quality of traffic they maintain.
MegaPu.sh's intuitive dashboard, real-time tracking, and other adorable features speak for themselves. An affiliate will not have to think twice if he considers using this network for this online advertising.
There is a list of features that MegaPu.sh offers that we thought you should probably know.
Also read: MegaPu.sh Review: Exclusive Push notification Advertising Network
MegaPu.sh Features
With MegaPu.sh, you get to optimize your campaign the way you want. The following parameters can optimize its campaign:
You can use different approaches in the creatives. For instance, you can use emojis and a city macro, depending on the user's IP address. You also get ready-made templates that help you make an informed decision if you are confused.
The traffic price depends on the number of current competitors in the specific GEO target. With automated bids, you get an option to make the highest recommendation possible in the region, which is not possible with manual bidding.
These feeds can be activated and deactivated according to your requirement. At present, there are 50+ active feeds in the system.
Time and day of the launch
With this feature, you get to know when is the right time to pitch the specific audience. Sometimes the traffic depends on which hour of the day you are choosing for your audience.
---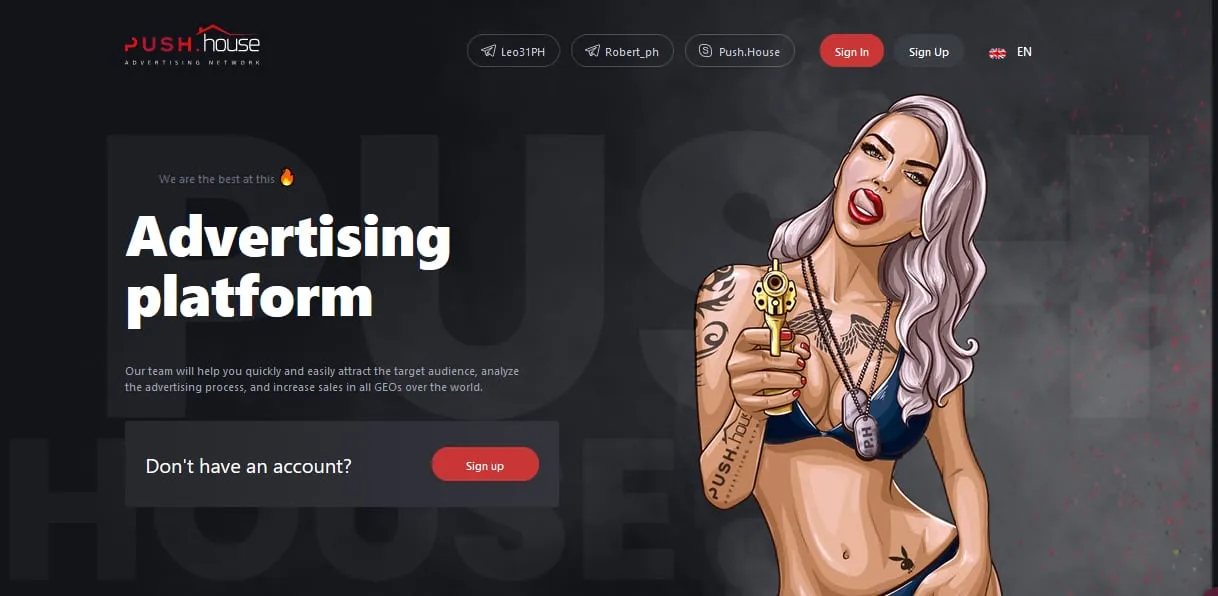 Push.House is one of the leading push notification ad networks in the industry. Everyone with a mobile device gets hundreds of push notifications every day. What if there was a way your product could reach the personal notifications of your target set of users directly?
As push notifications are something consumers go through to check their alerts and everything promoting your product using push notifications gets you much more traffic than an email or text campaign.
Push.House helps you do precisely that. More than 60% of the notifications Push.House sends out for its partners are read within the first hour, with a very high CTR of nearly 10%.
One of the best CPC Ad Networks today, Push.House is the platform to take and join the growing demand for push ads.
If your website has a good amount of traffic, you can use push notifications to generate revenue without disturbing the current advertisements you're featuring on your website. Don't limit your ad reach to specific countries; take advantage of push notifications to accept traffic from nearly 200 countries.
This linking of publishers to these advertising groups is the service Push.House provides after a simple signup and approval process.
After the signup process as an advertiser, you can select the audience you want to attract. It is known that ads that are not targeted are pointless, so Push.House enables you to target your audience by device, subscription age, country, city, os version, browser language, and CPC.
Whether you are an advertiser or a publisher, a top CPC network, you need to head on over to Push.House to make sure that the hard work you put in building your audience or your product gets you the ROI you deserve.
Push.House Features
Push.House works with both publishers and advertisers.
They help publishers monetize their website and build a revenue stream by connecting them with advertisers from the same vertical.
The ads and how they promote them (i.e., push notifications) get more conversions than general ads, ensuring maximum revenue.
With over 300 million active subscribers in 180 countries, Push.House generates over 300 million impressions and 600 thousand clicks every month.
Push.House allows you to customize ad limit, total budget limit, daily budget, age limit, and a cap on daily clicks to manage your advertising budget effectively.
---
EvaDav has been serving for ages to both publishers and advertisers. It is an excellent platform to aid them both in a single platform with class-apart push notification functionality.
Moreover, the cookie provides the best deal to all the advertisers with the most demanding ad formats push notifications and native advertising.
Push notifications have always been an advanced form to reach out to your customers. However, EvaDav comes up with an advanced algorithm that only used relevant and engaging ads.
This further enhances the revenue generation of the campaign, which indirectly results in great benefit to all the advertisers. Even though EvaDav is new to the market, there are many excellent features they offer.
Also read: EvaDav Review: #1 Ad Network to Monetize Push Notifications
EvaDav Features
Simplified procedure of registration
Offers Hybrid accounts
Displays ads according to the customer's taste
EvaDav supports the global network. That means that they pay you no matter from which region you belong.
EvaDav follows a different approach when it comes to the payment option. Unlike other push ad networks, which pay monthly to the affiliates, EvaDav makes the payment weekly. They support a set pattern in which as soon as you reach your minimum pay limit, they pay you weekly.
EvaDav provides a minimum payment pay-off. The limit of the pay-off is $25, and as soon as you reach that amount, you get paid.
---
RichPush is considered the best push ad network in India, Brazil, Indonesia, Thailand, Malaysia, the United States, Germany.
What makes RichPush's game strong is its great affiliation with renowned media networks like AffiliateFix, Affbank, Mobidea, Dr.Cash, afflict, and many more.
With RichPush, you can determine anything and everything that is going wrong with your ongoing problem! No matter what the situation is, you can look for the slightest detail in the RichPush dashboard if you face any connectivity or traffic issues.
Also, the RichPush developers promise to provide you a unique extended targeting. That means every user gets their unique pattern-flow in which the traffic quality does not get compromised.
RichPush Features
With RichPush, you get instant account approval without any additional conditions. That means you get access to their services soon as you sig-up into their program.
You also get an increased percentage of ad viewability. According to some recent studies, 97% of ad viewability has been observed in RichPush.
RichPush offers a broader range of GEO locations. Some of the locations include India, Brazil, Mexico, Thailand, Russia, the Philippines, Colombia, Iran, Indonesia, the USA, the United Kingdom, Canada, etc.
Also, with RichPush, you get 100% bot-free traffic.
---
AdPushup was discovered in 2014. The idea for AdPushup came when the founders realize that A/B was becoming famous, but nobody was doing anything to improve the execution of published-side ad layouts.
AdPushup is a revenue optimization platform specially designed to maximize advertiser and publisher ad revenue by enhancing their CPMs and CTR Ads. They strive to offer nothing but the best to their customers.
Apart from A/B technology and innovative ad formats, they also allow header bidding, Adblock recovery, ad mediation, and AMP conversion.
There are some extensive offerings of AdPushup in terms of their features.
AdPushup Features
AdPushup offers the most vital USPs as an Ad Layout Optimization tool.
The header bidding helps garner a better price for the campaign. With AdPushup, you do not need to worry about setting up the manual prices of your campaign. Everything is done automatically.
AdPushup also provides a solution to all the ad blockers. In this case, even if the person has activated Ad Blocking, your user-friendly ads will still be visible to them.
---
Adsterra was discovered in 2013 in Scotland and had been expanding its wings globally ever since. Adsterra is also an advertising network, which works efficiently for both publishers and advertisers.
This push ad network offers a cost per action, cost per click, and cost per view advertising options so that the advertisers/publishers get paid in whichever way they want.
If you have a bigger target and less engagement rate, you can still pursue them well with CPM ads, which Adsterra offers.
Again there is a long list of extensive features Adsterra offers. But to cut it short, we will only mention its top features.
Also read: Adsterra Review: Is it the best digital Advertising Network??
Adsterra Features
Adsterra works on pop-under advertising, which is believed to be the greatest strength of that network. You can use them as a secondary advertising network to achieve more significant results.
In Adsterra, every advertiser and affiliate gets their account manager, which helps them decide for their business.
Adsterra focuses pretty much on security. For additional security benefits, they use both an in-house fraud detection system and a third-party system.
It also offers Geo-targeting, in which you can target any region you want. It depends on the ad type you are selecting.
Now, if you are in affiliate marketing, Adsterra has also got a referral program for you. You can sign up for their referral program to add a few more bucks to your income.
---
🌟 RichAds Alternatives FAQ
✅What is RichAds?
RichAds is the leading ad network that enables its users to launch new advertising campaigns using native traffic, push, and popunder. RichAds is made for marketers, agencies, and affiliates to drive desired results.
✅What traffic does RichAds offer?
RichAds allows its users to generate traffic from push ads, popunders, native ads, and display. One can easily use the ad format of RichAds to capture potential leads from excellent sources. RichAds network also allows you to run click2sms, click2email, and click2call offers.
✅What payment methods does RichAds support?
Currently, RichAds supports wire transfer, Webmoney, Bank card, e-pay, Paxum.
✅What are the best RichAds competitors?
If you are looking for the best RichAds competitors to generate quality traffic and reach more leads, then check the below-mentioned list:
Traffic Nomads
MegaPu.sh
Push.House
EvaDav
RichPush
AdPushup
Adsterra Push
---
Conclusion: 7 Best RichAds Alternatives & Competitors in 2023
From the above list, you can start with any ad network because they all are the best in the business.
It would be best to focus on the niche and your business type, and you are good to go. With this, we will wrap up your take on 7 best RichAds alternatives and competitors.
We hope you got what you came looking for. Any suggestions are welcome in the comments section below.🙂
Affiliate Disclosure: This post may contain some affiliate links, which means we may receive a commission if you purchase something that we recommend at no additional cost for you (none whatsoever!)