Want to speed up your content creation for free with complete Auto Content Writing with the help of Artificial intelligence? Want to create the perfect content for your clients and your audience instantly? Cure your writer's block permanently?
The primary catalyst for developing and selling AI copywriting tools is the typical situation that all writers, content creators, and copywriters face: writer's block. Being out of ideas, angles, and marketing points is something we all face once in a while. AI copywriters help us by producing some automated results for us to get inspired by. But with the ever-growing speed at which the industry is functioning these days, it is not enough for your AI writer to just produce variations that you can edit but give you the content you need directly.
Many software in the market claim to do this, a select few can produce such results, and even fewer are affordable to many users. The intersection between affordability and results is where you will find Rytr. In this post, we have featured ✅Rytr Review that includes detailed information like features, benefits, pricing, etc. Also, we will share our exclusive Rytr lifetime discount deal.
Rytr is an AI copywriting tool, available at an affordable price, with an extensive scale of use cases. From your next blog post to writing the lyrics to your next song Rytr has it all taken care of. The free plan (limited characters per month) comes with a decent amount of utility, but you can go for their reasonable premium plan for unlimited accurate, high-quality content.
---
In-Depth Rytr Review
Rytr is a AI copywriting tool that is primarily used for generating marketing-based content. It can make excellent blog posts, landing pages, website copy, and everything else in between. The aim is to provide engaging, high-conversion, and relevant content in a matter of seconds.
Built to produce many content types well, you have to provide the topic and any suggestions about the desired content. The developers have set the guidelines so that Rytr can pick up on your tone and style of writing by the suggestions you give.
So, for example, if you have a particular style of writing content for blogs, you can feed it into the suggestions for Rytr, so the automated content you get has that personal human touch. Like other AI-powered writing tools, Rytr also has many inbuilt layouts and templates, but the good thing is despite the wide range, the developers have not skimped on making these templates effective.
---
How to Start Using Rytr?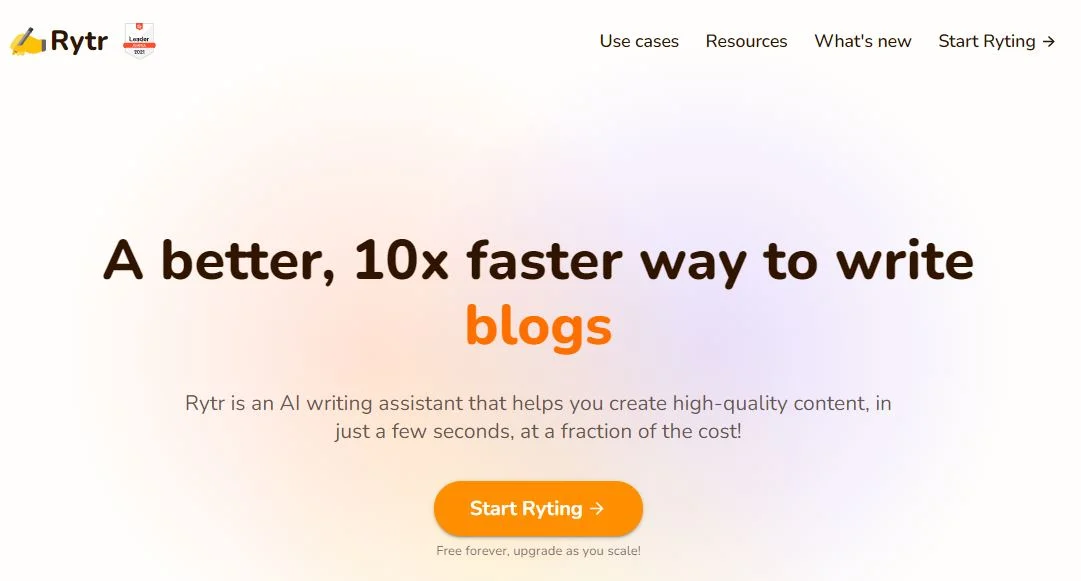 Head on over to Rytr by clicking on the coupon link available here.
Sign up and get the premium plan at an additional discount (there is a free plan as well).
Select the language and tone of the content you want Rytr to make.
Add specific vital phrases, paragraphs about your desired content's topic and select variants and templates.
Click the Rytr for me button, and the AI-based tool will work its magic and give you the content you need.
---
What Type of Content can Rytr Generate?
Rytr has multiple use cases, as we mentioned earlier. These have been developed to maintain the same quality of content writing that you would get with an industry professional. These use cases and templates have also been made easy enough to use that even a business owner can generate some content for their usage. We will also talk about the editing features of Rytr here (please note that the editing features require a certain number of credits per month or the unlimited plan).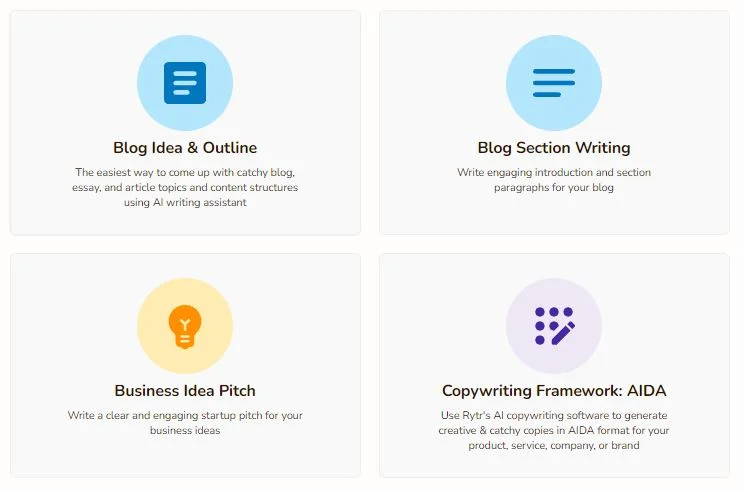 Rytr can generate multiple aspects of creating a blog post. You can insert a general topic and get a Blog Idea with an outline to follow while writing it. The Blog Section Writing feature can generate content under any particular header for your blog post. Many users use this feature, again and again, to create entire blog posts using Rytr.
Any experienced copywriter, is aware of the various formulas or frameworks one uses in the business. Rytr has options for the AIDA (Attention, Interest, Desire, and Action) and the PAS (Problem, Agitate, and Solution). The working of these frameworks might seem simple but is very intricate as the wording of the copy has to be very precise. We are happy to report that Rytr AI is adept at producing copy, unlike our disappointment with most AI tools.
Social Media and Google Ads:
Social Media Ads have to deliver complicated messages concisely as the attention span of users scrolling social media is low. The specific tuning of the Facebook, Google, and Linkedin use cases has been done to ensure that these constantly updated templates generate content that will get sales.
Posts on social media are the blog post(s) of today, and getting the captions right with an attractive profile bio is essential to get your social media campaign to work. You can even generate post ideas as part of the SEO tools integrated into the tool, which help tell you what posts generate the most sales in your vertical.
SEO Meta Title/Description
Reviews and Testimonials
Job Descriptions
Marketing Emails
Video Description/Idea
Channel Description
Product Description/Product Bullet Points
Taglines
Story Plot
Song Lyrics
The text editing features are straightforward and functional. Shorten, expand, improve, append and reward content at the touch of a button.
You can now generate professional sound emails in minutes with the help of Rytr, and it can generate many types of emails such as job inquiry, work status, and more. All you need to do is enter some key points you want your email to cover, select the tome, and rytr will do the rest.
Create video descriptions optimized for YouTube in just a click. Add the title of your video and get a description right away.
Create click-worthy headlines and taglines with Rytr, tell the ai a little about the product or service you want to generate a headline for, and it will produce a result in just a click. You can set the tone of your headline to really control how you want it to sound.
Landing Page and Website Copy
Create copy for landing pages and websites that drive conversions – all in seconds! Using Rytr, enter basic information regarding your website like the name, details, features, etc. Rytr generates well-composed and optimized website content that is bound to bring in conversions and clicks.
The magic command generates content for a use case that isn't included by default. You just need to enter in what you want to be written, and then Rytr will generate it for you. This is the perfect add-on to your application if you like to generate all the content on your own. Just enter whatever you need in the input field and check out how it turns out!
SEO meta descriptions are a valuable tool for attracting audiences. This tool can be used to generate SEO-optimized meta descriptions for websites, pages, or blogs. It can take a meta title of a website or page, and it will create an optimized description for that particular URL.
Rytr is going to generate a set of questions that are appropriate for your interview. You just have to enter the interviewee's background and the context of your interview, and you will be good to go.
Facebook, Google, Linkedin Ads
Rytr makes it easy to create ads for social media! Upload your product description data, and the ad is put together automatically. It's a great tool if you're looking to test out running different types of ads and tones.
A website testimonial review can be generated by using Rytr in as little as 3 minutes. It is a convenient way to build trust and revenue for your business.
By using this tool, your startup pitches can come together more quickly and efficiently! You should be able to have a professional-looking pitch in no time!
Rytr can create mind-bending plots for your short stories. Just provide a simple story idea, and you can test it out with different tones and storylines to get new ideas.
This tool is great for generating content in a more efficient way. It's also helpful for social media posts and captions.
---
Why should You Get Rytr at Maximum Discounts Today?
Here we will cover the top reasons you should use our Rytr Discount Code and become a member of the premium community today.
#1. User Interface
A clean, minimalistic UI is essential to creating an environment for writing. Keeping that in mind, the user interface here is straightforward to navigate. You can use it as a popup on the side of your primary writing tab or as a fullscreen writer app that lets you immerse yourself in your work. As the software works on minimal software and device requirements, you can work on the go on any one of your devices.
#2. Ease of Use
The UI is partly the reason for this, but it is so much more than that. Any person with a working knowledge of online tools can easily use Rytr. No particular learning curve exists for this software, and even your most junior employee can easily benefit from it. Simple content generation procedures at an affordable price were the developers' vision, and they have achieved it to perfection.
#3. Multiple Languages
Very few AI writers provide the feature to generate content in many languages and none at this price point. Generate content in over 30 languages with Rytr. This feature is handy to users involved in native marketing in countries they are unfamiliar with.
#4. Generate Content with Multiple Variations & Tones
While generating the content, you can choose the desired tone in which you want to make your pitch, and even after the copy is generated, you get multiple variations to choose from to get the best results.
(It should be noted that this feature is not available to users on the free plan as this requires extra credits to use. Upgrade to the premium plan using our discount code to get unlimited text variations)
#5. Collaborate with Your Team
A collection of tools being used across a team is the modern workspace's image, which is what Rytr wants to take forward. You can add your team and collaborate in real-time on the software.
#6. History
You don't have to worry about saving the content you generate, as all your content is safely stored in the in-app history tab. A specific search option exists to find your past-generated content quickly. You can delete certain content you don't need anymore to keep your history from becoming difficult to navigate.
#7. Extensive Text Editing Tools
Rytr has a number of editing features that can make your writing look more professional. Using the Paragraph tool will allow you to break sentences into paragraphs of content. While the paragraph might not be totally accurate as per your overall article, it does have some limitations. It will generate content from the selected text, so you'll need to make adjustments where required. Rephrase offers a variety of options to help you express the same idea in different words. It could possibly convert passive voice to active voice or shorten longer sentences, etc.
Rytr's Improve tool helps correct grammatical mistakes and increase the readability of text by automatically identifying them, as well as providing helpful suggestions on how to fix these mistakes. The Expand tool adds a certain amount of words to an individual sentence without changing the literal meaning. The Append tool will allow you to continue your text without having to start over. The Shorten tool compresses lengthy sentences and makes reading easier. The Plagiarism tool can help you quickly scan the web to see if your generated content is copied.
---
What Value can Rytr Bring to Your Business?
The need for content is constant. Be it for marketing, brand reputation, or product visibility, the quality of your content is directly linked to the number of sales you generate.
The days of content being a sideline to the coupons or offers are gone, and the importance of developing high-quality long and short-form content constantly is essential. The role of content writers is indeed still important and always will be important in producing creative content. Still, the speed and output quality of Artificial Intelligence can no longer be denied.
Rytr is an ideal choice in this arena because it is a powerful tool readily available at an affordable monthly price. You can use Rytr completely free using their free trial (they also have a completely free plan), so why not give it a chance and see for yourself just how much help having an AI writer around is? Social Media Managers, Content Writers, and Copywriters on your team will be eternally grateful to you for adding this to your collection of tools.
---
Who Can all Use Rytr?
The wide range of use cases makes Rytr useful to a variety of users. A YouTuber can get his next video idea and the title and description to use for that video, all three of which have been verified by SEO tools as content that will work.
A blogger can get an outline for a blog post he is stuck on in the formative stage, and he can get his writing efforts pointed in a productive direction. Developing plots in an engaging manner is a big part of being a novelist or story writer, and Rytr can also help you with that. The multiple tone options and suggestions bar available on the software ensures that all the uses mentioned above can be fine-tuned to your personal preferences.
---
What are Magic Commands on Rytr?
Magic Command on Rytr is similar to Jarvis Recipes on Jarvis.ai but only much easier to use and available at an affordable price.
Instead of switching use cases every time you need a particular part of the content for a single project, you can string all of these together and instantly get a large piece of content ready. So, for example, instead of generating a Blog Title, Introduction, and so on separately, you can link the command to create the title, introduction, and following paragraphs in one go to get an entire blog post in one click. (This feature is unlocked after obtaining access to the Premium plan).
Rytr Customer Support
Rytr's email and live chat support are quick. It also provides an 8-minute explainer video, a tutorial to help new users learn how to use the service. Rytr has a website that has written descriptions of all the features, important FAQs and community content, and an engaging blog with copywriting-related content.
How to get rewards from Rytr?
With the AppSumo deal, you get 50k characters/month. It isn't enough to test all use cases, but the reward system helps offset this problem. Rytr offers a tool that allows you to earn credits by writing reviews of your experience with their tool. The amount of credits you receive is based on which platform you post a review on. Once you send them proof of your published reviews, the credits are added to your Rytr account. The credit breakdown is as follows:
You can get 1000 credits for reviews that you post on Linkedin, Facebook, and Twitter.
Get 2000 Credits for reviews published on AppSumo and Trustpilot.
And get 3000 Credits for a review on G2.
The Rytr Affiliate Program
Rytr offers its affiliates a very rewarding program for referring new signups to their platform. If you refer someone to purchase a membership, you will earn a 30% commission for life on all future referrals. This is a great opportunity for influencers with an established audience!
What is the Future of Rytr?
Rytr has released a RoadMap outlining some of the upcoming features. These are all exciting updates they have lined up for the future:
New and extensive use cases
Browser extension
AI image generation tool
Inclusive and affordable collaboration functions
API integration
SEO tools
A feedback system for users
---
Rytr Pricing Plans | Rytr Lifetime Discount Deal
Rytr is available to you entirely for free. The free plan allows you to generate 5000 characters of content every month.
If you are satisfied with the results, Rytr gives and looking to create more content; you can get the premium plan at $29/month. You can pay $290 for an annual subscription where you get two extra months for free. At this price point, Rytr is simply an irresistible offering.
The premium plan gives you access to generating unlimited amounts of content with over 30 use cases in more than 30 languages. This content can be developed in any one of 20 tones under the supervision of your personal customer support manager as a member of the premium community.
---
Rytr Pros & Cons
The best feature with Rytr is its support for multiple languages. Rytr produces content in more than 29 languages. This is a significant achievement for this device.

Rytr has an in-built plagiarism checker that allows you to quickly check if the generated content is available on the web.

The Magic Command tool lets you generate additional content like poems, letters, question answers, etc., not mentioned in the feature list.

Rytr's website is clear and easy to navigate; this makes it ideal for beginners and those who are not super tech-savvy. It doesn't have tons of features or options to confuse you.

Rytr has a modern, organized user interface and is easy to use on both mobile devices and the web. It sets a clean and friendly appearance.

Rytr provides stellar support, its chat support has a very quick response time, and its representatives are very helpful and highly informed.

The Landing Page Creator generates impressive and highly relevant content with a few tweaks.
It doesn't include a use case for blog intros.

It doesn't always contain all the details that we provided for this use case. Sometimes changing the tone will change quite a bit of content, and it becomes irrelevant to the topic it was written about.

While using Rytr for generating SEO metadata, there should be an option to add keywords.
---
What are some Alternatives to Rytr?
Today, there are many AI-based writing tools on the market. However, you might want to consider these alternatives that might help you achieve your goals with their unique features and differences.
Rytr Vs. Nichesss
Nichesss is an AI copywriting tool that generates ad copies, blog posts, emails, social media posts, etc. Currently, Nichesss only supports the English language; even so, it is a very powerful content generator that produces short posts.
Rytr Vs. Writesonic
Writesonic is another great AI writing tool; it currently supports 24 languages and can create unique posts, landing pages, ads, product descriptions and more! It also offers additional tools like growth ideas, startup ideas, product names, etc.
---
🌟 Rytr FAQ
🙄What is Rytr?
Rytr is the best AI writing tool that helps you create high-quality content at a fraction of the cost in just a few seconds.
🤔Is Rytr worth it?
Rytr strikes an excellent compromise between providing a clear, clean user interface and producing valuable, accurate content. It's well worth the money, and it's quite simple to use.
🤔Is Rytr free?
No, Rytr doesn't offer a free plan.
💰How much does Rytr cost?
The pricing for Rytr starts at $29.0 per month. Rytr has a single plan: $29.00 per month.
🔎How much is discount rate Rytr offering?
Rytr is offering a $39 lifetime discount & $10 OFF for new users. Grab it now!!
---
Conclusion: Rytr Review + Discount Coupon 2023
Rytr is new to the AI writer market, but it has strong potential for growth. Rytr's GPT 3 model provides a great way of looking into the future of this industry and securing some major momentum. In this day and age, it is more important than ever to draft creative content often and quickly. That's where AI writing assistants like Rytr.me come in handy. It will save your time and effort spent in content creation, ultimately serving you better than other options.
Rytr has a variety of use cases to meet the needs of content creators, social media writers, and more. It is also great for freelancers, marketers, consultants and entrepreneurs as well. Rytr's support for a library of 29 languages is what makes Rytr a powerful writing platform. It allows you to translate articles into any language and have them sent straight to your audience. All in all, Rytr is an AI-powered writing tool that's easy to use. It saves time and effort. You get a limited number of monthly credits, but the lifetime offer looks like a good deal!
To put it very simply, it does not get any better than this. At an affordable price, the value Rytr provides is unmatched, even with software that is considered an industry leader. The good thing is you get the functionality and the quality of a top AI writer in an easy-to-use tool available to you, even for free.
Generate content at the pace you want your sales to grow today by claiming Rytr at a never before price and never slow down because you're waiting on content again.🤞🤞