The world is slowly and steadily looking and turning towards an era of moments that will redefine technology. The advances and progress towards machine learning and artificial intelligence are undeniable. This is developed to make human life easier and hassle-free.
Here, in this post, we will discuss which write better & faster, ✅Rytr Vs. Jarvis.ai Vs. Writesonic.
Artificial intelligence is the thing of the future. The automation will be efficient and precise. Human error can be completely eradicated and make way for a future of certainty.
With this in mind, let me ask you this, what about the creativity and those profiles of society where there is a requirement to think unconventionally? How will artificial intelligence perform in those areas? Will it be disastrous, or will there be efficiency?
Machine learning and artificial intelligence have been proven to be very reliable and successful in those creative arenas. This article explores some of the best-in-class AI-powered systems that create original, enticing, call-to-action content. The technology available now shall certainly progress and develop more in the recent timeline.
The AI is helping on a very intellectual level with the content creating a click of a mouse. The program works in a way that, the user is required to mention or summarize a gist of the topic, article, blog, and Copywriter for Ad campaigns. etc. the system instantly produces awesome. The content is completely plagiarism-free.
The writer's block is going to be a thing of the past. In machine learning, there is no writer's block or scope for human error. The system is proactive and optimized towards the entitled responsibilities and assigned functions. Hence content writing by artificial intelligence is the next step towards the technological revolution. The amount of human effort that can be minimalized is quite exponential.
Content writers and creators can now instantly generate content within a few seconds with this kind of system. The content writer or creator can then proceed to make the required adjustments, customizations, and tweaks if needed. And can proceed to publish or post the content on their chosen platform or do as they require. So let's begin with understanding what are these systems? How do they work? And the most important question; how it benefits you?
---
Rytr Vs. Jarvis.ai Vs. Writesonic: Honest Comparison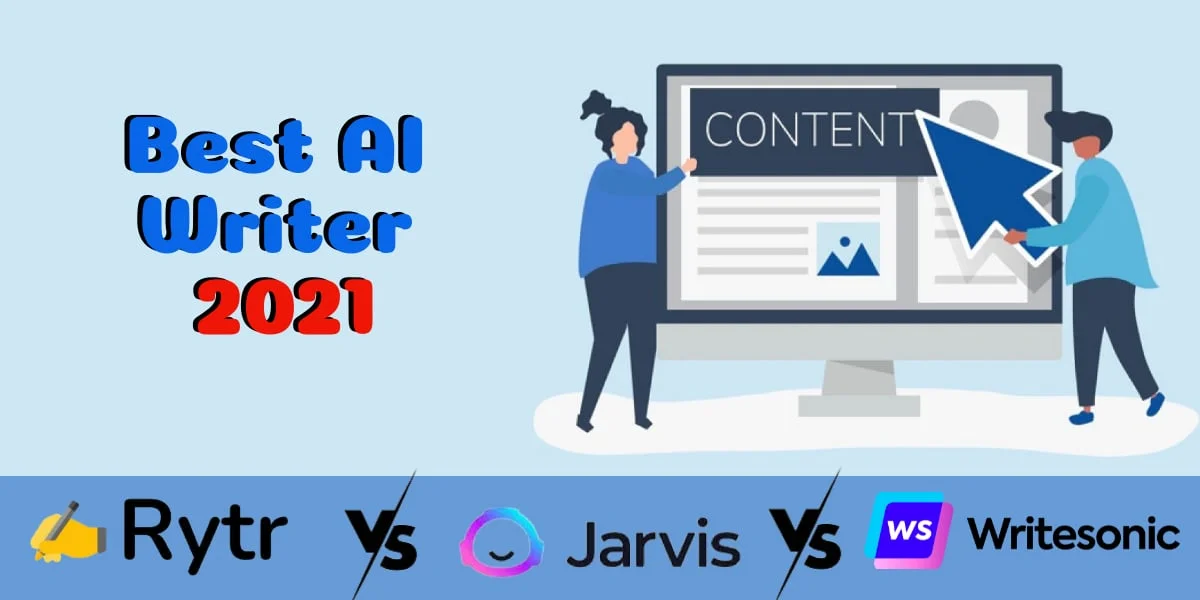 The service/program was created to help produce original and exciting content. Its hassle-free. The content writing and creating takes a lot less time to form. Just a guideline input is required from the user. The program automatically builds an outline and layout for your content.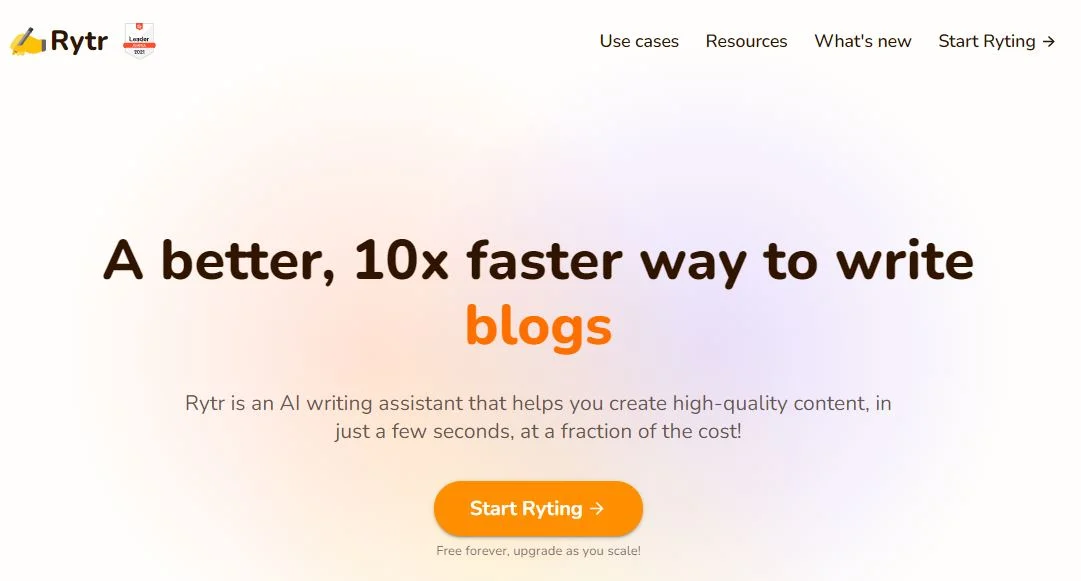 Also, you can choose and customize according to your wishes from its inbuilt library of layouts and outlines if not satisfied with the suggestions.
Artificial intelligence creates high-quality content in a few seconds and saves you time to achieve optimized efficiency without compromising the content quality.
---
The easy and most straightforward answer to this is an automated system that learns and effectively creates original content which has excellent search engine rankings.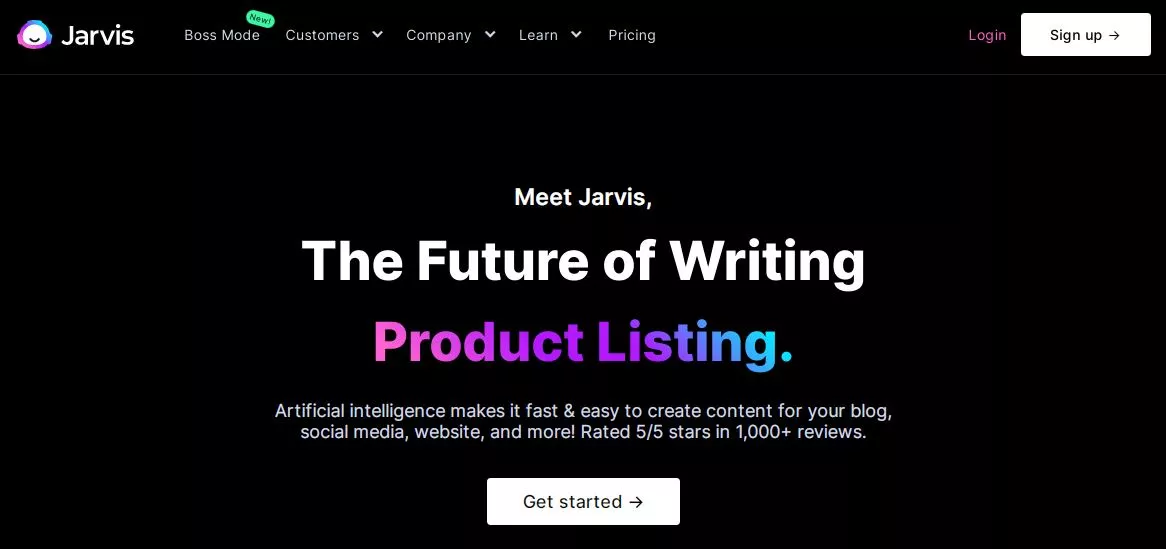 Jarvis.ai was created with consultations from some of the world leaders of marketing and business strategies. The input from experts helped Jarvis.ai, to write contents that were original, creative, and plagiarism-free.
The contents Jarvis.ai created are limitless in virtue. Blogs, copywriter, video description, social media, and many more…..
These are just a glimpse of types where Jarvis.ai is amazingly competent.
Also read: Conversion.ai Review (Jarvis.ai): Is it the Best AI Copywriting Tool?
---
This is an efficient and functioning copywriter for marketing and promotional purposes. This AI-enabled program is like a portable copywriter at your fingertips.
5% OFF
Get 5% OFF on any Writesonic Plan - [Latest Offer]
Grab our special coupon code and enjoy 5% off on any Writesonic plan. Limited time offer.
Grab our special coupon code and enjoy 5% off on any Writesonic plan. Limited time offer.
Show Less
The service can generate original and enticing content for Google and Facebook Ads. It also helps the user to auto-generate headlines and new content topics too….
---
Rytr Vs. Jarvis.ai Vs. Writesonic: Mentionable Features
Key Features of Rytr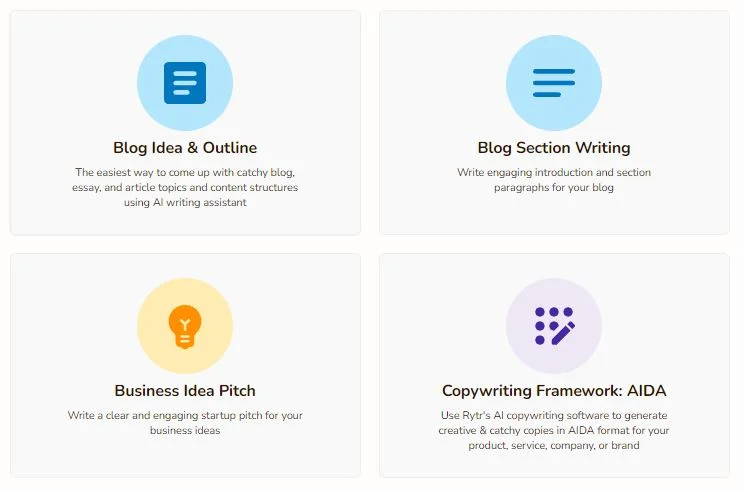 The program is created to allow maximum ease of access. This would help for seamless interface functionality. The user interface of the program is good and easy, that the consumer can have a versatile and engaging experience.
The portal has the flexibility for the popup and fullscreen modes. The minimalistic approach to the interface is the best way to optimize the user experience. The consumer need not be tech-savvy to proficiently use Rytr.
The portal is inbuilt with outlines, layouts, tones, and multiple languages. Has an amazing team working continuously to provide you with all the necessary guidance. The complete content is archived in the history section, for ease of access.
---
Key Features of Jarvis.ai
Jarvis.ai guides you through creating original and SEO ranked articles, efficiently meeting deadlines, and is competent in fixing and completing pending drafts 5x faster. Jarvis.ai is made to improve conversion from view to click with the best copy variations content. The machine learning capabilities of the system make it impeccable in creating content without any hassle.
The common hurdle among content creators is writer's block which can be very tiresome and a waste of resources. Jarvis.ai eliminates this from content creation. With the machine learning characteristics of the system, Jarvis.ai never suffers a writers' block.
Jarvis.ai is proficient in 25+ languages; eliminates the language barrier in the process.
Content creation in any preferred language is now made simple. Users can create ads in multiple languages and that too without having any prior knowledge about it.
Also read: Generate Best Google Ads Copy with Jarvis.ai (100% CTR)
In case, you might already have content available on the internet but didn't get the expected results due to issues such as plagiarism, low keywords, and lacked content to excite your audience. Jarvis.ai can optimize the same content and provide better results. This way, Jarvis.ai conserves time by eliminating the need to create new content.
Recycling and furbishing old articles can be effective as the content is already customized as per user requirements. Simple optimization does the trick. Being a virtual assistant Jarvis.ai is very competent in optimizing search engines and the content appealing to the audience. This makes the ads rank and comes up in the preferred Google search results.
---
Key Feature Writesonic
The while creating content with the help of such a portal raises the question of the content information being accurate and precise. The portal is proactive in maintaining relevance, and also the information included in the content is true and accurate.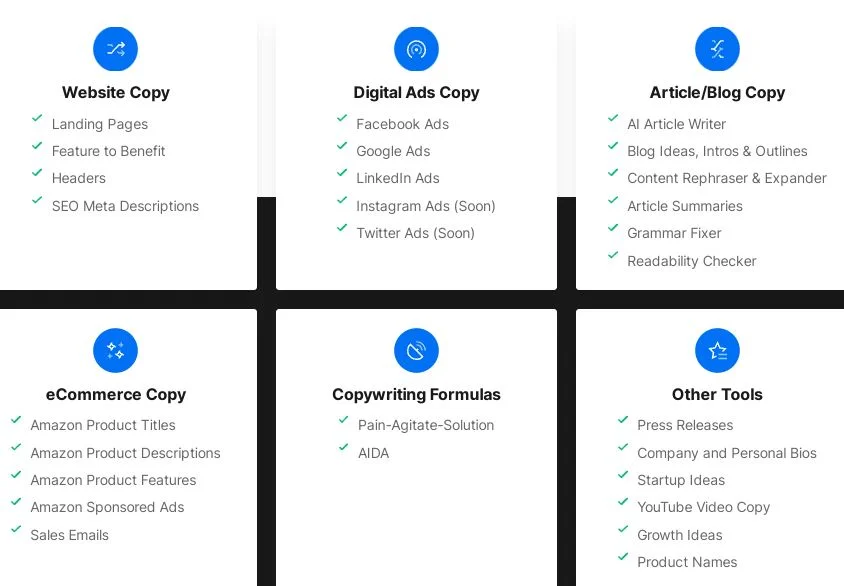 This way a user can even save time on researching the content. The article manager the keywords in the content. This helps your content to rank better in Google searches. The user interface is very eloquent and serves the perfect purpose of hassle-free and stress-free content creation. The AI enables improvement in time-saving scope for the content writers and creators. The portal provides specific customization options through which users can choose the layout and approach towards the content.
The options include:
Social media
Digital ads
Writing tools and guides
Ad copies
---
How does Rytr Works?
Like any other AI writing tool, Rytr too works in a similar fashion. The input by the user in the form of layouts, topic summaries, and highlights. Then the AI builds upon the idea and includes the needed keywords in the generated content.
The blog, ad copy, or any other form of content, may it be for social media platforms, etc., that has been generated in the blink of an eye is completely original and ready to be posted and promoted as required.
Rytr maintains a level of relevancy of your content to the quality expected from the user end perspective. The content hence is not rejected by the audience reading it. The generated content has a humanized tone to it. This suffices the reader and also engages them with you. The optimized use can be for generating the best copy for advertisements. The Rytr creates the contents discussed previously; over the input by the user.
The lack of relevant information sometimes might become an issue. The artificial intelligence is very sophisticated, but the initial guideline and layout provide the tone and mood set for the article and how to produce the content accordingly.
---
How does Jarvis.ai Works?
Jarvis.ai is skilled with 50+ functions. Some of the functions can be categorized as blogs outline, creative storytelling, sentence extender, Facebook commercials and Google commercial content, video description, and many more…
👉Step 1.
Choose from the above-enlisted skills of Jarvis.ai. So, the user is free to choose the option they can benefit from. It can be either to create original content, optimize previous content, copywriting, etc.
👉 Step 2.
Provide the details of your business/company/product or service. The tone is to be set by the user for Jarvis.ai to create content accordingly. Keywords, headlines, descriptions are included by the user. This helps Jarvis.ai to maintain relevancy with the service/product that is being promoted. The headlines and descriptions added are then tried in various combinations to make the best-optimized draft out of it.
👉 Step 3.
As you complete the above 2 steps mentioned, you then experience firsthand the magic of Jarvis.ai. You are made to witness impeccable content creation through the machine learning system—100% original, creative, and plagiarism-free. Jarvis.ai creates with the AIDA formula in consideration.
Attention – Gain the attention of the audience.
Interest – Make the potential customer intrigued by the service/product the user offers.
Desire – To ignite the part of the customer behavior to possess/avail the product/service.
Action – Make the customer take the expected step to buy or avail of the service/ product.
The world is evolving towards a new mode of ads. Presenting, Responsive ads. The new age of marketing and promotion. Responsive Ads are adaptable to show relevant texts and messages from the ad itself to gain more audience relevancy and connect. This makes the conversion of view to click rate faster, and this would help to regulate and optimize the ads accordingly.
---
How does Writesonic Works?
It learns from the input and the requested keywords and topics to pick out the best sources to formulate a mood and outline for your desired articles.

As soon as the headlines and a description are in place for your content or blog and any other potential form, it takes less than five minutes for Writesonic to crank up a well-articulated article for the user.
---
Rytr Vs. Jarvis.ai Vs. Writesonic: Pricing Plans
Rytr Pricing
Rytr is available for free. However, Rytr restricts you to daily character limits that you can generate. As such, the Premium plan allows you to generate unlimited characters and access 30+ use cases & 20+tones.
With the premium, you are entitled to a dedicated account manager, priority email & chat support with access to the premium community of Rytr.
The Premium plan of Rytr costs you $29 per month, and the yearly plan offers 2 months free as it costs $290 (annual subscription).
Unlimited characters
Access use cases (30+)
Tones available (20+)
Dedicated account manager
Excellent email and chat support
Member of premium community
---
Jarvis.ai Pricing
Jarvis.ai can be subscribed to either monthly or annual billing mode. The subscription is categorized into 2 packs:
Starter Pack: $29/monthly, $24/yearly
18,000 words/mo
50+ AI Copywriting Skills
Unlimited Projects
Unlimited User Logins
50+ Templates
25+ Supported Languages
Chat Support
AI Copywriter's Community
Boss Mode: $59/monthly, $49/yearly
48,000 words/mo
Long Blog Post Creator
Long-Form Documents
Command Jarvis
Unlimited Runs
Unlimited Project Folders
Write Long-Form Content
Workspace Documents
50+ Short-Form
25+ Supported Languages
Chat Support
Learn tips and connect with 20,000+ copywriters using Jarvis.
AI Copywriter's Community
---
Writesonic Pricing
Unlike other websites on Writesonic, you can start a free trial after signing in. Enables the website to be a lot favorable because it gives a chance to try out the website before investing in it or deciding which AI-enabled system to choose from.
The portal offers a 10 credit limit to the plan option chosen by the user. The credits value might vary based upon the same. And once you have tested it out and are satisfied with the results, you can go ahead and purchase any plans that the website offers.
Apart from the regular plans, there is also a lifetime deal you can benefit from for a limited time.
---
🌟 Rytr Vs. Jarvis.ai Vs. Writesonic FAQ
🤔What is Rytr?
Rytr is an AI-powered content generator & writing tool that helps you create high-quality content for less money, time, and effort.
🔥Is Rytr free?
No, Rytr do not offer a free plan. 
🙄What is Jarvis.ai?
Jarvis is the highest quality AI copywriting tool with over 1000 5-star reviews.
🤔What is Writesonic?
Writesonic is a content marketing platform that provides businesses with a suite of AI-assisted writing tools to help them generate better marketing copy.
🔎Is Jarvis AI worth it?
It saves lots of time that requires writing. It is trained by copywriters and conversion experts to expect a better quality output of this AI.
😎Is Writesonic free?
Writesonic pricing starts at $10.00 based on usage per month. They do not have a free version. Writesonic offers a free trial.
---
Conclusion: Rytr Vs. Jarvis.ai Vs. Writesonic 2023
The portals, system, and service mentioned and discussed above has made us believe that Jarvis.ai is the best among its competitor. Jarvis.ai is a newcomer in the AI-writing space, but it has a strong potential to become a major player. Jarvis.ai can be the future of AI copywriting in the content industry.
Overall, Jarvis.ai looks like an impressive AI-powered writing tool. It's easy to use. It's simple. It's quick! Although you get limited monthly credits, the lifetime deal looks like a steal deal to me at the price point it's being offered!
I am going to keep this tool. I loved generating unique content with Jarvis.ai. And I am curious to witness the future.
I hope you loved reading this Rytr Vs. Jarvis.ai Vs. Writesonic comparison. What is your perception of the future of AI? Will AI Writing software like Jarvis.ai. Become mainstream in the coming years? And help us know what the things are and change you would want to see from us…
Keep in Touch, Amigos!!!!