Choosing a good product directory for dropshipping can be hard to know which one to go for? And a good droppshipping supplier can save a lot of time and stress. And there are quite a few dropshipping supplier directories available online among those.
Either directory is excellent for cutting out some of the tedious admin work for finding the right products or suppliers for online stores. They both have great reviews from users, with many people finding success selling online using these two directories.
The two of the most popular dropshipping supplier directories out there are ✅Salehoo Vs. Worldwide Brands. The Vs. used is to compare these best two to make it suitable for you to save your time, energy, and stress. Although both are the best directories, a comparison has been made to brief features about each of them. To match up with your requirements too.
In this article, let's take a look at their main differences and similarities between Salehoo and Worldwide Brands, and this comparison might help to choose the best if you are stuck somewhere to understand which one is the best, let's take a look at each directory in more detail to know how they work.
---
Salehoo Vs. Worldwide Brands | Overview
Salehoo Review
It's an online, searchable directory with over 8,000+ trusted suppliers, as it covers a range of categories with over one million products from baby gear to electronics to clothing.
By offering market research tools to help users find the right products and have a series of beginners' guides to selling online and users' forums. Salehoo is easy to use, even for beginners.
Worldwide Brands Review
It's the most extensive online wholesale directory with over 20 years of experience. It has a team of researchers to find the best suppliers, giving their stringent checks on their seal of approval by charging a one-time payment for lifetime access to the directory and offer some free training for online sellers.
It is ideal for all and anyone who wants to sell online without the hassle of finding suppliers from scratch.
---
Key Features of Salehoo
#1. Market Research
Salehoo has a few features for market research, which can save a lot of time and money buying the stock that won't sell as they offer enough features to satisfy both dropshippers, bulk, and wholesalers
Factors like sell rate and competition data track over 1.6 million products to find the most popular products. With this, find low competition, high-selling products using market research platform. And focus on affordable products using the price slider, which helps to stay within your budget limits.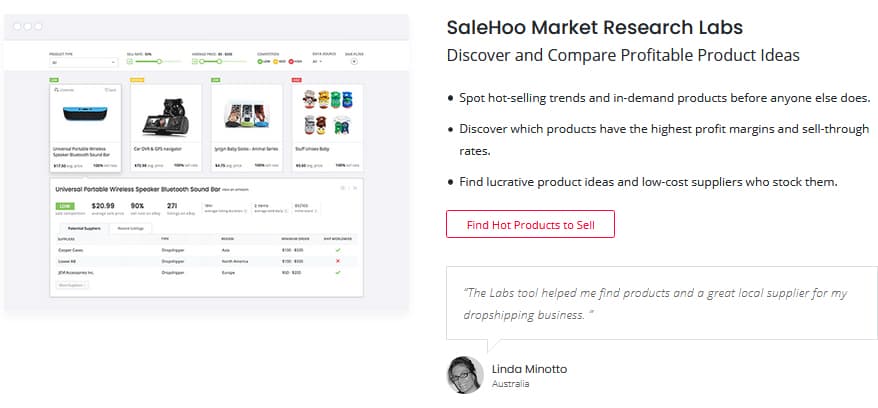 It potentially saves a lot of time filtering out products that one can't afford to stock and giving trend analysis, which helps research by using this, catch onto market trends, which offers the edge over the competition.
Salehoo allows to save products and view them in a comparison table – this will enable to compare by sell rate, competition, number of listings, price, and product's trend. It's a handy feature to have when trying to decide which products to choose.
Categorized products include: Baby Gear
Cameras and Photography
Cars and Auto Parts
Clothing and Fashion
Consumer Electronics
DVDs and Movies
Health and Beauty
Jewelry and Watches
Pet Products
Shoes and Fashion
Sporting Goods and Entertainment
Toys and Games
Travel and Outdoors
#2. Dropshipping Suppliers
For dropshipping, Salehoo lists over 1000 suppliers. They have a vetting process for suppliers, and it is vital to avoid falling for a low-quality, unreliable dropshipping company and easy to do so. With this, quickly check contact information, product ranges, shipping details, and the customer service provided by each supplier.
For suppliers, it ships both domestically and internationally. It is also helpful to expand the business to sell products across the globe by organizing your favorite suppliers on your dashboard and adding notes to remind which products you like and your next steps.
If someone likes the product but unsure which supplier to pick, Salehoo lists each supplier and filter search results by location, minimum order amount, and shipping options. Search exclusively for a dropshipping supplier to filter out results from wholesalers or wholesale suppliers if solely looking for dropshipping supply.
In terms of dropshipping, 70% of Salehoo's suppliers do not require an application fee and give low minimum orders or zero minimum orders. It is the part of Salehoo that is particularly well suited to dropshippers designed to make dropshipping as easy as possible.
#3. Wholesale Suppliers
Over 8,000wholesale suppliers go through the same vetting process as dropshipping suppliers for finding suppliers work, in the same way, searching through them, checking their credentials, and adding them to the dashboard with notes on each one.
To sell branded products, search for them across the most popular categories, including health and beauty and consumer electronics—a great way to get the best and genuine deal when it comes to expensive brands.
They don't often market themselves well, which is why it's so hard to find a good wholesaler. Salehoo takes work out of this by finding suppliers to stumble across as they negotiate special offers for members. Working with these offers can be an excellent way to increase profit margins and lower prices for customers.
#4. Seller Training
Salehoo offers a ton of free guides which includes:
Getting started to know how to start selling online.
Business setup to deal with tax and other tasks involved in setting up a business.
Importing and shipping to find the best items by importing them.
What should you sell? Decide which items to sell.
Find a product supplier to find suitable suppliers.
Product sourcing to work well with suppliers.
Selling on eBay and Amazon to sell on these two platforms.
Starting an online store to set up an eCommerce store.
Scam prevention to avoid any scams.
---
Key Features of Worldwide Brands
#1. Suppliers
This focuses on finding the best possible suppliers. As new wholesalers are added to the supplier directory each week, their research team is dedicated to finding the best suppliers out there.
They found suppliers by visiting trade shows and expensive activity for people and talking directly to their suppliers to check their reliability and product quality thoroughly. Chosen suppliers receive the Worldwide Brands Seal.
Gained by meeting their strict criteria, verified suppliers can't buy their way to approval. Essentially, with Worldwide Brands, no one is going to run into any scam sellers as they have the largest selection of wholesale products online with over 16 million products to choose from. They use only USA-based wholesalers.
Browse their suppliers by dropshipping or light bulk products or a platform for sales like eBay, Amazon, or any online store or supplier location. Add suppliers to favorites and set up notifications to alert about the new products. It is excellent for acting quickly when interesting new developments or suppliers appear.
Products in wholesale or dropshipping come under the following categories:
Art
Baby and Maternity
Books, Movies, and Media
Business and Industrial
Clothing, Shoes, and Accessories
Collectibles
Computers and Networking
Consumer Electronics
Crafts and Supplies
Food and Drinks
Health and Beauty
Home and Garden
Mature Audiences
Music and Instruments
Office and School Supplies
Pet Supplies
Special Occasions and Party
Sporting Goods
Supplements and Nutrition
Tools and Hardware
Toys, Games, and Hobbies
Travel
Vehicles, Parts, and Accessories
The platform is not that modern as Salehoo's as they lack the market research tools that Salehoo offers. Still, they offer a more comprehensive array of wholesale and dropship products in more categories.
#2. Seller Training
Worldwide Brands offers free training, just like Salehoo, for new sellers, in ebooks and videos. Which includes:
Starting internet business right
To find real products and sell online
Wholesale tip videos
Video series on Ebiz insider
---
Salehoo Vs. Worldwide Brands: Pricing
Salehoo Pricing
Salehoo's pricing is pretty transparent, as you can pay $67 for a year's access or $127 for lifetime access.
Worldwide Brands Pricing
Worldwide Brands costs $299 for lifetime access. Although they offer a free demo, occasionally, they are on sale.
---
Salehoo Vs. Worldwide Brands: Major Difference
Salehoo has few tools for market research, and Worldwide Brands doesn't.
Salehoo has a modern platform, whereas Worldwide Brand's interface is a little dated.
Salehoo has one million products, whereas Worldwide Brands has sixteen million.
Salehoo offers comprehensive training for new sellers, whereas Worldwide Brands offers less training.
Salehoo allows paying for a year's access or lifetime access, whereas Worldwide Brands only offers lifetime access.
Salehoo has minor quality checking, whereas Worldwide Brands take their quality checks seriously.
Salehoo launched in 2005, whereas Worldwide Brands launched in 1999
The main differences are the marketing tools and the number of products. For a more comprehensive range of products, it is the one for you. To take advantage of marketing research tools, Salehoo is the best choice.
Another main difference between the two is that the interface of Salehoo is easier to navigate than that of Worldwide Brands. It may not be an issue, but if you're using the directory, you might find that having an outdated platform becomes a bit annoying after a while.
---
Salehoo Vs. Worldwide Brands: Similarities
They have a lot in common, too.
Both work out seriously for finding a trusted supplier
Both the team of people are dedicated to finding suppliers, suppliers who don't market themselves well online
For new sellers, they both offer support and training
They both allow bookmarking sellers for future reference
They both enable searching using a variety of filters for more organization effortlessly
Both feature in sellers with low or no minimum orders
---
Salehoo Vs. Worldwide Brands: Support Team
Salehoo
In terms of customer support, contact them via email or phone as Salehoo has a great collection of guides and tutorials. They have a forum for users to discuss products and answers their questions.
Worldwide Brands
If you need extra support, contact Worldwide Brands via email as they have several email addresses for different issues or write to them. Not having a phone number is annoying, but they aim to respond to emails very quickly.
---
Salehoo Vs. Worldwide Brands: Pros & Cons
Salehoo
Pros
Easy to use as it's effortless to search through products and suppliers.
Free training as the information provided is great.
Low or no minimum orders on many suppliers useful for those who don't have enough money or room to store stock.
Trusted suppliers go through a vetting process to weed out inferior products and lousy customer service.
Branded goods can search for branded items in a variety of categories.
Market research tools are handy.
Cons
Not as many products as WorldWideBrand as they have less choice.
Lots of competition with a lot of other sellers using Salehoo might not find it easy to outsource products.
Worldwide Brands
Pros
The highest number of products in any online directory as it gives scope for choosing unique and great-selling products.
The comprehensive vetting process for suppliers.
The free demo offered.
Expertise has a team of researchers dedicated to finding new suppliers and products and answer queries from users quickly.
Simple to use, which is easy to learn, and to use Worldwide Brands.
Cons
Lack of market research tools when compared to Salehoo
Slightly outdated platform
There is no telephone support
---
🌟 Salehoo Vs. Worldwide FAQ
✅What is Salehoo?
Salehoo is an online research tool that helps drop shippers, wholesalers, etc., to find perfect products & suppliers for them. It is easy to use tool that includes a wide range of categories of about 1 million products.
✅What is Worldwide Brands?
For the last 20 years, Worldwide Brands is one of the leading dropship directories available in the market. It is the 100% certified directory that has 16+ million wholesale products.
✅Does SaleHoo work with Shopify?
✅Can I try Worldwide Brands for free?
Worldwide Brands offer a Free Preview that you can go with to get an idea of how Worldwide Brands works.
---
Conclusion: Salehoo Vs. Worldwide Brands 2023
Which one do we recommend?
Well, it depends on you, what you are looking for, as in case you are an experienced drop shipper, you might have been looking for dropshipping for a little while, or finding it difficult to find the right product you want, or might want to look into paying for lifetime access to Worldwide Brands.
They have the most extensive collection of products, and you can trust their recommendations for suppliers, as their reliability checks are pretty stringent.
Are you new to dropshipping? We would recommend Salehoo. The interface is a little easier as the market research tools are helpful, and they make it possible to navigate and use their platform. Their guides, although, are free and handy.
Both directories have a lot to offer for online sellers and dropshippers, but with growing revenues from marketers, they help save a lot of research time. And are a great way to learn to use the directory correctly.
Plus, pay for a year's access if you think it might help you with a more comprehensive array of products in the future.🤞
Affiliate Disclosure: This post may contain some affiliate links, which means we may receive a commission if you purchase something that we recommend at no additional cost for you (none whatsoever!)