Over the past few years, B2B selling got challenging! The leading cause is it's changing market trends and aggressive growth goals. Moreover, the differentiating buying habits have affected salespeople to be in the pace; it is getting difficult for businesses to sell their products!
Often salespersons need to change their productivity, skills, and knowledge base to be in the market and meet the end to end goals. Hence, most companies have their own sales enablement function, which started in the year 2013.
Sales enablement function has now become a priority rather than a normal term. It helps businesses to prepare their salespeople to perform effective sales processes. With the right sales enablement strategy, companies can reach new heights!
However, doing it all manually gets nuanced, and thus there are different tools available in the market. SalesHandy is one such sales enablement tool popular for its features and benefits it provides.
In this article, we have featured our trustworthy ✅SalesHandy Review 2023 that includes its detailed insights like pricing, features, benefits, etc. Let's get started!!
---
Detailed SalesHandy Review
SalesHandy is a web-hosted sales enablement platform popular for its prominent features. The tool tracks emails, centralized document management, send personalized emails, automates follow-up, and does a lot more! Users can also share all the essential details obtained through SalesHandy and can get detailed engagement analytics.
SalesHandy is a perfect tool for small and medium-sized enterprises, but even large enterprises would get better ROI if used strategically. SalesHandy increases the closure rate by enabling the sales team with the right information. It helps the team to get better revenues in a short time.
Through SalesHandy, the sales team can create and execute effective and practical marketing strategies. One can also keep track of the overall sales resources to get essential user insights.
In simple words, SalesHandy collects different features that provide behavioral insights in a presentable format. The tool helps users to achieve and maintain high customer engagements without wasting much money. Below is the detailed SalesHandy features to help you get a better idea.
---
Key Features of SalesHandy
If looked statistically, over 62% of the total mail recipients never reply or even bother to open the mail. Hence, it can be a major loss to the businesses. It takes a lot to attract users, and SalesHandy has effective features for the same!
Also Read: Moosend Review 2020 | Discount Coupon (Get Upto 30% Off Now)
Through the SalesHandy feature called Trigger Based Automated follow up, users can convert all the significant losses into profitable sales figures. The automated follow-up emails increase the response rate by up to 10 times; isn't this a win-win deal?
It allows you to keep track of all of your conversations with the recipients, regardless of their activity status. Through the auto follow up feature of SalesHandy, you would not require to check the overall campaign results manually, as one can rely entirely on the feature.
SalesHandy nurtures the users' email outreach by maximizing the overall efficiency rate. Through this amazing feature, the chances of getting responded to increases by 95%.
📨Email Tracking
Whenever the reader reads the email, the Email Tracking feature by SalesHandy will give an instant notification. Moreover, it also provides information about how many times the recipient opened the email. Through this data, you can understand your users' level of interest and can drop the next email accordingly.
Moreover, you can also identify which email is working the best among the list of emails you have sent. You can understand the muting notification from any recipient to understand the interest level. Yet another best feature of email tracking is the free email tracking plugin for Gmail.
Other Features of Email Tracking includes:
Email Open Notifications, Muting email notifications, Tracking email replies, overall team email performance reports, open email rate, and Individual link tracking.
📨Email Templates
Users can use Email templates by SalesHandy for creating HTML templates. You can use this feature in Gmail and Outlook. As users won't need to write repetitive emails, they can save a lot of time!
Sharing templates with team members gets easier through this feature; everything is possible just by a click. This feature can be used frequently in the mail merge campaign, and one can also track template performance easily.
📧Email Scheduling
Scheduling email at the right time is essential in any business, and SalesHandy doesn't fail to add it to the feature list. The tool offers users free unlimited email scheduling via the chrome plugin in Gmail.
Through this feature, businesses can match up particular emails' time zones and make their work smooth without wasting much time. All you need to do is draft an email and schedule it according to any convenient date and time.
Just select a particular time, date, time zone, and SalesHandy will perform its work of sending it to the client. If you want to check the scheduled emails, check the drafts section or the app's dashboard.
The features of Email Scheduling includes unlimited email scheduling, increasing email response rates, easy email communications, email scheduling in Gmail according to different time zones, and a lot more!
📃Document Tracking
Another feature by SalesHandy is the document tracking feature that enables users to quickly share and track different email attachments or collaterals. Users can also track their sales proposals and collaterals, presentations, documentation pitch desks, and marketing materials!
Other features of Document Tracking include easy location tracking, setting the expiration date, protecting the password of documents, capturing viewer details, creating and sharing documents, and a lot more! This feature allows downloading as well.
Users can easily create and send different document-links for sharing with prospects. One can even share reports, word files, PDFs, proposals, and later track readers' engagement. The feature also protects documents from unauthorized users getting access, thus preventing unnecessary downloading of the document.
🏅Team Reporting
The SalesHandy team reporting feature helps users coordinate with the sales team effectively and make the work more efficient. Team members can access and measure email performances of everyone along with templates. Hence, the team members can coordinate in the best possible way and can cut off the gaps or mismatched content easily!
🌌Automatic Tracking
The automatic tracking feature by SalesHandy automates the overall process, hence, providing ease to all salespeople. The software automatically responds to any action by a receiver according to specific parameters. Users can easily manage complicated and heavy work transactions with this tool.
The automatic email tracking feature tracks important threads and coordinate responses accordingly. But you won't get this feature for free! Just check the limit and renew it from time to time. It also manages the time gap so that the email doesn't go into the recipient's spam folder.
The SalesHandy Bounce Tracking feature helps to identify the best working email and other related details.
When the email is sent to a batch of mail lists, the engine generates a detailed report to track the campaign. Hence, users can understand the exact actions of the recipients.
The SalesHandy reports provide detailed results of the campaign carried out by the respective team members. However, auto follow-up features include message personalization, auto follow-up till 9 stages, state-wide reports, adding CC and BCC emails, and tracking links in the mail merge campaign.
Scheduling campaigns and working with the team gets effective with different SalesHandy integrations. Some of the popular integrations are G Suite, Outlook, Exchange, Gmail, Exchange, and many more!
---
SalesHandy Pricing Plans
Although there is no specific trial period by SalesHandy, it also does not come with complicated pricing. The software is free for up to the first 3 users. Later, if the number increases, you will be charged accordingly.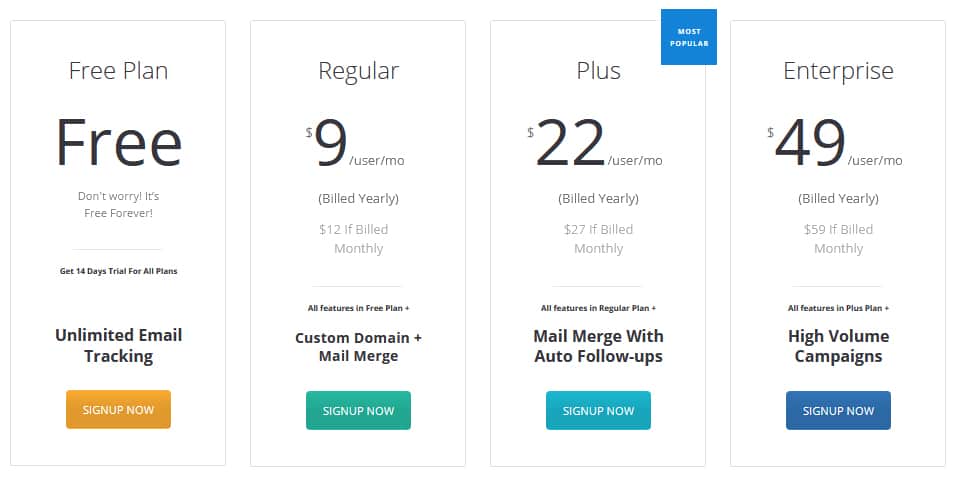 SalesHandy basic plan pricing starts from $9 per month, and it includes some of the best features. The SMB plan by SalesHandy is for $20, and the enterprise plan is for $50 only. The enterprise plan includes all the above-given features, and it gives better accessibility as well!
---
Why you should use SalesHandy?
Any business needs to increase its sales graph to get potential profits, and SalesHandy works well in such cases. With its super easy and reliable features, you can perform sales with much effectiveness. The updated interface is the best benefit of SalesHandy. Moreover, businesses can also understand how interested their prospects are and the most effective ways to approach them.
The core cause of SalesHandy is to ensure that most businesses maintain the best customer engagement through the right emails and documents. The software works on analyzing overall customer behavior and understanding the changing trends. Rather than split testing, SalesHandy makes the best use of email templates and tracks emails to evaluate sales performance.
Through SalesHandy, running any business gets a lot easier. The advanced email campaigns and automated follow-up feature makes the scaling process more accessible.
Moreover, one can organize their sales team effortlessly through SalesHandy. The best part about the tool is its round the clock customer support providing the best possible solution whenever you are stuck!
---
Pros & Cons
Pros
Automates follow-up emails for upto 10 stages.
Unlimited email scheduling.
Allows you to track your presentations and related statistics.
Allows unlimited Email tracking.
Send Automated follow-up emails upto 10 stages.
Intelligent, Innovative, and intuitive Dashboard.
In-depth data about the product and the supplier.
Cons
User interface can be improved for beginners.
Only allows CSV files, which can affect the conversion.
---
🌟 SalesHandy FAQ
❓What is SalesHandy?
SalesHandy is a Sales software that can be used by small, medium, and large-sized businesses to boost their sales. Businesses can improve their performance and email productivity of its team with minimum spendings. They can share and track unlimited emails for free for a lifetime.
❓How does SalesHandy email monitoring work?
Using SalesHandy Outlook email tracking is very easy. All you need to do is draft the email and click on the email tracking button. Just after the tracking button turns blue, SalesHandy is doing its work of tracking your emails!
❓Can I export analytical data with email in SalesHandy?
Yes, you can easily export all the emails you are tracking in SalesHandy. The data may include the history of open email, some clicks on links, the number of emails opened, and the response rate.
❓Does SalesHandy offer a free plan?
Yes, SalesHandy provides a free plan for 14 days; one can easily create a free account without any credit card. SalesHandy gives you unlimited email tracking in its free trial.
---
Conclusion: SalesHandy Review 2023 | Should you buy?
Due to the increasing demand for the different sales enablement function tools, there are many products available globally, and SalesHandy is among them. But what makes this tool unique is its features itself. Users can share and track a large number of files and documents with a single click.
The auto follow up feature is unique if compared with the competitors, and it's highly reliable. The tool is compatible with different software versions, and that's why it was awarded to be the great user experience award in the year 2017!
Easy access to multiple features like email tracking, document tracking, team management, email templates offers users a great experience and ROI. Along with affordable pricing, SalesHandy is the best tool for any business.
Conclusively, we find SalesHandy to be the best sales software any business can ever have! It has highly competent features at the best pricing to stay in such a competitive market. Hurry up, and make the best use of the free package to know more about this exciting tool!🏹
Affiliate Disclosure: This post may contain some affiliate links, which means we may receive a commission if you purchase something that we recommend at no additional cost for you (none whatsoever!)