Are you running short of content? Do you depend on your writing team to get constant posts to update your social media pages? Is it expensive for you to hire a content writer for your everyday needs? Do you want to schedule your social media content for 3 months or 6 months, or even a year in advance?
If you nod yes to all the above questions, then here is the ultimate solution.
Believe me; literally, I am not kidding! We are going to introduce an awesome virtual assistant that will help you prepare all the marketing content in no time. In this article on "How to Schedule your Next 6 Months of Social Media Content with Writesonic?" I'll try to clear everything that can be done to make your social media scheduling next level.
Yes! I am talking about Writesonic – An AI writing assistant that you always wished you had to schedule your social media content in surprisingly less time.
Writesonic automates your copywriting, draft ad campaigns, website content, newsletters, and more in a breeze of time. It helps you create quality articles for businesses and clients. With minimum input requirements, you can write the best quality, long-form content of any length.
What Is Social Media Content?
Any content that is posted on social media created by individuals or companies can be simply termed as social media content. It can vary from a text update to a photo or a video post. The content that an individual or a brand shares on social media reflects its values or brand voice. It also serves as a source of information.
It is safe to say that social media content has replaced traditional newspapers and television. The content on social media channels can have a considerable reach and close proximity to its users. Because of this reason, it can prove to be more effective than just classic advertising.
Different users have different preferences and hence prefer sharing a range of social media content such as:
Written posts, blogs, or articles
Links to some external content
Social media content offers numerous advanced marketing possibilities following the right strategy. It has the power to turn a brand into a household name. It requires updating the audience regularly so that they do not lose track. The kind of social media content appropriate for any company depends on its marketing purpose and the kind of service or product it has to offer.
Content Problems Faced By Social Media Teams & Individuals
Content creation gives the writers a lot of freedom, but it also introduces them to a list of challenges that can intimidate them easily. Every sphere has its own share of pros and cons. Social media content is obviously not different from its own share of problems or challenges. Let us take a look at a few of them.
Creating Meaningful Content For Each Audience
This is perhaps the most challenging part of social media content writing. It is easy to repeat content but not so easy to come up with something that is fresh or out of the box.
Being Different From Your Competitors
It is difficult to stand out and develop an identity of its own in a competitive environment where rivalry is constantly breathing down the neck. It is important to be able to create something that does not look recycled.
Writer's block refers to the situation where writers find it challenging to express their thoughts, and nothing relevant or engaging comes to their mind for a long duration of time.
A content writer encounters hundreds of projects that require proper understanding and in-depth research. Due to the monotonous act of researching and writing, the writer might feel overburdened at times. And this sometimes hampers their ability to do in-depth research, and the result comes out to be half-hearted.
How Can Writesonic Help You In Your Social Media Journey?
Writesonic is an AI-powered copywriting assistant that generates high-quality articles, blog posts, landing pages, Google ads, Facebook ads, emails, and product descriptions. It is a virtual tool that assists in composing write-ups in seconds.
Writer's block is a genuine problem that content creators face on a regular basis. It hampers their productivity. This app can streamline that process by generating texts that are editable. It automates copywriting and can draft ad campaigns, website content, and emails. Besides generating articles, blog posts, and ads, it can also be used for content rephrasing, grammar correction, and SEO meta descriptions. This way, it becomes easier to turn projects around to the clients on time.
Writesonic Can Be Used For Writing:
Writesonic Features: The Best Writesonic Offers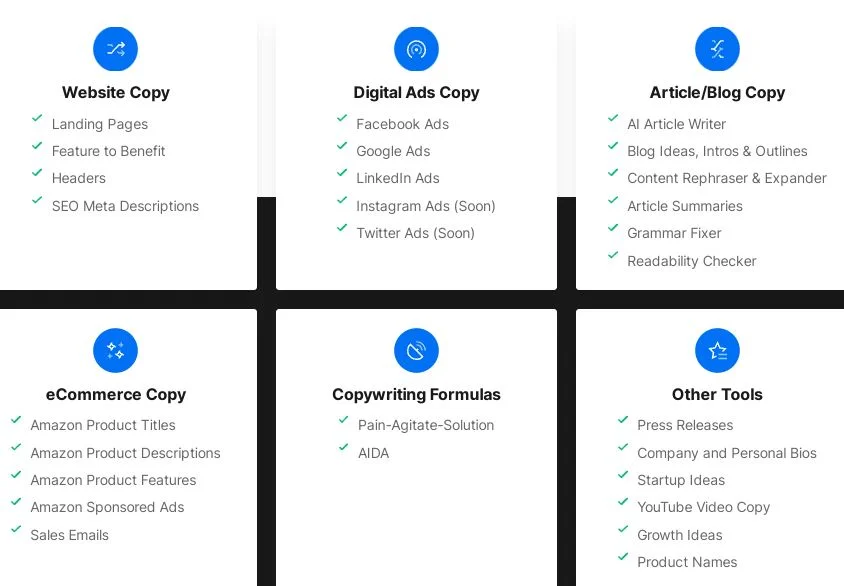 Writesonic AI supports everything from headlines to Facebook ads to articles. The best features of Writesonic AI are:
It generates content- To find the content for a particular topic is daunting and time-consuming. This AI generates content in no time, just by providing some keywords and short descriptions.
It can check grammar Errors- It is inevitable to be free from grammatical errors. The AI checks for grammar errors like misspelling, sentence run-on, etc.
It checks sentence formatting- It ensures sentences are formatted properly
It checks plagiarism- It is important for content to be original and authentic. Writesonic provides a quick solution to it by proving instances of plagiarism.
It provides idea recommendation- The AI makes the work easier by recommending ideas for topics. It is highly required during writer's block.
It checks the tone- It evaluates the emotional tone of words written.
If you're new to Writesonic, use this promo code to get 10 credits for free. Offer ends soon.
Enjoy 20% off on annual plans of Writesonic .
How To Use Writesonic? | Step-By-Step Process
Writesonic is fairly easy to use. It does not include a lot of steps. It offers a couple of different ways to write an article for every type of user.
Firstly, you have to choose from a collection of over 40 copy templates.
The second step is to add your product's name and write a phrase or a short description of your service as input.
Then you have to hit the 'generate' button to generate a dozen high-converting personalized copy variants. And then, you will be presented with AI-generated results.
Though the generated results' text quality and tone lack finesse when compared to that of an actual writer, it still can be an important tool. It eases the work of a writer to a great extent.
Writesonic Pros & Cons
As an emerging technology, AI is playing a pivotal role in the modern era. It tries to simulate human reasoning in AI systems. Reasoning uses rules to reach approximate and definite conclusions. It goes without saying that cutting-edge technology is an essential part of the growth of humans and development. But every good thing comes with its own share of negative aspects or limitations. Let us discuss the pros and cons of this tool.
Writesonic is powerful enough to create content for blogs, articles, social media, and websites.

The generated content is mostly plagiarism-free. However, longer content might have some instances of copied lines or phrases, and that can be fixed by making some manual effort.

The AI tool is not all difficult to use. Even a beginner will be at ease while using this.

Writesonic is cheaper than other content-generating AI available in the market. It also proves to be a lot affordable when we look at its features.

The tutorial and troubleshooting pages on their website are extremely well done, which proves beneficial to their users.
Being an AI, this tool is obviously not error-free. It needs some editing on the user's end to make the content flawless.

The results generated are the decisions gathered from the previously gathered information applying a certain set of algorithms. This increases the chance of generating repetitive content on the same topic.

One of the drawbacks of using any AI is its inability to be creative and innovative. The automated output lacks creative approaches.
Writesonic Pricing Plans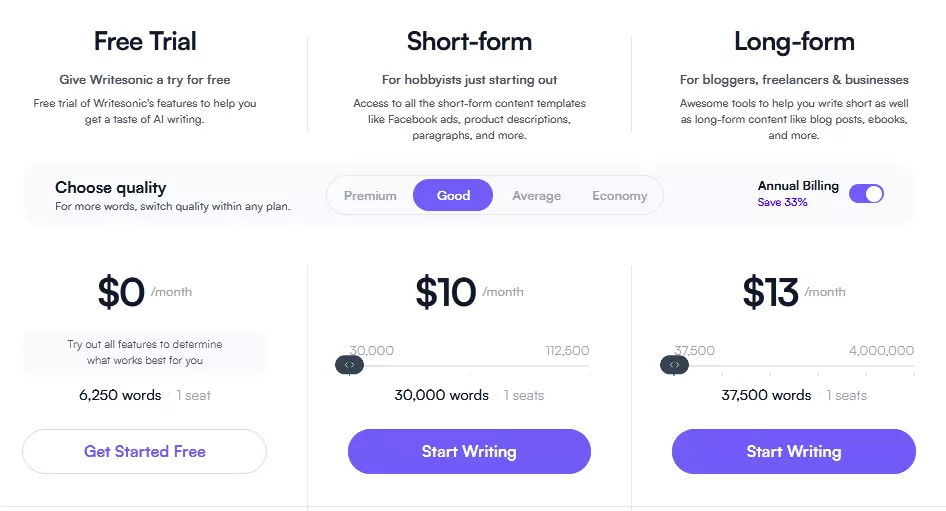 Writesonic has now come up with this brand new subscription plan that includes both short and long content. You may also choose from a wide range of quality levels for the words, ranging from premium to average to budget quality.
Short-form: You can create up to 120,000 words with Writesonic's short-form plan, which starts at $10/month. You can create up to 500,000 words per month with the highest short-form plan, which starts at $26.67/month and gives you access to 50+ AI templates, 25+ language options, landing page (copies) generators, 1-click WordPress exports, and browser extensions.
Long-form: The long-form plan begins at $13/month and allows you to create up to 190,000 words per month. You receive all the features of the short-form plan with this plan. You can create up to 20 million words with up to ten user seats for as much as $666/month. AI article writers, Sonic editors, and priority support are just a few of the additional features you may receive.
Who Can Get Benefits With Writesonic?
Writesonic as an AI copywriting assistant can benefit all those who are looking to write content but are short on time or have some looming deadlines to meet. The writer's block that we discussed earlier slows down the creativity of the writer and hampers their productivity. These idea generators are a great option if you need a writing prompt. It is a handy time-saver if you are having trouble coming up with article ideas.
If you are a beginner who is just starting off as a content writer, you can take the help of Writesonic to help you to begin your writing.
The freelancers who are already into the writing business can sometimes struggle with fewer ideas to no ideas at all. They can also benefit from the tool by generating ideas and writing prompts on blogs or articles.
If you have a startup or a small business, you have to look for ideas that market your service and increase your conversions and revenue. Writesonic can come in handy in all these situations.
How To Schedule The Social Media Post For 6 Months Using Writesonic?
Now that we have discussed the features and benefits of Writesonic, the next point that comes to our mind is how to effectively use this tool to gain maximum benefits. Writesonic leaves no stone unturned in providing its user's ease and comfort.
It has become fairly easy to plan the content by scheduling days, weeks, and even months with the help of content created with Writesonic. It saves us a lot of time by looking for headers or even content that is sometimes difficult to structure. The process of content creation sometimes becomes cumbersome and even more challenging when we have approaching deadlines.
It becomes important to schedule our content according to the priorities or the given deadlines. Now, you can take the help of third-party software or app that can simplify our tedious work by arranging and scheduling content according to your content calendar. Based on your preferences, you can generate enough content using Writesonic, followed by the most relevant template offered there. Further, you are ready to schedule your weekly, monthly, or even the six months social media posts in advance.
🌟 FAQ related to Writesonic
Who Is The Owner Of The Generated Copy?
The user holds ownership of the generated copy. It can be used for personal as well as commercial use.
How Is The Output Quality?
The generated output is of high quality, plagiarized-free, and grammatically correct. The user can rely on it as fodder for his content.
Is A Free Trial Provided?
Yes, absolutely! The magical content generation software can be tried by new users for free up to 10 credits to generate landing pages, ads, product descriptions, and many more.
Are The Plans Only Long-Term?
No, the plans are available on a monthly and yearly basis. You can subscribe to it monthly and may cancel anytime. No contracts whatsoever. The user has full control over their subscription.
What Is A Credit, and How Is It Counted?
Credits let you generate articles, landing pages, ads, product descriptions, and other types of content. Every time some content is generated, a certain number of credits are deducted from your account.
Conclusion
So as you have read how you can schedule your Next 6 Months Of Social Media Content With Writesonic, it is a tool by which you can create many content types. For all your social media content, this tool can help you to balance your entire schedule for the next few months.
With various features and pricing plans, this tool is undoubtedly a game-changer when discussing social media content management.