Do you own an eCommerce store? Planning to sell your products on Amazon? Want to be the undisputed King of the Amazon Buy Box? Then probably you must be looking for help, guide, methods, and tools all over the internet that is reliable to elevate your eCommerce hustle on the most prominent retail platform of the world??
A Google search will enlist hundreds of tools and services that claim to help you efficiently sell on Amazon and increase your margin of profits.
So, if you crave to bring in your BEST-step forward while selling products on Amazon, then we have the best tool to help you TANGO!
This tool is called Seller Snap!
Seller Snap offers complete automated Amazon Repricer tools, which by applying Game Theory principles, guarantee the optimal performance of the product irrespective of repricing by competitors. Seller Snap uses Real-Time data to make informed repricing decisions to guarantee that your product remains competitive for the Amazon Buy Box with their algorithmic Repricer.
---
In-Depth Seller Snap Review
Seller Snap's ultimate goal is to guide Amazon Sellers to improve their profit margin and upscale their eCommerce business. Seller Snap was developed to simplify and resolve hurdles with present repricing solutions and tools that undermine the pricing game and hinder the way of the sellers trying to reach their full eCommerce potential.
Seller Snap, a leading AI algorithmic Repricer, combined with solid seller analytics, came into the light to Snap!!!
Away these obstacles that are holding you back!!!
Seller Snap's vision is to engage sellers with real value and experts' insight into the terraforming business of selling products on this Gigantic E-retail platform (Amazon). A group of multi-faceted and talented developers passionate about the continuously growing Amazon's retail platform came together to bring Seller Snap to life.
Their customer-oriented team is all hands on deck to boost their customers' profits and create an environment of guidance, learning, and collaboration with all their subscribing Amazon E-sellers at various stages of their growth.
Seller Snap's AI-enabled Game Theory Repricer studies the market behavior and the competitor pricing patterns to automatically apply the best repricing strategy for specific product scenarios, optimizing profits while meticulously avoiding price wars altogether.
Seller Snap generates customizable repricing strategies for Amazon sellers based on specific client requests while considering the growth, changes, and evolution within the Amazon sellers' market.
---
How does Seller Snap works?
First of all, you probably might be wondering what this Game theory is all about. So to simplify it for our readers, Game theory is the study of mathematical models of strategic to and fro deliberations among informed and rational decision-makers.
Every tenured seller on Amazon uses automated tools to rigorously change and update listing prices calibrated on the listing prices of other sellers on Amazon for the same product. Therefore Seller Snap applies Game Theory rules, making smart repricing moves. The AI Repricer can lock on different sellers' behavioral patterns, averting price wars and maximizing profits.
To ensure that your products are being optimally priced on Amazon, Seller Snap's Analytics dashboard presents real-time valuable data and performance indications via a user-friendly and easily accessible format. Complete details of sales, profit, Buy Box share, inventory, competitors, and much more are all available to you.
In addition to the extraordinary and revolutionary Game Theory Repricer, Seller Snap offers expert sellers the freedom to manually tweak their repricing strategies, enabling sellers with the option to customize the Repricer according to their requirements and business needs.
It is absolutely imperative to have access to vital judging parameters to observe which products in your stock inventory are worth putting money and faith into and the adjustments needed to be made, resulting in a maximized profit from selling on Amazon. The Amazon Buy Box share, sales frequency, inventory levels, and revenue & profit are just a few parameters of key performance indicators that are vital in sustaining your e-commerce's performance in the long game.
Seller Snap's Amazon AI, Game Theory repricing tool is capable of making customized pricing adjustments to beat your competitor on the Amazon E-Retail platform.
---
Attractive Seller Snap Features
In our opinion, AI-powered Game Theory repricing is the best solution to ensure optimal sales on Amazon. However, in some cases, you might achieve better results by applying a simple rule-based Repricer. This is why Seller Snap built a system that allows sellers to switch between AI and rule-based methods very quickly at all times. Here comes the awesomeness of Seller Snap to make you jump in Rejoice!
#1. Easy & Quick Setup
Seller Snap provides all information, details, and customizable tools needed, enabling users to start repricing for their ecommerce and buy box access within 15 minutes of registration.
#2. Expert & Valuable Support
Seller Snap believes in a personalized approach. Their competent team is on guard to resolve your queries and needs, helping you achieve exponential growth in your E-commerce.
#3. Automated Repricer
A fully automated, AI-enabled Game Theory Repricer tool guarantees the best achievable performance for your product. Developed with Game Theory in mind, Seller Snap's AI Algorithmic Repricer tool for Amazon shall capitalize on the perfect strategy for each and every individual listing to capture Buy Box, avert price wars and maximize profit margin.
#5. Analyzers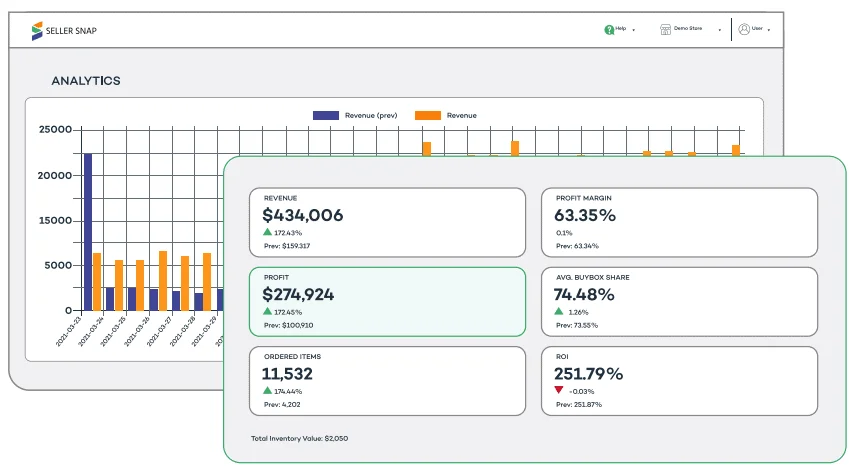 Seller Snap is additionally packed with Powerful BI tools to provide real-time, high-value, and actionable insights to manage and optimize your Amazon seller store.
#6. King of Buy Box
Mark your desired Buy Box with Seller Snap's Win Buy Box option. This setting is perfect for mobilizing inventory and dominating Amazon Buy Box. When the system settings are on to Win Buy Box, the Seller Snap Repricer shall strategize to win the Buy Box at the maximum value possible. This involves an aggressive and dominant approach by Seller Snap Repricer.
#7. Beat Seller Fulfilled Prime (SFP)
Seller Snap tracks the regional Buy Box and appropriately adjusts prices to win Buy Box share. Also, the AI-enabled Repricer can automatically adjust products' maximum price to play ball with SFP sellers in competition for the Buy Box.
#8. Follow a Similar ASIN
Seller Snap automatically adjusts your price based on price changes of a similar Amazon Standard Identification Number (ASIN). This is useful for bundled items or private labels repricing.
#9. Change Pricing during Specific Hours or Days
Relying on the behavioral data available on the analytics dashboard of Seller Snap, users can define variable repricing strategies for a specific time in a day and even for particular days of the week.
#10. Velocity Driven Repricing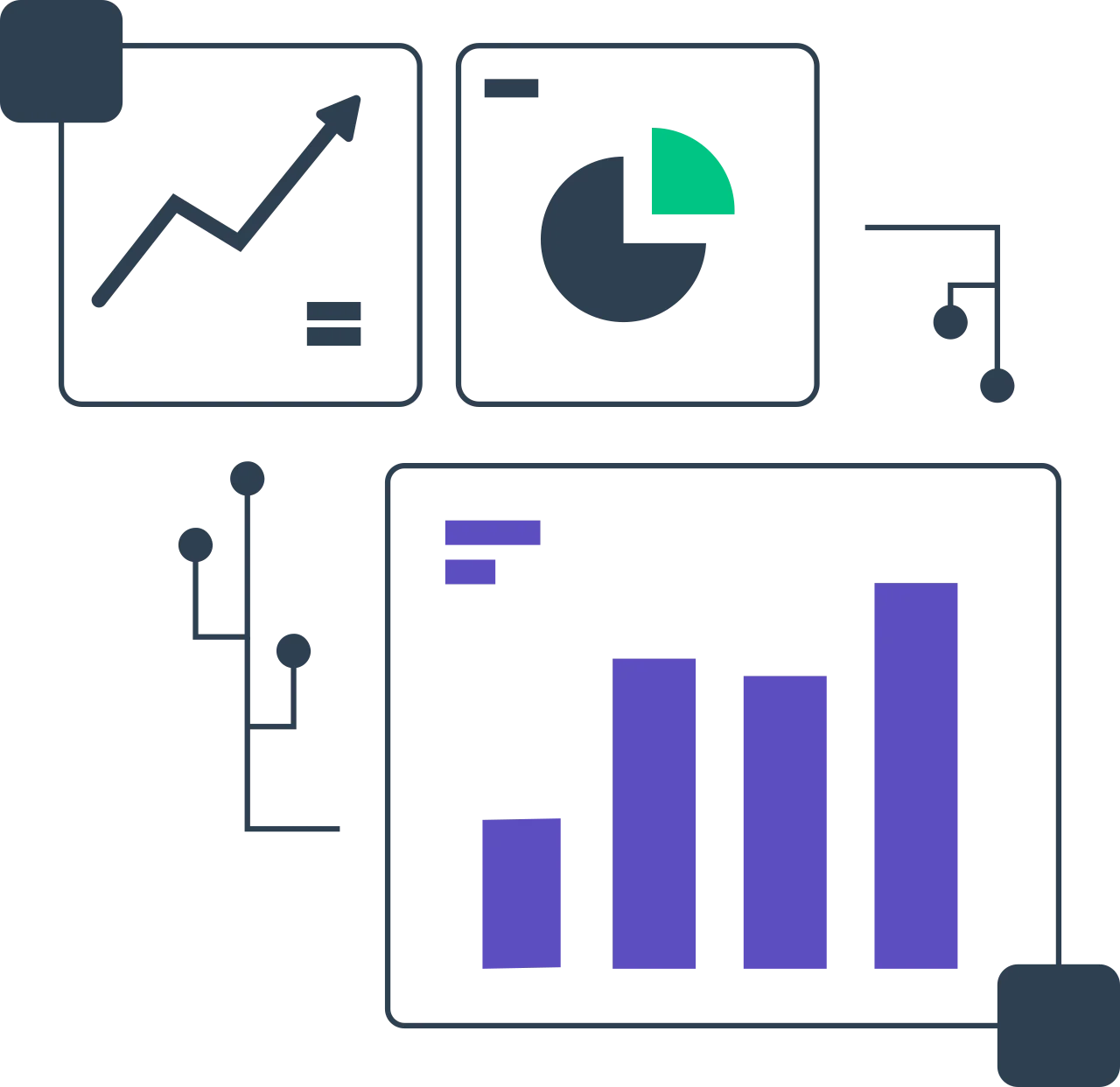 Seller Snap allows users to set a repricing method proportional to a desirable sales volume of the product. The Game Theory Repricer will make price modifications based on user-set criteria and timely reprice to ensure the desired sales volume is achieved in the expected time duration.
---
Winning the Amazon Buy Box Game | Seller Snap Review
Over 80% of all Amazon sales are made through the Buy Box, as mentioned earlier. So, fortifying your Amazon Buy Box share shall undoubtedly increase your sales volume. The early dating popularity of rule-based Repricing tools, combined with Sellers trying to monopolize the Buy Box, results in destructive price wars, ultimately shrinking profit margins for everyone.
Applying Game Theory principles allows a reasonably competitive and cooperative bid for the Buy Box. Instead of dominating the Amazon Buy Box, Seller Snap targets an optimal Buy Box share to increase profit margin.
Seller Snap's repricing algorithm is designed and developed to strategize like an Amazon seller. It analyzes extensive and vast pricing decisions every minute to understand and register the pricing behavior of your Amazon Buy Box competitors.
The Seller Snap AI-Repricer selects the optimal pricing strategy to get the upper hand over your competition.
By saying that, Amazon Buy Box also has some other criteria which are beyond pricing. These cannot be solved via the Repricer AI but can be attained with proper planning and execution depending upon the Seller and products being sold.
The following listed are some of those aspects the seller needs to keep in consideration to win the Amazon Buy Box game:
Sellers opting for FBA (Fulfillment by Amazon) or SFP (Seller-Fulfilled Prime) are given priority over those who opt for FBM (Fulfillment by Merchant), with all other product-related variables being identical.
Products that are back-ordered do feature in the Amazon Buy Box, but Amazon's algorithm favors items that are fulfilled on an immediate basis.
This includes the Negative Feedback Rate, Guarantee Claim Rate, and the Service Chargeback Rate of the products by each seller.
Inventory Depth and Sales Volume:
Optimally stocked inventory is well appreciated than untimely and frequent fluctuations in inventory.
Cancellation and Refund Rate:
This creates a negative impact on your seller performance if regular customers are denied the product of choice or have other seller-related issues.
---
Seller Snap Pricing Plans

Standard: $500/month
Increase Profit & Avert Price Wars with Seller Snap Proprietary Game Theory Repricing. Each product performance details with our Extensive Analytics dashboard.
🏅Features
single Store
Three Users
limited to 15k listings.
🤖Repricing
user Customizable Repricing Strategies
AI enabled Game Theory Repricing
Price relative to ASINs.
💹Analytics
Sales volume, Profit, Buy Box share, and more on each listing
Store Level Aggregations and Trends
Filters to Focus on Groups of Products
Inventory Age Data
📞Support
Premium: $800/month
Elevate your business and make data-driven, informed decisions with customizable reports and state-of-the-art advanced analytics.
🏅Features
Three Stores
Ten Users
limited to 30k listings
💹Advanced Analytics
Additional data such as Sales Rank and Returns Data
Custom Decisive Insights
🛅Automated Workflow
Open API
FTP file uploads
📞Support
24/7 expert support
Dedicated account manager
Unlimited — Customizable Plan: Contact Seller Snap for Details
For marketing and business development agencies managing Amazon stores for their clients and businesses with a vast inventory of products or special technological requirements.
🏅All Premium Features Plus
Multiple Stores
Unlimited Users
More than 30,000 Listings
Dedicated environment
Custom integrations
📞Support
24/7 expert support
Dedicated account manager
Accelerator Program: $250/month
Upscale your Amazon business and compete with larger sellers with Seller Snap's new Accelerator Program.
Sellers accepted for the Accelerator Program will gain access to our advanced AI-powered Repricer and seller analytics tools. Sellers need to fulfill specific predefined criteria to qualify for this program.
---
🌟 Seller Snap FAQ
🙄What is Seller Snap?
Seller Snap provides an automated, AI-powered Amazon repricer and analytics tool based on Game Theory.
🔎What is Game theory repricing?
Game theory repricing works by deciding your competitor's strategy and repricing your products accordingly.
🙄 What is repricer for Amazon?
A repricer is a software tool that allows Amazon sellers to compare and automatically adjust the prices of their products in regards to competitors' prices.
🧐Does Seller Snap support eBay & Walmart?
Seller Snap currently only supports the Amazon marketplace.
🔥Does Seller Snap support FTP?
Yes, Seller Snap supports FTP.
❓Can I use it for the repricing of used items?
Seller Snap does not reprice used items.
😎Is Seller Snap free trial available?
Yes, seller snaps offering a FREE trial for 15-days.
---
Conclusion: Seller Snap Review 2023 | Should you go for this tool?
Seller Snap is the only AI-Enabled Repricer tool we have come across in our extensive research that has initiated repricing strategy growth into the new age of E-commerce. A deliberate and highly investigative look around through the repricer program led us to the following thoughts about Seller Snap.
Seller Snap has a vast range of vital and valuable features that are not part of any other repricing tool available on the internet.
They stand tall with these features, as it proves that Seller Snap cares about the user's profit margin and has an in-depth idea of how Amazon works. The tools are user-friendly and reliable, even after being a complete automated system.
Game Theory repricing is a genius move in the direction of Amazon repricing technology, allowing a fresh and practical approach to an eternal problem of competing effectively on Amazon without driving prices and the competition into disparity. Seller Snap profoundly cares about your eCommerce success, and they strive to improve that by delivering Brilliant customer service.
The support team is competent and gets back to you at a lightning-fast speed. The experts and technical gurus provide answers that are relevant and precise.
The tool is very economical on the pocket. Seller Snap doesn't bill you any additional fee over sales. The Seller Snap user plans are competitively priced, and it does deliver all the necessary functionalities that a Seller needs to optimize sales volume on Amazon.
So, we do recommend Seller Snap for your venture being a Seller on Amazon. We hope you find this review to your liking, and it encourages you to take the first step towards the Infinity Gauntlet of game-changing power that is Seller Snap!!!!! AND, now I'M done!!!!!
Until next time!!!!!!!! Cheers!!!!!!