Are you wondering what this Sellfy SaaS eCommerce platform is all about? Do you want a complete Sellfy review to make a wiser decision against Shopify? Well, we have got you covered. Read this unfiltered Sellfy review because we care about your brand, and we would never recommend any bad product!
Do you own a product or a brand that you want to market globally? Well, that's awesome!
Are you thinking of selling or launching your product in any third-party sales channel like Amazon, eBay, or Etsy?
Here's where you dropped your dream!
Selling products in these third-party channels is highly convenient. Over here, you don't have to care about internal marketing, analytics, logistics, and more. In addition, you even get an opportunity to go global through a larger brand. But did you know that these benefits come with a price? And the price you will be paying here is your BRAND itself! Let's try and understand this way. Customers at huge marketplaces don't bother much about a specific brand. They are price-conscious. If they will get any similar product at a lower cost, they would instantly switch to that one.
And to be more specific,
When you sell your products on marketplaces like Amazon or eBay, customers you would acquire aren't even yours. Instead, they are the marketplace's customers. Your brand can walk off your customer's eyes at a moment's notice if any big brand launches its product the next day.
So what would be your step next?
Open your own eCommerce store, sell only your products in your store, get customers specifically for your brand, and mark your presence globally under just your brand's umbrella. And this is all possible with Sellfy. But a cruel twist of irony here is, Sellfy even has its own competitors like Shopify and Woocommerce. So why should you choose Sellfy over them? What's so special about Sellfy, and how much reach would you get with it?
Too many questions, too few answers on the internet. But we have got you covered with all these questions' answers in this one-of-a-kind, honest Sellfy review; check it out!
Long story short – What is Sellfy?
Sellfy is a popular all-in-one eCommerce service designed specifically for sellers to launch their digital and physical products. In today date, it has a community of more than 270,000+ creators and business owners. It offers a variety of built-in features like custom domain settings, store customization, store analytics, third-party integrations, and more. The tool even offers more sophisticated plans like email marketing and upselling with its advanced pricing plans. If you are thinking of getting into B2B, you can do that as well with Sellfy.
Detailed Sellfy Review
Launched back in 2011, Sellfy is a popular and advanced cloud-based SaaS eCommerce platform. It allows creators and businesses to open different kinds of virtual stores to sell their digital and physical products. The platform has a highly intuitive interface, and anybody can open a store with even no coding proficiency.
The subscription of Sellfy covers all the website and hosting-related expenses, and there are no hidden fees charged at all for maintenance. Best of all, you can either Sellfy as a part of your ready-made website or as a storefront. And for this, you need to know your business and eCommerce requirements.
If you are thinking of starting small but reaching globally, you should take Sellfy into consideration. Web stores created by Sellfy are feature-laden; it has built-in security and marketing tools. You don't even have to worry about domain names (if in case you are just starting out your entrepreneurial journey).
Sellfy Features at a Glance – Sellfy Reviews
Beautiful Storefront in 5 Minutes: With Sellfy, users can create beautiful storefronts that stand unique and represent your brand effectively in just 5 minutes. You can add your logo to the store and even change the colors and navigation. You can also edit your store layout and add information to it. This platform also provides you with full shopping cart functionality, making it easier for your customers to make multiple purchases simultaneously. You can also set your language and even let customers see a translated version of your store based on their location.
The store is well optimized for mobile devices for a flawless checkout experience. Users can even link any existing domain to the Sellfy store to strengthen the brand. Sellfy also allows you to host your store directly through its platform. You can also add your custom domain to it. Plus, you can also use Sellfy as an embed now into your current online business website and by which your customers can directly purchase your products from there.
Built-in Marketing and Analytics Tools: After creating a store, you don't really have to worry about marketing your store to outrun the competition, as the Sellfy platform offers you built-in marketing and analytics tools. From the Sellfy analytics dashboard, you can easily track your best-performing products, traffic channels, top locations and overall store performance. This tool can send email product updates and even collect newsletter subscriptions directly through this platform.
You can use discount codes to engage with customers and increase your sales. You can make the most out of the email marketing services to send product updates to existing customers. Moreover, store owners can even add Facebook and Twitter ad pixels to create ads for the store and track their performance.
Product Hosting: As described earlier, with Sellfy, you can host all your digital products, and there is also no limit to the number of products you can upload to your store. Also, there is no storage limit as well to your Sellfy store, but Sellfy does recommend you to upload files less than 5GB in size. With Sellfy, you can either offer standard products or you can offer subscription services in any static file format. Your customers can directly download it after their purchase.
In order to organize your store, you can create your native product categories, Sorting them by their features. You can write the description, product titles and images. Plus, you can also offer different pricing options for all of your products. You can even include the "pay what you want" by which your customers will only choose the price which they feel is more accurate for the product. Along with this, you can also set a minimum price and make it a "pay this price or more" kind of aspect. You can also offer set prices per product, or you can even sell free products. You can even sell a wide range of digital content, but you cannot sell private label rights content, copyrighted material, third-party accounts or physical products.
Upselling Tool: Sellfy offers upselling features in the business and premium plans. You can provide powerful upsells to your users who go through the checkout process and increase your average cart value.
Advanced SEO Tools: Sellfy offers advanced SEO features in their dashboard on almost every page. Users can not only set the page title and URL slug but even provide SEO-optimized meta descriptions. Moreover, users can even include featured images for social sharing to increase the store's visibility.
Secure Payment Options: Sellfy offers world-class security as the SaaS platform is PCI-DSS ready. All the buyer's payments are handled by trusted payment processors. On Sellfy, you can accept payments online directly through your store, as you can receive payments instantly. It also ensures that your customer data is secured. Sellfy also provides anti-fraud measures to protect your products, including unique download links, PDF stamping and limited download attempts. Moreover, users can use PayPal and Stripe to collect payments from buyers from more than 200 countries.
Sellfy Wix App: Sellfy offers a "Sell Downloads app" that is specific to Wix. So if you have made a website using Wix, you can add the Sellfy app to it and sell your digital products. But this app is actually a separate service from the typical Sellfy e-commerce offerings. In order to use the Sell Downloads app on Wix, you can first use the 14-day free trial and then upgrade to premium at $9.99 per month.
PDF Stamping: If you are using a Sellfy powered website, the platform will automatically add the buyer's email address to every page of the PDF project file. In this way, each customer gets a uniquely marked file.
Availability of Embeds: So along with the fact that Sellfy lets you set up your store through its platform, it also offers various embed options by which you can increase your reach and visibility and expand your business. Also, you can further utilize a business website if you have and you can add an additional "buy now" button. So by doing so, you can embed your whole Sellfy store, or you can embed specific products only. You can also connect your Facebook page so you can embed your store there as well. In your YouTube videos, you can also use Sellfy on cards and end screens.
Is Sellfy the Right SaaS eCommerce Platform for Your Store?
Sellfy is an exclusive SaaS Ecommerce platform, and it's not the same as Shopify and Wix. The platform is more popular among graphic designers, photographers, filmmakers, fitness influencers, music producers, self-publishing authors, specifically creators from across different niches.
The basic free plan by Sellfy can get your job done if you are just starting out your entrepreneurial journey. You don't have to be a tech-master to launch a website here, a bit of tweaking, and within 15 minutes, you will get a store in front of you. All in all, Sellfy is an awesome platform to launch an online store, and here are some products you can sell on Sellfy's store easily:
Digital products:
Physical products:
Sellfy prohibits re-selling; hence sellers must read their terms of service before building a store. If the seller doesn't comply with the guidelines outlined by the platform, the account will thus be blocked/removed on a permanent basis. Moreover, they won't even get a refund for any prepaid subscription.
Some powerful businesses powered by Sellfy (and their profits)
So now that you are aware of some best features of Sellfy, we want you to walk through some of the amazing stores powered by Sellfy. These stores have seen exemplary popularity, and maybe you might be aware of some of these to date:
To date, Sellfy might not have many shops as compared to its own competitors', but whatever they own, they are doing their best, and the community is just increasing every day.
How does Sellfy Work? – Sellfy Reviews
Now that you have read this much, we would like to tell you that selling online with Sellfy is incredibly easy. The platform has kept its tagline "build your store in five minutes," and it surely does. The platform is very much easier to operate; you simply have to follow these steps:
So as you log into your Sellfy account, you will first see the Overview section, or you can term it the Dashboard area.
This section will show you a complete breakdown of your store's progress over the last couple of days. You can see how much your store has made as well as a summary of the items ordered. Plus, you can also get a link that will bring you to the store. The sidebar menu is easy to navigate through the Sellfy platform, and you get to access some of the other features of this tool.
To help understand better, we would divide this overview into separate sections.
1. Products
This section is where you can manage your inventory. You will find that it is devised into several categories, which we will see later in this section.
You will find that there are subcategories like Digital Products, Print-on-Demand, Subscriptions, Physical Products, and Freebies. This way of organizing your products makes it easier for you to manage your product inventory. Also to add a new product is easy. You can start by clicking the Add New Product button. This will bring up a menu that will walk you through the entire process.
2. Adding Your Products
After creating an account, it's time to add your first product. Uploading your products to the Sellfy store is very easy. As soon as you click on Add Product, you will be redirected to the following image, as you can see.
Here are the types of products you can sell on Sellfy:
Digital Products: These can be any type of digital file that can be sold as digital products. This includes music, audio samples, ebooks, photos, graphic designs and others. For all the digital products, Sellfy does provide secure file hosting, automated download link delivery, analytics, order history and more.
Print on Demand (POD): With this feature, you can easily create and sell customized home decor, clothing, and other accessories along with your digital and physical products. Their partner facilities handle all the printing, fulfillment, and shipping.
Digital Subscription Products: These can be any type of digital file or service that you can sell as a subscription product. For instance, audio samples, music, tutorials, ebooks and more. You can sell your subscriptions on a weekly, monthly or annual basis.
Physical Products: This platform offers basic shipping options and advanced product settings like variants, stock limitations and more. But it is essential to mention that they don't cover product fulfillment or shipping in any way, so it remains your responsibility.
Print on Demand: As discussed earlier, with this feature, you can fill your store with as many products as you like and always keep your inventory full without worrying about unsold leftovers.
You can term Sellfy's POD as your product editor as it can help you to design your merchandise easily and effortlessly.
All you have to do is:
Select a product color
Then upload your logo or any other type of custom graphics
Also, edit and position your graphics on the product
Then preview your products on high-quality images
There you go! Just list the product in your store.
The best part about this platform which we liked the most, is that it handles the transaction process and shipping at zero cost to you. Also, you will only be charged after your customers order something from your store. It takes 2 steps to process each order:
Customers pay the retail price to you for the set of product
Sellfy charges you for the product and fulfillment
At your end, you can set your retail prices as high\low as you want. And whatever is left after Sellfy charges you is your profit. As you make a sale, the order will be automatically sent to production and then shipped worldwide directly to your customer.
3. Customers
So here in this Customers section, you will see a down all of your paying customers. It is further divided into subcategories. In the All Customers window, you will see everyone who has made non-recurring or standalone purchases.
In the Subscriptions subcategory, you will see your users who have paid for a weekly, monthly, or yearly subscription, provided you set one up. You can see the order history of your subscriptions along with other data like the date of purchase, the status of the subscription, the amount paid and the buyer's email.
4. Orders
In this section, you will see all of your transactions. If you find it complicated among them, you can add filters to help you navigate through all of them.
You can also find specific subcategories for unfulfilled orders. From here, you can export all your orders for a specified date range. It includes information like the product purchased, email address, country tax, and buyer. Here you will also see if the buyer has consented to receive newsletters from you. Plus, you can also see a new category named unfulfilled, where you can see all the unfulfilled orders.
5. Marketing
The Marketing section is a very important one as here you can configure your email marketing, coupons, discounts, cart abandonment, and upselling.
Under the Email Marketing option, you can send emails to people who have previously bought items from you to promote new products and also special deals offered by you. Also, there is no limit on how many emails you can send. But you do have an option to buy more credits as needed.
In the Coupons & Discounts, you can add discounts on a number of products. You can even launch a sale that would cover all of your products. Plus, you can also offer freebies.
With the Cart Abandonment feature of Sellfy, you can see the stats of orders which have failed to close in. You will see details like the potential revenue, recovered carts, abandoned carts, and recovered revenue.
You can also do Upselling, where you can offer additional discounts on products as soon as the buyers add your product to the cart.
You just have to create an upsell campaign and select a product to upsell and enter other relevant details.
6. Apps
The Apps section is another important aspect, as here you can integrate third-party tools. So you get a bunch of tools to choose from, which include Google Analytics, Facebook Pixel, Twitter Ads, and many more.
You can even request a new integration if you don't find one on this app store.
7. Store Settings
This section is a crucial one that houses all of your online business website settings. Here you can decide on the contemporary look for your ecommerce store, and you can even customize it to meet your needs.
Let's have a look one by one and see what store settings you can make on your Sellfy store.
8. Customization
Under Customization, you can change the look of your website. Let's see how you can do it!
How to Customize a Sellfy Store? – How to Edit a Sellfy Store?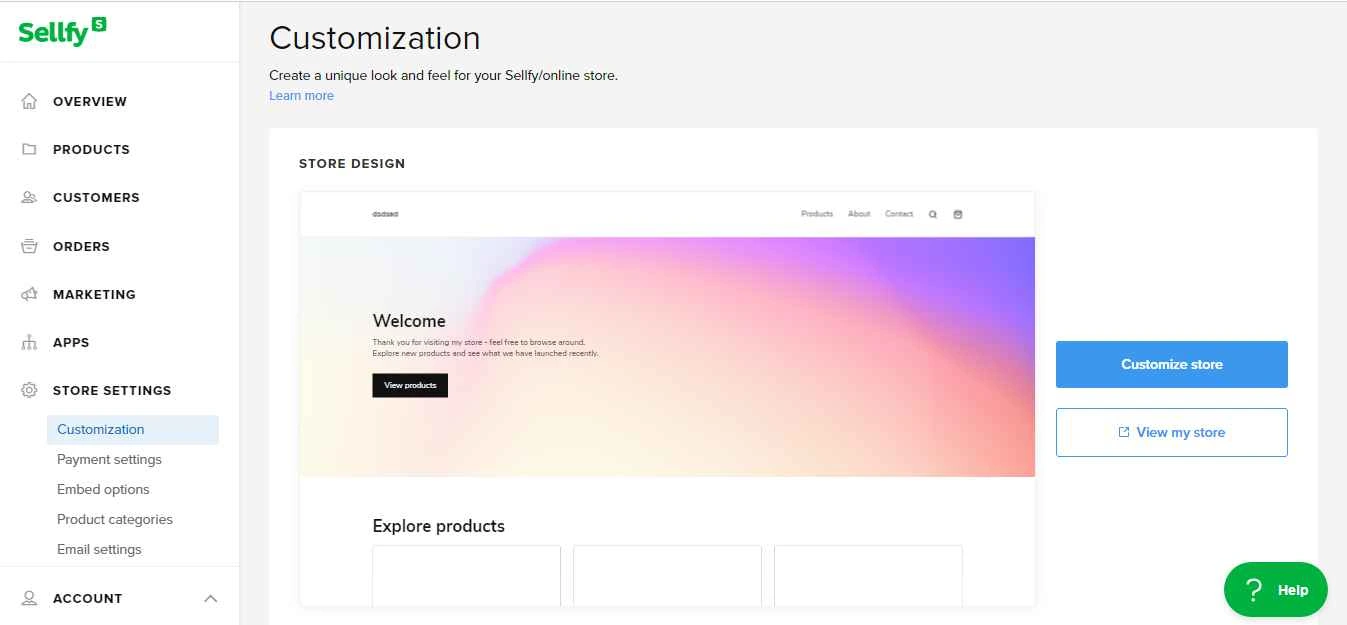 Customizing the look of your website with Sellfy is relatively easy. You can just click an element of your landing page and configure it as needed. You can edit the header of your page, change its background color, and increase the text size or decrease it. You can even change the alignment, pick a font, and more.
Also, Sellfy's Store Customizer has an intuitive dashboard that consists of two main sections: Page Settings and General Settings.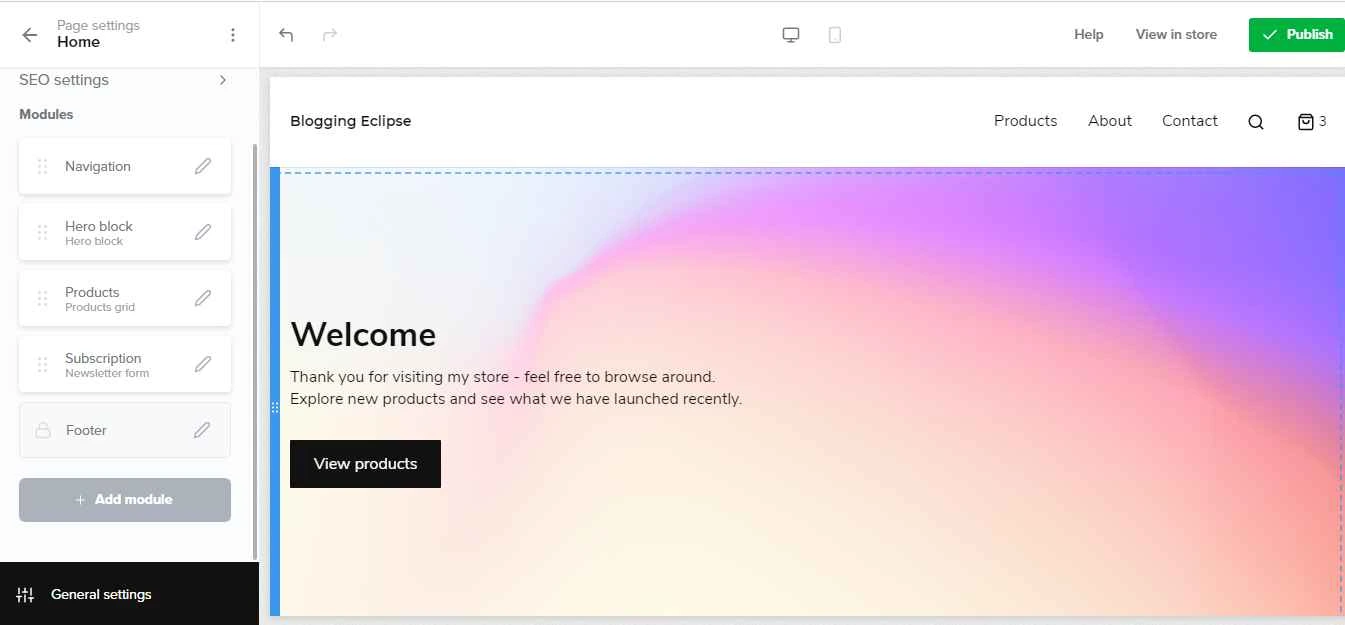 In the Page Settings, you can create as many fully customizable store pages as you require. Also, it does not just stop here, as each page consists of several Page Modules that include:
Hero block: This is the critical essence of the page that grabs customers' attention.
Navigation: This menu helps your customers find their way through your store.
Text panel: It allows you to add textual content wherever you need it.
Newsletter form: You can invite your customers to subscribe to product updates
Contact form: That is where your customers easily reach out to you.
You can, at any time, add and remove modules. You can also shift their positions on the page. Moreover, you can also customize each module separately, which gives a personalized experience in your store. Like you can feature the best product in the hero section of the page. You can also add a product image and an add a clickable button and link it to a single product along with a page, store page, category, or any other custom URL.
You can even upload a custom image and use that for your header. Also, the products can be rearranged as well by dragging and dropping them into place. Along with this, you can also customize the built-in store pages, like Home, Product, Checkout, and Purchase confirmation.
You can Customize the design of each page, for example, changing the background, text, and colors that match your brand.
You can add elements to help you sell more.
You can even rename page modules for more straightforward navigation.
Finally, you can also customize the size of each module, text and graphics alignment, as well as typography that includes the text size and font throughout your store.
9. Payments
Currently, Sellfy offers two major payment processor integrations through which you can collect payments.
Stripe: It allows customers to pay via major credit card, Google Pay or Apple Pay.
PayPal: It allows customers to pay via PayPal account, major credit card or even local European payment options.
In order to add payment methods to your Sellfy store, head to the STORE SETTINGS > Payment settings. From there, you can connect your Stripe or PayPal account. In short, with Sellfy, you don't have to wait for your payouts, as your earnings will be immediately transferred to your Stripe or PayPal account after the purchase is made.
10. Embed Options
You get the Embed Options by which you can integrate Sellfy with your existing website. You can choose to add a Buy Now button, or you want to promote a single product or showcase all of your inventory.
11. Product Categories
Here you can set up all the categories for your products by their type or characteristic. So this will eventually help you to keep you organized your product inventory and also help your customers navigate your site.
12. Email Settings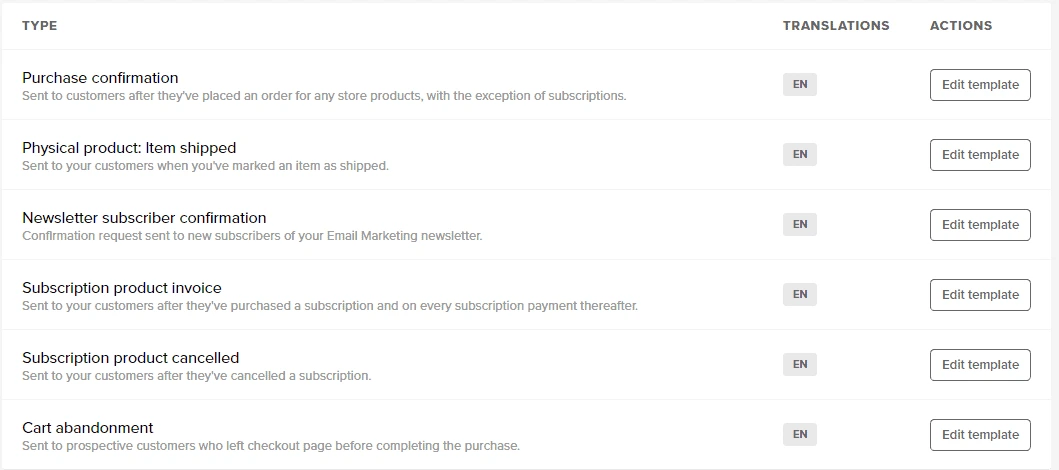 You can just head on to Email Settings, where you get email templates that can help you to get started. Plus, you can also purchase confirmation emails or item shipped emails. So if you have to customize the automated emails, this feature can help you reach out to your customers easily. You can even arrange the emails to be sent for every step of the customer's journey.
Here you get a separate subcategory for Taxes. So you can enter the tax amount that customers have to pay, which will then be automatically added to their order. Plus, you also have a subcategory for handling your Invoice Settings. You can use this to add information about your company and other details which you want to get appeared in your invoices.
Sellfy Performance Review – How many Sellfy Integrations?
Sellfy got blazing fast load times, and it can load pages in around 1.4 seconds. The platform is optimized neatly for page load time, which directly increases the user experience. The stores powered by Sellfy load nearly 2x faster. Sellfy even offers basic SEO optimization to make shops more user and search-engine friendly.
Sellfy Integrations
Even though Sellfy doesn't have an app store, users can integrate their Sellfy store with other tools to pace up the selling process. To make the most out of the tool, try integrating a Zapier account (if you don't own any, buy a free version). The tool even integrates well with Google Analytics; some other options include:
Patreon
Facebook live chat
Twitter ads conversion tracking
Facebook Pixel
Sellfy Templates and Designs Review
Sellfy recently launched its theme store in December 2021; you can locate it in the store customizer. You can choose any one of the five themes and preview it before applying and publishing. The five theme options are:
Lumiére
Noir
Savant
Idée
Mode
If you don't like any of the available themes, you can still make adjustments to your store's design. You can upload your brand's logo and favicon, background colour and background image. You can even change the button colour, button text colour, font types, and sizes. Moreover, adjusting the page layout with a drag and drop editor is also a lot easier.
Sellfy Pricing Plans – How much does Sellfy Cost?
Sellfy offers four pricing plans for its users to choose from, starting from a free forever plan to an advanced premium plan – all these plans come with different sets of features. If paid annually, users can save upto 34%, and more as compared to monthly plans. Moreover, none of these plans come with any sort of hidden fees, you just pay once, and you will get access to all the features for the whole year.
The plan is just the same as its name looks like; you don't have to pay any penny to use the tool. It would completely be your decision to upgrade the plan if you are happy with the software's services and want to upscale your store. With the free plan, you can display only 10 products in the store. You can sell print on demand and physical products. You can customize your store according to your preferences, add discount codes tax settings, and even use sellfy.store domain. If you already have a domain, you will have to upgrade to any paid plan.
This is the cheapest plan by Sellfy, but it is undoubtedly feature-laden. You will simply have to pay $29 for a month or $264 for a year (saving atleast $10 a month) to grow your business. With this plan, you can display unlimited products in your store but can only make $10k in sales. As compared to the free plan, over here, you will even get access to sell not only physical and print-on-demand products but even digital and subscription products too.
You can here use your own domain name. You will receive 2000 email credits and get 24/7 email support.
This is budget-friendly for businesses who wish to scale their store without spending much. You will simply have to pay $79 per month or $708 for a month (saving atleast $30 per month) to grow your business.
With this plan, you can set up unlimited products at your store, and there won't be any Sellfy branding. Your annual sales revenue should not increase to more than $50k. If you are moving from another platform, you even get store design migration and product migration services over here. Moreover, you will even get a total of 10,000 email credits, cart abandonment facilities, product upselling, and 24/7 email support.
This is by far the most affordable and dollar-worthy plan by Sellfy. If you wish to scale your business globally and at a discounted cost, Sellfy's premium plan will cost you $159/mo or $1428 yearly. The annual sales volume threshold here is upto $200k.
You can sell any kind of product here, migrate products from the older platform, customize your store, and even remove the Sellfy branding. You will get 50,000 free email credits, product upselling and cart abandonment marketing features. Moreover, apart from 24/7 email support, with this plan, you will even get a priority email support service. The team will resolve all your queries in less than an hour or two to the max.
Free Trial Period by Sellfy – Does Sellfy offer a free trial?
Apart from its free forever plan, Sellfy even offers its users a 14-day free trial period. Whatever pricing plan you are interested in, just click on it, enter your credit card details, and get access to a whole bunch of features of that specific plan, for 14 days, at no cost.
Does Sellfy offer a refund policy?
If, in any case, Sellfy is not working for your brand, the SaaS platform even offers a 30-day money-back guarantee. Make sure to send an email to the team 5 days prior to your upgrade because the whole process of refund takes 2-3 days. You will have to specify why you are not happy with Sellfy's services, and the team will either try to resolve your issue through personal offers or give you your whole money back. You can follow the steps for canceling your subscription and then contact Sellfy with your refund request at [email protected].
Sellfy Customer Support
Sellfy, to date, has been working with thousands of creators and businesses online. And because of its smooth customer support service, more users are happy with the tool. The team often replies to any queries within 24 hours. There's no live chat support as of now available. Although, if you have bought the premium plan by Sellfy, you will get premium email support. That is, the replies will be quick from the team's end, and a dedicated manager will resolve your issues quickly.
How to offer free products on Sellfy? – How to make something free on Sellfy?
Sellfy provides you with a platform where you can offer free products easily to your customers by uploading a freebie to your store. Freebies or free products are a great way to grow your audience and add more value for new and existing customers.
To create a freebie in your store, you can follow the steps here:
Log in to your Sellfy account
Navigate to Products > Freebie
Click Add new freebie
Create the product and upload file(s)
Click Save product
Sellfy Alternatives – Sellfy Closest Competitors to Try in 2023
Sellfy Vs. Shopify
Shopify is a close alternative to Sellfy, and it is the most popular e-commerce platform, which is well-known for its usability and the number of features it offers. Just like Sellfy, Shopify allows you to easily and quickly create your online store and customize it according to your business. Shopify lets you expand your business to sales channels like Facebook, Instagram and eBay.
Also, Shopify has different options for business owners where they can sell physical and digital products. For digital products, Shopify offers the opportunity to manually or automatically complete fill orders. Then it provides limits on the number of downloads, resends and cancel download links and even pre-created email templates, which you can send to your customers.
About pricing plans, Well Shopify offers four of them with monthly fees ranging from $5 to $299. But here, Shopify can also serve you as a payment processor, whereas Sellfy does not. Also, the credit card processing fees depend on the plan you subscribe to. Also, these processing fees decrease as you subscribe to higher-level plans.
Sellfy Vs. Gumroad
Gumroad is another online platform that lets you sell items to your customers directly without any high charges, lower conversion rates or any other hassles of a marketplace.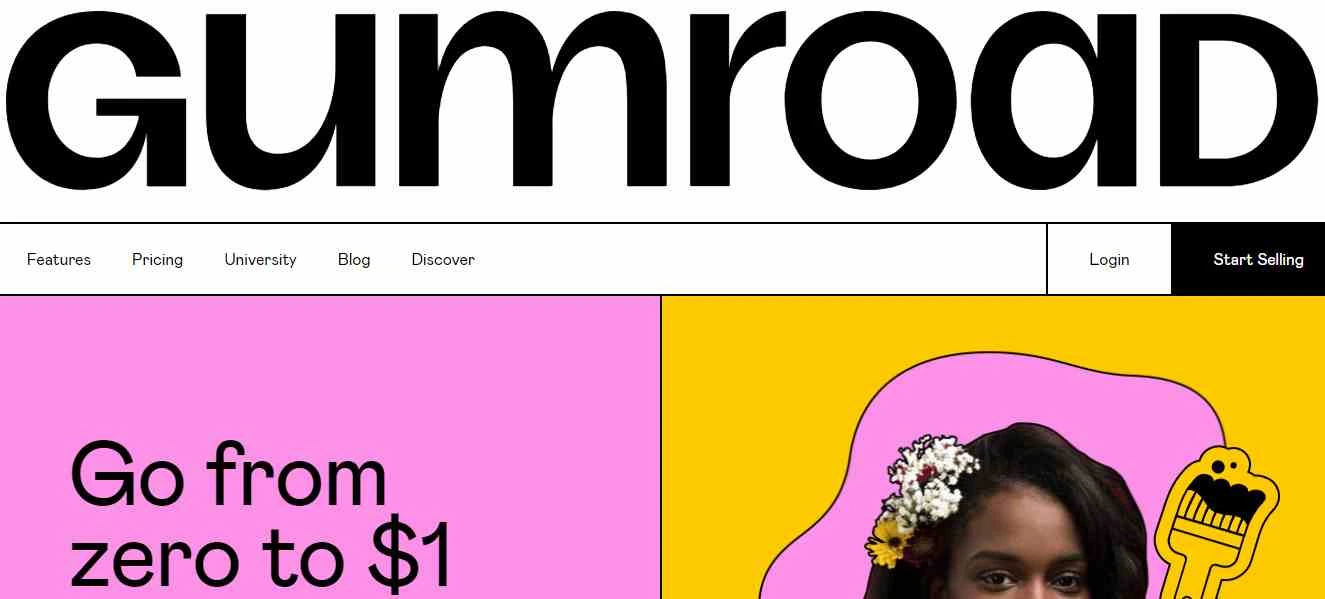 This platform also offers payment forms that you share on your site or across the web, and also it gives insights into who your target audience and customers are and how they can find you or how you can ensure that they keep coming back to you. Well, if you have physical or digital products to sell directly on our website or social channels, you can start using Gumroad and expand your business.
We feel that Gumroad is more for designers, musicians, educators, filmmakers and software developers and also other creators who want to make and sell stuff online. Plus, you can also do this through email newsletters, integrating your website, selling through social media and also using affiliates to grow your sales.
But what we did not like about Gumroads is its 9% transaction fee that it charges on your hard-earned money. This thing can be painful for someone who has a minimal profit from selling limited articles. Gumroad does offer a free plan along with a few other plans, which you can check out on their official website. The integrations offered by this platform are more in comparison to Sellfy.
Sellfy Affiliate Program – Make Extra Money & Earn Unlimited!!
Well, if you are a famous blogger, creator, or savvy marketer, you can make extra money by becoming a Sellfy affiliate and by bringing in new sellers to Sellfy. The Sellfy affiliate program is an excellent chance for all Affiliate marketers to earn a commission of up to 25% for each successful paid subscription.
How to join Sellfy affiliate program?
As you signup with this Affiliate Program, you will receive your affiliate link. You can share this link and promote Sellfy to your audience.
You can use social media, blog posts, e-mail, or any other channel to encourage creators to try out Sellfy's powerful eCommerce platform.
What are the benefits of the Sellfy affiliate program?
First and foremost, for every new user who signs up for a paid Sellfy plan using your affiliate link, you will get a 25% lifetime commission.
Also, Sellfy is a platform that is loved and trusted by creators worldwide, and it is also a leading eCommerce platform for creators. eCommerce platforms for creators.
You will get emails with promotion ideas and tips which you use to drive affiliate traffic to Sellfy.
It does not matter whether you are a blogger, creator, or savvy marketer; they love to have you as a partner.
How much can you earn from Sellfy affiliate program?
The best part about this Affiliate program is that the company offers a dynamic commission tier for sellers who bring in 6+ sales in a month. Also, at the beginning of each month, they will review the sales volume of your previous month and then assign your commission tier for the current month.
Following are the commission rates categorically stated:
| Sales per month | Your Commission |
| --- | --- |
| 1 – 5 | Your commission tier stays 25% |
| 6 – 15 | Your commission tier becomes 30% |
| 16 – 40 | Your commission tier becomes 35% |
| 41+ | Your commission tier becomes 40% |
Top FAQs on Sellfy
What is Sellfy?
Sellfy is a simple, easy-to-use eCommerce platform for creators that helps them sell digital products and merchandise with no hassle. With just a few clicks, you'll have a fully-functional store ready.
Can I use Sellfy for free?
Sellfy offers a Free plan to all its new users. If you want to test Sellfy for free, click here to create your free Sellfy account.
Does Sellfy charge any transaction fees?
Yes, there are a few additional charges which need to be taken care of. The first and foremost is the payment processing fees that both PayPal and Stripe charge. These charges are not included in the Sellfy cost. Typically, these charges can be 2.9%+ 30 cents on each transaction, depending on the payment gateway you use and also the transaction location. Also, you do not need a PayPal account to sell, as you can also receive payments with Stripe.
Do I need to have my own website for using Sellfy?
No, in order to use Sellfy, you don't need to have a website. Sellfy easily allows you to create a store and start selling on social media platforms like Facebook, Twitter, Instagram, etc.
Are Shopify and Sellfy the same?
No, Sellfy and Shopify are different cloud-based SaaS Ecommerce platforms, each coming with different sets of features and for different audiences.
Is Sellfy better than Shopify?
Sellfy is a cloud-based SaaS Ecommerce platform more dedicated to creators, while with Shopify, anyone can create a store, no matter what their products are.
Is Sellfy legit?
Well, while doing this Sellfy Review, we did come across numerous Sellfy reviews on the internet that was very positive. Also, most of the users made mentioned how easy and fast it was to create a store using Sellfy in comparison to many of the popular tools. Many other users even wrote that Sellfy is exceptionally well-organized and straightforward and also has an intuitive interface which makes the process of building a store very simple. 
How to download the latest product update on Sellfy?
Few sellers publish new versions of their products, and as they upload their latest version of product files, you can download them on the original download page. In order to access the download page, you have to go to your inbox and locate the order email. Then click on View my order to access the download page and get the updated files. If you have no downloads left, we recommend you reset your download attempts.
How can you pay for a Sellfy subscription?
Sellfy accepts all significant modes of payments, including major credit or debit cards, along with PayPal. So you can pay via any of these options and enjoy a Sellfy subscription.
Does Sellfy process your refund?
While doing this Sellfy Review, we found that Sellfy cannot directly process your refund because Sellfy doesn't process payments. So when customers purchase a product, the money goes directly into the seller's PayPal or Stripe account. Therefore they can't issue refunds.
How to cancel a Sellfy subscription?
As you cancel your Sellfy subscription, your store will not be closed immediately, but it will remain active until the end of your current billing cycle, which has been prepaid already. 
In order to cancel your Sellfy subscription:
1. Log in to your Sellfy account
2. Navigate to Account > Billing  
3. Click Cancel subscription
How to add PayPal to Sellfy?
Following are the steps which are needed to be followed in order to add PayPal to your Sellfy account:
1. Head to the Store Settings > Payment options
2. Click on Connect with PayPal
3. Then enter your PayPal email address and select Next
4. After this, Log into your PayPal account
5. Choose to use your account as a Personal account or as a Business account, and then press Next.
6. You will see that your account is successfully connected.
Is there any limit to digital products?
With Sellfy, you can have an unlimited number of digital products. But make sure that a single digital product can have up to 50 files and a maximum size of 10 GB each.
Sellfy Facebook Group
Sellfy Twitter Group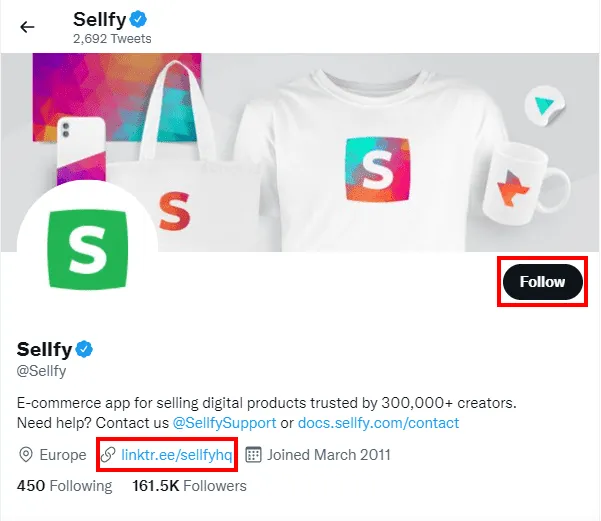 Conclusion: Is Sellfy a good SaaS eCommerce platform to launch a business?
In this Sellfy review, we have tried to cover each feature of this platform. But there are a few features that we specifically liked the most, like the checkout integrations through PayPal and Stripe. Next, users get access to advanced marketing tools, custom domain setting, discount and sales setting, advanced tax setting, and B2B sales option all under an umbrella.
Yet another best part here is the professional-looking website the users get with advanced customization options. So whatever your brand is, you can align your website with your brand's purpose all with just a click. Lastly, we found that creating a store by Sellfy is literally very easy. The tools give users much freedom to tweak their site, which we believe Sellfy competitors don't. The platform has even kept some restrictions with regards to products a user can sell through the store, which makes Sellfy an exclusive platform. There's even a 14-day free trial period available, followed by a 30-day money-back guarantee.
Now, what else do you need? It's a heck of a feature-packed SaaS eCommerce platform. Do give it a try at least once. And if you want us to come up with more such reviews relating to selling digital products and merchandise online, do let us know in the comments below!
Sellfy is a powerful platform that helps people sell physical products, digital products, print-on-demand merchandise, and more online. Sellfy makes it easy to get your creative work out in the world. Use Sellfy to build a beautiful, professional-looking e-commerce store that's easy to manage, looks great, and converts more of your customers into buyers. Use Sellfy to sell your products and reach millions of customers around the world.
Also read:
Affiliate Disclosure: This post may contain some affiliate links, which means we may receive a commission if you purchase something that we recommend at no additional cost for you (none whatsoever!)