Are you still confused about whether to vouch for Shoptimized or Booster themes for your Shopify Store? Well, both of these themes are quite popular among Shopify store owners. But the point here is to pick one, and for that reason, don't miss out on this Shoptimized Vs. Booster Theme comparison review; we have some hard secrets for you!
Setting up an online e-commerce store is as same as building a home for yourself from scratch. For a home, it's its interior that makes it look attractive for people to watch out, and for an e-commerce store, it's its theme that makes the shop look attractive for visitors to turn into customers.
And just as deciding the interior of the home is really difficult, so is picking the right theme for your Shopify store.
No doubt, Shopify offers sellers access to 100+ free and paid themes, all having different styles, layouts, and customization options for various use cases. But with so many attractive stores joining the bandwagon each passing hour, one must stand unique. And standing unique is literally not so difficult; you will just have to invest in the right Shopify theme, like Shoptimized and Booster Theme.
Quick Summary
Shoptimized and the Booster Theme are among the best-paid Shopify themes available in the market. Both themes offer users access to the best built-in marketing and managing tools. And surprisingly, both offer, no questions asked a money-back guarantee. But which one to pick still remains a question that has to be answered, so read out our Shoptimized Vs. Booster Theme comparison review ahead!
Shoptimized Vs. Booster Theme: Ultimate Comparison
What is Shoptimized? – Shoptimized Review
Built by a community of like-minded Shopify store owners, Shoptimized is a powerful Shopify theme for sellers who want to upscale their business real quick. It's an easy-to-install, high-converting Shopify theme, power-packed with 30+ conversion-boosting built-in features. Surprisingly, the loading time of this theme is less than one second, and it's not us who's saying this, but the customers who have been using the theme for years now.
The best part of Shoptimized is even the desktop version of the theme was built for mobile. It gives every visitor the best mobile user experience and helps sellers maximize their profits from this valuable traffic.
What is Booster Theme? – Booster Theme Review
The Booster Theme is yet another popular Shopify theme designed for store owners who are ready to scale. The theme gives sellers access to 40+ built-in marketing tools so that they don't have to wander outside and just stick to this tool at the bare minimum pricing. From selling, and marketing to managing, you name it, and the theme has literally got sellers all covered with the best tools.
Setting up the theme for your store is also extremely easy. You just have to download one of the Booster's demo presets in your shop. Deploy the Booster Theme, and within minutes you will see the difference in your online store.
👉 Also read: Shopify Booster Theme Review + Discount Coupon (100% Working)
Shoptimized Vs. Booster Theme: Feature Battle
Shoptimized Features at a Glance
Super fast page-load speed
The reason why Shoptimized won the price of the best-selling theme of the year is all because of the unmatched loading speed. The team has built clean themes that load real quick, all under one second. Any user can check this for themselves on their demo store.
Complete control of the store
With Shoptimized, sellers get complete control of their store; they can customize every nook and corner without even having any coding skills.
Shoptimized theme is optimized for 200+ Google rankings factors so that your site ranks on the top, no matter what type of product you are actually selling.
Shoptimized offers 30+ conversion-boosting built-in features to users. However, we are only sharing the most important ones that any e-commerce seller would need in their store:
Since only a few Shopify store owners are into dropshipping and a major chunk is into selling personalized products, the theme's personalized item built-in feature can help you with the same. With this feature, sellers can sell the product at a higher margin. And since it's a built-in feature, sellers can save upto $180 per year.
The mega menu built-in feature by Shoptimized is highly customizable. Sellers can customize it according to their niche and range of products, making it easier for buyers to check out new and best-selling products. And if the seller is just selling limited items, they can turn off the mega menu and stick to the traditional navigation option.
Know visitor already knows what you are selling in your store, and the value proposition feature by Shoptimized is just for this. Through this feature, sellers can show why your store is the best as compared to your competitors. For that reason, this feature is packed with the "reasons why" and "add to cart" icons. Sellers can even load their own icons to come up with a unique value proposition.
Product videos, because of extreme product clarity, are very popular among customers and of which conversion rates increase rapidly. For this reason, Shoptimized even offers a video embedding feature for the seller so that they can add creative videos to the footer. Also, sellers can even turn this feature off if they are not ready to share videos.
Built-in social proof Pop-up
Buyers buy what people out there love, and for that reason, Shoptimized offers a built-in social proof pop-up feature through which sellers can display social proof of their brand to store visitors.
Customers love free shipping, and when it is displayed in the right space, they can literally know you are giving them free shipping. With the help of this free shipping threshold, sellers can increase their average order value. Additionally, this feature integrates well with built-in upsell pop-ups for sellers to shop and spend more.
Fully customizable CTA button
Whenever a visitor lands at your store, you have to push them to buy a certain item, and the CTA button is just for that. The theme offers a clear CTA so that it never gets hidden in the clutter. Sellers even get multiple options to test different sizes, colors, and CTA text.
Yet another exciting built-in feature is cart page urgency, through which sellers can create a sense of urgency by making visitors feel that they are missing out on something. The team, in this feature, has also added an optional countdown timer on the cart page to make the process more smooth.
Many themes out there don't offer the cross-sell pop-up feature, and hence sellers often end up buying a costly and slow-loading third-party app. But over here, Shoptimized has come up with this unique built-in feature so that any customer can quickly add relevant products to their cart to increase the average order value.
Apart from this, Shoptimized even offers some more powerful features like an exit pop-up, sticky add-to-cart button, dynamic cart coupon, countdown timer, get it by timer, email pop-up, skip the cart, and risk reversal features.
Booster Theme Features at a Glance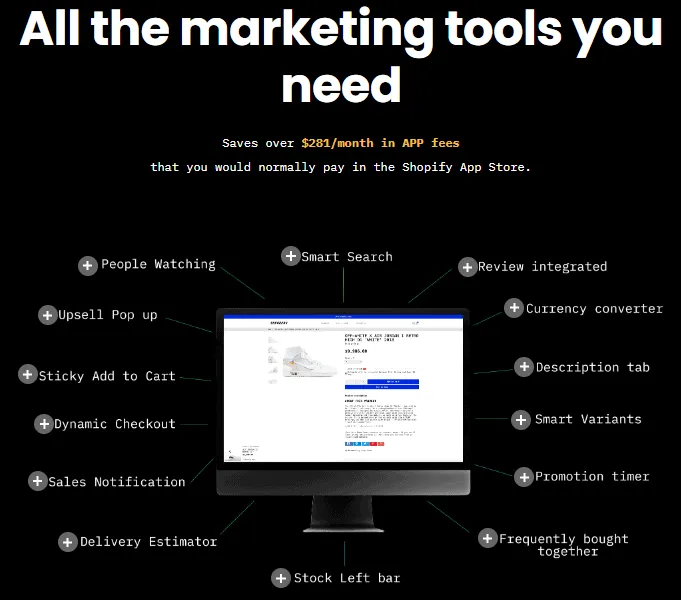 Complete control of store appearance
Booster themes are extremely customizable; sellers can literally tweak any corner, unlike traditional themes with so many restrictions. Sellers over here have complete control of their store's appearance and experience.
As compared to all themes available out there, Booster themes load real quick, and it's among the best user-friendly Shopify theme available. Literally, the loading time of any page here is less than a minute.
All the Booster themes are mobile optimized so that the visitor gets just the best buying experience no matter what mobile or mobile version they are using.
Booster Theme offers 40+ conversion-optimized built-in features to users. However, we are only sharing the most important ones that any e-commerce seller would need in their store:
The mega menu built-in feature by the Booster Theme allows the visitor to check out what's just the best in your store. It even allows them to easily find and buy what they need so that they don't end up wasting much time.
Recently bought notifications
Through this feature, sellers can save their visitors time by letting them know what they have recently bought from the store. Because of this feature, sellers can even show factious sales, even when they don't have any customers, to save acquisition costs.
This specific built-in feature allows customers to contact the brand from whatever social media app they are using. With this feature, visitors can even share any product they like with their friends with just a click.
The promotion timer feature by Booster themes increases the sense of urgency among visitors. In fact, it encourages the user to make a purchase now, or instead, they will end up losing this deal.
Optimized product filtering
This specific feature of the theme is literally a gem. Your product catalog gets so easy to explore that any seller can find out any product with just a few clicks, without wandering much around.
Whether you want a cart drawer, a cart slider, or a cart page, the Booster Theme offers sellers multiple cart options to choose from. They can even add them directly to the checkout option over here so that the seller can make quick purchases without wasting much time.
Not every buyer know what they actually want; instead, they predict keywords, and this predictive search feature is best for such type of visitors.
Apart from this, Booster themes even offer some more advanced built-in like a description tab, videos everywhere, frequently bought together, easy branding, HP features product, GEO tagging, copycats stopper, and more.
Shoptimized Vs. Booster Theme: Pricing Plans
Shoptimized Pricing Plans
Even though Shoptimized doesn't offer any free themes, their paid plans are highly affordable too. Additionally, users can even install the Shoptimized theme today and use it for free for 14 days; it's basically a money-back guarantee. Coming back to pricing, sellers here are given three options to choose from, one yearly access and lifetime access. The third one is lifetime access plus setup and audit; explore it all below:
Shoptimized Annual License Plan – $199 per year
30+ Built-in conversion apps
7 Days of support
Theme updater app
Free bonus offered – home page and checkout page banner templates
Annual tech support
Shoptimized Lifetime License Plan – $299 for one time
30+ Built-in conversion apps
7 Days of support
Lifetime tech support and updates
Theme updater app
Free bonus offered – home page and checkout page banner templates
Access to 7-figure store Blueprint for free
Access to FB Ascension formula for free
Shoptimized Lifetime License Plus Setup & Audit Plan – $1199 for one time
Everything included in the Shoptimized lifetime license plan
Done-for-you theme (customized theme according to your store's goals)
Custom lifetime growth and audit reports
To squeeze more profits from the theme, Shoptimized even offers sellers access to plenty of third-party apps for free. Be it for entry pop up, exit pop-ups, internal site searches, shipping time estimators, mega menus, shopper and stock remaining calculators, you name it, and Shoptimized has got you covered with every essential add-on.
Note: Do remember that all the above plans come with just one store license; to use the same theme with multiple stores, you will have to purchase more licenses by contacting the sales team.
Booster Theme Pricing Plans
After watching Shoptimized pricing, you would have believed it's the best theme out there, but wait, the Booster Theme has surprises for you. Over here, there are two options given to store owners, they can either go for a yearly license or simply buy the lifetime license, and we will always recommend you to go for yearly first and lifetime later. This is because, with the yearly license, you will actually know how the theme works, and later you can invest in lifetime access.
Apart from this, the Booster Theme even offers a 14-day money-back guarantee to users who are not satisfied with their purchase.
Booster Theme Yearly License – $248 per year
Everything listed in the features section
Booster apps worth $5136
Mobile-optimized designs
Speed optimization tools
24/7 Tech support
Image optimizer
Quick updates
Unlimited visitors
Booster Theme Lifetime License – $298 for one time (limited period offer)
Everything listed in the features section
Booster apps worth $5136
Mobile-optimized designs
Speed optimization tools
24/7 Tech support for one year
Image optimizer
Quick updates, for forever
Unlimited visitors
The Booster apps mentioned above, which you will get with a Booster subscription, are Mega menu, Recently bought notifications, Facebook messenger chats, Add to cart interactions, Frequently bought together, language converter, and more.
Additionally, Booster Theme even offers users customization services; hence, if you have a good budget, you can hire the best Shopify experts to customize your store.
Shoptimized Vs. Booster Theme: Customer Support
Shoptimized Customer Support
When it comes to virtual support, Shoptimized is really the best at it. The team offers round-the-clock support on weekdays via chat or email. And the best thing here is the individual who will be hearing your queries out here will be a Shopify expert, not just a customer service agent. Hence, you can ask the trickiest technical question and get an answer from the experts.
Coming to the turnaround time, the team often responds to any query within 24 hours, and only in rare cases can this exceed 1-2 business days. The support team is primarily based in the Eastern standard time zone. Hence you can expect professional support within weekdays (Monday – Friday), and weekend staff can always help you with basic queries.
Apart from chat and email support, the team has come up with a help center for users to quickly configure their Shoptimized theme by following the step-by-step guides.
Booster Theme Customer Support
Similar to Shoptimized, even Booster Theme offers both chat and email tech support to users throughout the week. The average response time for any issues raised is less than 12 hours, but sometimes it can reach a day or two, specifically if you raise any issue over the weekend.
Other than this, the team even offers customization services, of course, at an additional cost. There's even a help center available on the official dashboard for users to explore how-to guides and blogs.
Shoptimized Vs. Booster Theme: Pros & Cons
Shoptimized Pros & Cons
Winner of #1 Converting Shopify Theme for the year 2022.

30+ Built-in marketing features.

Offers multiple layouts to choose from.

Quick loading speed.

Attractive designs.

Trusted by thousands of store owners.

7 Days of tech support.

Lifetime plan available.

No coding experience is required.

14-Day money back guarantee.
Booster Theme Pros & Cons
Highly customizable theme.

Fast loading speed.

Lifetime plan available.

Priority tech support available.

Customisation services available for store owners to customize the theme.

40+ Built-in marketing tools.

Quick updates.

Money back guarantee.

No coding experience is required.
Not available for free.

Limited pricing plan options.
👉 How to Pick the Best Shopify Theme?
Still, confused about how to pick the best Shopify theme? We have got you covered with a checklist!
Shoptimized and Shopify Booster themes are just so popular among Shopify store owners out there. But since both are paid ones, sellers might face a tough time picking the best one.
To be honest, when you are launching your own Shopify store, spending so much time on picking the right theme sounds too naive. You really have more important stuff on your table, like developing marketing strategies, finding winning products, and building content. But guess what? We have a super powerful checklist for you:
1. Design
While choosing the best theme for your Shopify store, design should be the first thing you must consider. For example, if you are vouching for Shopify Booster themes, look after their pre-designed templates first. If you are thinking of getting into Jewelry products, there's a Booster Jewelry theme already available. This theme focuses on keeping everything minimal so that the focus here is more on products than just words.
2. Plugin Compatibility
After picking the best design, next comes plugin compatibility. Since over here we are talking about Shopify stores, the theme you would choose for your store must be compatible with the plugins you would be using in the future. Let's say you will be using the Keeper plugin for abandoned carts or Pinterest for product curation; make sure to visit your theme's site beforehand and see if all these are compatible.
3. Site Loading Time
Any search engine out there gives more preference to sites whose loading time is super quick. That being said, if you are choosing a theme for your Shopify store, you must always check the loading speed – you don't really have to keep your visitor waiting. Make sure to always check out the demo themes available.
For example, Shopify Booster themes with every theme offer a demo store; if you like one, you can click on it and simply check out what the loading time of the theme really is!
4. Updates
Last comes the update part. Apart from your theme being highly responsive all the time, to stay away from internet fraud, the developer must constantly update the theme. Your theme should always keep up with newer technology stacks, the latest SEO trends, and any small vulnerabilities. And the best part here is all the themes offered by Shoptimized and Booster Theme are updated very frequently, so whatever you end up picking, you can stay rest assured with the updated part.
Top FAQs on Shoptimized Vs. Booster Theme
Is the Shopify Booster Theme and the Booster Theme different?
No, previously before 2019, Shopify Booster themes renamed themselves to Booster themes for users to access the themes quickly.
Is Shoptimized the best Shopify theme?
Yes, Shoptimized is the winner of the #1 Converting Shopify Theme for the year 2022 and is used by over 50,000 Shopify store owners.
Can I try the Shoptimized theme for free?
No, Shoptimized does not offer a free forever plan, but there are demos available for every theme for users to check out before installing.
What is the fastest Shopify theme?
Shoptimized and the Booster Theme are among the fastest Shopify themes optimized specifically for Shopify ecommerce stores to boost the conversions and overall performance of the site.
Can I use the Booster Theme for free?
Booster Theme does not offer any free themes, but it does come with a free trial for users to take a quick dive into what the theme has to offer.
Conclusion: Shoptimized Vs. Booster Theme – What should you choose?
This Shoptimized Vs. Booster Theme review was undoubtedly a lot extensive, but over here, we tried to cover each and every feature and benefit of these themes. Concluding is definitely difficult because both the themes are pretty much awesome and are recommended by thousands of Shopify store owners. However, when it comes to picking one out of both, we would recommend you go with Shopify Booster Themes. And to not forget, the team, as of now, offers an eCommerce conversion checklist priced at $70, free to customers so that they can boost their average order value and conversion rates.
The reason why we are suggesting the Booster Theme over Shoptimized is it gives users full control over their store's appearance; there are literally no restrictions. Setting it up is also extremely easy; no knowledge of coding is required at all, and it literally takes a minute to install (sometimes even less than that). Lastly, the theme even saves $281 per month on app fees, so quite a win-win deal!
But this doesn't mean Shoptimized isn't good for your Shopify store.
Shoptimized doesn't come with any complex pricing plans. You just have to pay a specific amount to get a lifetime license. Over 50,000 Shopify store owners are using Shoptimized; be it for print-on-demand stores, supplement stores, or fashion stores, sellers can instantly download a theme and make their site more attractive within a few minutes.
In all, Shopify's Booster Theme attracted us more, but Shoptimized might attract. Because at the end of the day, when it comes to picking a theme, it is always about your business and your choices. And as far as this Shoptimized Vs. Booster Theme review is concerned. We literally have covered everything, so make a wiser choice out of this, and stay tuned to BloggingEclipse to explore more such comparisons!
Quick Links: