Do you fear the blank page? Ideas disappear when you sit down to write for a project or when deadlines are closer than you expected. If that is you, then you are in the right place now. Simplified is an AI tool that can help you to find the right words and ideas for your content. Simplified is a one-click solution to all your content problems. Along with AI tools for writing, video editing, graphic design, and animation, the sky is the limit, so let's know everything about the AI tool further in this Simplified review!
This powerful tool is a great resource for all your needs. This powerful tool combines the best of Canva and Copy.ai, giving you the ability to craft compelling content quickly and efficiently. With its cutting-edge features, you can have your content ready in no time. Read on to find out more about Simplified AI Writing Tool and why it's the perfect tool for your all content needs.
What is Simplified? Simplified Review
Simplified is an AI writing and design tool that can help you build, collaborate, and scale your marketing efforts. It's an all-in-one service that has everything from writing, designing, making videos and even sharing them on social media. With this tool, you can get the entire social media management from start to finish! Simplified can help you to build and scale your content marketing strategy. As a business owner, this tool empowers businesses and makes the content creation process simplified and fun!
Simplified allows users to choose from thousands of templates and content options like a blog, social media posts, long-form content, short-form content, bios, websites, and everything else under the sun. This Content Generator is the perfect companion to find new ideas or execute existing ones. Along with different parameters, it can understand the target market and the target audience for a particular piece of content. Simplified is a versatile tool with a lot of functionality, let's look at the wide range of tools available in this AI service.
Simplified Features: Experience the Power of AI

The Simplified AI tool is the first of its kind to bring machine learning to design this helps to make the content development process simpler. It enables you to create designs with no code editor. It can help to cover various forms of written content as well. The possibilities are endless with the wide range of options available in the Simplified AI like:
Blog Idea, title, outline, and Conclusion Generator: Every piece of content starts with an idea, and so ideas are the toughest part of generating content. Simplified AI can give you a list of ideas to start with, points to cover in the form of an outline, and a conclusion to condense the ideas expressed in the article or blog.
Content Rewriter: This tool can help content writers to reformulate the content to best fit the context and the SEO guidelines. This tool helps to optimize readability and reach a broad audience, all with little time and effort.
AIDA(Attention-Interest-Desire-Action): Simplified AI uses the AIDA (Attention, Interest, Desire, Action) principle used by marketers to generate content for a broad audience.
Company Bio: The AI tool can help to generate a Company description based on the prompt. This can be a game changer for startups that want to translate their vision in a brief and interesting way to their competitors and customers.
Amazon Product Listing: The AI tool can help product-based companies to generate content for their product listing by writing product descriptions that are optimized for the platform.
Hashtag Generator: Simplified can generate relevant hashtags for posts to maximize their reach.
Youtube Video Descriptions and titles: This tool can be used to generate descriptions for youtube with the right SEO approach to maximize the reach of your videos.
LinkedIn Ads: The tool can help you to create LinkedIn ads based on intent, target audience, and market analysis for the best result.
Landing Page: The Simplified AI tool can help to create engaging Landing page content to reduce bounce back rate and draw traffic.
Pain Agitate Solution Framework: With the right understanding of the Pain Agitate Solution Framework, Simplified can create content by understanding the problem statement of the user, emphasizing it for further effect, and then providing solutions for the best result.
Product Description: You can write product descriptions with the AI tool for the best results with the perfect balance of SEO and creativity.
Review Responder: This tool can help manage and respond to reviews across major platforms like Google, Yelp, Facebook, and more!
Sentence Expander: This tool can help you to generate short-form copy with 40+ templates in 10+ tones and 30+ languages to reach out to a wider audience.
Long-form text generator: You can write long-form content 10 times faster with Simplified.co. Create articles, blogs, and even books with ease. You can also use the article rewriter, bullet point expander, and AI paragraph generator to improve your work.
Writing is just a part of Simplified AI's capabilities. The software can do a lot more. Simplified AI has features like:
Graphic Design: With Simplified AI everyone can be a Graphic Designer! The no-code graphics generator of Simplified AI can create designs for posters, brochures, flyers, business cards, and other materials. You can even design logos and brand designs without any knowledge of graphic design.
With Simplified you can:
Create designs for Instagram, Facebook, YouTube, and other social media platforms with ease.
Crop photos with the proper ratios and cutting shapes.
Use animations to bring your social media posts to life.
Remove backgrounds as quickly as possible.
You can even create fun memes for your brand to improve engagement on social media.
Social Media Planner
Simplify social media management with Simplified.co. Collaborate with your team, schedule postings, and personalize designs with Simplified. Link all your social media for better and faster client interaction and manage multiple social profiles with a simple interface and provide written or visual content on demand with Simplified.
Collaboration Features
Collaborate with ease using Simplified. With Instant tagging, commenting, and sharing, your team can stay on the same page and make changes instantaneously. Put an end to the spiral of approval and complicated processes. Create multiple workspaces based on different teams.
Advantages of using Simplified | Simplified Review
We have seen how feature-packed Simplified.co is, let's take a look at how it can benefit your business.
The software is the best of both worlds with powerful AI copywriting and photo editing tools, Simplified is the one-stop solution for all your marketing needs. The capabilities of the software are way beyond that with social media integration and the ability to create and schedule posts is a complete game changer. The software also allows collaboration with ease through commenting and tags so you can communicate within the app itself! Along with all this, they have great customer support available on Facebook. Simplified is pushing the boundaries of AI in marketing like never before!
Things to consider about Simplified | Drawbacks of Simplified AI
As we all know with great power comes great challenges and the Simplified software too has some rough edges.
Some features of the tool are hard to find, which makes the tool hard to use. The language translations for other languages are not always accurate. There are errors from time to time. These are the small quirks of an overall powerful tool.
Simplified Pricing Plans: Is there any Simplified Free Plan available?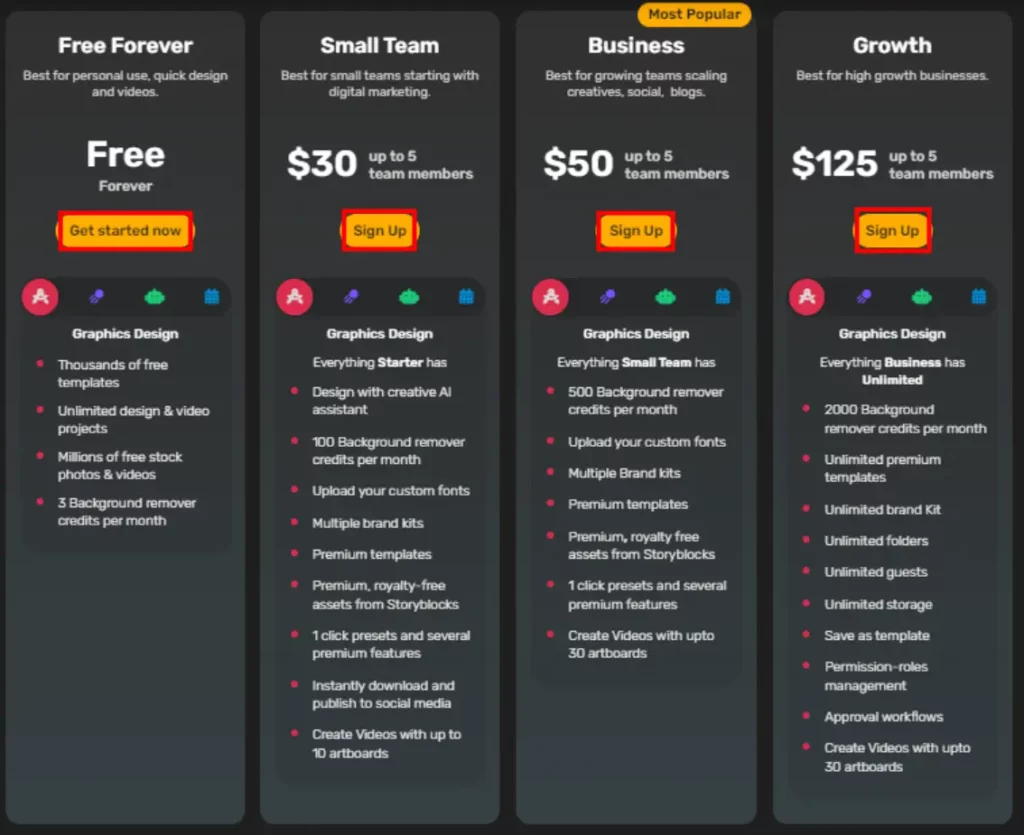 Simplified has four pricing plans for different use cases.
Simplified Free Forever Plan
There is the Free Forever Plan which is free as per its name. This plan provides 1 GB of workspace storage unlimited designs and thousands of free templates the only thing is that you can only write up to a 3000 words with this plan.
Simplified Small Team Plan
The Small Team Plan has features like background remover, 1000 Google fonts, chrome and WordPress plugins, a 25,000-word limit, 100GB storage, a long-form editor, and built-in Grammarly support for its users. The price of this plan is $30 per month with a 30% discount on an annual subscription.
Simplified Business Plan
The Business Plan gives you 200 GB of workspace storage, a word limit of 50,000 words, Team Collaboration, Shopify and Google Drive connections, brand kits, and a long-form editor, among other features. The plan is $50 per month with a 30% discount on a yearly subscription.
Simplified Growth Plan
The Growth Plan gives you 250,000 word limit per month and all other features, including 500 GB storage, priority support, built-in Grammarly, and a Plagiarism checker. The price for this plan is $125 per month with a 32% discount on a yearly subscription.
These are the pricing plans you can choose from based on your needs. Simplified.co provides features that are unique and intuitive providing various benefits over its competitors.
About Free Forever Plan | Truly Free, Truly Simplified
The free forever plan is more amazing than you can think. With thousands of templates and designs at your disposal, you can create whatever you like! Simplified is a tinkerer's dream come true as it gives you plenty of options in design and writing and can help you create something unique with very little effort. You can create beautiful AI artwork and write all kinds of content with little skill. The best part is, it is truly free! It is not a free trial that requires you to put down your credit card details. None of that, just sign up for a free and simplified provides solution to all your content creation problems in one place.
Who is Simplified for?
Simplified.co is a tool best suited for creatives and marketers that want to generate an impact powered by writing and design. This tool is a great choice for social media professionals like influencers and social media managers to create content ideas and create social media posts with high-quality templates. This tool is also meant for budding writers, looking to create engaging copy or content. This tool can help writers get an idea of the type of content and help them write the content based on their needs. marketers no longer need to rely on graphic designers and content writers for the perfect copies and creatives for their posts. This tool empowers all with an imagination.
Top FAQs on Simplified Review 2023
How good is the Simplified tool?
Simplified is an amazing tool with a lot of features when it comes to writing and creating visual content. The best part is, this tool is entirely free! All you need is to sign up and you're good to go.
Can Simplified AI generate Long form content?
Yes Simplified AI can create long-form content like blogs, articles, and more. It has tools like Blog idea + title and sentence expander that can help you to create the best SEO-optimized content.
Do I need to double-check AI written content?
Yes! it is a good practice to check content written by AI as it can make mistakes as well. AI-generated content is not always perfect. Simplified offers content in different languages as well and it is important to check content for errors because it can change the intent of that piece of content.
How does Simplified work?
Simplified is the one app that can create and scale your marketing. With the design, write marketing copy, create videos, collaborate, and publish to socials—all in the same place.
Conclusion: Is Simplified worth it? | Honest Simplified Review
Simplified is an AI tool that has empowered people to explore their creative potential with the help of Artificial Intelligence. This tool can help professionals in digital marketing to create and execute social media plans. It can help to create attractive visual content as well as written content with the help of AI. This tool is perfect for businesses and individuals that want to create something. Simplified has truly simplified creativity with the power of AI.
Affiliate Disclosure: This post may contain some affiliate links, which means we may receive a commission if you purchase something that we recommend at no additional cost for you (none whatsoever!)