Are you looking for an online website builder? Read this Sitejet Review and make a better decision ahead. We have tried to cover all the major and profitable features of Sitejet, along with its pricing and cons. Also, don't miss out to check the amazing coupon code to get exciting discounts while purchasing!
Before starting up with any business, it gets tedious to manage everything all on your own. You have to quickly perform all the major tasks, but we do know that nobody can't be an expert at everything. From managing inventories, tracking customers, and the most important of all, building an online presence through a website, the to-do list of starting up with any business is endless!
But did you know that you can clear out one major stress of building a website within a quick period? There are several professional website builders platforms available in the market, but are they all worth trying? Indeed, Website builders are the easiest and cheapest solutions, yet sometimes you won't get the desired results.
However, some hidden gems are available in the market that can help you build a professional website without any help from a web developer. And one of them is the Sitejet tool itself! The tool is a popular website-building platform that can help you create websites in the least possible time.
Well, let's take a deep look into what are Sitejet features and its pricing. But before that, here's a short introduction to the Sitejet tool to help you understand better!
---
Detailed Sitejet Review
Launched back in 2018, Sitejet is a popular and unique website builder through which you can build professional sites quickly. The tool uses the latest technologies and functionalities to help users get the best sites. Both agencies and freelancers can use this software to create, manage and offer multiple websites to their clients. Also, if you are a beginner, you can build a website without even coding!
21% OFF
Enjoy Flat 21% OFF on all Sitejet Annual Plan
Also, if you have started up a new business recently, you can run it entirely on your own with Sitejet. On a global scale, millions of users have been using Sitejet. The main aim of the tool is to take on giants like WordPress, and that's why the founders keep on thriving for growth. We have tried our best to mention all the amazing features of Sitejet, but do remember that there's a lot more in the bucket. So without any further delays, catchup Sitejet's features.
---
Key Features of Sitejet | Sitejet Review
First of all, you should know that Sitejet is "what you will see is what you will be getting" (WYSIWYG) Content Management System (CMS).
#1. Easy website building process within less time
Since Sitejet is a mass website production platform, you will be given many statistical details about websites. First, take the free trial option by Sitejet and create an account. After you have logged in, you will be greeted with charts and statistics of your overall projects and your monthly performance.
If you are new to the site, the dashboard will not contain many details, but it will surely motivate you to increase your productivity through its features. The tool has over 120 prebuilt responsive structures and variants to help you save time. Also, through Sitejet, you will have full code access, through which you can modify the website using HTML, CSS, and JS.
#2. User-friendly drag-and-drop website builder
Drag and drop builders are quite an in trend nowadays, and Sitejet has 100+ template segments. This feature is best for web professionals who wish to design professional and functional websites quickly. Users can customize the elements like resizing, adjusting margins, and framing web content. The tool also has a lot of styling options and the ease of adding custom code.
#3. Collaboration features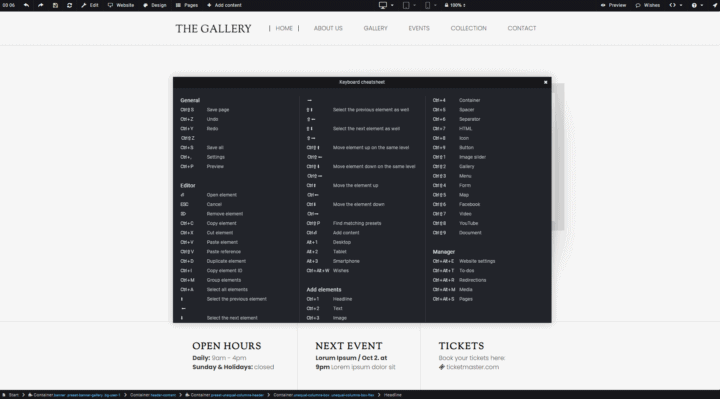 This feature makes Sitejet a unique website builder, as it offers comprehensive tools to help you collaborate with teams and clients. Since the site will be in the "Creation" phase while creating the website, you can get as much feedback as you want through the client. There is also a customer portal that notifies users about each feedback they have to take action on. The system also has a built-in to-do list to help businesses stay in touch with project owners and help them track the overall product lifecycle.
#4. Automated website generating process
There is a customer portal available within the software wherein you can provide all the visual and written content before building any website. After that, whenever your customer requires the website urgently, you can generally see it within a click itself. Later you can import all the added content into the layout and send it to the customer. In this way, you can save both time and effort to build and design the overall website.
#5. White-labeling website building process available
If you have started your own business and wish to brand it, Sitejet is the right software. You can customize Sitejet's dashboard by adding your logo, changing the color, etc. Also, Sitejet helps you set up a "Customer Portal" where your customer will log in to view your work or directly access the Website you're building for them.
#6. Features to improve web performance
What's the matter of designing a website when it's not getting the desired reach? Through Sitejet, you can give your customer the right reach through in-built SEO settings. You can add metadata for each subpage, along with built-in image compression, code minimization. Also, you can integrate your favorite analytics tools and get a detailed insight into the Website.
#7. Grab insightful client feedback quickly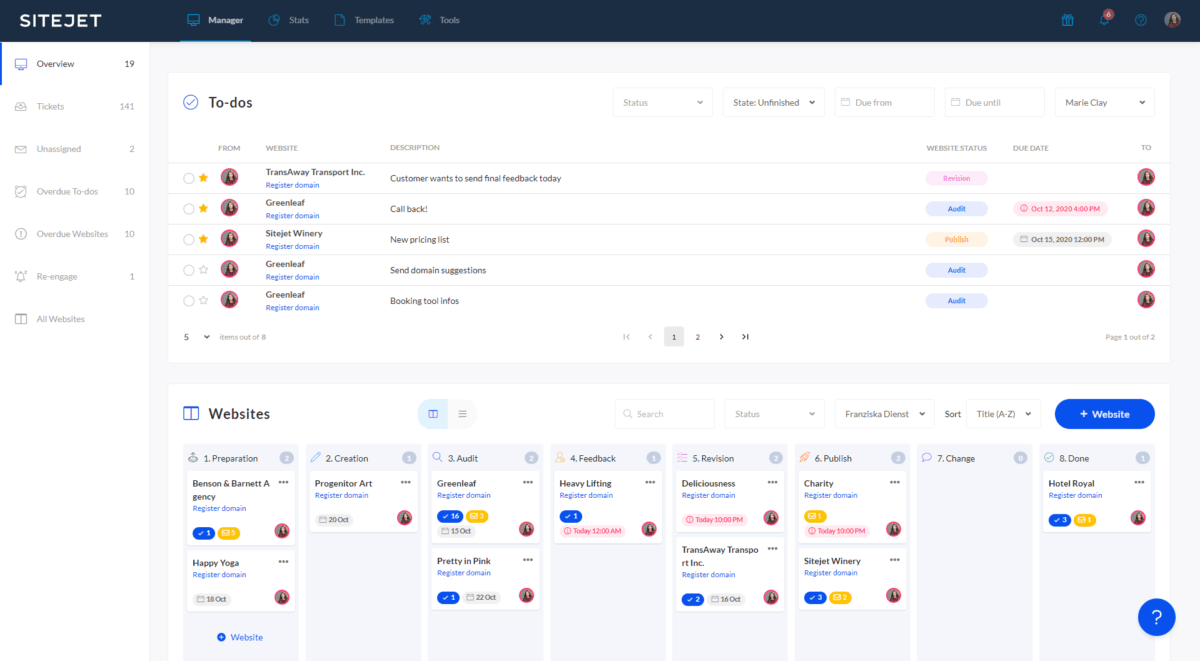 It's quite tedious to stay updated with client's emails, and it also takes up a lot of time. But this won't happen with Sitejet, as the tool provides a unique feature to designers. They can send their client the link to the feedback tool, and their customer can click on elements of the websites to add their feedback as a comment.
All the comments shared by the clients will be visible in the website menu. You just have to click on the to-do menu or just reach out to the CMS. When you click on the to-dos, the tool quickly opens the page and scrolls directly to the element mentioned by the client. Hence you can quickly analyze where you have to make the changes.
Yet another feature is that you can send a particular Website to your client and mark certain sections as "editable content." With this, your client can make changes on their own or hint you at the necessary edits. And that's how simple the client feedback works!
#8. Popular integration options available
Sitejet offers a lot of in-app integrations to help you get the right popularity for your business. The tool has many CRM varieties available, including Pipedrive, HubSpot, ActiveCampaign, Salesforce. Also, there are email marketing integrations available like campaign monitor, MailChimp, ConvertKit, and AWeber. You can also link your social media accounts like Twitter, Facebook, LinkedIn, Xing, etc.
---
Sitejet Pricing Plans | Sitejet Discount Coupon
So you might be thinking that with all these power-packed features, you will be required to pay a hefty amount? That's completely wrong because Sitejet offers amazing features, and that won't cost you a fortune after all. Moreover, Sitejet also gives its users a 14-day free trial. Hence, you will get plenty of time to review the platform.
Professional Plan: $5/month if you pay yearly, or else $7 for a month
Team Plan: $19/month if you pay yearly or $25 for a month.
Agency Plan: $89/month if you pay yearly, or else $99 for a month
The professional plan by Sitejet is the most popular one for single users because it provides 1 hosted website for free along with all its features. You can also allow your customers to customize your Website, if they want, and get feedback from them.
Pro tip: If you are a freelancer and looking forward to grabbing more clients, you must buy Sitejet. You don't have to waste much time on coding, and you can quickly build multiple sites regularly.
---
Sitejet Customer Support
Sitejet is beginner-friendly software, and you can fix all your problems yourself because there are many self-help resources. They have plenty of articles, blogs, and guides, to help the user with their problems.
Several tutorials are available each of 25 minutes to help users get detailed information of all the features provided by Sitejet. Still, there comes the point where you can get stuck while building the website, and for that instance, Sitejet offers both email and live chat support. But do remember that the tool doesn't provide online chat support throughout 24 hours. You have to be patient for a while.
The customer support team of Sitejet often replies to the queries within an hour or two. Also, the representatives are knowledgeable and are of great support when in problems. You can get the direct link to the helpdesk through the dashboard and builder. Moreover, there's even a chat widget present on the screen throughout the website building process.
Additionally, Sitejet offers access to their Slack group to its users, where they provide instant support. Users can also schedule a one-on-one demo with their support representatives to get the best out of the site. All you have to do is set up your availability on the site, and one of their staff members will contact you to take a detailed tour of the platform. This tour includes doing's and don'ts of the website along with some tricks that you won't be aware of!
---
Some Major Benefits of Sitejet
Through Sitejet, you can quickly get a sleek, clean, and professional website management dashboard to help you navigate all the tabs. It makes the overall process so easy and represents all the complex parts in a polished way.
We found the "Business Center" dashboard to be an amazing one out of all, as it helps users grab a quick overview across multiple projects. Apart from this, you can easily look after client's feedback, graphics, and other website projects.
Moreover, there is also an insightful guide available for "getting started" to help you ease the overall process. If you are new to the drag and drop builder and advanced CMS features, this guide will surely help you a lot! Also, with Sitejet, you can't miss any workflows, project management tools for the website. All of them are positioned in such a way that one can access them quite often and easily. The tool also helps users to allow their clients to make the desired edits while building the Website. As a result, there won't be any communication gaps, resulting in a smooth process.
---
Pros & Cons
There is always room vacant for improvements in any website, and the same goes with Sitejet too. The tool is undoubtedly a powerful website as it competes with many popular players in the market. So here are some cons you should look after:
Pros
Understandable and easy to use CMS
Excellent customer support and briefs
Backup and restore, project management feature available
Project management feature
Cons
Not many widgets and add-ons available
No free plan available, but they do offer a free trial
Limited template options
---
🌟 Sitejet FAQ
🙄 What is Sitejet?
Sitejet is user friendly and drag & drop website builder, CMS, hosting platform that allows anyone to deliver high-quality web design services.
😎 Can I use Sitejet for free?
Yes, Sitejet offers 14 days free trial periods to all its new users to test its features and function for free.
🔎 Do I need to install any plugins?
No Sitejet does not require you to install any plugin as it is an all-in-one platform with complete code flexibility that enables you to work faster.
🤑 Is there any working Sitejet coupon code?
If you are looking to save money on its paid plans, use the above-mentioned Sitejet coupon code that helps you enjoy up to a 21% discount.
---
Conclusion: Sitejet Review 2023 | Should you go for it?
We have tried our best to display to you whatever are the reasons behind Sitejet's popularity. And surely there are several great features that Sitejet offers, like super-fast hosting in the cheapest package ever. Moreover, all the templates used by Sitejet are of superior quality through which one can give a professional look to their Website.
The templates are highly responsive and compatible with popular and renowned device versions. And yet another best part, you don't have to pay any extra penny for using it all! Lastly, we have mentioned all the reasons and benefits of choosing Sitejet for your Website.
Take a step ahead, and do let us know your experience❗❗