Nowadays, because of this technological world we live in, there is a wide variety of Virtual Private Servers (VPS) around the world. Each one of them has its pros and cons, depending on the preferences of the people who acquire it. However, most of those servers have premium services that one must pay for if you need to have access to all the tools and functions that the server provides, which make it even harder to find one that is free and is as efficient and powerful as one that has a premium plan.
In this article, we have featured ✅SkySilk review for 2023, which is the free VPS provider, with total access to its tools without spending a single cent, a reason why it has become very popular lately.
One of the main concerns can be how reliable and secure it can be, counting that it is free. On its WebPage, it is stated that its goal is to offer cloud resources that range across the entire stack, making it easier for any business or developer to utilize the public cloud, hybrid cloud, and private cloud resources.
---
About Skysilk (Introduction)
Currently, SkySilk is in its beta stage, where people can sign in for free to have free access to all its premium tools and resources until this stage is over to try it out and it is an excellent way to use it and see if it fulfills your needs. Is it not a great way to try it out by yourself? After all, it is free and 100% secure. When this beta stage is over, they will offer low prices but with excellent additional services. Also, it counts with a blog and a support team to answer all your questions, news updates, curiosities, new features, etc., so that you can be updated with all the juicy news.
SkySilk assures your data safety by making automatic Backups and Snapshots (using Ceph Snapshots). Another benefit is that both are stored in an internal non-publicly visible network of NAN/SAN servers, which is amazing because practically no other server provides automatic backups for free.
Therefore, data loss is not a problem for the users, and the information is completely safe and private. On the other hand, it supports many different OS and Apps such as Linux OS, Proxmox, Ceph, KVM, Qemu, LAMP, Icinga, Grafana, Influxdb, LXC, OwnCloud, WordPress, Magento, NextCloud, and Ansible so that users can run it on several platforms, including cross-platforms.
If you do not have experience with any VPS, this WebPage is very user-friendly and organized. It counts with all the information you need to understand how to use it. However, if that still is not enough, it also counts with a support team who is always there 24/7 to help and answer all the questions you can have. A customer's forum where all the users in the SkySilk community can ask questions, provide tips, and share their experiences with the VPS.
All the staff is qualified to answer, and they take their time to explain in detail what you are asking. Therefore, you are going to be very well supported.
They provide articles about a huge variety of topics related to the platform and server on their dedicated blog; you only have to search the term or theme you are looking for. I already tried to search for questions that I had, and I found articles written for most of them, which are very well written, thorough, and precise information that will surely help everybody.
Now, even though the service is free by the moment, SkySilk has some different plans with specific features, which are not sure to be kept this way after the beta stage is over, so there can be modifications in the prices. However, they still are affordable and reasonable for the excellent features they offer.
Exciting Stuff I Discovered on SkySilk
On their WebPage, they mention that SkySilk strives to offer a range of cloud services and payment models that can be customized to suit any project requirements.
By managing and consolidating cloud resources at every layer, they offer lower prices and cost savings benefits that make sense for any business manager or developer. Through open-source technologies, they can offer extremely competitive prices that are among some of the lowest cloud prices that I could find currently on the market.
This means that the prices will be acceptable and probably more economical compared to other VPS services with perhaps fewer tools and rewards because you have to keep in mind that SkySilk is effective, complete, safe and powerful, and provides resources that others may not.
For example, one aspect that caught my attention was that they created a Reward Loyalty Program, where you can gain SkyPoints, which can be redeemed through the SkySilk Rewards Account Portal.
SkySilks offers cloud servers with features like:
Anywhere from 100 MB/s to 800 MB/s bandwidth
SkySilk is a company that specializes in providing a high-quality storage solution for data replication. The company offers two types of SSDs that can be replicated: dual and triple. Some customers might want to experience even more security, so the company will resell them a triple SSD at an additional cost. This ensures that your data is secure and available even if a hard drive occurs. If one happens, the system automatically serves your data from the other disks while copying it to an additional disk.
Along with this, one feature that I liked the most was its VPS boost. If you are planning a marketing campaign or are expecting a spike in traffic at a particular time, you can use this feature to scale your machine up for 24 hours and boost the performance of the vCPU and RAM.
Speaking about backups, manual backups will not be available for you. Backups like scheduled backups, scheduled snapshots, and manual snapshots are restricted. The top categories get it for free and unlimited. The middle category gets at the same case, but the base one does not get them all. The system performs scheduled Backups for free in the beta stage.
To protect its security, SkySilk uses a combination of brute-force protection software such as Fail2Ban and mitigation tools for DDoS attacks. Its Distributed Denial of Service Protection can handle attacks up to 3 GB/s, while all communications are encrypted and transmitted over SSL. SkySilk does support various operating systems and web applications which include OpenSuse, Fedora, CentOS, and Ubuntu. It supports applications like Magento, Odoo, PrestaShop, Ajenti, and more. It also supports MySQL, NodeJS and VestaCP, among others.
By reading the FAQ, the SkySilk team mentioned that SkyPoints are rewards points earned on every SkySilk transaction you make, redeemable for CashBack, and other great rewards.
In addition to that, SkySilk has developed a unique rewards loyalty program to keep their customers engaged and support articles giving you the information needed on how to set up and use their Virtual Private Servers from scratch. SkyPoint earning structures are based on the product or service being purchased by you or your referrals. And that they were planning that the SkyPoints could also be redeemed for BestBuy gift cards and CashBack. Also, upon account verification, every user will receive 500 bonus SkyPoints!
Amazing, right?
SkySilk Pricing Plans
They offer three plans at the moment:
Basic ($4 per month),
Standard ($10 per month) and
Premium ($20 per month with maximum rewards).
With all of the plans available, especially when compared with other cloud service providers, the main difference is in each plan's hardware, storage, and bandwidth. Currently, the platform is free, despite the premium plan they also offer, but those plans show the possible future prices, even though the exact date when the beta stage will expire is unknown.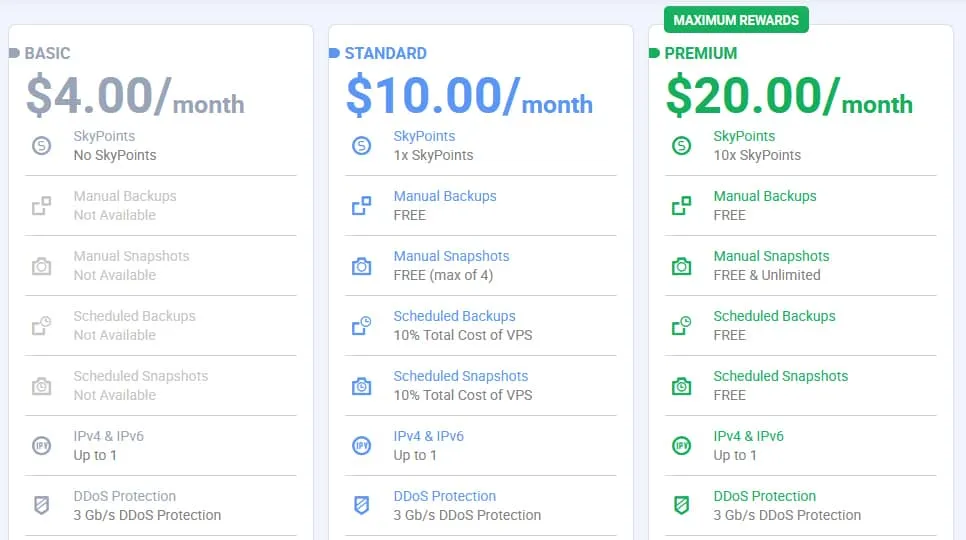 If you are unsure about the resources, you can start with the basic plans. This would also allow you to experience SkySilk, and you can further scale as you grow. The maximum bandwidth with the basic plan is 200Mb/s, and transfer speeds up to 1 TB. You will still get a 2×40 Gb/s network alongside SSD storage and their trusty customer support.
In the standard plan, you get all of the features that SkySilk has to offer, including 1x SkyPoints and free manual backups. The maximum bandwidth is increased to 500Mb/s, and transfer speeds increase to 12 TB. Further, you also get access to their Triple Replicated SSD storage system, and the network is increased to 2 x 40 Gb/s.
This plan is especially for those who wish to experience everything that SkySilk has to offer. The premium plan offers you 10x SkyPoints and can also take unlimited snapshots of the provided manuals. The bandwidth that you get also gets increased to 800 Mb/s with unlimited transfer. The network is also increased to 2 x 100 Gb/s, along with the Triple Replicated NVMe SSD with an AMD EPYC or Intel Broadwell hardware.
SkySilk Support Services
SkySilk has one of the best support teams in its field regarding technical and customer support. I have tested their support team, and they were prompt to respond and also skilled enough to guide me through their various technical support queries and solve your queries the right way in an easy-to-understand manner.
Their knowledge base of articles is another big plus for the support services as they offer users several support articles already written, which can be easily accessed just by using the search function. Personally, I have tested their support and authenticity of their articles by posting setup questions which I got all of them covered.
🌟 Top FAQ related to SkySilk
What is SkySilk?
The company SkySilk was developed by like-minded developers, IT professionals, and hardware resellers. They provide affordable and reliable cloud products and services to their users.
What is the SkySilk Cloud Platform? 
SkySilk Cloud Platform enables IT professionals to uses Linux VPS Hosting on 100% SSD Enterprise Servers. They put lots of effort into their design and provide stellar services to its customer.
How many IP addresses are available for a VPS? 
Every VPS can support one IPv4 address and Ipv6 address, but at the same time, Basic VPS comes only with IPv6. But if you want to add IPv4, you can easily add IPv4s to a Basic VPS for $2.00/IP. You will get both IPv4 and IPv6 addresses in their Standard and Premium level VPS.
What does SkySilk do with my data? 
All your data are secure at SkySilk as they do not sell your information. They required the necessary information that you need to provide during the initial sign up for security purposes.
Does SkySilk offer you a free trial?
You can get a free trial with SkySilk. Along with this, it also offers a Sky points rewards system by which you can also gain account credit to put towards your monthly plan or convert to cash.
Conclusion: SkySilk Review 2023 | Should you go for it?
To conclude, SkySilk is a highly recommendable platform because of its flexibility and the tools it offers. Also, it is so simple to use that even a beginner could feel comfortable using it, and the support team is competent and effective, which makes the process so much easier. If you check their FAQ section and the articles from their SkySilk blog, you will find an answer to almost every question you can think of, can also ask your own when needed, and report issues if necessary.
On the other hand, all the features it provides are free, which I think is a fantastic opportunity to try it out, and for a business is probably one of the best options because it has all those complete functions and works almost entirely for free, which no one else provides currently in the market.
After the beta test is over, they will start charging a low price for their service, so it is ideal for getting the best price now and the best deals while still offering them for the beta tester users. So my suggestion is to try it out now that is free and test it out by yourself to see how simple and effective it can be. Take the chance now, and let us know what you think!😉
SkySilk Review – Simple cloud hosting built for everyone!!
SkySilk is a scalable, professional cloud hosting service that offers the most powerful, flexible, and cost-effective solution for web hosting and other cloud services. It has flexible plans, so you can choose your desired package from its competitive pricing. SkySilk automatically stores your data on the cloud without storage limits. Your files are safely kept and backed up regardless of how large or small your storage is. Discover why SkySilk is a trusted partner for professional and personal success.
Positive
Easy and intuitive dashboard
Support for multiple OS
New templates for cloud platform OS
Discord server
Linux and KVM support
Flexible pricing plans to help you grow.
Negatives
Only two data centers in located LA & New York
No refund policy
No shared hosting
SkySilk – Professional Cloud Hosting Services
Get started with SkySilk cloud hosting for $4.00/month only.