Copywriting is the art of communication. It allows you to connect with your audience through a variety of methods.
From finding the right tone for your audience, crafting a compelling sales pitch, or creating an engaging blog post, there are many ways to make sure that your copywriting is the best.
Copywriting also helps build trust with consumers and helps your company get the attention they need to make a positive impression in the market.
But a lot of times, copywriting can be very tricky and time-consuming. This is where copywriting software can help. A copywriting software is a tool that helps businesses generate content at scale and create content for individual needs. They can generate all types of material, including blog posts, web pages, emails, and more.
There are a lot of options available for you to choose from. Many of these platforms have their own specialties. Some can be excellent for long-form content, while others are better for a short-form copy.
One such tool is SmartWriter AI. Read on to know more!
This ✅SmartWriter Review tells you everything you need to know about this cold email outreach tool.
---
SmartWriter AI is a tool that specializes in personalized outreach. It helps you write thousands of personalized emails in a click. SmartWriter is a fantastic tool that lets you write personalized cold emails and gets you 8x more replies than usual.
With SmartWriter, you can now automate your entire outreach campaigns much faster and cheaper than any other method or alternative tool.
---
How Does SmartWriter AI work?
With SmartWriter AI, you can now improve your conversion rates. It automates the entire process of research and copywriting and lets you send converting emails in just one click.

SmartWriter AI creates personalized emails to tempt potential customers and offer them more value. They also use customer data to create tailored sales pitches that convert better than other mass emails.
With SmartWriter AI, your business emails will follow proven conversion methods like personalized messages and urgency tactics to convince your customers to take action.
---
Use SmartWriter AI for:
SmartWriter AI can be used for many objectives such as:

SmartWriter AI gathers podcasts, articles, interviews, and more to create an engaging message for your audience that grabs their eyes.
Personalization for LinkedIn
It analyzes your prospects' LinkedIn profiles and posts and finds unique points of interest in them, which help create customized messages for each one of your prospects.
SmartWriter AI uses your target prospects' case studies, awards, news articles, or blogs to make your prospects' emails more effective and convert.
---
SmartWriter AI Features
Even though SmartWriter mainly focuses on personalized emails, it also has an array of features that include:
Customized Outreach for Cold Emails
SmartWriter helps you build custom-tailored, individualized emails for everyone from one click. With e2e personalization, it uses each person's data to create an email that speaks directly to their needs and can be sent at scale. It is a streamlined email marketing process that takes no effort, making it easy for your business to succeed by taking advantage of AI!
Company-based personalization is a new way to create value in your business. SmartWriter analyzes the websites of your prospects and uses that information to find case studies, blogs, and profiles on Google, as well as other platforms. Once all the data is gathered and crunched, it's templated into an outreach message specific for that prospect.
Access LinkedIn Leads Emails. AI helps you find the emails of potential customers directly from LinkedIn.
Create more engaging subject lines and make your pitches more powerful. These email pitches are generated by analyzing the prospect's data and then including necessary personalization that will be specific to them!
---
Automated Outreach for SEO Backlinks
By working with SmartWriter, you can get organic traffic and rank number one with Google.
The AI algorithm built into this engine reads content and sends a personalized email requesting backlinks. This helps you scale the number of backlinks and makes your website more searchable.
SmartWriter AI reads a specific blog entirely and understands the context behind it. It then references critical pointers from the blog in a unique generated outreach email using a template. This builds trust and makes out stand out from everyone else.
Google search engines are a powerful tool for your business. You can build links at rapid rates from difficult-to-obtain, high-DA websites or create personalized AI email outreach campaigns with SmartWriter.
---
Personalized LinkedIn Outreach
SmartWriter AI lets you send personalized marketing messages based on your targeted prospect's recent LinkedIn activity to make your campaigns more engaging & compelling. It's an easy way to look like you've done research by injecting a little depth into your message.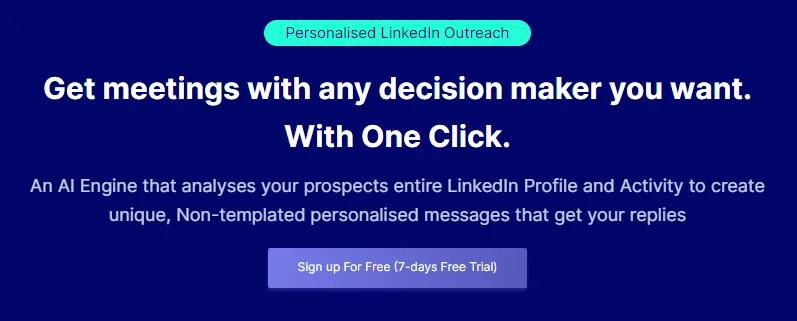 It allows you to personalize content based on a prospect's bio, building trust with them.
SmartWriter AI makes a note of the person's job profile, skills and then provides a personalized message tailored for them and helps you build a connection as well.
---
Generate Social Media Content with AI
Posting on Instagram can be difficult, time-consuming, and overwhelming. However, you can increase your brand awareness simply by posting to the IG platform from time to time. By following the best accounts in your niche and interacting with them regularly via comments, you'll start building relationships on a larger scale.
Write engaging and viral social media content with SmartWriter's AI engine that automatically creates engaging, context-based Instagram comments and Quora answers.
Create engaging Quora answers that generate leads by leveraging the high search engine rankings of these questions. Then, as unique as your answers are, add them to your website and generate more free traffic with zero effort.
---
Use SmartWriter's powerful AI writing engines to create high-converting copy that resonates with your audience. AI tools allow marketers to create compelling landing pages, e-books, and even product copy.
Use AI to generate product descriptions that boost conversions and expand your business reach!
SmartwWiter's content expansion engine, content enhancer, and topic extension can be combined to help you create a compelling book in just 5 days.
Convert landing page visitors to customers. Start by making your offer more potent with the feature to benefit convertor engines and multiple copy frameworks like AIDA and PAS for an impressive scale rate.
---
How does SmartWriter Help You Create Irresistible Emails? (SmartWriter AI Benefits)
Create tailored emails to appeal to your customer through the most recent online activity.
Turn your current marketing campaign on its head by personalizing every aspect of it, from the very first email to all your follow-ups.
You can compliment them on their LinkedIn posts every time they post using AI.
Getting leads from LinkedIn is a lot of work, but SmartWriter can take care of it. It scrapes data from all over LinkedIn and provides every single item to you in an easy-to-read format. Build large, verified lead lists in your desired niche.
It's easier than ever to automatically schedule personalized LinkedIn outreach messages.
Get personalized & tailored copy for offline businesses– ideal for new marketing channels. You can target branch locations in your optimized marketing campaigns, plan specific events to boost traffic and build blog content that is much more engaging than your typical sales pitch.
With the use of data scattered across the internet, connect with decision-makers. Personalize your email marketing to your customers with reviews from Google or Facebook.
Get extensive support from the team through Live Chat directly on their website.
SmartWriter AI offers an extensive array of resources that include educational blogs and guides that are geared towards helping you improve your conversions.
---
SmartWriter University
SmartWriter University is a free resource offered by SmartWriter that gives you detailed tips on how to use SmartWriter and generate high converting copy.
It has an array of blogs, how-to guides, listicles, and more designed to improve your skills in using the app. This is designed in a fun readable format to enhance user experience.
---
Prices and Packages offered by SmartWriter
SmartWriter AI offers three packages that have mostly the same benefits and features but where they differ is the number of lead credits they offer in each package.
Its Basic plan starts at $59/month and includes 400 lead credits, its Popular plan starts at $149/month and includes 1200 lead credits, and its Pro plan starts at $359/month and includes 3500 lead credits.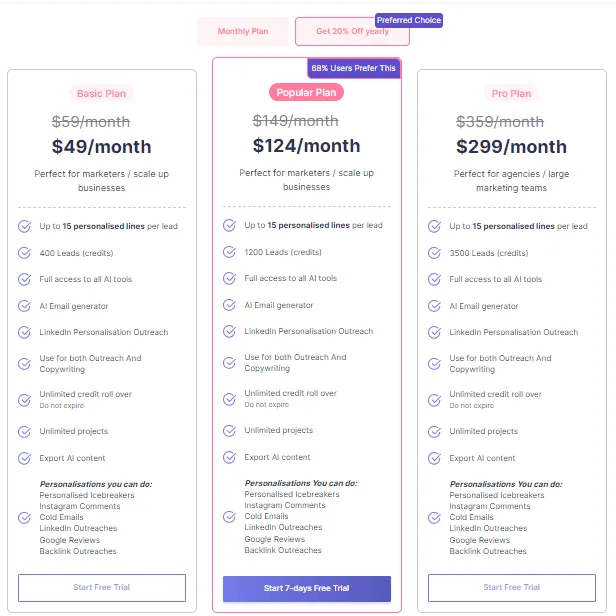 With each package, you get up to 15 personalized lines per lead, unrestricted access to all its AI tools, personalized LinkedIn outreach, access to AI email generator, get unlimited credit roll over and usage, usage available for copywriting and outreach hassle-free exporting.
Personalizations include Instagram Comments, Icebreakers, LinkedIn Outreaches, Cold Emails, Backlink Outreaches, and Google Reviews.
Additionally, get 20% off if you opt for yearly billing.
---
SmartWriter Review: Pros and Cons
Some people are skeptical about AI writers at first because they don't want to replace human copywriters.
Still, they quickly realize that they need these tools more than ever now that there is so much content being generated online. SmartWriter AI is such a tool, and here are its pros and cons:
It is perfect for producing content for cold emails and LinkedIn outreach.

Email finder and verifier are built-in.

Has a lot of outreach options that include google reviews, backlinks, Instagram comments, etc.
Doesn't perform as well for other types of long-form content.
Benefits of Email Marketing
Email marketing is a great way to build your customer base and increase your brand awareness.
With email marketing, you can do all of the following:
Build relationships with customers and prospects
Increase brand awareness and reach new audiences
Increase conversions rates through email campaigns
Email marketing has been around for a very long time, but now with the help of artificial intelligence and machine learning, there is a new way to email marketing.
SmartWriter AI is designed to help businesses promote their products and services through emails. They generate new leads, increase sales, accountability and improve ROI.
By using SmartWriter AI, you will be able to perform repetitive tasks without worrying about the quality of their email campaigns. You can then focus on other aspects like content and strategy.
---
Benefits of drafting sales emails with AI
A sales email is sometimes regarded as one of the most difficult to write, but with AI assistance, it becomes much easier.
AI writing assistants assist in all aspects of writing, from brainstorming to editing and proofreading. It usually takes around 20 minutes for these tools to generate a well-structured email that fits within the desired tone of your brand.
AI writers help businesses save money by reducing the cost of creating content, which makes it easier for brands to stay competitive in an increasingly crowded marketplace.
---
🌟SmartWriter FAQ
📧What is AI cold/sales email software?
AI cold/sales email software may be able to send personalized cold mail at scale with a 15x increase in open and response rates. You can look into Smart writer.
🤔What is SmartWriter?
SmartWriter is a personalization platform that completely automates the creation of engaging, personalized cold emails.
🤔What kind of content does SmartWriter generate?
SmartWriter AI generator will assist you in creating Facebook Ads, Google Ads, Quora Content, LinkedIn posts, Facebook posts, Blog content, and Shopify/Ecommerce product content. We also assist in creating custom cold emails, email summaries, and email expansion with only a few bullet points.
🙄Why do you need Smartwriter.ai?
It Automates hours of research, sends personalized emails with a single click, and increases your mail open and reply rates.
🤑How Much Does Smartwriter Cost?
Basic: $59/month, 400 Leads.
Popular: $149/month, 1,200 Leads.
Pro: $359/month, 3,500 Leads.
🤔Does Smartwriter have any affiliate programs?
Yes, Smartwriter has an affiliate program that allows partners to earn a recurring monthly commission of 30% for life.
---
Final Thoughts : SmartWriter Review 2023 | Should you go for this tool?
SmartWriter is writing software that can help you create emails and landing pages that are more effective at capturing leads. The tool is recommended for email marketing as it has a lot of advanced features that specialize in email outreach.
To conclude the SmartWriter review, it's important to note that email marketing has changed over the years. There is a need for better content and more personalization of emails.
SmartWriter can help you with these needs as it offers personalized email templates and helps generate emails for all your different prospects.
Overall, SmartWriter is an excellent tool for those who want to improve their emails by helping them generate better content faster.
SmartWriter Review
Among all AI cold email software, Smartwriter is the clear winner. Smartwriter meets the needs of your sales reps, but it also meets almost all of the needs of your marketing teams. Get started with SmartWriter today🚀
Positive
Automates the entire outreach process
With 1-Click, you can create personalized emails that get you 8x more responses.
Email finder and verifier are built-in.