While many social media marketing tools are available in the market, it is always hard to choose. How could we possibly know which one is the best, which one will automate our business? Which one will provide us immense profit? There are multiple answers to this question, but we find none when it comes to a solution.
So, we bring today an exclusive ✅Social Rabbit Review. Believe us; this is the platform you were searching for so many days! Your hunt for a perfect social media tool ends right here!
But, you will have to stick till the end of the article to get to know about the offering we are telling you. Did you get the time? Let us get started then. We all know that no matter which type of business we run, we need a social media platform to promote ourselves. Without social media, there is no relevance of digital marketing.
If you are connected with social media, your business could have an immense profit, and not investing in one could affect your profit score. But, before we get started, it is essential to know why social media marketing is crucial and how does it help us with almost everything!
Build Awareness: Social media boost your visibility among potential customers and reach a broad audience. Plus, it's free to create a business profile on all major social networks.
Promote Engagement: Social media allows you to post engaging content that triggers communication among you and your customers and boosts your sales. You could also post educative content, e.g., a video about a product you're selling.
Free traffic: this is one best feature of quality social media accounts. You can get a lot of value for your adverts on your social media accounts—most especially ones with a large following.
Easy Maintenance: Social media has bridged the barrier between customers and companies. Instead of searching for the company's service line, customers can quickly turn to Facebook to solve their problems.
Doesn't that sound interesting? We thought so too.
So, now is the right time to know about Social Rabbit Plugin a little more.
---
Detailed Social Rabbit Review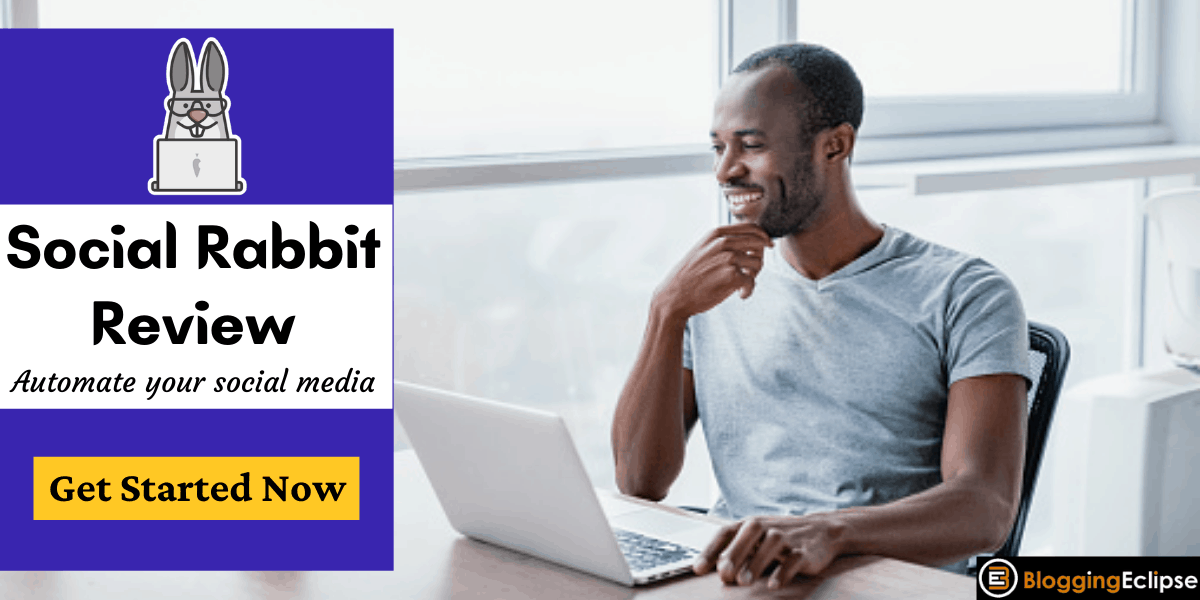 The Social Rabbit Plugin is a WordPress Plugin that can be connected with other social media platforms as well, like:
Instagram
Twitter
Facebook
This is an automated tool that can work for you as a social media manager. If you hire a social media manager, then imagine the cost associated with their salary! But, with Social Rabbit Plugin, all that work could get automated! Cost apart; then there is a fact of time as well; with a regular social media manager, the time taken for updations of every social media platform is above 24 hours! We do not have that much time, do we?
However, the plugin does this within a few minutes by working according to the basic setting you scheduled for it. That, in turn, can make your followers highly engaged and makes your occasional reader buy your products for the first time.
15% OFF
Get 15% OFF on all Plans at Social Rabbit
Even when your social media platforms are appropriately managed, your loyal customers can keep coming back for the latest content on your social media platforms. It could even be for a funny post or just a fancy new item which will invariably drive traffic to your store. With a social media automated tool like the social rabbit plugin, you can have enough time to work on what matters most for your business. And as well know that your social media platforms are constantly updated without paying tons of money for social media marketers.
---
Key Features of Social Rabbit | Social Rabbit Review
With Social Rabbit Plugin, you can enjoy unlimited services. While handling a business, there are tons of other responsibilities like focusing on the product quality, focus on the cost-cutting venture. In this, we hardly get for promoting our business. So, instead of hiring a human to do all the work, you can let this tool do all your work.
Imagine this; your all social media account gets promoted 24/7, without any manual work! Social media also bounces your account by liking other account's posts and videos; this way, you stay connected with different audiences. It works with 4 social media platforms, i.e., Facebook, Instagram, Pinterest, and Twitter. No matter which platform you choose, it can help you with the following:
#1. Automate Posting
You can create multiple publications for specific products or services in your dropshipping or professional website according to your configuration.
Therefore, the plugin can automatically publish a product image or a random article image with price, title, and link. In this way, you can enjoy social awareness through various social networks and benefit from free organic traffic.
#2. Search for Partners
This feature applies to only Instagram account. The plugin helps you search for potential Instagram pages that can be used as a shout-out partner and messaged. However, you need to specify the keywords related to your products and services to work effectively. After that, write a unique template message that the plugin will use to ask for a business partnership without looking spamming.
That will allow the plugin to do it works as though a natural person did them. It is going to save you a lot of time and stress of searching for potential shout-out partners.
#3. Enhance the Face of your Social Media
The Social Rabbit program also explores several social media pages that contain keywords about your niche.
The Social Rabbit add-on automatically follows these pages as your post and even as your comment. That way, you can concentrate on your social media platforms and profiles. These are options that can be enabled and disabled. The add-on has various options. You can also begin it at the same time or use it individually. It's up to you to decide how you want it.
#4. Keep your Followers Engaged
The Social Rabbit can also entertain your social media followers with an entertaining post if you want. That could be done using the text template and pictures you've previously added to the Plugin.
With what you've added to the plugin database, it can then create a catchy and attractive post across your social media platform. All these can be done while you're sleeping or eating, but only with what you've previously added.
#5. Repost Blog Articles
If your business or e-commerce store has a blog, you'd want your social followers to read more about what you're selling. That is where the Social Rabbit comes to our rescue. The Social Rabbit plugin can pick any of your blog articles with relevant information like title, link, and a short description of the product and post it on social media.
---
Advantages & Disadvantages
The Social Rabbit plugin helps you create the right content and schedule it to appear at a specific time on multiple social media accounts, or it can randomize the content.
With the Social Rabbit plugin, you'll reach more followers. You can schedule your post according to when your target audience is most active, thereby bringing more traffic to your site. The Social Rabbit plugin delivers consistently reliable content. Your followers will constantly be updated even when you're away on other business.
But with his, there are some flaws in its integration as well. The schedule for your posts and comments is the most crucial aspect, and you need to be careful when you set the timer. Also, be cautious with the tone of what you post.
Remember, this is your business social media account(s). Don't post anything you will regret later and risk alienating potential customers and turn off existing followers. If you make a mistake, you maybe will not notice it for a long time, and the plugin will keep posting.
---
Social Rabbit Pricing Plans
You can calculate how much you spend each month: The average rate of an SMM administrator in the US is $ 22 per hour.
In the meantime, the Social Rabbit only costs $ 69 for a license. You will receive an add-in that can perform the same job as the SMM Manager and provide several additional features.
---
🌟 Social Rabbit FAQ
---
Conclusion: Social Rabbit Plugin Review 2023 + 10% OFF Discount Coupon
So overall, Social Rabbit Plugin is a great deal. When everything will automate, you do not want to stick to the old traditional ways of advertisement. Social media marketing is at best, and we should take advantage of it.
With this, we will wrap our Social Rabbit plugin review. We hope that now you will switch for the betterment. If you have any doubts, feel free to ask them in the comments section below.🙂