Hello all! Here we are again with yet another dropshipping platform review! After reading the above statement, were you, like, oh no, not again? Well, guys, you can relax! We accept that we have already covered many blogs on dropshipping, and here we are again with another one! And we are not going to say that again that this platform is different and all those stuff.
Instead, we will show you how this dropshipping tool will help you to find the best profitable dropshipping products. So, let us get into our ultimate dropshipping platform; ✅Spocket Review.
You all must already be tired of the poor performances of many dropshipping platforms. Before purchasing them, they claim that they are the best. But in the end, what do we get? Disappointment? We are so used to signing up for a dropshipping integration tool, but there are thousands of issues that we go through.
Some examples of the issues are like, Firstly, most dropshipping tools are very expensive, and in exchange, they provide limited services. Secondly, their integration is hard to understand; we use almost nothing because of the minimum knowledge in technology. Thirdly, this is the main issue; an e-commerce website nearly takes 5-7 working days to deliver your product. That makes most of the customers feel little awaited, which makes websites like Alibaba dead for the time being.
That is where Spocket comes to the rescue. This article will cover the Spocket overview, who's it for, Spocket coupon code, its features, pricing plan, and final verdict over this platform. So, we will not take any more time and provide the information on exactly what you were looking for. The question that must still linger in your mind is what makes Spocket different from all the other platforms?
We hear you.
---
Detailed Spocket Review
Spocket is a renowned Shopify's most popular dropshipping apps. Ecommerce merchants like you as well can use the platform to search and connect with high-quality dropshipping suppliers. One of the best things about Spocket is that the preponderance of their products is from pre-vetted dropshipping suppliers established in the US, UK, EU, Canada, Australia, New Zealand, and some portions of Asia.
Spocket has quite a comprehensive marketplace with many products spread across various physical locations and industry categories. Additionally, you get the privilege of connecting with thousands of dropshippers from all over the world. To win them all, Spocket is incredibly easy to use. You need to install the app on your Shopify store. Then rummage through Spocket's product catalog and pick the items you want to sell.
Within a few clicks, you can import these goodies onto your ecommerce store, and yay, it's ready for sale. And, it's compatible with all of the major ecommerce platforms, which makes integration is super-easy.
We loved Spocket and this how these platforms have aided solutions to these common issues of a drop shipper. The common problems of these the dropshippers are:
Thin profit margins
Difficulties in branding and customization
Non-existent returns policies
You would agree with the above points. Won't you? But the good news is, Spocket has come up with a solution to all these issues; they go like:
Dropshipping products on Spocket have a 30% discount on their original Spocket pricing, so you can sell at a better price than the competition and maximize your profits.
It assists you in generating a brand identity for your products by permitting you to customize your invoices and product information.
Spocket removes the confounding surrounding returns by making its suppliers choose from one of three return policies. These require suppliers to either offer:
15-day returns
30-day returns
No Returns
---
Exclusive Spocket Discount Coupon Codes (💯 Working)
Do not forget to use the following Spocket coupon codes to get maximum benefit on this incredible dropshipping platform!
15% OFF
---
Who can use Spocket? | Spocket Review
Spocket is for any digital e-commerce merchant looking for a platform to list and sell down his products.
Whether you are a newbie or a veteran, you will find this particular platform very useful. Sourcing high-quality products are not at all easy and hence required extra scrutinization. As such, Spocket is for anyone who's taking dropshipping seriously, i.e., entrepreneurs who want to source high-quality merchandise for their online store with reputable suppliers. All you have to do is decide what products to sell, and you're set to use the app!
To provide merchants a sense of safety, Spocket has 24/7 customer support reachable through chat so that you can speak to a support technician at any time, any place.
---
WooCommerce Dropshipping with Spocket
If you do not prefer going for a Shopify store, you can easily set up your store on WoCommerce.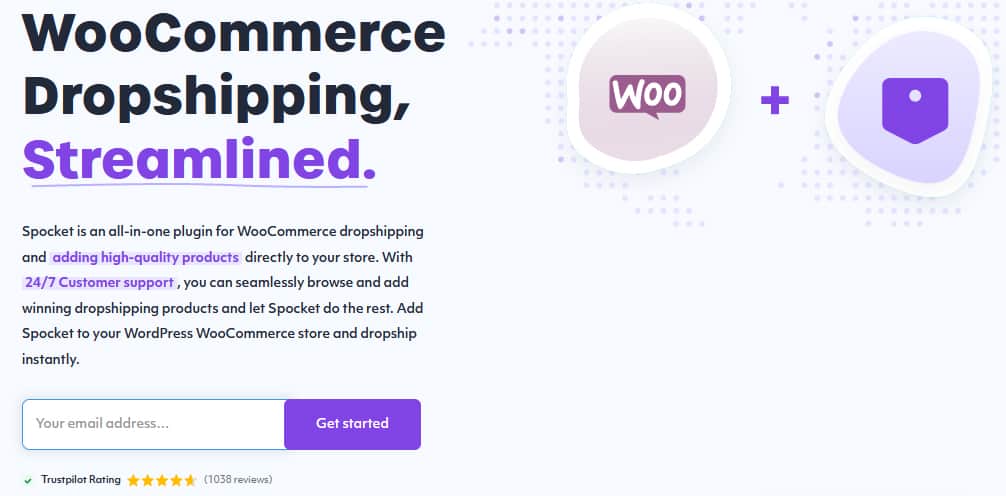 If you're the one that prefers WordPress to Shopify, you have nothing to worry about because you can equally have your store set up within a few minutes using Spocket and WooCommerce. WooCommerce allows more transcendent flexibility compared to Shopify for those knowing already.
However, in other to use Spocket favorably on WooCommerce, you'll need a domain name and a hosting account. You can immediately receive it using Bluehost as it comes with a free domain name.
WooCommerce is pre-installed with Bluehost so that that account will be active in few minutes.
---
Shopify Dropshipping with Spocket
Here are the steps you need to know when you are considering selling products through Shopify.
Step 1: Connect Spocket to Shopify
Shopify will lead you through how to get up and running with them. Don't worry – it won't take long!
Navigate to the Shopify App Store and search for Spocket. Click on the 'Add App' button and finish the login information. Now Spocket will be connected to your store, and you can start browsing products on their marketplace!
Step 2: Have a look at the Marketplace
Here, You'll discover how to hunt for specific products and scan items by product category. You can also filter search results by:
Price
Location
Premium Products
New Arrivals
Categories
You can select from the category above.
Step 3: Select the items you want to import
Found a product that's perfect for your store? Add it to your shopfront by floating your cursor over it. That should bring up a green bar that says: 'Add to Import List.'
Click this button, and the product will appear in the tab labeled 'Import list.' Here, you can review every product you've saved before adding them to your store. To import the items directly onto your online shop, click the 'Push to store' button. Once that's done, your products are published in your store and immediately available for customers to purchase. As fast as that, you can import Spocket products to your store and start marketing!
---
Key Features of Spocket | Spocket Review
Now, we come to the central part of the article. Here, you will get to know about the extensive features that Spocket offers to help you make an informed decision.
#1. Product Customization
While each product added to your store from Spocket comes complete, ready to sell, you'd be a fool not to do some customization.
Things like page titles, metadata, product descriptions, and tags will only help your SEO efforts. It's highly recommended that you write these for every product, too. You can also fine-tune the product variants listed in your store – don't want to sell the grey backpack, then remove it as a variant.
#2. Automatic Order Fulfillment
Once your customer purchased Spocket, the checkout page collects all the information like credentials, address, etc.
Immediately orders are sent to the server, you'll receive an email confirmation, and your supplier will get started with shipping the products to your customer. Once the order is shipped, you'll see a track order button on your dashboard with details of stats and location of the products, which is automatically sent to your customer as well.
This feature makes the whole process simple and allows no room for mistakes since it's automated and not done manually. With this, you can run your day-to-day activities with more peace of mind without having to bother with several tasks to do about your dropshipping store.
#3. Quicker Shipping Time
That is the most critical thing about Spocket. It enables you to enjoy fast shipping of your products and invariably makes your customer happy. However, the shipping days may differ on different products and supplier locations. But you can always verify this before importing the store to your Shopify or WooCommerce store.
That owes that more than 60% of suppliers on Spocket are based in the US and EU compared to sourcing for products from other famous dropshipping websites in China. With this, you can hold more purchasing experience with your customers and have their products deliver fasters, which will get your store a better reputation.
#4. Product Suppliers
Spocket's marketplace slots are only stored for the suppliers who meet its stringent requirements on various parameters, including product quality, pricing, and availability, as well as your supplying capability and credentials.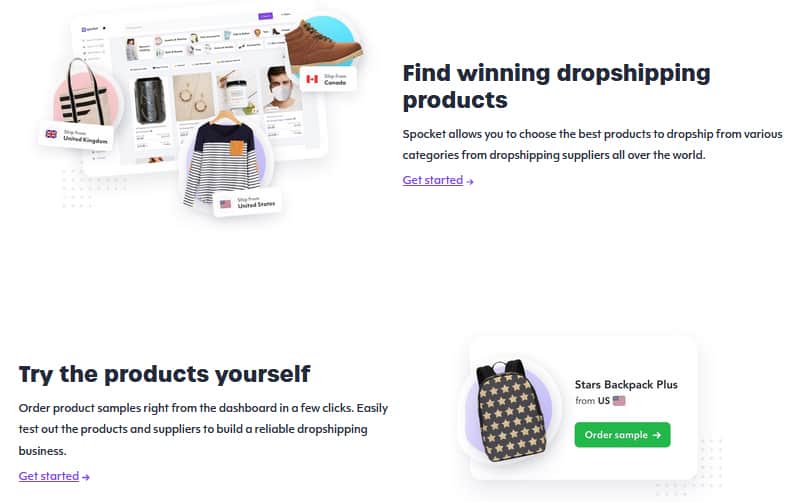 But, make no mistake about the limitation process. Spocket doesn't estimate its candidates in one go. For you to get that coveted marketplace slot, the company will subject your supplier business to different competence assessment stages.
Once the initial application sails through, for instance, Spocket plans an interview with the supplier. The purpose here is to profoundly analyze the supplier's business and get a sound idea of its track record, size, sales, assets, liabilities, etc.
#5. Customer Support
Spocket offers excellent support to all its users. However, the quality of their support is based on your subscription plan. The free program has access to email support only. At the same time, the paid plan enjoys chats and email support, and even calls.
---
Spocket Pricing Plans
Starter Plan
The Starter plan charges $12 per month, which is billed every month. That gives you a shipment tracking number, global pricing rules, currency exchange, real-time inventory update, premium 24/7 chat support, complete orders, plus up to 25 unique products.
Pro Plan
For $49 per month when charged monthly or $33 per month when billed annually, the Pro package delivers the features on the Starter plan with premium search, exclusive deals, premium 24/7 chat support, branded invoices, up to 25 premium products, complete orders, and up to 250 unique products.
Empire Plan
At $99 per month when charged monthly or $69 per month when billed annually, the Empire package combines features on the Pro plan with premium 24/7 chat support, unlimited premium products, complete orders, and unlimited products.
Unicorn Plan
At $299 per month when billed monthly or $165 per month when billed annually, Unicorn is the costliest package. It allows everything on the Empire plan and product requests, premium 24/7 phone support, a dedicated account executive, and bulk checkout.
---
🌟 Spocket FAQ
🙄 What is Spocket?
Spocket is one of the best dropshipping platforms to start and operate your dropshipping business efficiently. Spocket helps you to find top suppliers of original US/EU products. Start Spocket free trial that enables you to test all its features for free.
🧐 Is Spocket reliable?
Spocket enables its users to discover the best and hottest selling products to sell on their online store. With Spocket, you can increase your dropshipping revenue by 10X as it allows you to make your own unique brand identity. Grab our exclusive Spocket coupon code that helps you to save money on its paid plans.
😎 How does Spocket make money?
Spocket offers an extensive range of suppliers and products to its dropshippers, giving them the freedom to choose the best-selling products for their store. It provides original US, EU, and worldwide suppliers fast shipping. If you are a beginner, Spocket is one of the best dropshipping software to start using.
🔥 Is Spocket better than Oberlo?
Both Spocket and Oberlo are great dropshipping platforms at their own place. If you are running a dropshipping business, then Spocket is a great solution for you as it focuses on suppliers based in the US or Europe. On the other hand, Oberlo focuses on suppliers from all over the world. Spocket provides you with a decent range of products to choose from, whereas Oberlo provides you to choose from a wide range of products.
🔎 Are there any working Spocket coupon codes?
If you are looking for an active Spocket discount coupon that helps you save bucks on its major pricing plans, check the above-mentioned Spocket coupon codes that allow you to enjoy up to a 15% discount.
---
Conclusion: Spocket Review + Discount Coupon 2023 | Should you go for this tool?
Here we are, again towards the end of the article. Now, you are stated with the fact that why Spocket is the best choice for you. You must be wondering that there are tons of dropshipping platforms worldwide, so why choose Spocket?
That is what we have explained in the entire article. The reasons to go with Spocket are endless, and the reasons not to choose are nothing. Also, there are multiple pricing plans available so that you can choose according to your need. Now, it is time to wrap up the article. We hope you find our detailed Spocket review helpful. If you have some suggestions, feel free to comment down in the sections below.
Until then, Sayonara.🖐
Affiliate Disclosure: This post may contain some affiliate links, which means we may receive a commission if you purchase something that we recommend at no additional cost for you (none whatsoever!)