Are you looking for better web hosting? Here we are sharing Temok Web Hosting Review with detailed feature comparison & Temok promo code which will enable you to save bucks on Temok Web hosting purchase.
If you are willing to create a blog or website, then buying a good web hosting Is inevitable thing unless your setup your own server. However, there we numerous of web hosting companies scattered over the web hence choosing a reliable web hosting becomes quiet difficult.
Many users get confused finding a good web host as all of the companies are advertising and showing them as the best but it is better to know in-depth review of a web host before purchasing.
A lot of readers from USA & UK were asking suggestions on Temok Web hosting on comments & our facebook page. So I thought to purchase a hosting plan from Temok.com for reviving it & here I am sharing my personal opinion & experience with Temok Web Hosting.
Temok Web Hosting review – Dream web Host
Gone are the days when you only want to rely on Hostgator & Bluehost, In the market there are better options available now for hosting a website in cost effective pricing & better performance. Temok is one of the best web host as they have earned lot of reputations in just 2 years.
About Temok
Temok is one of the leading Web Hosting service providers since 2014. Within just 2 years the company has earned a reputable place in their industry. Temok believes in offering numerous of premium features with their every hosting plan.
Temok is headquartered in Dubai (U.A.E) with offices in U.K, U.S.A & several other countries. Their servers are positioned to provide top quality service to every customer. They maintain their own state of art server networks in top-tier data centers in numerous countries including Sweden the Netherlands, U.S.A & Luxembourg.
Temok Detailed Services & Plans
#1. Temok Cheapest Hosting plans
Temok's quality hosting pans starts form $2.99 per month with additional discount which may vary. In their initial pan of $2.99/month they offer 50 GB of SSD Disk space with unlimited bandwidth & 24/7 dedicated support.
There is no restrictions & limited in size of database or emails. Furthermore, their shared hosting pans comes bundled with Cpanel which is best control panel to manage a website completely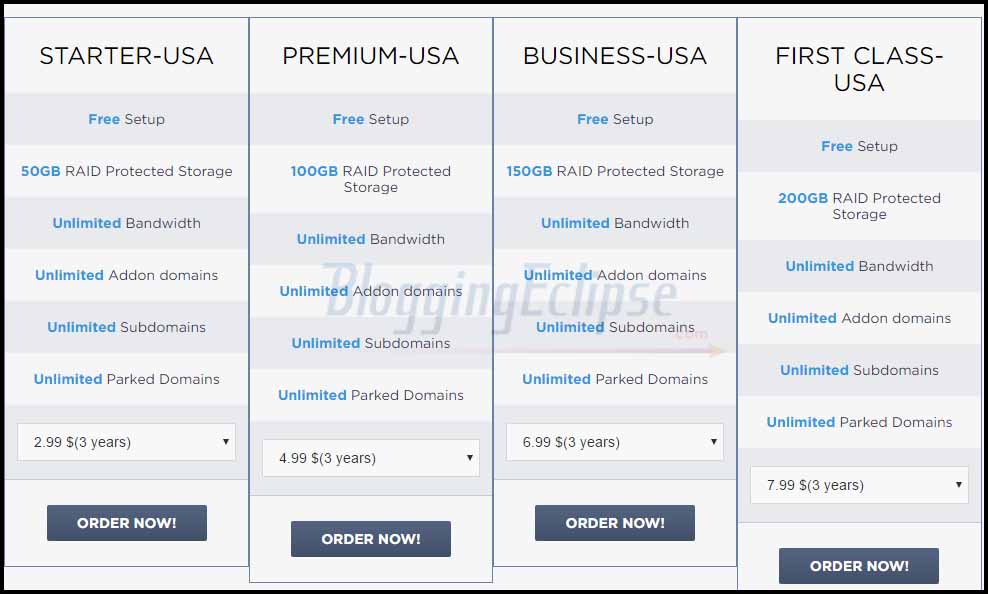 There are 4 plans on shared hosting starting from $2.9/month. Their mot popular and best selling plan is "Starter-USA" which comes with unlimited bandwidth, unlimited domains, super fast page loading time & 50 RAID Disk space.
Their all hosting accounts have latest PHP versions. The Cpanel comes with Softaclues app installer which enables you to install more than 400+ CMS apps in one click. Even if you are newbie in developing a website, temok offers free 'RV Website Builder' that allows you to design your website by simple drop down which does not require any technical knowledge.
#2. Freebies with Temok Shared Hosting Plans
With each web hosting pan from Temok you will be getting bundle of freebies listed below:
Free $100 google AdWords marketing credits
Free Weebly website builder
4500 Free website templates
Free website migration, MYSQL transfer, domain transfer, etc.
387 scripts can be instantly installed on your account with a few clicks
#3. 800+ Cost Effective Domain Extensions
Temok provides affordable domain registration which costs $6.99/year and it is same for renewals too. Other popular domain registrar offers cheap domain registrations for first year but charges higher renewal fees form second year onward.
Hence it is better to buy domain for longer term or you should know its renewal price before buying it for first Year. Temok is great choice for affordable domain registrations & they offer wide range of extensions in cheap prices.
#4. Temok Linux SEO Hosting
Have you ever heard about SEO hosting? You may probably not, SEO hosting is for bloggers & internet marketers who want please the Big G. It takes care of server IP & technical details which enables you better ranking on google.
SEO Hosting is for serious internet marketers who are looking to host bunch of Websites on same server but need more than 1 IP, so google couldn't know that all the sites belong to one person.,
With Temok's Linux SEO hosting plan, you have multiple SEO ip's and they assign a unique C-class IP address to your site for SEO friendly websites. They also offer free domain when you buy SEO hosting.
Their SEO hosting plan is totally customizable and you can add how many IP you want depending on your requirements.
#5. TEMOK Server Specification
Temok is using Intel Xeon E-2620 Sandy Bridge with 32 Gb DDR RAM, 4x 1 TB HDD in RAID 10, OS and cache on SSD Disk, 1000 mbps uplink. Temok also offers flexible easy to use control panel, unlimited sub domains, FTP Accounts & email account creation on each plans.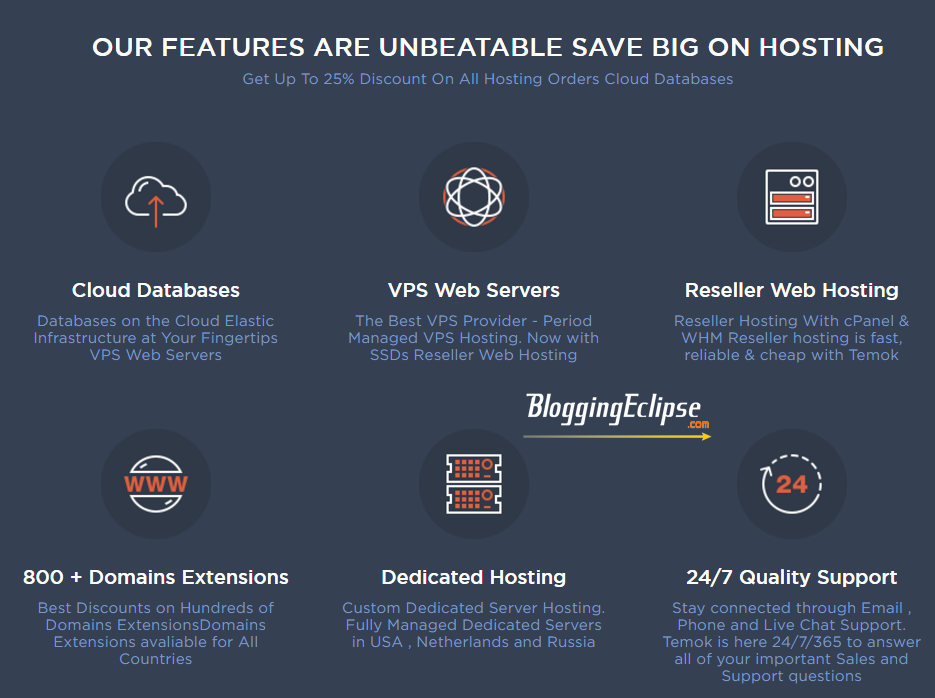 If you are still not satisfied, they are providing 15 days no contract money back guarantees and also offers 99.9% Uptime guarantee.
#6. Temok Customer Support
Technical support is very necessary for your web hosting, if any issues arises, hosting technical department should able to solve it.
Some companies do claim that they have best in –class support but when it comes to solving technical site issues many of them fail. Temok offers premium technical support, their team is ready to resolve any kind of technical site issues as they are having highly talented experts on their support desk.
#7. Temok Web Hosting Control Panel
Temok Offers the popular Cpanel by WHM. Temok have added extra features and tools over the normal Cpanel such as Cloud flare, Weebly website builder, Marketing tools, SEO tools, etc. The Temok control panel lets you to manage all websites, emails, backups, ftp & view detailed statics with an ease. Check Cpanel demo.
#8. Temok is a Green Web Hosting
Temok is also contributing to the nature by investing in wind energy to help offsets server emissions. Temok is a climate friendly, Wind powered, Certified REC's hosting company.
#9. RapidTemok SSL – Affordable SSL Certificates
You will need HTTPS:// before your URL to secure your website and rank higher in google. For adding that secure https before your url you need to buy a SSL certificate which is just easy. You will have to spend some bucks and install SSL certificate on your website.
Temok have their own RapidTemok SSL service which starts from $11 for SSL certificate. This is very cheap cost as compared to other brands. Even if you do not want to purchase Temok's SSL certificate or you already own one, you can install it simply via Cpanel without paying any extra bucks.
#10. RapidTemok SSL – Affordable SSL Certificates
Apart from just web hosting, Temok offers wide range of development services in cost effective providing.
We all know that just hosting Is not enough and hence Temok offers extra services like Logo Design, Web Development, App marketing & App Development. So if you have any idea of developing a mobile app or nice website, Temok have the team that can make it reality.
Exclusive Temok Promo code (💯 Working)
Temok is an innovative web hosting provider and do not really believe in offering continues promotional discount codes on daily basis. As the company have already kept low pricing on their products & service, so on does not require any special Temok promo code.
However currently you can grab their bestselling U.S.A Linux Web hosting in just $2.9/Month Which allows you to add unlimited domains & offers unlimited bandwidth.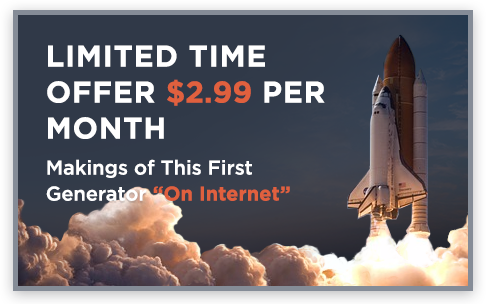 Over to you:
I am quite surprised by the success of Temok in just 2 years. The company have many international brands & enterprises as their clients. With their top tier support and super-fast server speed, temok is winning hearts of thousands by offering fast web hosting in budget friendly prices.
In this Temok Web Hosting review, I have mentioned almost all features & benefits of Temok Web hosting. So if you want to migrate your existing website or host new one, Temok would be a wise choice for you. Share your views & experience in comment section below & be updated with BloggingEclipse for more web hosting reviews.