Are you looking to earn recurring commission? Well, if you are ready to make money online, then you are in the right place.
In this post, we have featured ✅Thrive Themes Affiliate Program Review updated for 2022 that includes detailed insights about this platform. All you need to do is to join Thrive Themes affiliate program to make money.
So let's get started!
---
About Thrive Themes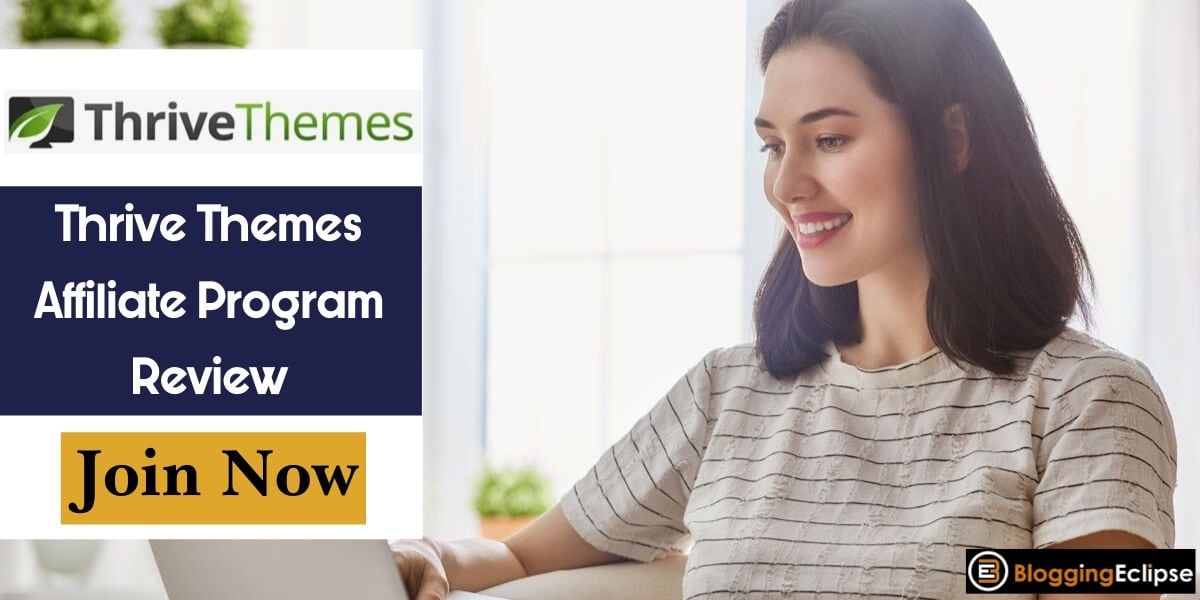 Thrive Themes is the best tool for your WordPress page. It is a conversion-focused company that started in 2013 to help other users to improve their experiences.
Thrive Themes offers you a suite of website tools that genuinely boost your business, such as Thrive Themes, Thrive Leads, Thrive Architect, Landing Pages, Clever Widgets and others.
At first, the marketing expert Shane Melaugh and the fanatic tech Paul McCarthy worked on several products together and pretended to sell each product in a conversion-focused website.
But WordPress didn't have any available theme or plugin focused on that. Frustrated, they thought that they must not be the only ones with this limitation, and that is the moment when Thrive Themes was born.
They created a visual editor, now called Thrive Content Builder, and it started snowballing. They are not only a visual editor anymore; they now have 16 products focused on converting your visitors into customers, clients, and subscribers.
With their products, you can build your website quickly, and you can grow your mailing list faster than ever before, you can create drag-and-drop layouts, add buttons and advanced content elements. You can publish attractively, conversion-optimized, and 100% editable opt-in pages, sales pages, webinar registrations pages and other types of landing pages on your site.
You can show different contents in your widget areas based on posts, pages, categories, tags, advanced targeting rules and much more.
Thrive Themes not only offers you the best to create and manage your website but also helps you to earn recurring commissions by joining Thrive Themes Affiliate Program. All you have to do is to make customers buy Thrive Themes products or memberships plan or both.
---
How can you become an Affiliate?
You must meet certain requirements:
You must have a website or a YouTube channel with related content to join this affiliate program.
Your website as an affiliate must not host any objectionable content like spam and malware.
The affiliates must not buy products or memberships on their own.
You cannot run PPC campaigns on brand keywords.
As an affiliate, you must not give gifts or money to people for buying subscriptions or products.
Once you meet the requirements, you must accept their Terms and Conditions and go through their application quiz. In a period of 3 to 7 days, they let you know if you meet their requirements then you become an affiliate!
---
How does the Affiliate Program work?
You get 35% commission when you make people buy any product or all products.
Thrive Themes offers these products:
They are built for speed, readability, and clarity. 
All-in-one e-mail building tool. You have the ability to add opt-ins or calls to action almost anywhere else on the website.
It is the fastest and most intuitive visual editor for WordPress. It is the visual page builder that is built from the ground up for business and conversion-focused websites.
Instantly publish beautifully, conversion-optimized and 100% editable opt-in pages, sales pages, webinar registrations pages and countless other landing pages on your site.
Each theme comes with pre-built landing pages, as well as the 80 or more that you get with Thrive Content Builder (comes with the Themes).
Show different content in your widget areas, based on posts, pages, categories, tags and advanced targeting rules. They include opt-in boxes in your sidebar that relate to the current blog posts, ads that sell products related to the current topic and even posts or guides you have that are more specific.
Improve your content marketing by testing different headlines against each other. Get to publish the best, most click-worthy headlines to sky-rocket the engagement on your website and lower your bounce rate.
A marketing tool for WordPress that helps you increase your conversions by adding countdown timers and run complex evergreen scarcity campaigns.
Get rich, detailed and persuasive testimonials on auto-pilot. Get testimonials organized in one spot and with the tags for what they are about as you sell a lot of different courses and services.
Create fully customized quizzes that allow you to gain valuable visitor insights, build a segmented email list, drive website engagement and get tons of social shares. 
With Thrive Comments, you'll win the power to spur faster feedback and increase participation through several innovative features like upvoting and downvoting, gamified comment incentives and an impressive number of after-comment-actions.
Thrive Architect (also known as the visual editor) is the one that gives you more income.
Also, Thrive Themes offers two membership plans: Thrive Membership and Agency Membership.
The Membership can get you:
The full suite of 10 WordPress Plugins,
Updates and future Plugins,
Members only templates and content,
Unlimited support.
You can create spectacular websites and landing pages without having any programming knowledge. You will receive Monthly Members Webinars that will make your online business succeed!
With the Thrive Membership, you can use all plugins and themes on 25 of your websites.
With the Agency Membership, you can use all plugins and themes on 50 of your sites and clients' websites.
You receive 25% recurring commission when someone buys the membership plan from your referral link. You get commission until your referral stops renewing the membership.
---
Why should you become an affiliate?
Promoting Thrive Themes means promoting a well-known brand that is 100% guaranteed for their clients.
You, as an affiliate, have a support system that it is always at your service.
They design the ads for you. The only thing you have to do is place them in the best spot of your page.
They give huge commissions.
They track the traffic you send, and they give the statistics of the sales you make and the commissions you earn.
Recurring Commissions. If you sell their membership, you will be paid for each renewal.
If you perform well as an affiliate, you can be invited to their private Slack channel. You will be a VIP Affiliate!
As soon as you reach the 20$, you will be paid through PayPal. No tricks, real money.
Access to resources. You will learn how to promote their product in the best way!
---
What do their Affiliates say?
All over the internet, you can find positive accounts of their products and services.
Affiliates say that:
"I get amazing conversions during the launch, but with you guys running things, I feel confident in continuously recommending your products" – Jay
"Thrive Themes is the best investment I've ever made online – it literally changed how I operate my business." – Reona
"It seems that when I purchased the Thrive membership, I got a lot more than just themes and plugins! I found out that the Thrive membership is like a real internet marketing University!" – Nenan.
---
🌟 Thrives Themes Affiliate Program FAQ
How long does it take for Thrive Themes to reviewed my affiliate application?
Typically, your affiliate application is reviewed within one hour by Thrive Themes. But in certain circumstances, it might take seven business days.
What is the cookie duration?
Thrive Themes have two years of cookie duration which means that if the customer buys the Thrive products within the next two years, then your account will be credited.
How are payments made?
Thrive Themes provides payment through PayPal. The same PayPal email address that you used during sign up.
Can I purchase through my affiliate link?
No, you can not purchase the Thrive products by using your affiliate link to make sure that credit will only go to the correct affiliate.
---
Conclusion: Thrive Themes Affiliate Program Review 2022 | Should you join?
Thrive Themes seems to be a win-win situation for all involved:
You can have a beautifully designed website or blog with numerous plugins that will make your experience with an online business the best.
You can earn recurring money, helping others to make their lives easier with Thrive Products.
And there are thousands of people that have trusted in them buying their products and suite website tools and that have not been disappointed.
Dare to become a Thrive Themes Affiliate. Take a chance to win!😉