Are you looking for the top video conferencing software?
In this post, we have listed the top 12 free and paid video conferencing software for 2023. Take benefit from the list that can help you connect with anyone who lives without any clutter.
We will share features and pricing of the video conferencing tools in this post so you could decide which one to choose for your next live conference or e-meeting.
---
List of Top 12 Video Conferencing Software
Video conferencing has become the easiest way to hold e-meetings now, and almost every industry uses video conferencing and webinars for business meetings and services around the world. The most famous application is Skype for Business, which is still the most widely used. However here are some which have more features then Skype is only built to conduct stable video converting and webinar.
Let's get started…🚀
1. Adobe Connect
Adobe Connect is a powerful webinar tool that empowers people to connect & collaborate with others with powerful features for meeting & training purposes.
Adobe Connect allows video, audio, screen-sharing, polls, chat, Q&A, document sharing and much more through its web conferencing platform.
No browser restrictions, Adobe Connect works amazingly on any modern browser without any installation or configuration needed.
Features of Adobe Connect:
You have complete control over your room. Customize your webinar room by adding functionalities through resizable pods. Customize layouts by adding an image background or edit the colors.
Engage the audience by adding multiple chat pods, polls, quizzes, simulations, breakout rooms, HD videos, and games. This will increase the participation of the audience in your web sessions.
Add functionalities backstage during a session, add apps and make your virtual room powerful for yourself.
Your setting can be used for every session. Just create it once and use it as many times you want.
Pricing of Adobe Connect:
Adobe Connect offers three plans for meetings, webinars, and learning.
Adobe Connect Meetings plan starts at $50/month,
Adobe Connect Webinars plan starts at $130/month,
Adobe Connect Learning plan starts at $370/month.
---
2. GoToMeeting
GoToMeeting is a fast, easy and reliable video meeting software developed by LogMeIn that has created many meeting solutions for millions of users worldwide.
GoToMeeting is built for collaboration for any type of business with one-click meetings to instantly host or join a video conference from a local or remote place.
It offers engaging meeting solution for conducting online events and offering out of the box experience for your attendees so they come back again.
Features of GoToMeeting:
With the commuter mode, you can save the data on the go without any distraction and continue hosting meetings as an extrovert.
With GoToMeeting mobile app you can start a meeting right away by booking a room from the mobile app.
Using voice command you can start a meeting or join a session. Siri and Google Assistant are always there to minimize your effort.
Cloud recording eases your task of taking down the notes that you had to when hosting any meeting. No more pens needed. Access the recording from GoToMeeting mobile app.
Pricing of GoToMeeting
You can kick start with a free plan to join with up to 50 attendees only for 14 days and later upgrade to a paid plan for more attendees.
Professional plan – $12/month (annual billing) allows connecting up to 150 participants.
Business plan – $16/month (annual billing) allows connecting up to 250 participants.
Enterprise plan -custom billing allows connecting up to 3,000 participants.
---
3. TeamViewer
This is one of the most popular software used for the remote desktop where you can operate another person's device remotely. But TeamViewer also offers video conferencing for free.
Yes, you heard it right! It's free for private use.
TeamViewer video conferencing tool has been used by over 500,000+ satisfied customers and has over 200 million+ active users.
Features of TeamViewer:
Use VoIP or webcam to chat face-to-face with your colleagues and share files and presentations.
You can export created meetings and share them via Outlook.
Along with the webinar, you can also share the screen with participants to share content on their devices.
The screen recording feature enables you to save meetings and video conferences.
Pricing of TeamViewer
TeamViewer is free to use for private purposes. For company use, TeamViewer has three plans.
Business License (Single-user) – INR 1250/mo.
Premium License (Multi-user) – INR 2400/mo.
Corporate License (For Teams) – INR 5800/mo.
---
4. BlueJeans
BlueJeans provides easy to use web conferencing solution with collaboration tools that make your meeting experience smarter and trusted.
BlueJeans helps you connect with anyone from anywhere on any device by collaborating with video, audio and web conferencing solutions.
You can easily manage your room with one-touch and enjoy web conferencing like never before.
BlueJeans have been trusted by market leaders like Facebook, LinkedIn, Zillow, ADP and more.
Featured of BlueJeans
Start meeting from anywhere on any device with HD video experience and audio powered by Dolby Voice.
Use collaboration tools to start a meeting instantly.
Manage meetings securely and centrally without any hassle.
Pricing of BlueJeans
BlueJeans have three plans for individuals and businesses.
The plan for individuals is at $12.49 host/month.
My Team plan for the mid-sized business is at $16.65 host/month.
My Company plan for the enterprise could be contacted for pricing and volume discounts.
---
5. Calliflower
Calliflower has now adopted a new name Callbridge. It offers high-quality features to empower your meetings with exceptional audio and video experience, artificial intelligence tools, and Smart Search Technology.
Features of Calliflower
Calliflower has its own AI tool Cue that automatically creates transcripts of your meeting.
Cue automatically tags your meeting for easy search.
Search your meeting easily with a smart search that matches content from transcriptions, filenames, contacts, etc.
Customize your virtual room with your brand logo, welcome guests with custom audio signatures and also host your meetings on a domain to get more recognition.
Pricing of Calliflower
Calliflower offers a free 30-day trial with access to unlimited features but after 30 days you have to purchase any of the three plans listed here.
Standard plan – $14.99/month/host
Deluxe plan – $29.99/month/host
Enterprise plan – $24.99/month/host
---
6. ClickMeeting
ClickMeeting provides custom-branded webinars to engage your audience and convert more users. ClickMeeting has over 147,498 satisfied customers in 111 countries.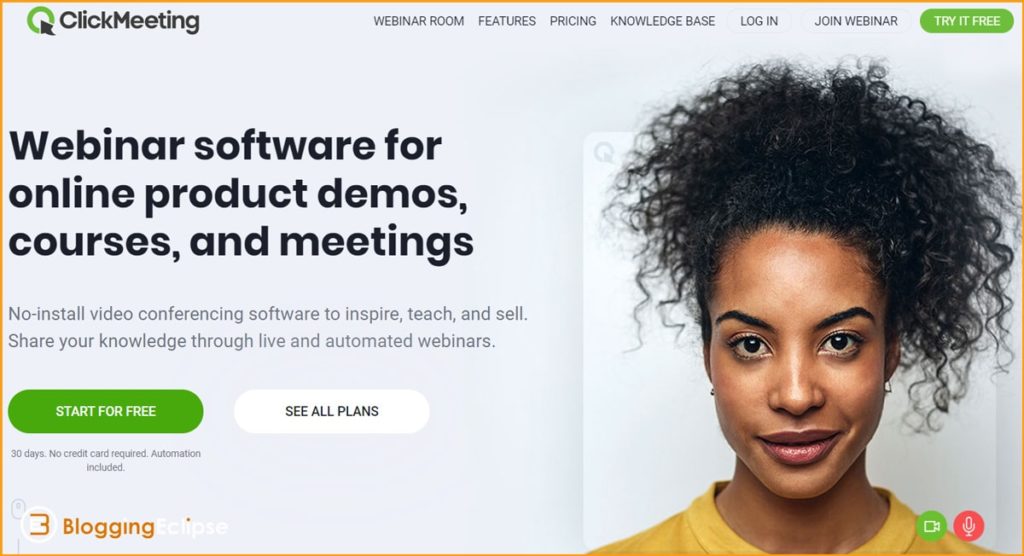 Till now 604,488 events in 2018 have been hosted using ClickMeeting and over 17,567,803 webinar attendees and meetings have been conducted in the past 12 months.
Features of ClickMeeting
With a few clicks, you can get started to make a great impression and attract a larger audience.
Host your webinars hassle-free on any device and stream live on Facebook or YouTube.
With one click you can record your webinar, download and share it with anyone.
Store your files and recordings and make them available anytime.
Whether it is sales, marketing, e-learning or more, you can do anything and everything with ClickMeeting.
Pricing of ClickMeeting
ClickMeeting plans are simple to choose from. Just choose the number of attendees and billing period and you will get the price.
If you choose a minimum number of attendees as 10 and annual billing then the Live plan will cost you $25/month, Automated plan will cost you $40/month and Enterprise plan is a custom plan for you have to contact the support team.
---
7.Fuze
Fuze has been named as a leader in the Forrester Wave and also a visionary in the 2021 Gartner Magic Quadrant for Unified Communications as a Service, Worldwide.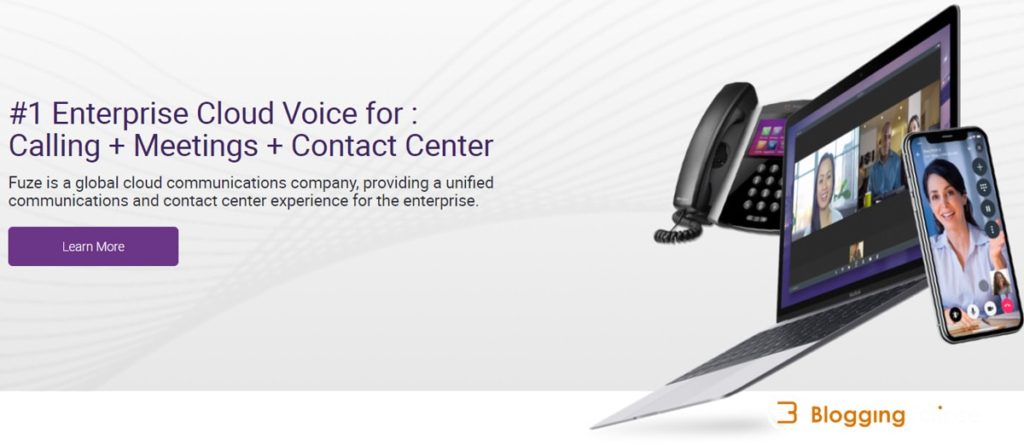 Features of Fuze
Never miss even the smallest detail with 4k images and HD playback with markup tools.
Experience modern messaging like never before.
Fuze combines multi-party voice, video, modern messaging under a single app.
Fuze has integrations with Dropbox, okta, outlook and more.
Pricing of Fuze
To get the pricing you have scheduled a demo and the Fuze team will let you the plans and pricing based on your requirement.
---
8. Google Hangouts
Google Hangouts is developed by Google and is free to use for everyone. It is an excellent video meeting software that helps you connect with your team from anywhere face-to-face.
Google hangouts features at a glance
It is easy to join a video call without your teammates or clients having the right plugin. Just set up a meeting and share the link with everyone.
Integration with G Suite allows you to join meetings directly from a Calendar event or email invite.
Take a look at your meetings for the day using the Calendar and join them with just a tap.
Pexip Infinity Platform allows teams using Skype to join the Hangouts Meet meeting.
Google hangouts pricing:
You can use it free for 14 days and later purchase the Basic, Business or Enterprise G Suite plan.
G Suite Basic plan – INR 210/month
G Suite Business plan – INR 714/month
G Suite Enterprise plan – INR 1650/month
---
9. Join.me
Join.me offers a free trial to host a free meeting or join a meeting just by entering a meeting code. Join.me offers easy to use the experience to connect with anyone over a video conference.
Features of Join.me
Meeting link can be personalized with your name, brand or anything you like so attendees are familiar with your brand before the start of the meet.
Make you a meeting room unique with a personalized background that could be your company logo or your picture.
Join.me audio is powered by OpenVoice that offers reasonable rates with no hidden cost and enterprise-level security.
With one-click screen sharing, you can get everyone on the same page instantly.
Join.me Pricing:
Join.me offers competitive pricing with three plans to choose from.
Lite plan – $10
Pro plan – $20
Business plan – $30
---
10. UberConference
Uber Conference is an AI-powered video conferencing solution that lets you connect with everyone with seamless performance and no need for any downloads.
Features of UberConference
Search your meetings built-in AI technology.
Hassle-free video conferencing for you to connect with your team and clients.
No pins, no downloads.
Screen sharing while video streaming increases connectivity with people by bringing them on the same page.
Pricing of UberConference
You can start with the free plan and connect with up 10 participants.
For more participants purchase a Business plan only at $15/month with up to 100 participants.
11. Zoom
Zoom provides seamless video and clear audio experience with instant sharing. It offers reliable and scalable webinar solutions to broaden your reach.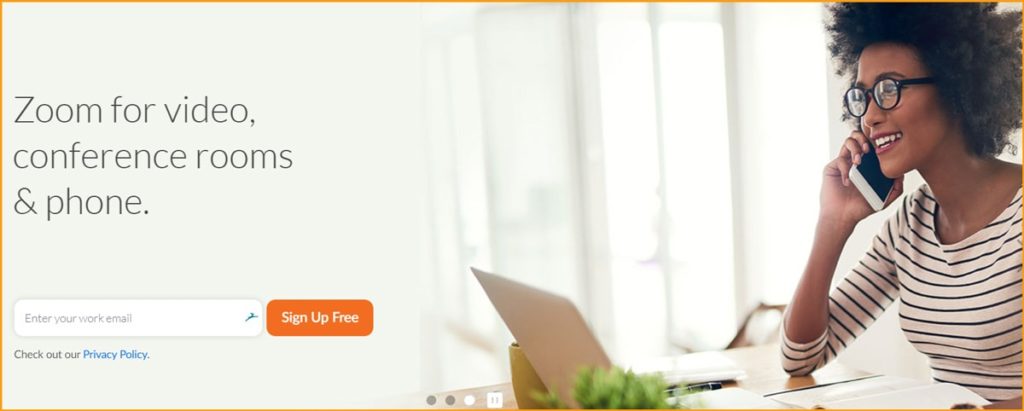 Features of Zoom
Experience HD video and audio
Get insights into your meetings like reports on attendees, engagement, and Q&A.
YouTube and Facebook Integrations allows you to stream live on social channels.
Zoom Videoconferencing pricing
Basic plan – Its for free with limited features
Pro plan – $14.99/mo/host for small teams
Business plan – $19.99/mo/host for small & medium businesses
Enterprise plan – $19.99/mo/host for enterprise-grade.
---
12. MegaMeeting
MegaMeeting is all in one video conferencing and webinar service provider offering excellent features like screen sharing, recording and many more.
Features of MegaMeeting
The basic plan allows up to 8 participants for video & audio conferencing services.
2-way HD video and audio supported.
End-to-end encryption ensures secure video chat.
Any updated browser including Chrome, Firefox, Safari, and Edge are compatible with audio and video conferencing.
---
Tips for your Next video Conferencing call [INFOGRAPHICS]

---
Conclusion: Which one to choose for Video Conferencing
The list of video conferencing software mentioned in this post is compatible with all the major browsers with some of them offering it for free and some at a reasonable price.
We hope this list will be of great help to let you connect with your clients and teams hassle-free.
Are you using any of these tools for e-meetings, webinars or conferencing? Do let us know your experience in the comments section below.
Affiliate Disclosure: This post may contain some affiliate links, which means we may receive a commission if you purchase something that we recommend at no additional cost for you (none whatsoever!)