A warm welcome to BloggingEclipse, If you are facing a problem with your current web hosting in Australia and Wanna Cry, then please don't.
Here in this post, you will find a list of budget Hosting providers in Australia with quality service because fast, secure and flexible hosting for your website or blog really matters.
Find out why these companies are crucial and preferred by most Australians for their small, medium and large businesses by reading the complete review on different hosting providers in Australia.
Not just low price but even the quality that these hosting companies provide are outstanding, and hence they stand as a pioneer in Australian hosting providers rather than followers.
Top 4 Cheap Hosting Providers in Australia
Here is the updated list of Top cheap web hosting providers in Australia. Cheap does not mean they are only less expensive by the price. We have personally checked & reviewed more than 20 Hosting providers in Australia and have got these top 4 best regarding price, speed, performance, and support.
So read each review in short, and we have also mentioned discount coupons  on some of the hosts so you can maximum if you wish to go with any of them.
Cloudways is undoubted #1 managed cloud hosting platform founded in 2011 With a dedicated team and constant effort, the company is growing with pace. The names behind this company are Pere Hospital and Aaqib Gadit who have put in the all the efforts to bring this company in the book list of every user.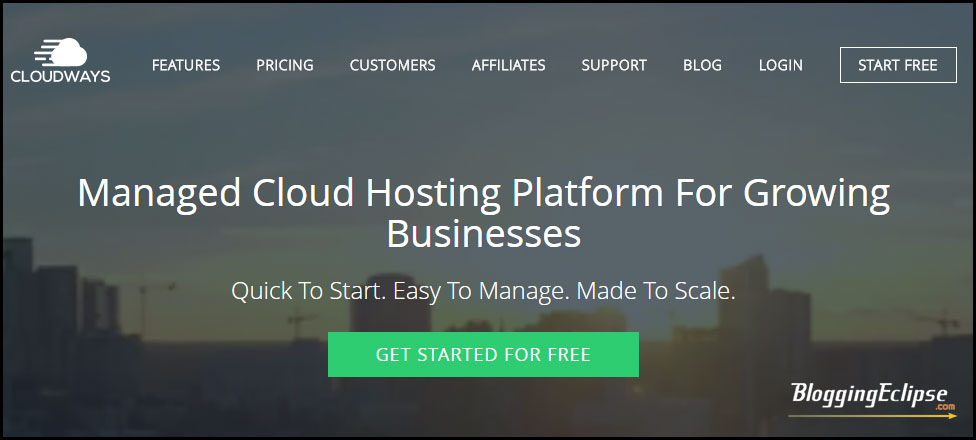 Cloudways features at a glance:
Managed Magneto hosting
Managed Woo Commerce hosting
FREE SSL certificates & 100 & human based 24-hour support.
Australia cloud hosting.
Cloudways headquarters are located in Malta and have branches in Spain and UAE. That means Cloudways has spread its business worldwide. Cloudways offers complete management platform with your favourite cloud provider such as AWS, Digitalocean, Vultr, Kyup, etc..
Benefits of choosing cloudways:
Trusted Australian data centers (cloud providers)
99.9% uptime via multiple cloud hardware
1-Click CMS Apps install & deploy
100% SSD based cloud servers
Thunderstack Optimization
Built-in MySQL Manager
Managed Security by 24/7 monitoring
Automated Backups +Web Console Access
FREE SSL certificates by LetsEncrypt
Multi-Cloud Deployment + Server Cloning
30-day money back guarantee
24x7x365 Chat& ticket based Support
Cloudways Hosting coupon ($30 free credits)
Cloudways is running a special promo where you can get $30 free credits while signing up & upgrading your account. With this special deal they also offer free website migration, whether it is WordPress, magneto or any website, the team will migrate it without any hassle. $30 free credits cloudways
promo code
gives you $30 credits in your billing which can be used for monthly or hourly billing. You can host till 4 months free with this credits.
Click on the special coupon button below to automatically redeem this offer and use coupon code "BLOGGINGECLIPSE" at the time of signup.
The cutting-edge technology ensures that you don't face any problem with speed and latency. There are many places from where you can choose the cloud infrastructure such as Google, Digital Ocean, Vultr, and Kyup. Deploying the applications becomes quite easy with multiple cloud infrastructures.
GoDaddy is on everyone's mind and why shouldn't it be. It offers cheapest domains and hosting across the world, and that is the reason they have more than 17 million customers worldwide.
It has over 71 million domain users registered under their name. Reliability and security come along with every product. It has now become popular across many nations and gives discounted deals to users everywhere around the world.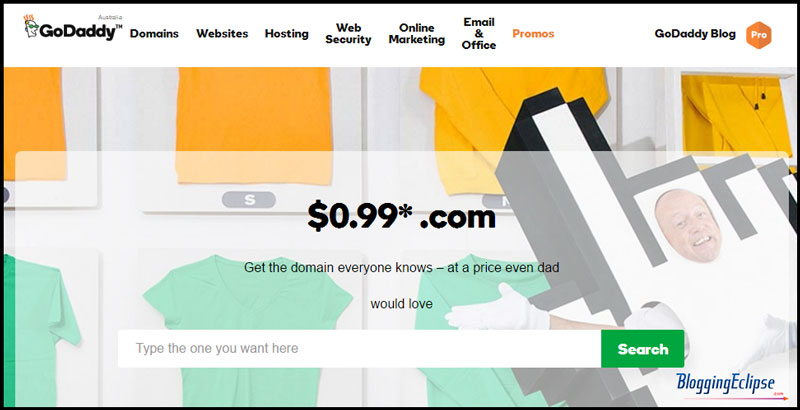 It has been into the domain and hosting business over an extended period and therefore an experienced company. It is a brand name chosen by many and recommended to many others.
Hosting plans offered by GoDaddy:
Business Hosting
VPS & Dedicated Servers
Godaddy website builder tool is so simplified that even your dad can go online within an hour. Its party time for Australians as GoDaddy is offering cheap .com.au domains in $0.99 specifically for Australians that makes you look like a real Aussie.
There are 100's of domains to choose from, and the prices are affordable compared to other companies that can only dream about. Registering a domain at GoDaddy is fast, simple and secured.
Godaddy Australia Web Hosting features:
Unlimited websites except for Economy plan
Free domain with all the plans. (annual billing required for free domain registration. )
Unlimited disk space in Deluxe and Ultimate plans
Free SSL certificate and premium DNS in Ultimate plan
I-click installs of 125+ free, user-friendly applications
Email privacy & protection with 256-bit encryption
Each plan has cPanel and CloudLinux
Godaddy is offering huge discounts on its award winning web hosting upto 87% OFF. Australians can grab web hosting for a year in just AUD $1 per month along with a free domain with annual plan.
Godaddy Australia Coupon Code ($1/Mo Hosting)
Godaddy Australia coupon is here and you can avail Economy web hosting plan in just $1 per month along with a free domain with annual billing. This is simply the best deal as it offers 100 GB disk space and unlimited bandwidth along with premium cPanel & award winning Godaddy Support. Click on the below button to activate this deal.
Crucial is an Australian Hosting provider founded in 2003 and offers simplified hosting solutions for small businesses in Australia.
With an innovative perception of helping small businesses grow online, it has successfully deployed more than 7000 VPS hosting which is remarkable on its own.
Why choose Crucial Hosting?
Local data center in Sydney (A.U.S).
High-performance hardware from Dell
Network powered by HP, CISCO, etc
Low latency, smooth sailing reliable hosting
Servers monitored round the clock 365 days
Environment-friendly data centers that offset carbon emissions
Site migration to cloud starting at AUD 99.
Payment accepted via VISA, MasterCard, eway, and Paypal
Friendly customer support 24/7.
Australian Datacenters: The data centers located in Australia are so fast that they handle almost 8.8 TB of data every day with zero downtime. This ensures that your website is up and running at rocket speed and 99% uptime.
Best technology: It has more than 6000+ satisfied customers in and around Australia with more than 50,000 websites under its brand. It is an award-winning company that has achieved Marketing and service excellence award by The Australian Business Awards in 2015. It harnesses the best in class technology with rocket speed, so your site loads faster than ever.
---
Aussie Host was founded in 2007 by Rob Walker popularly known as Aussie Bob on the internet. Bob has 15 years of experience in hosting industry and has applied all his vast experience in providing rock solid domain and hosting services with data centers in Australia.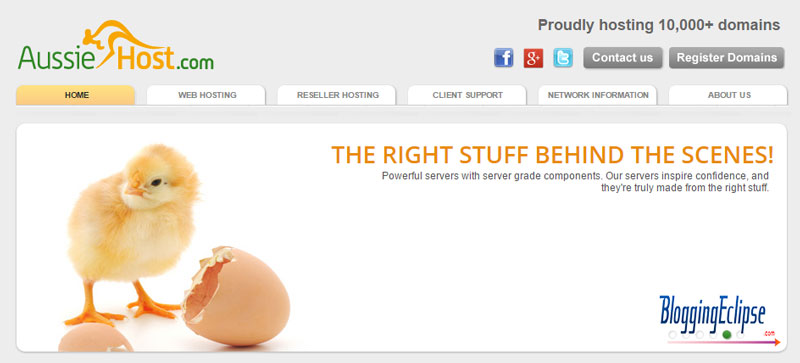 Aussie Host believes that hosting is not just about servers or routers, but it is about people too. Providing a rich quality hosting with 100% customer support has been the quest and motive behind the success of its global recognition.
Aussie Host features:
Australian based servers inbuilt with N+1 connectivity.
Unlimited data transfer, email accounts, and Mysql databases
Softaculous enables to install 250+ apps.
Free SSL certificates with all plans.
In-house techie support to you 24/7.
Cheap reseller hosting with WHM & Reseller billing.
It has hosted more than 10,000 domains in and around Australia. The data center is equipped with UPS backup and diesel generator 24 hours; also, the cooling vents and hot air extraction keeps power at a minimum. The hosting services are stable and substantial that allows smooth functioning of your website. The hosting plans are cheap and affordable with 100% money back guarantee if not satisfied with their service.
---
Time to pick yours:
Try to get plans for long years as it will offer maximum discounts and you will surely be benefited. Sometimes you might not be able to take a decision whether to buy hosting amongst the list of hosting companies mentioned in this post when there are so many hosting companies available.
My suggestion would be to invest wisely and become a member of any of these companies, I will recommend going with Godaddy as it offers the best class Australian web hosting with great discounts.  It is not only just about the price but also about the service, support, and no one can beat these companies.
I hope that this best four budget-friendly  Web Hosting in Australia post will boost confidence in you to buy future hosting plans from any of these companies without any hesitation. Share this with your friends so they might also get some help on purchasing a hosting. Leave a comment, and we will be right back.
Why settle for less, take maximum benefit.:)