The Traffic Summit conference was held for the first time in Turkey on September 28 and 29, bringing together internet specialists from across the globe at – Haliç Congress Center. For two days, the internet marketers congregated in Istanbul; experts in affiliate, performance, and influencer marketing, as well as GameDev, NFT, and blockchain, were present. What were the speakers and participants discussing? Of course, they talked about Internet traffic, but they also shared how to generate it.
Every phase of the Traffic Summit—from speaker performances to exhibition and networking—was creatively enhanced in order to offer the greatest benefit and value to all participants within two days.
Speaker Presentation Sessions – It's all about Traffic
At first, the ambitious event adopted the phrase "it's all about traffic" as its motto, and consequently, most of the conference was devoted to it. Specialists from more than 10 professional fields found that increasing site traffic and opening new traffic sources were relevant to their work. And you cannot disagree with the fact that in the end, it's all about traffic.
The speakers' data specified that one of the most significant and accessible traffic sources, social networks, was frequently mentioned. Particularly Facebook and TikTok, which have more than 700 million users each, were referenced frequently. Matas Kemzūra, co-creator and development director for Sugatan.io, presented a plan for scaling up a Facebook advertisement initiative that could produce up to $60 million in yearly revenue.
Lazar Žepinić, co-owner and CEO of Pendulum Ads, presented a comparable strategy, betting on TikTok Ads. Goat Media CEO Van Oakes suggested using a multi-channel approach to promotion in addition to using less popular social networks, such as Snapchat.
Digital marketing, chatbots, NFT projects marketing, and blockchain technology are just some of the relevant areas where 20 speakers from the international arena shared their experiences. Among those who spoke were Thomas Moen, CEO of MOEN & Co; Anna Gita, CEO of MaxWeb; Tone Vays, founder of The Financial Summit; Vlad Zhovtenko, CEO of RedTrack.io; Maor Benaim, owner of The Wolf Marketing; and Amin Siala, a Google Development Consultant, to name a few.
ExpoZone: Digital Brands & Renowned Players
The Haliç Congress Center's spacious hall was bustling for two days as the expo area. Taboola, Exness, Redtrack, Affise, and Profit Paradise, among other well-known mastodons in the industry, as well as young startups, were among the companies present.
The customized display booths were a big hit among the visitors. "Creating authentic stands was the idea behind KINZA back in Kyiv; we created a stand in the Ukrainian style. The Traffic Summit team knew right away that they wanted to continue the story since conferences took place in different geographical areas. Each country has its own unique characteristics that make it unique. Thus, they created a Turkish Traffic Summit stand with traditional local features to keep the tradition alive," – Inna Gagarin, co-founder of Gagarin Partners.
Disruptive and Out of the Way Networking: WTA and Bosphorus Cruise
Networking during the conference was accompanied by coffee breaks, games, spontaneous mini-golf tournaments, unhurried conversations in the chill zone, as well as thrilling parties, of which there were two.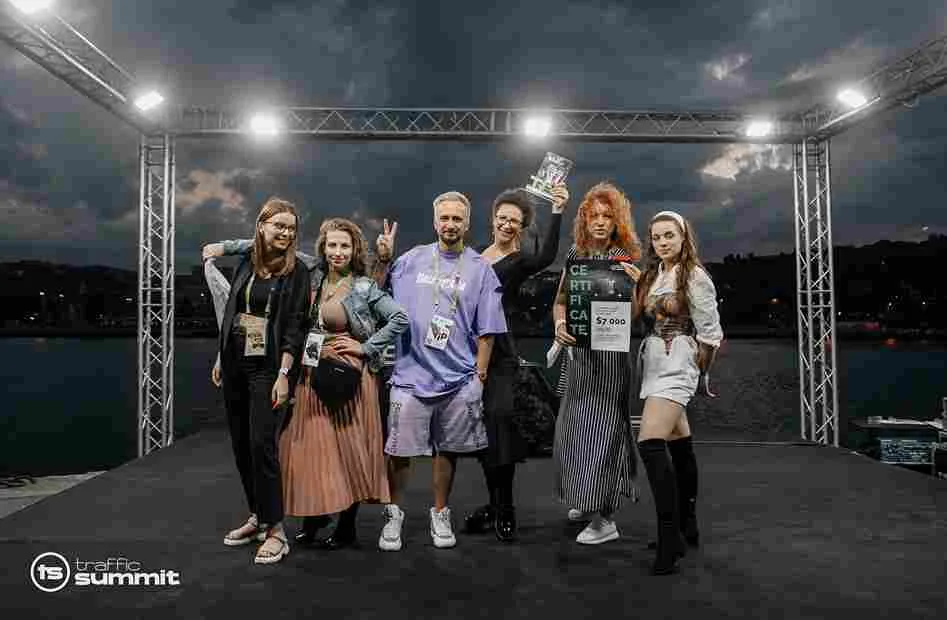 After the first day of the Traffic Summit, the participants ended their evening with a sunset lounge party and the World Traffic Awards ceremony on the Istanbul waterfront. This year, for the first time ever, the World Traffic Awards (WTA) were held to honor the greatest digital industry representatives in 11 categories (Best Ad Network, Best Marketing Influencer, Best Blockchain Project, and more). The winners in different categories were selected by the public through online voting.
The following companies were awarded in WTA:
Best SEO Agency – WSS.Media
Best Ad Network – PropellerAds
Best Marketing Influencer – Alex Slobozhenko
Best Service Tool – TDAPPS
Best Media Buying Team – Traffic Devils
Best Affiliate Media – ProTraffic
Best Affiliate Program: Multi-Vertical – Advertise
Best Affiliate Program: Health & Beauty – KMA.BIZ
Best Affiliate Program: Finance – Aivix
Best Affiliate Program: iGaming – PIN-UP Partners
Best Affiliate Program: Fintech – Exness
Best Affiliate Program: Dating – GoldLead
Best Affiliate Program: E-commerce – Clickdealer
Best Blockchain Project – Cronos
The winners of the award received it from the hands of the organizers and thanked everyone who voted for them online. "We are honored by this acknowledgment of our affiliate program, and we would like to thank everyone who voted. Thank you for your ongoing participation and support of Exness, which has made our affiliate program such a success. We congratulate the organizers of the World Traffic Award on their victory." A representative of Exness expressed his best wishes.
Todor Minev and Gagarin Partners' were chosen as the winners of several other awards at the Traffic Summit right away. The award for Best Speaker was given to Todor Minev, and the Best Booth award went to Gagarin Partners. The Traffic Summit organizers decided to organize a spectacular afterparty for the main event by inviting Business and VIP ticket holders to take a cruise down the Bosphorus.
It was a dazzling and most delightful evening as the two-day event came to a close in Istanbul. The conference's entertainment was provided by Mike Prasad, while Furkan Kurt and Kerem Tekinalp served as DJs.
The companies shared their impressions, feedback, and future plans after the two days of exhibitions, performances, and networking concluded.
The Traffic Summit team plans to continue its work: the next digital conference will be held in 2023. "We've got big plans for Traffic Summit, and we believe that it will become one of the most important brands in the digital industry in the future," says the Traffic Summit Team. We've received numerous requests to create a Traffic Summit conference in other cities, and we plan to continue to do so," says CEO Eli David.
"We thank all those who took part in Traffic Summit. We hope that the world will be in a more stable situation by the next conference, allowing us to gather even more people from all corners of the world."