Get ready with a backpack full of surprises!….
Gone are the days of riding a bicycle without proper balance. Take a trip to your favorite destination just by sitting calm and earning huge commissions so you can spend more on luxurious items. Travel is yelling at most of the websites on the internet due to huge its huge demand. Here are some of the best Travel affiliate programs list updated with the highest paying offers and links for every type of voyage tourism website or blog.
Travel websites are becoming one of the most searched sites on the internet, but where do these websites get money to run this business. Affiliate marketing powers most of the travel sites.
The travel industry has captured the market and is growing itself like a tornado. The reason for its popularity is because people want to take out time from their routine and want to enjoy and relax on the beach with a tan. In 2016, the travel & tourism industry was reported to generate $7.6 trillion worldwide and is expected to boost this year again.
With large-quality travel websites, travelers have got addicted to these sites and have started neglecting agents and guides. Moreover, since the sites are responsive, hence it appears the best on any smartphone or other devices.
What else do you need? An internet connection from the mobile network and a fantastic site with a lot of travel destinations.
With an average internet connection, you can easily visit any blog or site and read the quality content. Travel websites work hard for uploading quality content, and that monetizes the traffic on their website to earn maximum.
---
It's Time to Monetize through Travel Affiliate Programs: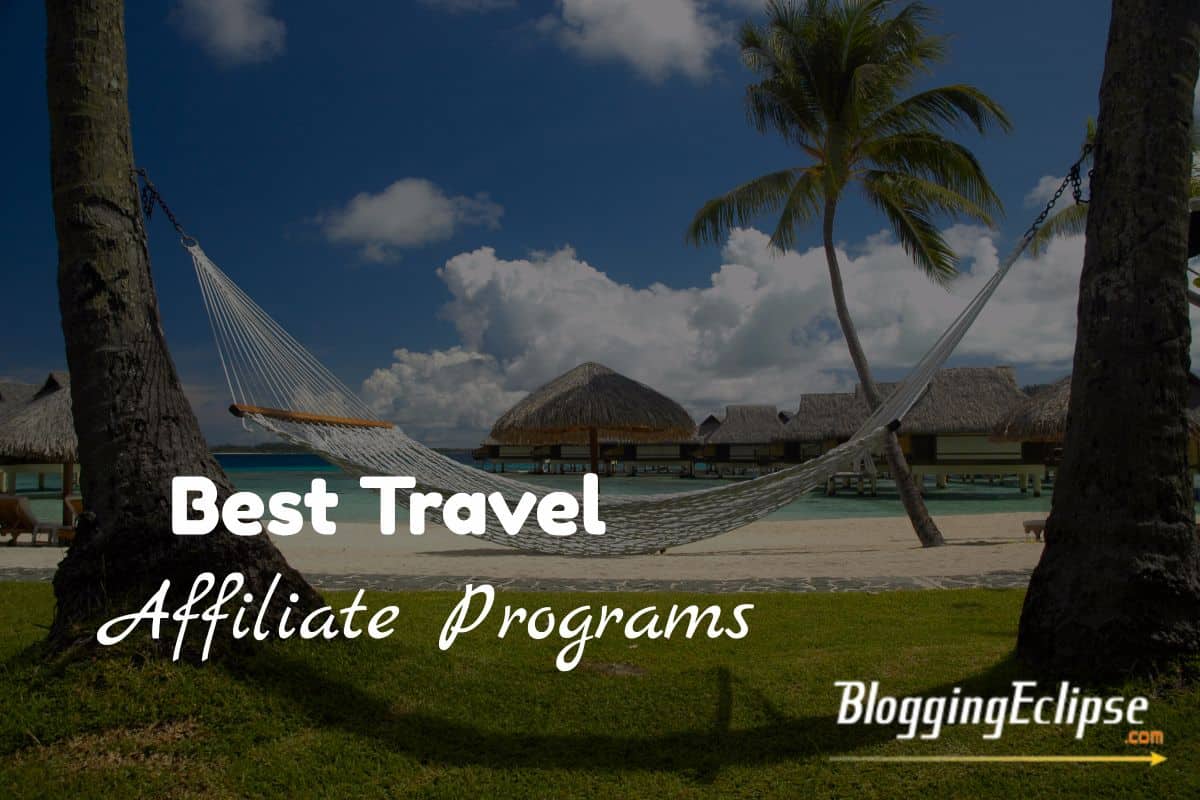 When it comes to monetizing Travel websites or voyage blogs or travel coupons portal than there are numerous options. The whole internet is scattered with flight/ hotel booking deals, vacation planning and much more.
Almost all Airlines have their travel affiliate programs, and the same goes for hotel aggregators. Some of the top flight Affiliate Programs are Skyscanner, Cheap0air, Airbnb, etc. and these can be joined on some top Affiliate networks like ShareASale, FlexOffers, Peerfly, etc.
However here are direct Travel Affiliate Programs some which pays on regular basis for massive traffic and conversions,.
---
1. Booking.com Affiliate Program
Booking.com was launched in 1996, and since 2005 it is owned by The Priceline Group. It travels a metasearch engine for booking hotels. Flight tickets, resorts, apartments, etc. It has more than 15000 employees in over 204 offices in more than 70+ countries around the world. Using advanced digital technology, it helps travelers to connect with the best places to stay from a mega selection.
The website and its app are available in around forty languages. It offers 1507399 properties and covers 122555 destinations in more than 229 countries worldwide. More than 150,0000 room nights are reserved every day either for business purposes or leisure. For any assistance, you can contact the support team 24/7 ready to help you in a friendly manner.
Booking.com Affiliate Commission Structure:
The commission structure of Booking.com takes time, and the commission is given when a person books any hotel, etc. and is confirmed. It means for each confirmed booking via your affiliate link; you get the desired commission only when the person completes the stay. So, if you want to earn more from Booking.com, you need to refer more affiliate links and make that the booking is confirmed.
Booking.com Affiliate Incentive program is also available on ShareASale, PeerFly, MaxBounty, AdmitAd, FlexOffers, CJ, etc. Some of the inventive Affiliate networks offer a flat $14 Affiliate commission on a single sale.
The minimum commission percentage set for each affiliate sale is 25%, but if the sales increase to more than 501 for a month, then the commission percentage rises to 40% which is highest on hotel bookings.
Affiliate signup is free

No technical skills required, hence easy to use

Offers a search box with arrival and departure date confirmation

Easy to browse and search for the desired hotels.

Lowest rates for Hotel bookings worldwide

Instant confirmation of booking with the property

Multiple online payment options and also Pay for property features.
Once you reach $100 of commission-only then, you get the monthly payout.

Once the booking is confirmed, a commission is counted for 30-60 days or once the guest is departed from the hotel.
---
2. TripAdvisor Travel Affiliate Program:
TripAdvisor was founded in 2000 and is an American based travel and restaurant website. It has headquarters in Needham, Massachusetts, United States. The site is owned by Liberty Media Corporation and provides reviews on hotels, restaurants, and other travel-related content. It is one of the world's largest travel site that offers more than 535 million reviews from the selected travel listings.
It provides more than 7 million hotels, resorts, airlines, restaurants, etc. Its tagline Know Better, Book Better, Go Better explains why it is the best site to search for the right accommodation at the right price.
TripAdvisor Commission Structure:
The affiliate program of TripAdvisor is operated through the CJ Affiliate. When anyone visits your website and clicks on the advertisement banner of TripAdvisor or any affiliate button that you must have shown on your website, then TripAdvisor partner sites will be displayed.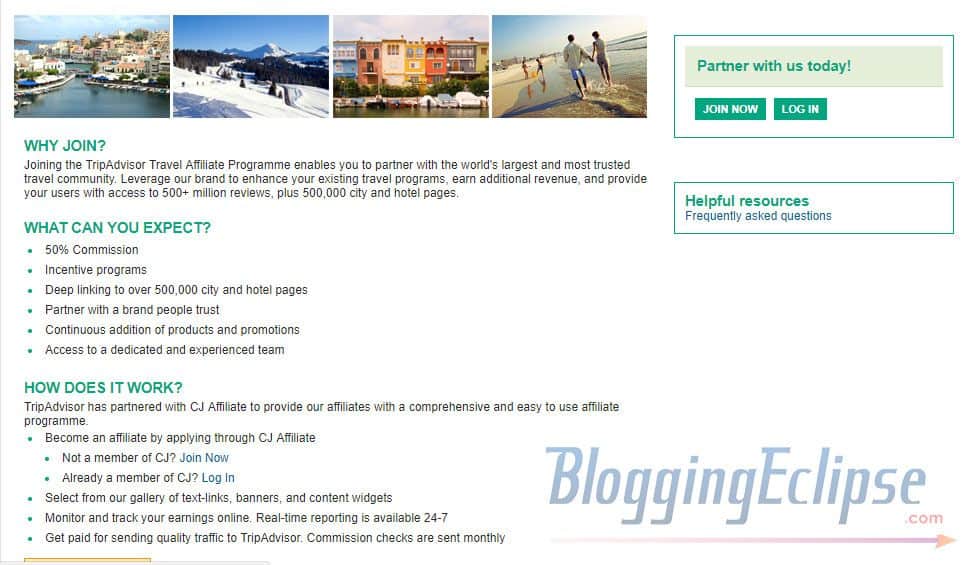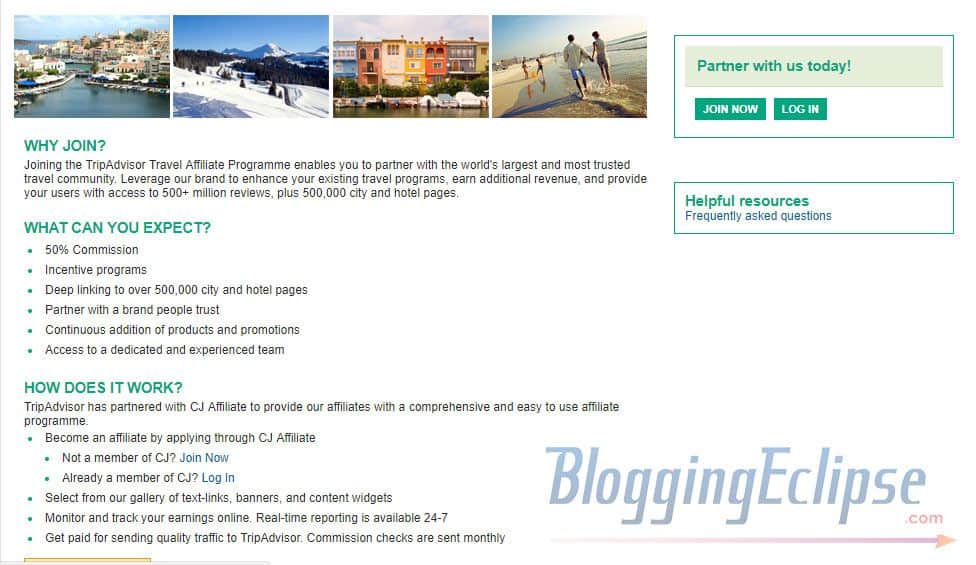 If a click is made on any of these sites, then you are eligible for 50% of the gross revenue. If you bring more traffic from your site to TripAdvisor, then it has a unique affiliate program by which you can earn a bonus.
If you Rates with CJ, then it becomes more easy for you.

Search from small hotels to top hotels and get the best price

Ideal reviews to help you find the place for your holiday

Prices are compared with more than 200+ sites.

The mobile app is convenient when on a trip.
The only con is that first, you need to sign up with CJ Affiliate and then easily work with TripAdvisor.
---
3. Agoda Affiliate Program
Agoda is one of that hotel booking portal which is owned by The Priceline Group. It was founded in 2005 and quick in Thailand which is the most attractive destination in the world. The site is available in over 40 languages with offices located in around 28 countries and more than 3500 employees ready to assist you in reaching your right destination. The brand is sister to Booking.com.
It provides smart hotel booking from approximately 1.5 million hotels worldwide. It offers the cheapest airfares, hotels, and discounts on 1825000+ properties from around the world.
Agoda Affiliate commission structure
The commission structure of Agoda is based on tier with the lowest being 35% commission for up to 50 referrals and the highest being 60% commission for referrals up to 1000 confirmed bookings for each month.
Easy to search in over 40 manifold languages

The tier-based commission is very easy to manage

Dedicated support from offices around the world.
The lowest payout is just $200 on its in-house affiliate panel.
---
4. Skyscanner Affiliate Program:
When it comes to booking a flight ticket, we all search on different websites to get the lowest fares. Skyscanner is a Flight/hotel booking Aggregator which shows you the cheapest rate on flight/hotel bookings and takes your top preferred website with the cheapest fare.
They have partnered with thousands of booking companies like Ctrip, Cheap0Air, Goibibo, MakeMyTrip, and almost all Airlines. Their API works super fast and shows you quick results with the cheapest airfare ever instantly.
Skyscanner is like a Google for Travel users. Just enter destination details, and you will come up with instant results of websites/companies with different rates. Skyscanner offers partnership programs to an affiliate in numerous ways; They provide Whitelabel solutions with your custom branding, Travel API, Flight search API and also a traditional Affiliate program that is operated in-house and also via favorite networks such as CJ, etc..
Skyscanner is very popular in western countries and has a massive userbase, Their conversions work pretty fast and have the highest EPC. Skyscanner has different affiliate programs for different regions and operated by different affiliate managers,
So you can join them all or join the preferred one depending on your website traffic.
Their model is simple, When a flight is booked via Skyscanner, The company gets a premium commission from the Airline or booking website, and if the referral is from your link, Skyscanner will share a part of it with you. That's all.
---
5. Airbnb Affiliate Program
Airbnb offers two types of partner programs for affiliates: the guest Affiliate program and the host affiliate program. Airbnb has such travel affiliate programs that pay the highest commissions and is a favorite of travel marketers.
Once the Airbnb guest affiliate program approves you, you can merely feature Airbnb on your site or blog, and you will earn commissions on every booking drive via your links.
While on Airbnb host, you cane an extra income by showcasing Airbnb hosting opportunities to your audience,
Airbnb is not for newbies marketers, They have quite hard approval rules and requires 1 million months on your website to be a part of their program. Apart from this they also check for your creativity and passion for working with.
However, You can join the Airbnb program on popular CPA Affiliate networks such as MaxBounty, ShareASale, etc. to scale your revenues via Airbnb.
Commission Structure
Airbnb has its program on Maxbounty and pays $40 as of March 2018 commission for the Airbnb host program. The structure is simple, as soon as host or property is registered on Airbnb via your audience, you will be paid $40 or more.
The highest commissions on Host & guest Affiliates

Over four million homes in 191 countries and counting

100,000 places are booked daily on their platform
---
6. Travelpayouts Affiliate Program
TravelPayouts was launched in 2011 as an affiliate program of JetRadar. Travelpayouts has expanded its affiliate program over the past few years. The first of these programs was the Kiwitaxi program, which allowed Travelpayouts to expand. Presently, there are over 80 affiliate programs here on the network.
In 2020, more than 270,000 webmasters from around the world were registered in the Travelpayouts network. They even offer tools in more than 50 languages. The network is even suitable for webmasters from different countries, as international and local companies are available. Travelpayouts provides affiliate programs for many travel companies around the world. The number of choices is huge, that's a good thing. You can join over 80 programs.
Commission Structure:
The exact amount you earn depends on the program and offers, but you receive up to 70% of the commission for each reservation. Typically an affiliate can earn anywhere from 1.2 to 1.4% from airfare alone. The network pays you around 60 to 70% commission for a single booking.
Their main pros and cons are below.
There are many affiliate programs you can sign up for

Manage everything through a single account

Stellar support service

Free affiliate training

Several ways of getting paid

Many unique and useful tools

An exhaustive base of educational materials
Some websites are only available in English.

There is a stringent approval process for some affiliate programs.
---
7. Expedia Affiliate Program
Expedia is a giant in the travel industry, and it's used by millions of travelers each year. The company owns many popular aggregation websites such as Trivago, Travelocity and Orbitz. Expedia Affiliate Network is probably one of the largest affiliate networks with over 500,000 hotels worldwide. Affiliates can recommend your site to individuals interested in booking a stay on Expedia's exclusive inventory. Whichever site you promote will earn you commissions on the cost of the nights booked.
Commission Structure:
Expedia affiliate commissions depend on various factors, but you can expect to earn anywhere between 3%-11% per transaction. There is a range of commissions that you will stand to make when working with the company like:
Vacation Packages with a minimum of 3 hotel nights offer a 5% commission per sale.
Vacation Packages with less than 3 hotel nights offer a 3% commission per sale.
Expedia Premium Plus hotel transactions offer an 11% commission per transaction.
Premium hotels offer a 9% commission per transaction.
Basic hotels offer a 3% commission per transaction.
Rental cars offer a 6% commission per transaction.
Activities offer a 10% commission per transaction.
Expedia offers a variable and growing commission rate

You can integrate banners and links right into your website with a simple system.

Over 250,000 write-in fields on our website and over 300,000 available adventures for your readers.

It's trusted the world over.

They sell billions of dollars worth of travel on their website annually.
A commission is not paid out on a $5,000 car transaction.

You cant earn a commission on pre-packaged bookings.

Fierce competition.
---
8. Aviasales Affiliate Program
Aviasales is one of the most modern, easy-to-use airline search tools on the market. It can be counted on for reliable service while having a good reputation with Russian travelers. As an affiliate, you need to place a coupon code on your website that people can search for if they are interested in buying a ticket. If the user is interested in buying the ticket and it is clearly visible on the page, then he or she can search for the coupon code and purchase it.
Commission Rates
With Aviasales, you can have a guaranteed income stream and can earn extra income by booking & selling tickets, referrals and other products on the platform. Here's what you should know about Aviasales.ru's commission percentage: They offer 50%, 60%, or 70%, depending on your payments and traffic.
The commission is paid on the 11th and 20th day of each month for the previous month.
Avisales affiliate program is a two-tier affiliate program in which the second tier is the referral program. It is an additional way to earn money by attracting new affiliate partners, but it also lets you attract new affiliates. You also get 5% of the income generated by their referrals, so it's a win-win for both of you.
It has a wide selection of useful tools that include links, banners, search modules and API.

There is a commission for airline tickets and any other travel products as well.

Regular updates

Easy sign-up and maintenance

Dedicated support for affiliates
Not very known internationally
---
Top highest paying Travel Affiliate networks you shall join:
No matter if you are running a travel coupon blog or traveling review blog, You can promote thousands of travel affiliate programs from different niches and different countries. All you need is to write quality content about favorite travel destinations, Reviews about Airlines or holiday resorts or share coupons of hotels to generate quality traffic.
Almost all Affiliate networks have dozens of travel offers with great optimizations and creatives. Maybe its Commission Junction, ShareASale, MaxBounty, Rakuten LinkShare, PeerFly, VigLink, FlexOffers AdmitAd, etc.
You can find the travel category in all of the above networks which have dozens of affiliate offers form all renowned Airlines, hotel Booking websites, Car Rentals, Travel Sim cards, Travel Forex cards, etc.
One needs to apply individually on each of them to get accepted, and default approves some. If you have good quality traffic for the same, you can get in touch with your account manager to increase the payout rates for the same.
---
How much can a Travel Blog earn money from Affiliate Marketing?
When it comes to making money from Travel affiliate networks or programs, There is no limit. Travel is one of the biggest industries online. One can make a considerable income by Travel blogging.
Travel blogging is more about exploring places, visiting restaurants and street foods, reviewing hotel stays, reviewing beaches, sharing personal experiences of flights, airport, and more. Most of the top affiliates have made passive income while traveling.
When it comes to affiliate marketing in the voyage niche, there are thousands of high paying affiliate programs for flights, taxi, car parking, trains, cruises, holidays, travel carries, Travel insurance programs, and many more.
If you are blogging into the travel niche, make sure you join the top travel affiliate programs to maximize your revenue.
The fundamentals of creating a successful travel affiliate marketing site
Travel affiliate marketing is a good way to earn money online. But how can you find the best travel affiliate websites? The three fundamentals of creating a successful travel affiliate site are:
First, choose the right niche. If you're into luxury travel and want to blog about it, then your niche might be "luxury." If you're into adventure and want to blog about it, then your niche might be "adventure."
Secondly, choose the right offer. Make sure that your offer aligns with your target audience and is likely to buy or have already bought in the past – this will save you time on generating offers and allow you to focus on other things like SEO and content creation.
Lastly, make sure your website is updated frequently and consistently with new engaging content. It would also be good to actively promote your own site on social media platforms such as Facebook and Instagram.
---
Bottom Line
In this post, we mentioned only a few travel affiliate programs that are the best in this business. Bloggers and affiliate marketers can monetize and earn maximum and fly high. I hope this post was useful and will benefit you in a short span of time.
Do visit the websites of the affiliate programs shown in this post and learn how to become an associate and start referring your customers to earn a lot.
Fly to your destination with the cheapest fares in the town & make huge money by dominating this trillion-dollar travel industry with these best travel affiliate programs.
Happy Monetizing!