Do you want your business to get better marketing reports and analytics? If yes, then you are at the right place.
Today, we present ✅Whatagraph Review. Believe us; this platform is the solution to all your marketing analytics need. In today's time, we are always looking to simplify our business needs. If you own a business, you must already know how critical social media visibility is.
But we all the work to make our business popular. But in the end, in the name of detailed analysis, we get nothing but just a mess! What to do in this kind of situation? Sure, many marketing analytics tools are available in the market that can help us with our business needs. But, do you want to stuck with one who would charge you and not show any effective results? We do not want you to end up in that situation.
That is why we present you today with an excellent platform that will help you convert your social media and website content into robust yet simple and clear infographic reports. What are we waiting for then? Let us get started with the good stuff and get to know about Whatagraph in detail.
---
Detailed Whatagraph Review
Whatagraph is a marketing performance solution that can aid you in simplifying your analytics and reporting tasks using automatic data visualization functionality. Like we already mentioned, it can quickly transform social media and website content into powerful yet precise and infographic reports.
With the help of this platform, you get the support of multiple integrations; you get to assign responsible users to clients; group your reports by clients or departments; use different branding for every client, and only pay for what you need. There are many more features precisely like this that will take your reporting tasks to another level.
Whatagraph is an ultimate platform that offers modern businesses a fresh and realistic way to present analytics data in a form that ordinary people can quickly ingest. Whatagraph is about more than just graphs and bars! It visualizes analytics data in an infographic style of reporting that is much better than the graphs you see on Google analytics. Along with this, Whatagraph features automated data gathering that enables it to collect data from multiple data sources, including Facebook, Twitter, Linked In, Instagram, Youtube, Google Analytics, and more.
Once you collect the data you need, Whatagraph lets you create custom templates to ensure that your data is displayed the exact way it should. Other than that, you can embed branding elements into your reports to add an extra touch of spice to your reports. Whatagraph automatically generates all your reports and sends them back to your clients for hassle-free distribution.
---
✅Exclusive Whatagraph Coupon Codes (💯 Verified)
15% OFF
Professional Plan for $119/mo @ Whatagraph
Use this 100% working Whatagraph coupon code and start your Professional plan at $119/mo.
Use this 100% working Whatagraph coupon code and start your Professional plan at $119/mo.
Show Less
15% OFF
Premium Plan for $279/mo @ Whatagraph
Use this 100% working Whatagraph coupon code and start your Premium plan at $279/mo.
Use this 100% working Whatagraph coupon code and start your Premium plan at $279/mo.
Show Less
---
Key Features of Whatagraph
Unlike other tools, Whatagraph likes to keep its interface clean. It offers the best features in the market to ensure that you get nothing but the best services.
Some of its best features are listed below:
Data Visualization
Data Automation
Custom Data Reporting
Data Source Centralization
Integration
Statistical Analysis Features
Association Discovery
Compliance Tracking
File Storage
Forecasting
Multivariate Analysis
Regression Analysis
Statistical Process Control
Statistical Simulation
Survival Analysis
Time Series
Marketing Analytics Features
Channel Attribution
Customer Journey Mapping
Dashboard
Performance Metrics
Predictive Analytics
Social Media Metrics
---
How do Whatagraph Works?
It is time to know about how Whatagraph works and how effective its features are in their performance.
💻 Dashboard
The platform offers a highly intuitive dashboard. This particular feature allows access to all the key points from one place.
You can access the following features from the dashboard:
Manage Accounts
Subscription
User Information
Custom Reports, and
Whitelabel
🏅 Manage Accounts
Under this section, you can easily manage all your accounts that are integrated with Whatagraph. This specific application can work with different platforms, including Google Analytics Site, Facebook Page, etc. It is in your hands to reset the settings to receive the reports after the analysis. Whatagraph can send you a report right inside the box.
💹 Custom Reports
Under this tab, you get a clear insight into the performance of your online reports. With the help of this section, you get default reports about how your website is interacting with the visitors.
You to access two options with this section: Basic and Pro.
Under the basic plan, you get offered a visual overview of key performance indicators of your website. You get to track the number of visitors, sessions, page views, and it helps you compare and follow the most popular traffic channels.
The pro plan offers more along with the above features. You also get detailed insights into your website under this section. Also, you can compare top performance traffic channels, check advanced bounce % exit rate statistics, page load time, and many additional features. For a better overview, you get a preview and duplicate options for both of the reporting features.
🚀 WhiteLabel
This is an advanced feature that you can only access with the agency plan. Under this feature, you can build your company profile and add other options such as:
Upload company Logo
Change Color Scheme
Customize report emails, etc.
📃 User Information
Once you start working with Whatagraph, you get to update your profile whenever you want. The application enables you to edit the following fields regularly:
Personal Information
Company Details, and
Change or Reset Password
---
Some Major Benefits of Whatagraph
When it is about Analytics, we often are not able to understand its integration correctly. Analytics can be challenging, especially for the people who want the information delivered in plain language.
With Whatagraph, data presentation is like a walk on the cake. The information is laid out in a way that is very easy to comprehend and understand. As soon as you know the language of your data, you can quickly take steps to make the most intelligent business decisions and take immediate actions to accelerate your business growth.
Whatagraph gathers data from more than 10 data sources without getting you involved in the complicated process. The data gathering procedure is automated from top to bottom, and the system makes sense of all the information it has received and converts them into readable reports.
After this, these reports are delivered automatically to your inbox to read, analyze and comprehend. Clearly, you get to save a whole lot of time, and you can spare yourself from all the headaches that come with data work and analysis.
Other than the prominent features, you can analyze the data based on a specific date range. You get to create custom reports by entering the date range that you specify. This gives you great flexibility you can't find and enjoy in other data visualization engines.
---
Whatagraph: Ease of Use | Whatagraph Review
Schedule automated marketing reports
You get to set up daily, weekly, monthly, quarterly automated reports to reach your client's email on the date of your choice. Always stay updated on how your computerized reports are performing with report delivery summaries.
Create multi-source reports
With Whatagraph, you can see the performance of all your marketing channels under one single report. Compare different marketing campaigns and landing pages. Keep a check on how other landing pages are performing in terms of visitors.
Keep a thorough check and compare the same metric for different data sources to see how the landing pages are performing when concerned with visitors, registrations, sales, and goal completion.
You can customize your reports with your own logo, custom color schemes and send them from your own domain. With all the Whatagraph branding removed from the reports, you can take all the credits to yourself.
To make your reports more understandable for you and your clients, you get to add images to your reports. With personalized images, you can include insights for each marketing report.
Include offline information with custom data widgets
You can easily insert your own custom data widgets and visualize them using the infographic reports. Only create a single report to make your business plan easily understandable by your customer acquisition to their activation, retention, and revenue.
Add data from sources not yet supported by our API
With the help of Whatagraph's robust CSV/Excel file import, you can add marketing analytics data from any source. Create easy-to-understand KPI reports encompassing all your business channels, and get a clear overview of your business performance.
---
What Problems will Whatagraph Solve?
Following are some case studies that will help you understand Whatagraph's advantages more appropriately.
Saves your time from manual reporting tasks
Steven works in a digital agency and is an account manager for 7 clients, and he is responsible for improving client's SEO performance. Each month he needs to prepare detailed reports for the clients to show how website traffic changed after specific SEO changes were made on the website.
Steven tries to customize the reports to make them look less dull and more understandable when he has enough numbers. He sits at his desk, opens Google analytics, generates several specific data ranges, takes screenshots, and fills out multiple data reports.
After this, he needs to create a report with final numbers, graphs, and comments. It took him 45 minutes to generate each report. After hours, he completed 6 more reports.
Luckily, after a few days, Steven came across Whatagraph and was able to add his client's GA profiles to the dashboard and set up the system automatically. In this way, automated monthly reports were sent to his clients.
Reports are visually more understandable and speak a natural language that is easily understandable by all his clients. Now Steven can save 5 hours at the end of each month. He uses this time to improvise his client's strategies and generate ideas on improving the performance even further.
---
Whatagraph Pricing Plans
With Whatagraph, you get to access 3 pricing plans. You can choose any plan according to your requirement.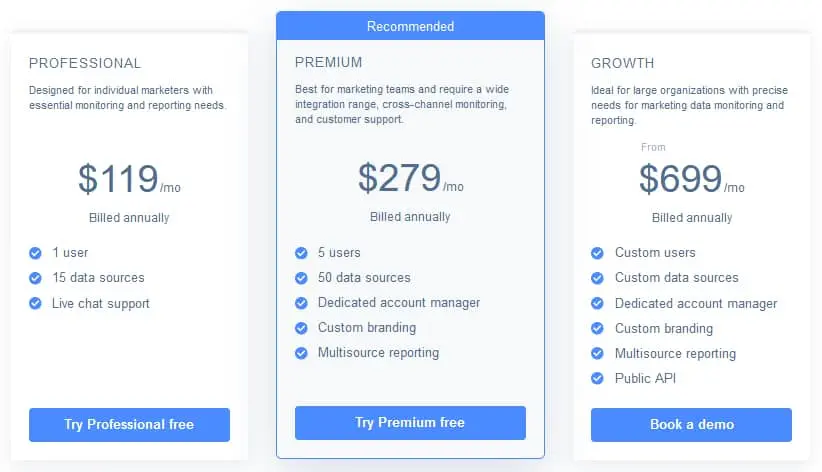 The first plan is Professional; you get it for $119/month, billed annually. Under this plan, you get to access the most basic features.
The second plan is Premium; you get it for $279/month, billed annually. This is the most recommended plan, and up to 5 users can use the same account.
Finally, the third is the Growth plan; you get it for $699/month, billed annually. This is the most expensive one on the list and comprises unlimited features.
Unfortunately, you do not get any free trial with Whatagraph. Even if you need to test the platform, you need to purchase it.
---
Whatagraph Customer Support
The support system of Whatagraph is neutral. Once you sign up for the account, you get access to the live chat. Live chats are a great source to clear your small doubts. You get the option to chat right inside the account to remove any issue. However, if the query is significant, you can make it resolved with the ticket support system.
The support team is very supportive once they get to know about the issue. When you contact them initially, they may take a few minutes to connect you back.
---
Whatagraph Pros & Cons
Pros
It is straightforward to set up this platform for reporting
A newly launched feature called 'Smart Builder' generates the whole report for you.
Reporting tool and much cheaper than social balkers.
You receive emails regularly that state that the reports are ready to use.
Cons
Some users have a complaint that there are bugs on this platform.
There is no option available to gather link clicks from Facebook. You have to do it manually.
---
🌟 Whatagraph FAQ
🙄 What is Whatagraph?
Whatagraph is the leading online platform that helps you track website, campaign results, etc., on various channels. It creates customizable visual reports, that will help you to enhance your business. Whatagraph is mostly used by e-commerce website owners and digital marketing agencies to present analytics data better to their clients.
🤔 Why should I go for Whatagraph?
Whatagraph is the only tool that enables you to monitor real-time data on multi-channel. Many marketing professionals use Whatagraph to track their performance and progress that help them make the right decision for their business.
🔎 How much does Whatagraph cost?
Whatagraph is the best solution to track and monitor the performance of your campaign. It offers three pricing plans, mainly Professional, Premium, Growth. The Professional plan will cost you $119/mo. The Premium plan will costs you $279/mo. The Growth plan will costs you $699/mo.
🔥 Does Whatagraph offer a free trial?
Whatagraph is the best tool if you are looking to monitor your data in visual form. Whatagraph offers a free trial to all its new customers to test all its features for free. Start Whatagraph 7 days free trial today.
❓ Does Whatagraph provide customer support?
Yes, Whatagraph offers great customer support to all its users. Once you create an account on Whatagraph, you will connect to their support team through live chat.
😎 Is there any working Whatagraph discount coupon?
If you are looking for the active Whatagraph discount coupon, then check the above-mentioned Whatagraph coupon codes that you can use to enjoy an attractive discount on all its major pricing plans.
---
Conclusion: Whatagraph Review 2023 | Should you go for this tool?
Data is everywhere. It is an essential factor in business success. Using analytics and reporting tools is very important to understand your data and use it for better performance.
Companies need to make sure that their marketing campaigns are producing results, and for this, they need to use the right tools like Whatagraph. Social media is no longer a thing of the future, it's the way of today, and companies need to have a strategy for marketing on social media.
In this post, we've covered a lot of different information and shown how the performance monitoring, analytics, and reporting capabilities of Whatagraph can help. We hope that you now have a better understanding of how Whatagraph can help you with your marketing data and reporting needs.
Get started with Whatagraph today and say no to all the excess workload. Use that time rather than focusing on improving your strategies.
To sum up, everything stated so far; we put a stop to your Whatsgraph review.🙂