Do you know Wholesale2b is a leveraging tool to gain an additional edge over your competitors of E-commerce platforms?
We assume you might be knowing or might not be. If you don't know then, it is okay! No need to worry. You're here because you wanted the complete analysis and ✅Wholesale2b Review report. Right!
We guess you do have a little knowledge of dropshipping as well as Wholesale2b. As you also know that currently, the market competition is increasing exponentially day by day. And, surviving in the market for any drop shippers or seller is next to impossible.
It doesn't matter at all that either you're a seasonal drop shipper or a standard drop shipper. The only thing matter is how effectively and efficiently you can sell your products on either e-commerce platform. To do that, you need to understand the market and competition between the sellers.
In case you are a beginner then, you might find some difficulties in understanding the Wholesale2b features and functions. If you understand the market terminology, you need guidance to become a master or super/pro-drop shipper.
So understanding the working features, pros, and cons of Wholesale2b becomes the main objective and prime focus. Compare to other Wholesale2b reviews, this genuine and ultimate review identifies, uncovers, and analyses the entire Wholesale2b software. This unbiased and comprehensive report/analysis includes main features, pricing for its subscription, working, and customer support.
The analysis identifies the weakness and strengths of Wholesale2b. This report also includes whether this dropshipping tool is needed or any business can survive without it. You might have heard that some do say that it is just a waste of money or a scam. Before this particular review inches towards the end, you'll come to know why they say so! And, you'll also come to know whether it is useful or just a scam.
---
Wholesale2b Review – Overview
Most beginners may find Wholesale2b confusing and useless as they are not familiar with the features and functions. Wholesale2b is one of the leading tools to provide many services like wholesale dropship products and selling tools. It can help you to achieve success with user-friendly tools which are efficient and effective. When We say one of the best and leading tools is Wholesale2b, We mean it because it can lift your market status and help you become successful with a different and unique set of features.
Wholesale2b offers numerous services and features. Those services and features are sourcing, fulfilling orders and returns handling, listing, and importing many leading e-commerce websites and CSV files. All the advanced and useful features are different and unique for each e-commerce platform. Likewise, the services' pricing depends on the type of subscription you need so that you can take maximum advantage.
---
How does Wholesale2b Works?
When you get yourself onto wholesale2b.com for the first time, you may find this website pretty confusing and complex. The main or homepage is full of different-different products, and it is listed in different-different categories.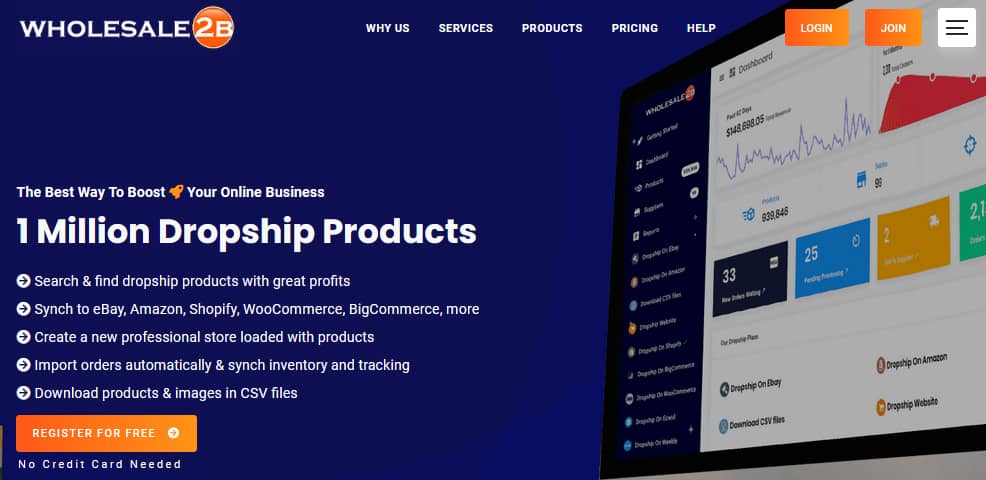 The Wholesale2b provides the dropshipping platform on their website too. It doesn't restrict itself from being a drop shipper platform as it provides a dropshipping platform with stores on the leading e-commerce giants like eBay and Amazon sellers.
This tool also provides a third-party dropship platform on a third-party eCommerce platform like Shopify, BigCommere, and WooCommerce for many store sellers. Using its unique and best features compare to Wholesale2b alternative like Salehoo, Oberlo, and Droptified, it works efficiently and effectively. It also helps your Dropship and selling business grows more.
Let's understand and see some of the most unique and prime features that make it so lucrative.
---
Key Features of Wholesale2b
🏅 Ease in Use
Initially, all new things feel quite complex and confusing while working. Once you start using that particular tool, item, or software then, you will be familiar with the specific tool. Likewise, Wholesale2b feels quite complex and confusing.
The free account subscription of Wholesale2b provides you with a platform to learn and understand the software. This particular subscription enables you to use limited functions and features. However, the Wholesale2b tool user interface is quite simple and unique.
🔎 Product Search
More than 1.5 million different products are listed on wholesale2b.com in different categories. It provides drop shipper with a platform to expand your business and store. And help you to find the best products and suppliers. The products listed on the selling website of Wholesale2b can be searched using many different filters, keywords, and other factors. Simply purchase a subscription plan for dropshipping and start enjoying this feature.
🚀 Selling Products
In case you want to become a successful seller then, Wholesale2b offers a platform to sell products. It has two different systems to sell the products. Either you can sell your products/items by coordinating directly with suppliers and retailers. Or, let the Wholesale2b handle all your work and functions.
🏹 Dropship with Third-Party Marketplaces
Regardless of being a drop shipper website, it offers you third-party marketplaces for the merchants. Amazon and eBay are the leading e-commerce website that is associated with Wholesale2b. Just purchase the subscription plan for the facility and enjoy the comprehensive feature.
💻 Report & Analysis
Wholesale2b is not all about growing and processing your products/items. It also provides software and tool that can analyze, monitor, and manage businesses with insightful metrics. You can check Where, Which, and Why products are lagging and causes deprivation of profits.
All the features embedded in Wholesale fall under different-different subscription packages. Let's see detailed Wholesale2b subscription plans.
---
Wholesale2b Pricing Plans
Wholesale2b has a different-different set of subscription plans for each different e-commerce platform. Here you will also know what features are added in those package in brief.
Let's see different-different plans with unique and specially defined features of Wholesale2b.
1. Free Account
This free account charges you are noting mean nothing. Not even a penny from your pocket/purse. This package includes a platform that enables you to browse more than 1 million products. The free account doesn't require any credit cards and provides standard customer support to resolve any issue. This particular null amount subscription plan doesn't make products available to consumers. This package allows you to know the true wholesale prices and see all the dropshipping suppliers with a lifetime free account.
2. Dropship on eBay
Currently, the Dropship on eBay asks for 37.99 US Dollars per month. With Wholesale2b discount code, you can save up to 40% on a year/annual subscription. Finally, with the discount, you will need to pay USD 287.99 every year.
This subscription offers many services like unlimited push items to eBay, automation for inventory updates, access to unlimited orders, and push unlimited items to eBay, buy it now, fixed prices works only with eBay Canada and USA, product importing, process orders with 1 click, tracking codes pushed to eBay, and 3% fee.
3. Dropship on Amazon
With Wholesale2b coupon, you can get some discount on the price of the package subscription. You will have to pay $37.99 per month while saving 40% on a yearly package that asks $287.99.
This Wholesale2b pricing includes different-different privileges. Unlimited orders, Validated UPC to ASIN, Push 10000 items/products to Amazon, works with Amazon Canada and USA, tracking codes pushed to Amazon, process orders with 1 click, regular and automated inventory updates, and 3% fee is also added in this privilege.
In case you want to push more or get additional 10K items to Amazon, you need to pay 27.99 US Dollars per month. I'm assuring you that you will need to add these additional 10K items to your Amazon account.
4. Dropship Website
As there is a separate website for the dropship, you need to purchase a Wholesale2b subscription package. And, this package demands you 39.99 US Dollars per month. If you will purchase the yearly plan, it asks you to pay 299.99 USD per year with a huge discount code of Wholesale2b of 40%. As an additional charge or cost, it asks for a one-time setup fee of $47.
This perfect and standard package provides different-different services like helping you choose a domain, 3 different suppliers, inventory updates automation, customization to your store, unlimited orders, process orders with 1 click, hosting & bandwidth included, tracking codes pushed to store, and 3% fee.
5. Dropship CSV Files
The Dropship CSV files plan requires 49.99 USD per month. You can save up to 40% now if you use Wholesale2b discount code. You'll have to pay only $359.99 per year with a discount, which is cheap compared to monthly plans. For the additional feeds, you will need to pay $19.99 per month.
This plan includes many privileges like unlimited orders, choose up to 3 supplier feeds, original product images, 3% fee, automated inventory updates, feed URL for quick download, tracking codes sent via Emails, and process orders manually.
Apart from these packages, there are also some subscription packages offered by Wholesale2b.
Dropship Analytics
BigCommerce Application
Shopify Application
---
Wholesale2b Customer Support
As you know that all the online marketing operations and functions never stop. Even though you're asleep, the virtual marketplace never sleeps. Any issue occurs or arises then, and you need an instant solution. And, each tool/software provides you with instant customer help support or assistance.
Unfortunately, the Wholesale2b doesn't offer any 24*7 customer help support or assistance as their team assists during business hours only.
You can connect with the help support team only through live chat assistance. You can also connect with them by buying a ticket with a registered account. We recommend or suggest you go for the first option because the solution is available almost instantly; else, it could ask for more than 24 hours.
Moreover, you can connect with support assistance through social media platforms like Facebook, Twitter, Pinterest, and Google+. And, there is no sort of assurance that the problem will be resolved.
If none of the above-mentioned support assistance helps you find a solution, you can check out Wholesale2b's extensive learning center. It is a resourceful center for how this unique and outstanding platform works. This learning center includes the complete guide to run a successful dropshipping and seller business.
---
🌟 Wholesale2b FAQ
❓ How does Wholesale2b dropshipping work?
When We sold my products then, it is not automatically transferred to customers. The reach of sold product directly goes to dropshippers then to customer/buyer. The dropshipper is the intermediate person/organization of the seller and customer.
❓ How effective and efficient does Wholesale2b is?
With the lowest price, outstanding support, ease of use, and many more unique features, the dropshipping and selling work effectively and efficiently. You can select from a listing of more than 1.5 Million products, sell millions of products through a third-party e-commerce website or store.
❓ Is Wholesale2b packages or plans expensive?
For dropshipping platforms like Shopify and BigCommerce application, the charges are comparatively cheap. The charges for services to sell the product on e-commerce platforms like Amazon and eBay are high. And, free account services are restricted and ask you to pay to access the premium features.
❓ Are there any Wholesale2b coupons and discounts?
If you want to purchase Wholesale2b's plan at a lower price, check the above-mentioned Wholesale2b coupon code that enables you to enjoy a flat 40% off.
---
Conclusion: Wholesale2b Review + 40% OFF Discount Coupon 2023
Wholesale2b has a hell of lots of features and functions. It provides you with different services like dropshipping and selling on eCommerce platforms. All the services require the purchase of subscription packages. Once you purchase it, you can enjoy the comprehensive feature and functions of Wholesale2b.
As per my honest and genuine Wholesale2b review, using Wholesale2b is a great platform to promote, monitor, and manage your business and increase your ROI. Some say it is a scam because they don't understand and know how to use it.
Please don't go for speculations and rumors; moreover, it is better to use Wholesale2b to get the real experience.🚀
Affiliate Disclosure: This post may contain some affiliate links, which means we may receive a commission if you purchase something that we recommend at no additional cost for you (none whatsoever!)