Wiki Finance Expo, which caters to a wide audience, will let you learn about the future of fintech through its different amusements in its upcoming event that will take place in Sydney, Australia this year. Wiki Finance Expo Sydney is set to take place on 16 November 2023.
The Wiki finance expo is regarded as the best one in the field of Blockchain, NFT, DeFi, and everything that is related to finance and revolves around its technology.
This eye-opening financial expo will have topics surrounding the Web3 cycle, tokenization, NFT, DeFi, as well as Build and Buy strategies. Along with all of that, it will even have details of the most latest tech. You can also catch insights from the fintech industry at the Wiki Finance Expo Sydney 2023.
About Wiki Finance Expo Sydney 2023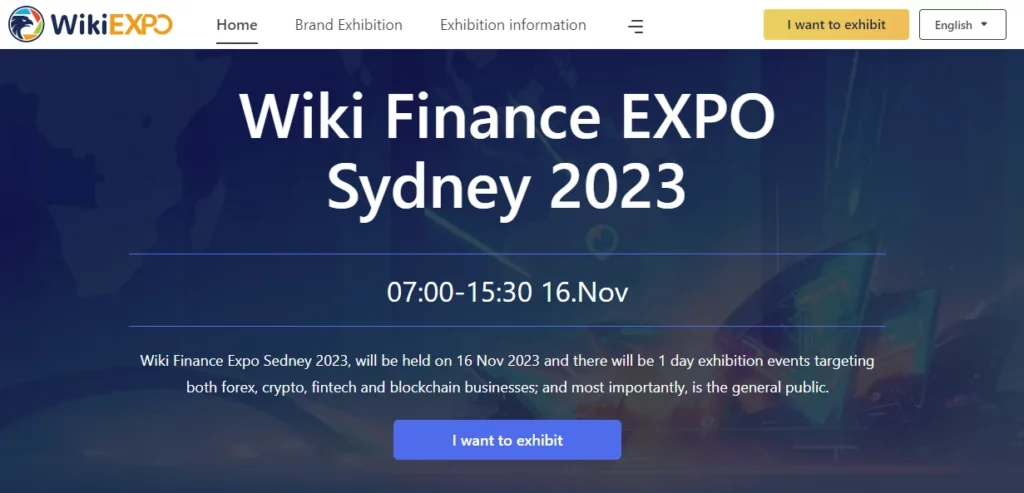 More than 50 speakers, over 100 exhibitors, and over 10,000 guests will be present at the financial show.
With having its segments in a number of countries, Wiki Finance Expo has been previously held in Singapore, Sydney, Dubai, Hong Kong, and even Bangkok. The Wiki Finance Expo has cemented its position at the top, in the hearts of its visitors and participants, by providing a lot of cooperation chances to the people belonging to practically every industry.
Wiki Finance Expo has always consistently drawn start-ups, large corporations, project owners, investors, as well as practitioners who occupy significant positions in the blockchain area. The event has also hosted some of the best figures in the fintech and FX industries.
Speakers at Wiki Finance Expo Sydney
The most knowledgeable speakers at Wiki Finance Expo Sydney have always been able to drag the attention of the attendees. Wiki Expo has had high regard for attracting the best-known individuals in their respective fields.

Here's a list of previous speakers, which assures that even this year's panel will be composed of participants with amazing stories to share.
Who should attend Wiki Finance Expo Sydney 2023?
Whether you are someone who is interested in the finance sector and also are into blockchain, cryptocurrency, WEB3.0, NFTs, or Metaverse, you should spend some time at this brilliant event that features a variety of activities.
Additionally, the event will provide something unique surrounding the topic of digital assets, the FX market, ESG, and online trading, as well as a wonderful opportunity for retail brokers.