Are you wondering how much Ascend by Wix will cost you? Is it the right plan for you or just a hype? or Why Should I buy Wix Ascend? Well, a lot of questions go into mind while buying any subscription if you own a small business. And to help you with that, Here's the detailed ✅Wix Ascend Review 2023!
If you are thinking of buying Wix Ascend, then you might be familiar with Wix itself. If not, Wix is a leading and popular cloud-based development platform having over 141 million registered users worldwide.
The platform is for everyone, from big enterprises to startups. Also, they provide free and premium subscriptions to empower businesses, artists, freelancers, and startups to grow their brands and workflow. Some popular Wix products include Wix editor, Website editor, Velo, Logo maker, WIX bookings, and many more!
Talking about Wix Ascend, the tool has a suite of 15+ products that helps small businesses to scale their work. From invoices, emails, newsletters, quotes, website forms, workflows to reminders, one will get everything together. Hence, the user won't have to integrate multiple applications from several platforms and manage their business better. The tool brings out a lot of opportunities to small-business as there are no limitations to functionalities. Hence, in this Wix Ascend review, we have tried to cover all the amazing features of Wix Ascend, pricing, and how the tool works!
---
Detailed Wix Ascend Review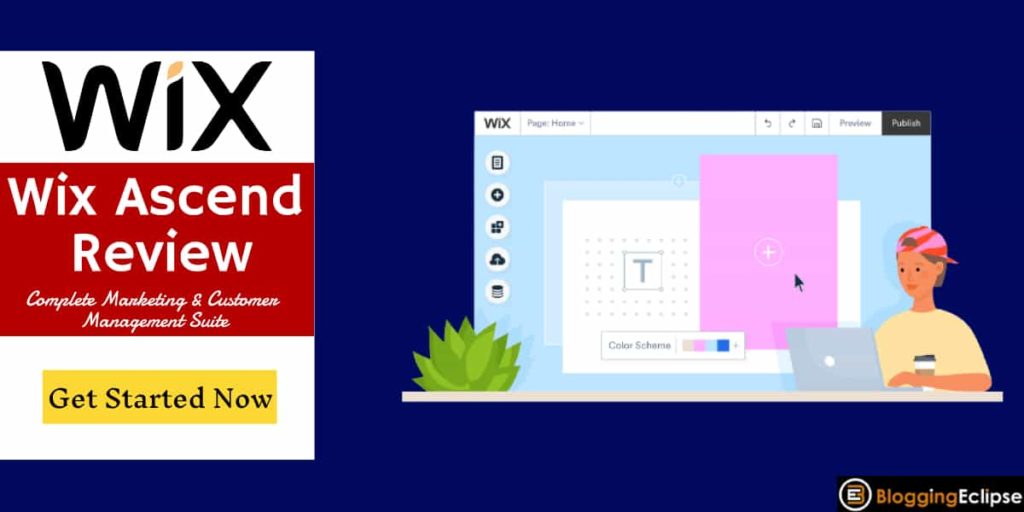 As mentioned previously, Ascend provides a bundle of tools to all its users to run their website smoothly. These tools aim to help owners get the best experience even in the toughest times. Ascend is freemium and premium because many features are available for users, but to use it fully, they have to buy a plan.
Businesses can connect with customers never like before through Ascend's powerful CRM. Also, the tool allows users to optimize the business time with customers to attract and convert new visitors. The advanced technology by Wix Ascend also helps users to generate invoices for free. Users can optimize their workflows and prioritize important projects, all just with software!
Hence it gets extremely easier for an entrepreneur to run their business and alongside improve their online presence. For example, they won't have to go to a separate website for email marketing, social media post generation, maintaining a contact list, etc.!
Also read: Wix Website Builder Review : Create stunning sites without coding
---
Unique Features of Wix Ascend
Wix Ascend includes a suite of 16 tools for business management and promotion. Some of the major features are:
📃 Wix Contacts List
While starting any business, it becomes quite tedious to manage the contact list. But in the case of Wix Ascend, the tool automatically builds a list whenever any user submits a contact form, subscribes to a newsletter, or buys something from the site's online store.
Users can even import old contacts and can explore it all, when required, just by a click. And to perform it all, you won't have to sit at a place, as you can access contacts from anywhere on your dashboard. You can also organize the list by adding labels to all the contacts.
This feature is available for free, and you don't have to upgrade your account. All you need to do is invest your time to organize the list, and the rest of the feature will do for you. Talking about synchronization, you can sync all the submitted forms and store them for future reference. Users can also build up an entire CRM with workflows, contact lists, and automation!
📧 Wix Inbox

Every single interaction taken on your website will be displayed in Wix's inbox. Be it the messages sent through forms, store purchases, invoice payments, live chat messages, etc. Wix inbox is quite a powerful tool to create the right business funnels for your business. You can operate it easily from the dashboard!
📑 Wix Forms
Yet another powerful feature you will get by Wix Ascend is the forms that were available for free. The overall design of the forms is excellent and is powerful for small-scale businesses. You can add file uploads to your form, add the payment options for your customers and allow more form submissions too!
💹 Wix Invoices & Quotes
Whatever the business is, sometimes it gets difficult to create price quotes for clients, financial reports, deadlines, etc. Before the user used to build any invoice, there was the Ascend branding printed at the bottom. But with premium plans, you can remove the branding and send the quote or invoice to clients.
🏅 Wix Chat
You can find the Wix Chat tool within the inbox. Following are the features you get with the free version of Ascend plan:
You can determine the sender's information that should be shown.
You can adjust the design of the chat window (fonts, colors etc.) and its placement (bottom right vs. bottom left)
You can activate a pre-chat form if you need the customer's information beforehand.
If you choose to upgrade to a paid Ascend plan, you'll have the added bonus of being able to schedule hours that the chat is available for visitors.
💻 Wix SEO Wiz
Wix's commitment to constantly improving its platform and features is commendable. This year alone, they have been adding new features intended to help experienced and new website owners optimize their sites as much as possible. No doubt SEO plays quite an essential role for any business, and if you are starting your journey, you have to plant this solid foundation right away. There are several important aspects of SEO like meta title, descriptions, long tail, short-tail keywords, etc. With Wix Ascend, you can directly index your site with Google and start trying to rank your site.
Following is the Set of features offered by Wix SEO Wiz:
SEO Wiz: It is an auto-generated SEO plan that would help you optimize your site.
SEO Patterns: It is a way to customize the SEO headings and descriptions throughout your site so that they follow a consistent pattern (including adding structured data and advanced SEO tags)
Site Map: This feature lets you submit your sitemap directly to Google.
URL Redirect Manager: It allows you to set up 301 redirects for your site.
Robots.txt File Editor: This tells search engines which pages on your site you want to be crawled and which one needs to be ignored.
These features are really important for anyone serious about gaining google rankings. The great news is that all these Search Engine Optimization features are free, and you would not have to go for the premium plan.
📨 Wix Email Marketing
Wix's email marketing solution is a simple and fuss-free tool to send emails to your subscribers and customers (who are conveniently stored within the Wix CRM). Wix Ascend has a lot of creative and user-friendly templates that can be fully customized. Hence you can add your email campaigns and can even track your campaign statistics. Other features include personalization, list-based segmentation, mobile previews, the ability to schedule emails, and standard reports (opens, clicks).
With Wix's Ascend free plan, you get up to 3 Ascend branded email campaigns and 5,000 emails per month, whereas Wix Ascend's basic plan will help you set up 5 campaigns, and if you are gaining popularity, you can upgrade the plan accordingly. If you are someone who needs to send a monthly newsletter or the occasional promotional email, Wix Email Marketing might just be enough for you.
🌌 Wix Marketing Integrations
It gets easier to get the site's statistics with Wix because it has partnered up with several different platforms making it easier for you to integrate. Some of the major platforms include Facebook Pixel, Instagram, MailChimp, Crazy Egg, Google Data Studio,, Google Analytics, Google Tag Manager, Google Ads, Facebook Catalogue, Yandex Metrica, Hello Bar, Wisepops, Hot Jar, VWO, Crazy Egg, Call Rail, and Vk Pixel. You can also connect Zapier in your Automations which we will cover below. The tool is also constantly upgrading this feature and adding many more new integrations that you can check from your dashboard.
🏹 Wix Automations
There are several automatic functions available within Wix to help you set up your site depending on your visitor. You can use Wix Automations to greet visitors with your chatbot, send abandoned cart emails, and remind customers about invoices and quotes. With the Basic Plan, you are able to design up to seven automation with two steps each. For simple needs, it is possible to use a free plan. But if you plan on using automation as part of your business strategy, you'll need to upgrade to a more expensive account.
Whenever your visitors sign up for your newsletters or subscriptions, they will receive a custom message via email. And surprisingly, you have to set it all just for once, and after that, the app does the work for you. You can also integrate your website with Zapier to get more out of the app and save your valuable time!
⏰ Wix Tasks & Reminders
You can get your things done within a quick time period through Wix Tasks and Reminders. You can set up a task for a day, next week, or year, according to your needs. You will get an instant reminder for the pending task, and this way, you can finish it off quickly! Project management is a demanding task, and sometimes you need an extra hand to get things done. The software is designed to help you work smarter by letting you create unlimited tasks with deadlines. The Basic plan doesn't come with the ability to assign tasks to team members, so you would need to upgrade.
📹 Wix Video Maker
There is also a section by Wix Ascend through which you can create small videos and upload them on your site or any social media account. If you are looking for a quick and easy way to promote your business or products, then a short promotional video is the perfect solution. You can easily and quickly create professional videos with Wix Promo, complete with videos/images (which you can upload or select from their stock galleries), text, and music. You can even connect your site with any social media channel/account like Facebook and Youtube. And do remember that this feature is available just for premium users!
🚀 Wix Social Posts Management
Social media is the best thing happening nowadays because all your audience is present to look after your products and services. With each post, you will not only attract your regular customers but can also get new customers. Hence, Wix offers its user an amazing social post maker. Through this tool, you can create unique content and edit and share it across all social media platforms. Because of social media integrations, you can directly share these posts to Facebook from your desktop or post them on Instagram.
💵 Wix Coupons
If you own a Wix store or use Wix bookings, you can quickly create coupons for your users and send them to get discounts. These coupons have many potentials to grow your business, and you don't have to waste much time. You can also create discount codes and promotional offers, control your shipping preferences, and manage your store on the go with its mobile app. Mobile App is certainly an asset as mobile commerce is growing incredibly. All you have to do is enter all the details, and the app will generate a coupon for you!
---
Wix Ascend Pricing Plans
Since Ascend is not included in the regular Wix website subscription, you have to order the plans and upgrade them separately. The best part about Ascend is you get access to a lot of free features, of course with some restrictions, to help you understand the tool better.
Here are three plans by Ascend and its pricing:
Ascend Basic Plan: $10/month
With this plan, you can remove the Ascend Branding and can schedule chat hours. You will get 50 lead capture forms, 10 Customizable Forms, Payment Forms, 9500 emails per month, and 5 social media posts per month. Also, you can sync it with Gmail and Facebook Messenger.
Ascend Professional Plan: $24/month
This plan includes everything from the basic plan. You can also add 5 contributors, automate the chats, get real-time customer details, and get 20 social posts per month. Also, you can send 50,000 emails per month!
Ascend Unlimited Plan: $49/month
The plan includes everything available in the professional plan, but over here, there are no restrictions. You can grab unlimited lead capture forms, payment forms, Unlimited social media posts, along with VIP support. Also, with this plan, you can send over 1,000,000 Emails per Month!
Let's Compare the features of these plans in detail.
Ascend Basic
Ascent Professional
Ascend Unlimited
Assign Tasks to
Collaborators

❌

✔

✔

Remove Ascend Branding

✔

✔

✔

Additional Collaborators
Unlimited
Unlimited
Unlimited
Schedule Chat Hours

✔

✔

✔

Customizable Forms
10
20
Unlimited
Real-Time Customer Details

✔

✔

✔

Payment Forms

✔

✔

✔

Email Marketing
Campaigns
5 & unable to link the email campaign's URL to your domain
20
Unlimited
Chat Automations

❌

✔

✔

File Downloads

✔

✔

✔

Emails Per Month
9,500
50,000
1,00,000
Automation
7, with up to 2 follow-up actions per automation
20, with up to 10 follow-up actions per automation
Unlimited, with up to 10 follow-up actions per automation
Promotional Videos
5
10
15
Social Post campaigns per
month
5
20
Unlimited
Sync with Gmail and
Facebook Messenger

✔

✔

✔

VIP Support

❌

❌

✔
If you decide to try Ascend by Wix and are not completely satisfied with your experience, you can request a full refund in the first 14 days of your subscription. Simply cancel your account during this period to ensure that you're eligible for a refund.
It is also essential to understand that if you cancel your plan within the 14-day trial period, your features will stop immediately, and you'll not receive any access. If you happen to cancel a Wix order within the first 72 hours, it is likely that they will need to cancel your order instead of offering a refund because any funds that were paid were not processed by the time of your cancellation
---
Do you really need Wix Ascend?
After looking at all the above-mentioned Wix Ascend features, how can you understand that your business needs all of it?
So basically, if you are a freelancer and you constantly want to make invoices and create social media posts, all on your own, then you must consider buying Wix. And with this being said, you can consider purchasing the basic plan, which is highly affordable.
Next, if you own a startup and have many contacts to manage, hiring people will surely cost you more. As Wix Ascend uses advanced technology to build contact lists, email marketing, and social media post management, you can cut off your workforce a bit. Creating feedback forms or inquiries for clients, employees, and other individuals gets a lot easier with Ascend. In these cases, Wix offers a lot of flexibility, and you can be as creative as you desire!
Moreover, as an entrepreneur, you can find creative solutions for your business with all these features. And the most important of all, you don't have to remember deadlines, because the software does it all for you.
You don't have to manage several platforms all at once without panicking much. You can list out what you require the most to run your business in the free trial period itself, which is no less than a boon to save your money. And let's not forget that all the pricing is highly affordable and you won't regret buying!
---
Pros & Cons
Pros
More than 15 tools to scale businesses
Real-time customer details
Online chat support for seamless interaction
Complete control over automation & workflows
Easy invoice building
Fluent email marketing
Cons
No chat automation available in the basic plan
For scalability, you may have to pay extra to install third-party apps
To get VIP support, the user has to buy the Ascend unlimited plan.
---
🌟 Wix Ascend FAQ
🤔What is Wix Ascend?
Wix Ascend is the complete marketing & customer management platform that allows solopreneurs, entrepreneurs, and small business owners to grow their businesses by connecting with their potential customers.
🙄Is Wix Ascend worth the money?
The features and products that Wix Ascend provides are very necessary to run an online business. Wix's pricing is worth the investment as you will get all the essential products on one single platform.
🔎Does Wix offer a free domain?
Yes, Wix offers a 1-year free domain in its yearly and multi-year premium plans. Wix allows you to choose your own domain name such as .org, .com, .net, etc.
🧐Does Wix offer a refund policy?
If you are not satisfied with Wix's features, you will get your 100% money back.
🔎What does Wix Ascend has to offer?
Wix Ascend has 16 marketing, customer management, and financial tools that will help you streamline your marketing efforts. It offers a range of marketing tools such as email marketing, social posts, video maker, SEO tools, chatbox and many more. You also get that you can use to develop your websites, such as forms, automation and many other features. Recurring payments are available, and task reminders have been built too. You can see the details of these features in our Wix Ascend Review.
🧐Do you have to pay for hosting with Wix Ascend?
The hosting costs of your website are included in the monthly fee. For example, domain and security are also included in the price. If you are on Wix's free plan, you still don't have to pay anything – although you will have a Wix subdomain and Wix ads on your site.
🙄What is the difference between Wix Ascend and WordPress?
Wix and WordPress are different platforms people use to create their websites. WordPress is an open-source web publishing platform that comes in two flavors: a hosted service and a self-hosted version. It powers millions of websites by providing a simple content management system to easily create and update any page. In contrast, Wix can be termed as an all-in-one solution where everything is taken care of for you.
🧐Can you create a Multi-Lingual Website with Wix?
Yes, you can build a site in your primary language and later, when its ready, you can translate it with Wix's Multilingual tool. You can translate Text image backgrounds, links, SEO settings and Wix Stores.
🔎How can Wix save your cost of hiring a web developer?
Besides the excessive rate most developers charge, with Wix, you are in complete control of your site and can even build a completely custom website that is tailored to your specific needs. You don't have to rely on other means, and you can make the desired changes. By doing so, not only would you have control over your website, but you would also keep the cost down.
🔎Can multiple users have access to your Wix account?
Wix is known for its easy-to-use interface and allows you to have multiple editors with different levels of authority. This will allow you to have one person who can make changes to available content while another person has the ability to make more advanced changes. This is a great tool to have if you are planning to have a team of people to help you manage, edit, and build your content.
🧐How can you remove the Ascend branding logo from Wix Invoices & Price Quotes?
As you read in our Wix Ascend Review, Ascend Branding appears on your invoices and price quotes if you use Ascend by Wix for free. To remove it, you would have to upgrade your plan.
To remove the Ascend Branding:
Step 1– Go to the Settings of your site's dashboard
Step2– Now, Scroll down to eCommerce & Finance and click Invoices & Quotes.
Step3– Click on the toggle Remove Ascend Branding.
🔎How can you cancel Wix Subscription Plan?
Follow the steps below to cancel your plan with Wix:
Step 1– First, Go to Billing and Payments in your Wix account.
Step 2– Now, Click on App Actions which you will find next to the plan you want to cancel.
Step 3– Click Cancel App
Step 4– Select Cancel Auto-Renew
Step 5– You would have to enter the reason for your cancellations Step 6- Click on Submit, and your done with it
🧐Is Wix Ascend really mobile-friendly as it claims?
As more and more users access the web via smartphones, your website must become mobile-friendly. Wix Ascend has considered this and claims that your website would look amazing on every screen. You get a mobile-friendly version of your website, which allows you to customize your website when someone views it via smartphone.
---
Conclusion: Wix Ascend Review 2023 | Is it the right platform to build an online presence?
In our Wix Ascend review, we found this business tool really handy. We would recommend Wix to anyone looking to build a personal website or a small business. For businesses, Wix has a variety of templates and SEO tools that will help your business grow. You can access brilliant blogs, portfolios, and CV templates for personal use to suit all purposes.
Some of the key features we liked are easy to use, where anyone can create a powerful yet professional website using Wix with no coding skills required. Also, we like the designer templates, where you get more than 800 beautiful templates to choose from. And most important is the pricing plan offered by Wix with premium features. It is undoubtedly an excellent option for business owners on a low budget and who desire to make a professional website.
We would highly recommend you contact the Wix support team before purchasing any package, as they will help you get the right one. Also, grab the best advantage of the 14-day free trial period, and instead of searching for random things, explore each feature in brief. Since all the products by Wix Ascend are curated in such a way to help small businesses avoid everyday struggles, the tool is surely all that you will need to grow.
Each penny you will pay will be worth the investment. If you have made up your mind to buy Wix Ascend, let us know your experience below❗❗