Are you looking to make an online presence for your business by creating a beautiful and attractive website?
Do you need an excellent DIY tool that helps you build your business website quickly with stunning features and elegant design? Well then, do read our Wix Website Builder review. If yes, then you need a premium DIY tool that helps you build your business website easily with stunning features and elegant design.
Wix is the right place to create your fascinating webpage using the Website Builder tool. It is time to promote your business and let others feel your presence by creating a fantastic, superior-quality website using Wix Website Builder. Here is an in-depth Wix review with a detailed analysis and how it can help you to reach the next level in online business.
Wix Website Builder Review – Ultimate DIY Cloud Based Website Builder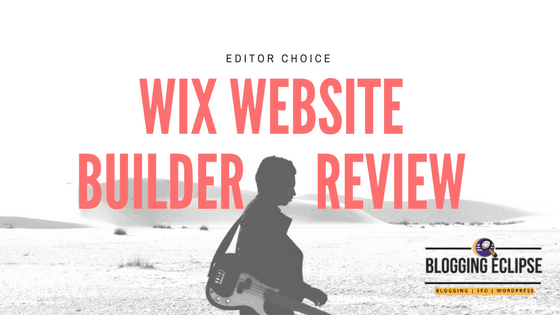 Wix is one of the prominent cloud-based solutions providers with millions of users around the world striving hard to let people bring their business online by creating a professional website. It enables you to personalize and customize your website as per your need and showcase the elements of your business by inserting a shopping cart, images and videos anywhere on the site. It gives you complete freedom to express your ideas and innovation without any coding skills required.
With powerful features, you can efficiently manage your website and confidently promote your business in such a way that it becomes a morning coffee for everyone. It provides an interactive platform for designers, partners and creative professionals to promote their apps and services to millions of Wix users worldwide. This is a hosted solution, meaning it will run on its servers in the cloud and doesn't require any installation. It doesn't require you to purchase hosting, as it's self-contained. You just need access to the internet and a web browser to maintain and promote a Wix website.
Company info: Wix was founded in 2006 by Avishai Abrahami and Nadav Abrahami, and within three years, in 2009, it had more than 1 million users across the globe. In 2012, it launched the HTML5 editor and App market. With the integration of many features, in 2014, it had more than 50 million users worldwide. In 2016 it started Wix ADI, and in the present year, 2021, it crossed more than 110 million users in more than 190 countries around the world which is a tremendous achievement.
Wix is for everyone | Why do people choose Wix?
It doesn't matter if you are a photographer, musician, hotelier, student or a small business owner, Wix has every solution to fulfill your online demands to make a website that showcases your beliefs and virtues. It provides user-friendly, non-technical and code free website building experience. It offers unlimited ready made templates to choose from with infinite features inculcated for the best experience.
And as reported by Builtwith.com, it has a solid userbase – an estimated 8 million websites – and is quickly becoming a staple for nearly every business. This makes it more prominent in operations compared to platforms like Squarespace, Jimdo and Weebly. The large size of Wix mitigates the risk of the company folding, taking your website with it.
This makes it a bigger operation than many competing platforms, including Squarespace, Jimdo and Weebly, which have considerably smaller userbases.
#1 Ranked worldwide with highest users:
It has more than 45K signups every day, 500+ customizable templates and 44K apps installed every day on average. This explains how much popular Wix is amongst online users around the world. You would be wondering about what this website builder would cost you to create your beautiful website. Well, don't be surprised as it is free to use!
Wix has more than 1800 caring professionals full of enthusiasm working with them right now with offices located in Israel, USA, Lithuania, Germany, Brazil, and Ukraine. With a hot coffee, every day served right when any of the team members enter the office that brings a lot of energy and courage to work with dedication.
Wix Features at a Glance – Wix Website Builder Reviews
Wix offers all the unique tools and widgets to create your own beautiful and attractive website with a gamut of features that makes website creation fun to love and stress-free. Take a look at some exciting features that you won't find anywhere.
Get your Wix website connected to Google in a couple of clicks. Wix enables you to craft your professional website and submit it to numerous search engines so your customers can find it.
Get found on Google: Get your Wix website connected to Google in a couple of clicks. Wix enables you to craft your professional website and submit it to numerous search engines so your customers can find it.
Connect with multiple apps: The new Wix features allow you to showcase Amazon products on your site by simply using the Amazon widget. You can enable Wix Music, Wix Chat, Wix Blog and Art store ad-dons to get more customization on your site.
Wix personalized mailbox: Without a personalized mailbox, your online business is incomplete; Wix offers your own branded custom Mailbox for your domain. You can create any [email protected]. The email service by Wix offers numerous collaborated features and tools with 25 GB of inbox space and additional 5 cloud storage with Docs and file sharing, calendars, mobile device management, mail configuration on other email clients and more.
Make your site accessible to everyone: It means that even visually impaired people can visit your website and use assistive technology to go through your site. For this, it is vital that you add descriptions to all the media, like images using alt text.
Use a color contrast ratio of 4:5:1 so that disabled people can make a difference between foreground and background. Add titles and subtitles to explain the hierarchy structure of your site. Some visitors might use the keyboard instead of a mouse to browse your site; hence, ensure that keyboard accessibility is enabled.
A new 3D scroll effect is inculcated for mobile viewing.
Keep your site history saved and view or restore any version of your site.
If you find it challenging to create your website, then 100's Wix experts are available in the Wix arena, ready to serve you. You can search Wix experts based on location and language.
Wix Bookings allows you to personalize the booking form and keep the information that is necessary to be collected from your clients. This will let you decide which information is garbage and which information is essential.
Get insights about your visitors and keep a record of your earnings, etc.
Seven different languages to set up your channel. Insert your logo into your video player, customize it and promote your brand, which would attract visitors to your site. Promote videos on any website, even if it is a non-Wix site.
With Mac's photo library, you can create stunning photo albums.
Wix art store allows you to create your digital images, get them printed on gift items, and promote your brand.
Wix chat allows you to send product photos to your customers and view updates from favorite Wix apps regularly by enabling it on your desktop.
iPhone users can promote their business on social media by creating fascinating posts.
Earn commissions on every Amazon sale by displaying its products on your site's gallery.
Wix templates: Wix gives you a choice to choose from over 800 templates. This is an enormous figure when you compare it with its key competitor, Squarespace, which offers around 140. Moreover, all Wix templates are free, which is not the case with competing online store builders like Shopify and BigCommerce. The templates provided by Wix websites are attractive and professionally designed, so you don't have to worry about trying to create your own website with it.
Wix offers a wide range of templates in different categories, so you can choose the best model that suits your brand. Some of the classes available at Wix are Business, Online store, Photography, Video, Music, Design, Restaurants and Food, Accommodation, Events, Portfolio & CV, Blog, Health and Wellness, Fashion and Beauty, Community and Education, Creative arts, Landing pages, etc.
Wix is an excellent platform for publishing professional-quality visual content. They have tons of professionally shot images and videos at their disposal, which you can use to your advantage. You can buy Shutterstock images and videos directly from their site – they're discounted during certain times of the year. The templates are very organized so that you can find them easily.
After choosing a template, you will find that the Wix Website Builder provides you with high-quality sample pictures, text and layouts. These are easy ways to get started and give you a sanity check.
However, you must be very careful when selecting your Wix template as you cannot switch back to another one. Although this website platform is simple to use and has great templates, if you want to make changes to your design in more radical ways and use a different template, it's necessary to rebuild your entire website.
Content Management & User Interface – Is Wix Good for Making Website?
Wix offers three website building options:
Wix Artificial Design Intelligence (ADI)
Wix Editor
Velo by Wix' (formerly known as 'Corvid')
When you primarily begin your journey to create a website, you have 2 options to choose: an 'ADI' site or an 'Editor' one.
1. Wix Artificial Design Intelligence (ADI)
The aim of Wix ADI is to make it easy to build a website, even if you have no IT skills or love computers and are not interested in learning how to code. The features are easy, and the site is user-friendly enough for anyone interested in starting their own website.
Wix ADI provides a streamlined website creation process by first asking basic questions, then using an online search to collect information found on your company's site. The editing is done via a drag-and-drop user interface that automatically lays out the pages for you. For all the people who don't have much knowledge about Web design, the best would be to use this feature of Wix.
An admirable feature of Wix ADI is that it allows you to convert websites created in it to the Wix editor format. This is a great way to grow with your needs and avoid outgrowing the capabilities of a tool that may not be up-to-date.
2. Wix Editor
The Wix Editor is actually the standard version of Wix. It offers you more control over the features and design of your website. You get complete design freedom with the Editor. Drag and drop technology lets you move things around your site however you'd like, and the various tools at your disposal help to make this easy. All the design elements are customizable; you can resize, recolor, rotate and align elements to make them look as you want. Plus, you get 1000s of intuitive tools and various other built-in features to create a professional web presence.
3. Velo by Wix
As mentioned earlier, it was formerly known as 'Corvid by Wix', which is the developer version of Wix. These features allow developers and businesses to create bespoke websites without coding knowledge, a database for users to store their content, and APIs (Application Programming Interfaces) that make it easier to access your data – all of which are provided in the platform.
Wix has recently introduced 'Editor X,' a new edition to its platform that allows you to build more responsive websites. This feature is currently for creating mobile-friendly web pages, and it's important to note that this functionality can be implemented into other versions in the future.
Wix Multilingual Capability – Why the Wix Website Builder is the Best Choice for You?
If you are someone who is hoping to create a website in lots of languages, Wix would undoubtedly work for you. It offers a dedicated tool by which you can create different versions of your website in multiple languages. But this feature is only there if you use Wix Editor as Wix ADI does not support translation.
In order to build a multilingual website in Wix, you need to add the appropriately-named "Wix Multilingual" app to your site. This app allows you to import translated text and then change or update it or create new versions in other languages. Once you've done that, you have 180 different language versions of your website to choose from. You can also do manual translations or automatically use the Google Translate service.
Also, before using this feature, you must know that not all Wix apps support translation. So if you use a lot of them, you may find that certain parts of your site appear in the wrong language. The apps that cannot translate include Wix Bookings, Wix Restaurant, Wix Forum, and Wix Music Player.
1. Blogging with Wix
Wix also offers a web platform that helps users create and manage their blogs, website, and online stores. Wix enables its users to publish quality blog posts that reach out to larger audiences and ultimately drive more traffic to their website. With Wix Blogging, you get a built-in blogging tool that certainly stands neck and neck with its competitors. It gives you built-in features like autosave and version history features.
But Wix does not let you export your blog post so easily as there is no reliable option to export it. So, in that case, you may end up with a workaround involving RSS feeds to get your blog content out of this platform. In essence, Wix is great for essential blogging. However, if you're looking to start a professional blog on their platform, we would recommend choosing a different platform.
2. E-commerce with Wix
To use this feature, you need a Wix Business Plan or a higher plan than that.
If you are a business owner who is interested in learning about ecommerce, you'll find that the platform does an excellent job of making it accessible and easy to use for someone who is trying their first time. It also provides tools to make the process 'non-scary' for new entrepreneurs. Getting started with it is pretty easy and straightforward. You would have to enter your data and set up your payment option, which would set you running.
Core E-commerce Features in Wix – Get Built-in Tools to Grow Your Business Online
Now in our Wix Website Builder review, let's look at some core e-commerce features.
Wix provides a wide range of ecommerce features for small to medium-sized businesses. Many of the features have been proven to be helpful in actual ecommerce businesses.
By using these core features for your E-commerce, you can:
Sell unlimited products, whether it be physical or digital
You can filter and sort out products.
By using a mobile app, you can manage your store from your phone.
You can also enter tracking information to your store orders.
Further, you can also use an abandoned cart server tool by which you can automatically contact people who leave your site mid-purchase.
You can also use apps like Modalyst and Spocket to facilitate dropshipping.
You can also provide real-time shipping calculations to your customers(only in the US and Brazil)
Finally, you can track your profit margins accurately by adding 'costs of goods' info for each product.
Only a few of the above features are available on the cheapest Wix ecommerce plan ('Business Basic'). So the best would be to upgrade to a 'Business Unlimited' or 'Business VIP' plan to make the most of them.
Wix Website Builder Reviews – Is Wix Good for Small Business?
Now let us dive deep into some of the features:
Selling Physical Products: By using Wix, you can sell unlimited physical products in 6 options: color, size, material, etc. You can also sell in up to 1000 variants. You can also import 5000 products simultaneously via CSV with Wix and a total of 50,000 products.
Selling Digital Products: Wix has made it particularly easy for novice web designers to set up a website and start selling digital goods in an hour or so. This convenient platform allows users to create websites with their live professional team's support, which includes SEO assistance, online payment methods, and more.
The platform provides a built-in feature for your customers to download their products and sends automated emails to acknowledge purchases. The file limit for zipped digital files is 1GB, and it does stack up reasonably well when you compare it with its competitors. You cannot export digital goods from the Wix store or use product options and variants when selling them. You also cannot bulk import them.
Shipping and Tax: Wix's tax and shipping options are reasonably flexible, with the ability to set up Tax on a per-region basis. This may require adhering to different tax rules in US states and Canadian provinces. You can also opt for VAT MOSS (Vat Mini One Stop Shop) if you have to sell digital products to European customers.
Automated tax calculations are also available in Wix, so if you are on a Business Unlimited plan or a higher one. But there are some limiting factors. The monthly transaction limit is 100 on Business Unlimited and 500 on Business VIP. This could cause problems for businesses with high monthly transactions or if you need to buy more than the limits allow. Plus, you can also configure shipping rates, as well as rules to calculate shipping based on weight or price, and even flat rate or store pickup.
Point of Sales (POS) Feature: Wix offers you Point of Sale not only for online selling but also from physical locations too. You can also sync your inventory if you sell your product from a physical location.
Wix offers you three ways by which you can do POS.
If you're based in the United States, you can use the "Wix Owner" mobile app in conjunction with a Card Reader to pay for your products in physical locations. But with this, there are a few limitations like the Wix Owner app does not let you:
Offer refunds
Collect Tax
Edit the total payment
You can also use a third-party POS system in conjunction with your Wix Store.
You can also use Wix's new built-in POS system, which is designed to compete with Shopify's out-of-the-box POS platform. It aims to unify and in-person using Wix. With Wix Point of Sale, you also get a wide range of hardware, including card readers, scanners, receipt printers, etc. Also, these integrate very well with the Wix online interface.
Selling in Multiple Currencies: Wix allows you to display prices in different currencies via its currency converter drop-down menu if you are on a Business Unlimited or Business VIP plan and not using Wix ADI. But the store visitors cannot check out in their own currency. Some might not like this as at the time of checkout, the local currency must be displayed at the time of checkout.
Dropshipping with Wix: Dropshipping is also facilitated with Wix because of the integrations provided by it. Well-known suppliers, including Modalyst, Printful, Syncee and Spocket, are also found in Wix. Currently, while writing the Wix Website Builder review, there are 34 dropshipping apps on the Wix platform.
The Modalyst integration you get with the Business unlimited plan has a 250 product limit. So make sure you choose the plan wisely.
Integration with Other Apps: Wix has an app store named App Market' which contains around 420 apps. In this app store, some apps are made by Wix, while some are Third-Party Apps. This App market created by Wix is relatively easy to use, where you get access to lots of additional functions for your website. These features include popups, online chat, reviews and ratings, calendars and social media integrations. Further, you can add functionality to these third-party apps by using an HTML block in order to insert any widget from one of those apps.
Although you won't get a wide range of integrations in Wix's app market in comparison to other website building tools like Shopify and BigCommerce, you would still find a decent selection of integrations and add-ons on this app market.
Transaction Fees and Payment Gateways: A payment gateway is a software program that enables users to process transactions for their online store. And here as well, Wix works reasonably well with a large number of third-party payment gateways. These options can vary depending on your location, but there are only 75 available. You get good payment gateways like Stripe, PayPal, Square and Worldpay.
The payment gateways offered by Wix are still impressive against its competitors like Squarespace's but still not as much as Shopify. Wix also has its own built-in payment gateway, which is available in the following countries/currencies:
Austria (EUR)
Belgium (EUR)
Germany (EUR)
Italy (EUR)
Netherlands (EUR)
Portugal (EUR)
Switzerland (EUR)
United States (USD)
Brazil (BRL)
Canada (CAD)
Finland (EUR)
Ireland (EUR)
Lithuania (EUR)
Spain (EUR)
United Kingdom (GBP)
Following is the transaction fees for Wix payments:
European Union: 1.9% of the transaction amount + 0.30 EUR
Switzerland: 2.3% of the transaction amount + 0.30 CHF
United Kingdom: 2.1% of the transaction amount + 0.20 GBP
USA: 2.9% of the transaction amount + 0.30 USD
Canada: 2.9% of the transaction amount + 0.30 CAD
Email Marketing and Data Capture: Wix lets you create a wide range of customizable forms that give your visitors an easy way to send you information. This can include a contact form, request form, or custom form. You also get templates by which you can capture applications, feedback, donations and more.
Wix also lets you install various form apps, which provide even more functionality. For example, the popular "POWR's popular 'Form Builder' app" allows you to use conditional logic in your forms. The contact data can be captured on your Wix website automatically in the 'contact list.' Plus, you can also import contacts or even add them manually.
Wix has some features that are interesting and unique. Their email marketing feature makes it easy to send invitations, newsletters, and more to your customers. Most other competitors do not have this feature yet. Wix offers you one of the most popular email marketing apps that allows you to send three e-newsletters per month to up to 5,000 emails using their free functionality. This offer is actually pretty generous, as not many email marketing apps offer this generous amount of free content.
If you wish to do more professional email marketing with Wix, you have to purchase the 'Ascend by Wix suite. Using it, you can broadcast more monthly emails (9500-1,000,000). You can also make various automation and trigger these emails in various ways by actions visitors make on your Wix website.
You won't find the pricing of this publicly. You must log in to your Wix account to get information about the costs. While doing our Wix Website Builder review, we were shown the following prices for Ascend:
| Ascend Plan | Pricing Per Month | Features |
| --- | --- | --- |
| Free | $0 | 3 Campaigns and 5000 emails per month |
| Basic | $10 | 5 Campaigns and 9500 emails per month |
| Professional | $24 | 20 Campaigns and 50,000 emails per month |
| Unlimited | $49 | Unlimited campaigns and 1 million emails per month |
The below video gives you more insight into the Ascent by Wix.
Further, you can also connect Wix to an external email marketing tool provider like GetResponse, AWeber, MailChimp etc. You can add them by adding an HTML block to your website.
Search Engine Optimization and Analytics – What You Can do with Wix SEO?
Wix's search engine optimization features are generally good. The platform allows you to perform key SEO tasks, including:
Adding and editing meta descriptions
Adding alt text
Customizing robots.txt files
Editing page URLs
Creating 301 redirects
This platform also integrates easily with Google Search Console and Google My Business, allowing Google to index your site quickly and show it on maps. These integrations make it easier for potential customers to find your business on the web and give you a chance to increase your SEO.
The best SEO feature that might appeal to SEO novices is Wix's 'SEO Wiz' tool. The tool provides on-page data that can be accessed through the built-in 'SEO Dashboard' and allows for easy comparisons with industry averages. Using this tool, you can optimize your website and meta descriptions, update your page titles, alt text and much more.
Well, even if you have no knowledge about any of these SEO terms, don't worry. Wix's SEO Wiz explains to you what you are doing and why it is essential. Users who are on a premium Wix plan can even register their site with Google Search Console. But be aware of how your Wix sites display on the mobile version.
Wix does create separate views of our site for mobile and desktop and does not use a responsive design. But you must also understand that a responsive design that adapts to size automatically on the device its being viewed is preferred by Google.
Conversion Tracking and Analytics
Wix offers a wide range of support to analytics tools with built-in integrations for:
Google Tag Manager
Google Analytics
Google AdWords
Yandex Metrica
Facebook Pixel
By using the Google Tag Manager, you can track conversions on your website, implement any other third-party code or pixels, or add custom code directly to your Wix site to track conversions. You can also get a built-in analytics tool along with it.
GDPR Compliance
The General Data Protection Regulation (GDPR) is becoming more and more prevalent, and website owners are finding themselves in a difficult position. While the EU's relatively new GDPR laws are meant to protect their customers' and visitors' data, it is up to them to take appropriate steps to comply with privacy regulations.
There are severe penalties for not doing so, and even if your business is not based in the EU, you still need to comply with the regulations if you are targeting EU users with your website. But based on our review, the following are some of the key priorities for prospective Wix store owners should:
Process and store data securely
Ensure explicit consent from people signing up to your mailing lists which are okay to receive your e-newsletters
Providing adequate privacy policy and cookie notices
Also, providing some means to opt-out cookies before they can run or revoke consent to use them at a later time.
Most hosting solutions like Wix provide some of these requirements efficiently, but it does not often give you the tools by which you can handle cookie consent properly.
But we found in our Wix Website Builder review that it handles cookies reasonably well. It gives you a built-in cookie consent banner that lets you block cookies from quite popular marketing products before they run. It involves cookies from Hubspot and apps created by POWr and tracking cookies from Facebook Ads, Google Analytics and even Google Ads. But you might not be able to achieve a few GDPR compliances if your cookie comes from:
Social tools added from Wix's 'Add' panel
Custom code
A third-party app from Wix's app market
Wix Security & Reliability – Is Wix Safe & Secure?
The most important benefit we fill out after using Wix is that you are not required to take basic precautions around passwords. So you eventually don't have to worry too much about security. Because Wix entirely takes care of it, you don't need to worry about any technical or complicated features.
The emphasis on security is a vital aspect if you're running an e-commerce site, given the cost of a site failure in this context can be devastating. At the same time, if you are using a self-hosted platform like WordPress, you and also your developer would have to have a sound understanding of security issues and configure your site manually so that it is robust and secured.
Following are the most important set of security features that you get with any Wix Subscription:
SSL Certificate: It establishes an encrypted connection between your site visitors and your website and their browsers for the details which user provides to your site. It ensures that this entire process remains secure.
Two-Factor Authentication: It would let you protect your account with a password and another verification method like SMS, email or an authenticator app.
PCI Compliance: By this, you can process credit card transactions securely and safely.
Automatic Disaster Recovery: If Wix detects unusual activity in a particular region, it will proactively shift traffic to the nearest stable one, significantly reducing the likelihood of any downtime occurring.
So when we were reviewing the Wix website builder, we found its security features to be comprehensive and are fully-managed. In short, we can say that Wix takes care of all security issues and is highly reliable.
Wix Pricing Plans 2023: Which Wix Pricing Plan is Best (and Worst)?
Wix offers a free website builder with drag and drops editor, unlimited pages, and a responsive site that looks great on mobile and secured hosting but what if you get an extra slice of cake by paying a dime. Wix premium plans give access to all the features that can help you create an even more stunning website.
With a Premium plan, you get your own domain name, remove Wix ads, free hosting, up to 50GB storage space, unmetered bandwidth, Google analytics, an online store, your own favicon and premium 24/7 dedicated support.
With every plan, you get free hosting along with a domain name, and no setup fee is required.
The most popular plan is the Unlimited plan, suitable for freelancers and entrepreneurs. The price of this plan is Rs.372/mo $22/mo, which offers 10GB storage space, unlimited bandwidth, the option to remove Wix ads, customizable favicon, free domain and premium round-the-clock support from trained technicians. Don't worry about security, as your site will be encrypted with an SSL certificate. In the United States, there are eight different paid plans with three categories: website, business and ecommerce, and enterprise.
Wix's monthly website hosting fees only apply to users who pay annually. More expensive monthly fees apply if you pay for your service in advance for a certain period of time, but on the upside, paying for your service upfront for 2-3 years brings a very generous discount. Also, after starting a free trial, you receive email offers from Wix that contain generous discounts, which can go up to 50%.
Wix Website Plan
| | |
| --- | --- |
| Combo Plan | $16 per month |
| Unlimited Plan | $22 per month |
| Pro Plan | $27 per month |
| VIP Plan | $45 per month |
Wix Business and Ecommerce Plans
| | |
| --- | --- |
| Business Basic | $27 per month |
| Business Unlimited | $32 per month |
| Business VIP | $59 per month |
Wix Enterprise Plans: Wix Enterprise (from $500 per month)
A quick note about Wix Enterprise Plan is that this plan is geared towards corporate users, offering advanced security features, more personalized support and access to web design consultants. If you wish to use the Enterprise plan, you can contact Wix to discuss the pricing. Quick Points to look at in the Wix pricing plan.
Storage (text, video, images etc.): This varies according to the plan you select.
Access to Wix Apps: the more costly plans include a site booster that allows you to submit your website to directories, an events calendar app, and a logo-making app.
E-commerce: The selling feature comes only with the business, ecommerce and enterprise plans.
Wix Video Hours: This is simple. The greater you pay, the more video content you get, which you can upload and sell from your website.
Domain Names: You get free custom domain name registration by paying annually for a Wix Subscription.
Mailboxes: You can buy email mailboxes through Wix, or you can also configure your Wix domain's DNS settings.
Support: You only get premium support if you are on a VIP or Enterprise plan.
Also check: GoDaddy WordPress Hosting in just $1/mo (87% off Discount Coupon)
All your payments will be safe and secure using 256-bit SSL encryption. With all Wix plans, you get a 14-day money-back guarantee, so if you feel that the plans are not what you expected, then you cancel them within 14 days of the purchase date. Payments are accepted via Visa, MasterCard, Amex and Discover. The prices mentioned do not include tax, so the final pricing will be shown on the shopping cart page, inclusive of all taxes.
Does Wix have customer support?
While reviewing the Wix website builder, we were able to find answers to all of our queries from Wix's Help Center. It contains a wide range of library support articles in Danish, Dutch, English, French, German, Hebrew, Italian, Japanese, Korean, Norwegian, Polish, Portuguese, Russian, Spanish, Swedish and Turkish.
Wix also makes customer support available via phone, email and live chat. Not all of the competitors of Wix Website Builder provide phone support, so that is also what makes Wix unique. Phone support 24/7 is available in languages like English, French, German, Portuguese, and Spanish.
Whereas office hour support is offered in languages like Dutch, Hebrew, Indonesian, Italian, Japanese, Korean, Polish, Russian*, Turkish, and Vietnamese.
* Due to the Russia-Ukraine war, Wix is scaling back its offering in Russia.
You can also submit an email ticket to Wix. Wix Support has promised to get back to you 'as soon as possible and typically fulfills this promise in the span of a few hours. When we submitted a question, the Wix member replied the following business day. Well, if you are someone who is paying extra to get VIP support, then you can jump this queue!
Top FAQ on Wix Website Builder Review
Does Wix work with WordPress?
Wix and WordPress are actually two separate platforms that people use to create websites. When you talk about Wix, it is an all-in-one solution that takes care of everything. WordPress is an open-source platform that often comes in handy for blogging and full-fledged content management system.
Can you make a multilingual website using Wix?
Yes! You can build a site in your main language and then translate it with Wix's new tool, Wix Multilingual. Text image Background links, SEO settings and Wix Stores can be translated into the secondary language.
Does Wix offer multiple user access?
Wix allows you to create a website with multiple editors and different authority levels. You can also set limits so that some editors can't access certain parts of your website. This is usually a very handy tool if you have a team that manages, edits and builds your site.
Are there any alternatives to Wix?
There are many alternatives to Wix, but the closest one which stands is Squarespace. It is also a hosting solution like Wix, which is easy to set up and comes with a lot of built-in features like email marketing and ecommerce. Squarespace is more mature than Wix, allowing you to create fully responsive sites, but its interface may be a bit harder to use.
What are Wix's 'video hours'?
With Wix's video hours feature, you can upload videos to your website and then sell or rent them to generate additional revenue. The feature can be very useful for filmmakers, musicians, or online course sellers who want to charge for access to their video content.
Is Wix free?
Wix does offer a free version of its website builder tool, which only allows you to create a simple site. This is an excellent way to try out Wix, but there would be certain limitations like many ads come in between, which are pretty noticeable. It would also not let you build an online store and even does not let you do Google Analytics and so on.
Does Wix offer you all the features that you need for a website?
With a Wix Website, you can easily: 
1. Do Blogging 
2. Publishing text, image and video content
3. Appointment booking
4. Collecting contact details
5. Building an online store
Conclusion: Wix Website Builder Review 2023 | Should you really go for this website builder?
In our Wix Website Builder review, we found it to be Wix is one great solution to all your website needs. With so many features and easy-to-use elements, website creation is not just comfortable but hassle-free.
The price for each premium plan is affordable, and if you still cannot afford the premium plan, then Wix respects your decision and offers a free plan with limited features. Once you start earning from your site, you can upgrade to a premium plan with more storage space and unlimited bandwidth.
Fix your website issues and create a beautiful and stunning website with Wix!
Wix Website Builder – The freedom to create the websites you want!!
Wix offers a user-friendly website builder that lets you create, build, and manage a website on your own. The intuitive drag-and-drop interface lets anyone put together a visually appealing site with just a few clicks. Wix Website Builder is the simplest way to build a website from scratch. Create your own personal website faster than ever before. With Wix Website Builder, you can build a website for your business, for your blog, for your online store, or even for yourself. It offers unlimited design choices and an insanely easy publishing platform.
Positive
Wix drag-and-drop building tools make its editor extremely easy to use.
It also offers you great online stores.
Provides you with extensive tools and impressive features.
Provides you good flexibility in terms of templates.
Negatives
You cannot switch between templates once you have published your site.
For advanced functions, you would have to pay more and install third-party apps.
Wix – Free Website Builder
Build your online presence for free with Wix Website Builder.
Also read: