If you own a hotel or start with the hospitality business, you must first create an attractive website to attract the audience.
Every hotel owner wants their website to look like anything that a random visitor can trust.
The main concern is to attract the customers and make their hotel look as luxurious as possible.
In short, you do not want to compromise with the quality of the scene and strive to make your hotel look an ideal choice, especially on the website.
The owner wants to display their hotel best in every possible way.
They include all the amenities of their hotels, including the spa, swimming pool, conference room, and dining area. Some even show their kitchens' interiors to win their customer's hearts in terms of hygiene.
The most critical area that needs a little bit more show-off is their hotel rooms in the list. If an owner fails to make their hotel room looks friendly and welcoming, then every other visitor will make a pass while scrolling through the website.
Especially in the Covid times, when the people's highest priority is hygiene, safety, and cleanliness, they want their hotel bedrooms to be clean in touch and look best in pictures or in actual.
Specific themes can be used. If your website is cool-looking, half of the sales are already made.
We believe that WordPress themes are the best to lean on. They are affordable and easy to deal with. Even if you want to start from scratch by creating a website, WordPress is ideal.
---
Getting Started with WordPress
If you want to create a website on WordPress, you first need to buy a domain or web hosting. There are multiple options available in the market.
If you are running on a tight budget, the first option you can go with is GoDaddy or Namecheap.
And as far as web hosting is concerned, the most trustable option you can go with is CloudWays. But if you are looking for more choices, BlueHost or Hostgator might also be a few options to dwell on.
We would suggest Hostgator the beginners as it's easy to understand and comes with excellent support. The pricing plans are also affordable.
---
Get Started with WordPress Themes
After you have selected the desired domain name and a web hosting plan, the next thing that needs to be done is to choose a theme for the hotel rooms.
While there are various options available, our first option is the WordPress theme. Since we are focusing on hotel websites, we scraped the Best Hotel WordPress Themes.
The following themes are an excellent option if you want to win down the best for your site.
At the end of the day, we only want one thing for your website, and that it's to make its templates look attractive enough and represent the hotel at its best. Right?
It is time to scroll down the list of 18 WordPress themes for hotel rooms and select only the one theme that compliments your Hotel decorum the most!
---
18 Best WordPress Themes for Hotel Rooms
If you have a resort or spa and want a theme according to that etiquette, then this WordPress theme is the ideal option to go with.
It offers automated online booking and reservation systems. Other than this, it is powered by bootstrap, which makes the integration part healthy.
The clean interface and the lightweight features make Hotel Zante one of the best WordPress themes on the list. To access the panels, you do not require coding knowledge, which makes this theme beginner-friendly.
---
If you own a resort, then the best WordPress theme that can give your website visitors a calm effect, then Eros might be the one to go with.
This theme can be suitable for any holiday vacation which has villas, guest houses to opt for.
It offers four homepages for selection and is enough to make an attractive site in the minimum time possible.
---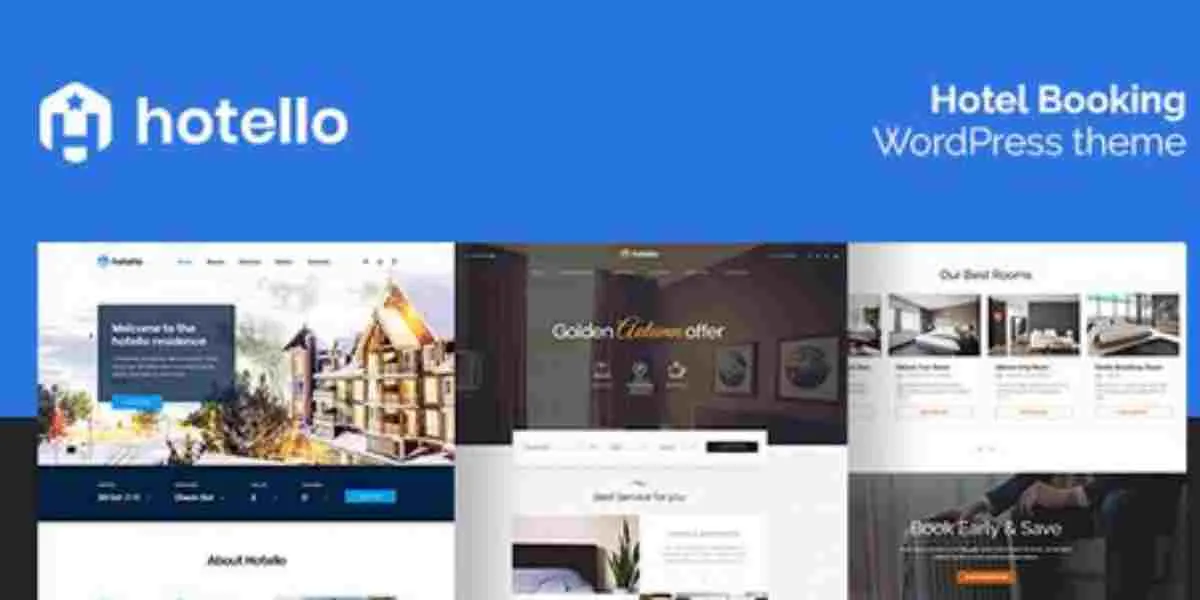 This business-friendly theme is mainly suited for hotels that want to give their hotel rooms a professional look.
Under this theme, there are various websites, including resorts, hotel rooms, and apartments. And the best part is, all this process only requires a one-step configuration.
You get to avail all the benefits and functionalities like the booking system.
Under the theme's configuration, you get advanced features that help you search for the availability of the desired rooms.
---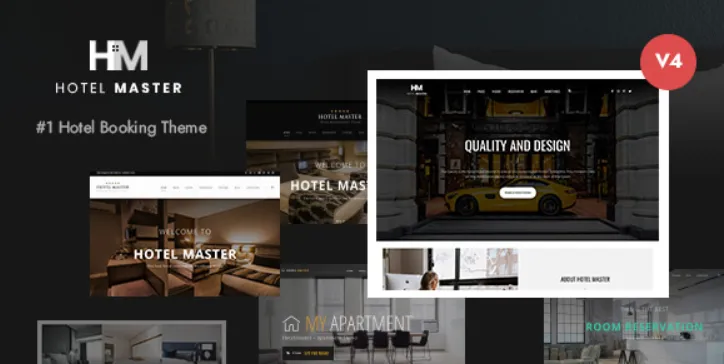 This is one of the most basic & brenowned themes on the list. It comes with great features that are apt for hotel bookings, apartments, and PG sharing.
This theme offers the easiest room booking experience. A customer can re-choose their rooms even in the middle of the payment process.
One more feature allows the ease to show display discount coupons to your customers. All features of Hotel Master are convenient, making this theme one of the most accessible WordPress themes on the list.
---
As the name suggests, this theme is most suitable for spas and resorts. It comes with a 100% automated system that allows your site visitors to check the availability of the room before their bookings.
The booking system is easy to deal with and packed with essential discounts and tax collection features.
Also, this theme allows the payments to be made to your site without redirecting customers to the payment application page.
---
If you want a WordPress site with a neat and clean interface, then Adomus is the best option to dwell on. It's best suitable for hotels and campsites bookings.
This theme also comprises HBook, which gives your site a whole new look, and your customers will feel they are booking from one of the most elite hotels.
This theme supports all devices, and content transfer from one website to another is done in one click.
---
Astra is the most multipurpose WordPress site that you can ever find on the list.
Even if you are a beginner with zero coding knowledge, you can customize the theme as per your desire and necessity.
It has all the essential features that you may look at on a website theme, but that does not make the software bulky.
The layout settings and the interface is beautiful, and you get many colorful options in the header, fonts, etc.
---
If you want a WordPress site for hotel bookings and travel websites, then Essence Pro is the one you look for!
This theme will give you an essence of a luxurious feel that will help convert your customers in the first visit.
This theme is 100% customizable, and even a beginner can start looking at the features without prior experience.
You can even build online stores for your hotel services, giving this theme an edge over all the facilities you want on your website.
All devices, including smartphones and desktops, support the theme, making seamless your customer's browsing experience.
---
This theme is specially designed to give your hotel a more subtle touch. It comes with a pack of the necessary features included an automatic booking system.
Your customers won't get redirected to a different site during their payment period. Also, you get the option to integrate the booking system and the payment gateways under a single roof.
---
Arcadia is a great functional theme that is most suitable for resorts and B&B's. You get a power pack of features with the necessary templates.
Even if you want to change the orientation of your website in the middle of the busy booking days, that can be done with a single click.
There is a separate attractions section where you can display all the attraction areas of your resort of B&B's.
---
Hermes Themes designed this theme as it is especially integrated for business hotels and hospitality services.
This theme comprises all the necessary features that you might expect in a good hotel theme. There is a slider on the homepage that displays the attraction areas of your hotel in a traditional way.
You can also use the theme options panels, which make the user browsing experience even more seamless.
---
This is a fully functional website theme for hotels and hospitality services. The home page alone is enough to convert the lead into a customer.
It consists of excellent slide panels of attractive areas of the hotel, and you also get to see the separate section of all the services offered in that.
This is the most suitable theme option for people who want to add a subtle touch to their hotel sites.
---
This theme is perfect for the hotels and spas that want to add a touch of the chill environment in their hotel theme.
All the functions are fully automated that spares the hotel owner's time in managing the micro-tasks of the booking schedule.
It is compatible with 7 content types that offer seamless integration to the users. This theme supports all devices, including smartphones and desktops.
---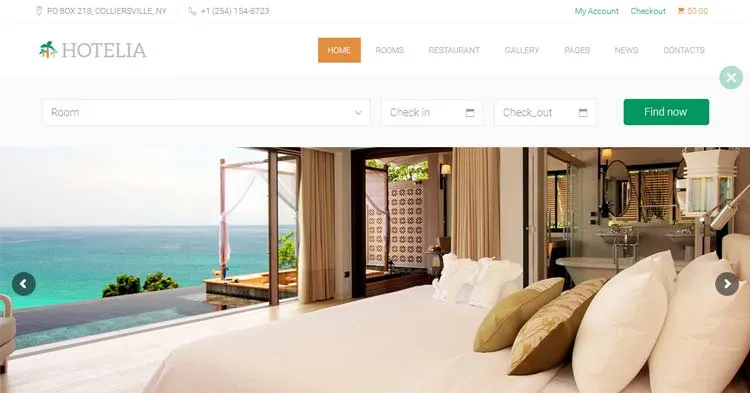 This one is the most elegant and versatile option on the list.
Hotelia Theme comes with a power pack of essential features that makes the booking procedures automated and easy to deal with.
Other than this, customers get the option to go through their payments procedures then and there on the software.
The drag and drop support does not take more than 5 minutes to create a website.
---
Bordeaux is one of the most attractive themes on the list. The robust features are enough for a hotel owner to integrate the necessary alignments.
You also get access to live customizer options that allow you to change the settings then and there.
It also offers a beautiful homepage slider on which you can display the attraction areas of your business. You can bring whichever changes you want in the fonts, themes, and header without knowing a single code.
---
This one has the most built-in features on the list. It comes with the required template, and the automation process makes it easier for us to set the websites according to the need.
You can also add extensions to the site to benefit your hotel website with even more advanced features. The Elementor allows a drag and drop facility.
You can select any font or look for your header and effortlessly add elements to the sections of your website.
---
Bestel is the best WordPress hotel room theme that you can use for your benefit. It's the most suitable option for your hotels, resorts, and spas if you want to add a touch of elegance to them.
The booking system is automated. And the Elementor and widget section allows you to drag down the necessary elements to the home page.
Even a novice with zero coding knowledge can create a website in minutes with Bestel.
---
The design and integration of Panola are different from all. It is one of few options on the list to give your website an exact look you want.
You also get to add animation effects to your homepage that gives an excellent look to it. If your choice is to go with the best, then no option could be better than Panola.
---
🌟 WordPress Themes for Hotel Rooms FAQ
❓ What is the objective of a hotel website?
The primary goal of a hotel website is to present all necessary information in an appropriate manner in order to approach the appropriate audience and, most importantly, to enable online booking.
❓ What is the best WordPress theme for hotels?
Best Hotel WordPress Themes:
➤Hotel Zante
➤Erios
➤Hotello
➤Hotel Master
➤Soho Hotel
➤Adomus
➤Astra
❓ How do I create a hotel website in WordPress?
To create a hotel website, follow the steps outlined below:
➤WordPress can be used to create a website for your hotel business.
➤The domain name and website hosting for your hotel.
➤Choosing a WordPress theme.
➤Customizing your website.
➤Showcasing features, a room, and services.
➤Booking services are permitted.
➤Upkeep of your website.
❓ How do hotel booking websites work?
An online booking engine integrates with your hotel's website to process secure online reservations made through the website. The information is then transferred to your property management system, where you can access and manage the bookings.
❓ What is the fastest free WordPress theme?
Astra is the fastest WordPress theme, is simple to customize, and includes pre-made templates. The best part is that Astra is completely free. Astra Pro will assist you in providing more customizations and personalization as your website grows and adds more features.
❓ How should a hotel website look like?
Must-have hotel website features are:
➤Responsive Design
➤Great Photography
➤Speed
➤Direct Booking Engine
➤Lead Capture
➤COVID-19 Info Page
➤Consistent Branding
➤Social Proof
---
Conclusion: Best WordPress Themes for Hotel Rooms in 2023
Choosing the appropriate hotel room theme for your hotel is not a straightforward task. There are certain elements that you need to keep in your mind.
First of all, you must be able to fit your hotel into a particular category. For instance, if you own a chain of business hotels, then a chilling WordPress theme might not be a piece of your game.
You have to choose a subtle and professional theme that can suit the tone of your hotel's taste. Just like this, other categories require their compliments.
The above-mentioned hotel room themes are best for your business. You can select anyone according to your need and make your hotel website look the most astonishing of all!
Let us know about your choice in the comments section below.🙂
Affiliate Disclosure: This post may contain some affiliate links, which means we may receive a commission if you purchase something that we recommend at no additional cost for you (none whatsoever!)