Are you using the coupons & deals method to promote affiliate products & services?
Are you searching for a premium WordPress plugin to post coupons & deals on your WordPress site with an innovative look?
If yes, all you need is the WP Coupons plugin, as it is the only premium WordPress coupon plugin that enables you to boost your affiliate sales by 200%. Let's see how it is possible.
Thousands of Affiliate marketers and bloggers use the "coupons & deal" method to earn money via affiliate programs. We all know everyone loves discounts and promos. Hence, for a year, almost all serious internet marketers promoting affiliate products display coupons, deals, and promo codes to grab more sales and visitor attention.
---
WP Coupons Review: Premium Coupon plugin built for Affiliate marketers.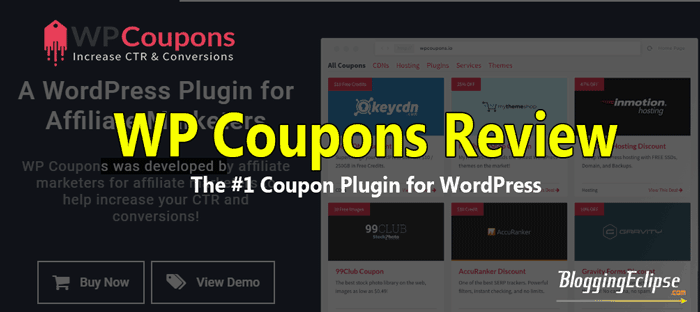 Many of you are still looking for a premium plugin to show coupons in the post, sidebar or make a custom deals page on your WordPress blog to boost sales and here to end your search,
Let me introduce WP Coupons. This is a premium WordPress plugin is developed by affiliate marketers for affiliate marketers to help increase CTR and conversion.
---
How WP Coupons Work…
This is a WordPress plugin, and it enables you to add a very attractive-looking coupon button, coupon widgets, and deal page in your WordPress post, sidebar, or shortcode.
WP Coupons creates a new deal page with all coupons displayed in a grid layout. So when you install WP coupons, you will get a new coupon page like http://bloggingeclipse.com/deals/.
You may also choose any other slug to craft your exclusive deal page, where all the coupons created by this plugin will be displayed very creatively.
You can add a lot of coupons with affiliate links, and all of them will be displayed on the deal page. You may also add those selected coupons to each post by using a shortcode.
---
WP Coupon Key Features:
Let's see some of WP Coupons' super exciting key features and how this premium coupon plugin can increase your affiliate sales.
🏅 Built light weight & easy to install
WP coupons are certainly not among those memory-hungry plugins that consume many CPU resources. WP Coupons is a very lightweight plugin, and it is only just a 36 KB zip size.
Also, you do not need to read extensive documentation as it is just one click install, and you can customize its global options easily from its settings page.
💻 Custom styles & templates
You can adjust fonts, colors, of coupons according to your blog style. WP Coupons comes with very attractive color combination settings and font by default. However, if you want to customize the look of coupons, you can change color, fonts and even add custom CSS or design templates.
🎯 Display coupons widgets & posts
Apart from creating a deal page, WP coupons enable you to display a coupon with detailed information like coupon code, title, image, description and affiliate link button in your posts or pages using shortcode.
The plugin also has its widget, enabling random coupon display in a sidebar widget. You can also show the preferred coupon on the homepage sidebar.
📱 Responsive design
These days everyone is browsing the internet via Smartphone or tablet, and hence WP coupons are responsive. It is compatible with any screen size and looks more eye-catching on smartphones.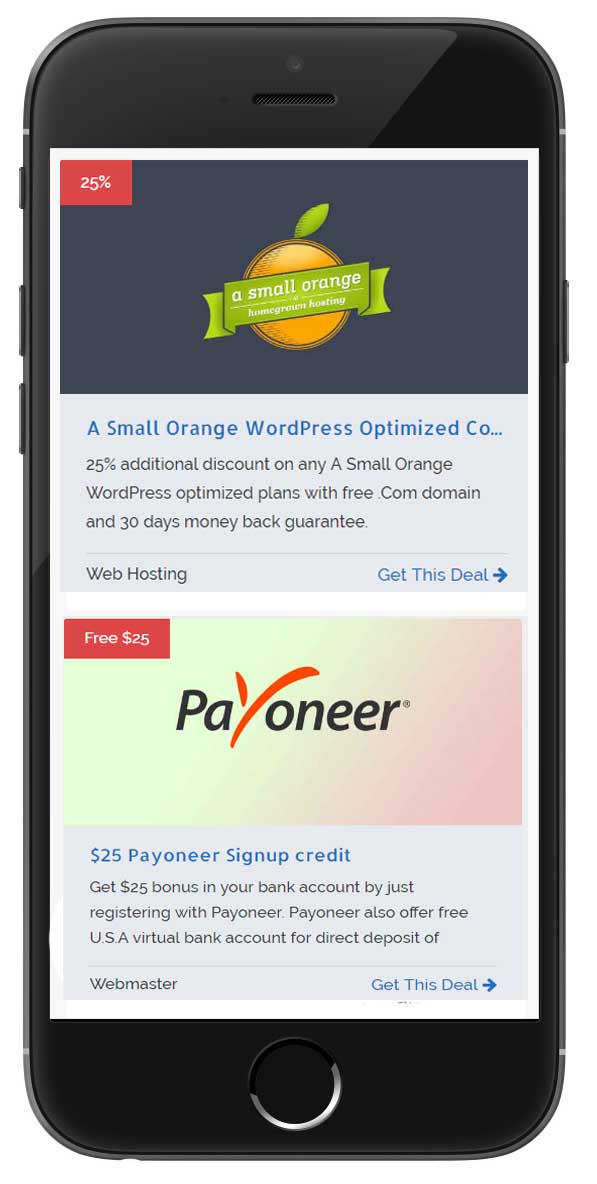 📞 Priority support
Though the plugin is lightweight, easy to install, and does not require any type of support, if you need any help regarding the installation or customization of WP Coupons, their support team offers direct support from developers of the plugin.
They have also created in-depth documentation with a solution to almost all questions related to this plugin.
Wp Coupons Docs can be accessed from your member's panel.
WP Coupons Example:
Here is the live example of How a Coupon box looks in a post; you can change colors & fonts.
---
WP Coupons Pricing:
The premium plugin comes under very cost-effective pricing. One can grab it for $34.95 (with an additional discount) for one website. All the plan comes with 1 Year of Updates & Support and 30 days money-back guarantee.
WP Coupons does not have recurring pricing, and you have to pay one-time charges and use WP Coupons on a site for an unlimited time. However, the support is given for a year. So to continue receiving support & updates after one year, you have to renew the license, which is not mandatory.
WP Coupons 25% Discount coupon
WP Coupons is running a special promo right now in which you can get an additional 25% discount on all the plans. So click on the button below & use the coupon "WOORKUP" at the time of checkout.
---
Do you really need a Coupon plugin?
Do you know the maximum of the affiliate's sales are generated using coupons & deals posts? Everyone on the internet is hunting for discounts and coupons of a particular product or service to save money on its purchase. Hence, it is wise to promote products via sharing deals & coupons.
There are many free & premium WordPress themes and coupon plugins scattered over the web, but if you do not want to launch a new site and want to add a coupons & deals section on your existing WordPress blog, then WP Coupons is the only plugin which can do it.
How WP Coupons boost affiliate sales?
Most bloggers write product reviews, in-depth comparisons, how-to guides and tutorials to promote affiliate products.
If you add a good-looking coupon or deal button of a product on its review post, then many users will click on it to redeem discounts or promos. This boosts affiliate sales as compared to the normal review post.
---
Start a Deal/coupon Website using WP Coupons
You can even start a brand new coupon website using WP coupons, as these premium plugins allow you to display all coupons on a single page that you can set as your home page.
So if you are doing affiliate marketing in a particular niche, you can start its coupon website or section on your subdomain by using WP Coupons.
I am also using WP Coupons
I installed this plugin on BloggingEclipse, and You can check its live demo on my site here or its official demo here.
In my affiliate marketing journey of 4 years, 70% of monthly affiliate marketing income is from Coupons & deals. So you can assume how significant impact :Coupon: makes on your post.
---
Final Words
It is always better to display coupons& deals on your post to grab more sales on the products you are promoting. If you are still not displaying Coupons & deals on your posts, try it today & you will thank me later.
WP Coupons is only a WordPress premium coupon plugin with many exciting features and complete coupon management without installing any extra coupon theme.
This was an honest review of WP coupons with my personal experience. See you in the next post; till then, Happy Monetizing! I would love to hear from you about your experience in affiliate marketing using coupons & deals in the comment section below.