Not sure whether WPBakery or Elementor is the right page builder for your WordPress site? Well, both of these page builders are quite popular in the market. But that doesn't mean you have to buy both. Check out this WPBakery Vs. Elementor review and comparison to find out what's best for you!
What do you think makes a business successful in 2023?
Of course, their product, but isn't it the website that's actually acting as a store and attracting users to purchase any item. However, according to Statista, the number of active websites from 1991 to 2021 was 1.88 billion. We are not into 2023 yet, and still, the numbers are surprising.
This means that no matter when you have thought of launching a website, the key is to make your website so attractive that users quickly fall in love with the experience they have had. Back then, creating landing pages for websites was quite a biggie. Too many technicalities, coding, and literally whatnot. But now, it's all about a few clicks, and you have your landing page in front of you without any coding or designing skills.
Having said that, there are multiple page builders available out there with a plethora of customization opportunities. The list goes on like – Elementor, WPBakery, Thrive Architect, and more. In this article, we will be making a detailed WPBakery Vs. Elementor comparison through which you can decide what's best for your website!
Quick Summary
WPBakery and Elementor are among the best WordPress page builder plugins available in the market. Elementor is a freemium page builder, whereas WPBakery is a premium one; you have to pay to get access to the features. Element has 5 million active users, and WPBakery is power-packed with 50+ inbuilt content elements. Both the tools are awesome in their own way, and this review is all about features, pricing, and support of Elementor and WPBakery. Read it out to find what's best for you!
---
WPBakery Vs. Elementor: Overview
What are these tools all about?
What is WPBakery?

Previously called Visual Composer, WPBakery page builder is one of the popular page builders for WordPress used by users for over a decade now. The rebranding process was done quite recently. However, the number of users still remains the same. Giving you a rough estimate, over 4,300,000+ websites are using WPBakery, and the average rating of the plugin is around 4.7.
In short, it's a highly recommended page builder by WordPress site owners that helps users take full control over their site. They can build any layout with the drag and drop builder even by having no or very little programming knowledge.
Using the drag and drop functionality, users can customize any layout of the web page, which was previously impossible. The installation process is the same as installing and activating any other WordPress plugin. You don't have to work much in the settings of the plugin. And if you have already built up your website content, this plugin will make the previous content appealing and even better. The plugin works with almost every WordPress theme; it supports multiple languages and is even compatible with the WordPress Translation Plugins like WPML.
Now let's check what Elementor is all about and how different it is from WPBakery!
What is Elementor?
Similar to WPBakery, Elementor is a popular drag and drop page builder plugin for WordPress. Millions of web creators have been using Elementor for a while now, all for free. With this plugin, users can build and customize every part of their website intuitively. There's no coding knowledge required to access Elementor's live drag and drop editor. The plugin offers 90+ widgets; basically, it has a widget for every design goal. The best part, the plugin allows users to customize the whole website with full freedom; there are very few or no restrictions at all.
Not just landing pages, but even with Elementor, users can build a full-fledged ecommerce store and a whole website.
From an easy-to-understand interface, flexible styling options, and theme building to other powerful features, Elementor literally has every user covered with everything they would ask for in a page builder plugin. The pro version of the plugin is what amazes us the most, but before that, let's check out the amazing features of Elementor and then jump on to the pricing of both the page builders!
👉 Read In-Depth Elementor Review
---
WPBakery Vs. Elementor: Features Battle
Which tool has more to offer?
WPBakery Features
Like any other page builder plugins, WPBakery also offers drag and drop functionality to ease out the whole editing process. With this feature, users can create pages easily for their website without bothering about coding.
Frontend and Backend editor
The frontend and backend editing feature of WPBakery is highly intuitive. It allows users to edit pages instantly by using the most popular plugin, WYSIWYG. Through the backend editor by WPBakery, users can build posts, custom post types, and pages in the correct pattern for rich layouts.
Themes play an important role while building any page or website. Hence, whatever the theme type you might have chosen for your site, with WPBakery, you can edit it all effortlessly. And even if you change the theme in the future, you can still make edits with WPBakery.
Extensive templates library
Just like themes, templates also play a crucial role in page building. WPBakery offers multiple pre-designed layouts to users, all you have to do is install one out of those, and it just takes a minute to work. WPBakery often updates its templates library and launches unique ones every week.
It's yet another best feature by WPBakery; the plugin comes prepacked with 50+ content elements. Users can create posts and pages by simply dragging and dropping the elements they like. The plugin offers everything for your site, starting out from simple text blocks and buttons to advanced coordination and post grids.
You don't have to scratch your pre-built WordPress template while using WPBakery. Instead, the plugin allows you to save it. The plugin even offers 100+ predefined templates for users to use and constantly increases the number. Also, if you don't want to change content elements every now and then, you can set the previously used as a default one!
The WPBakery plugin comes with more than 250+ awesome add-ons. These add-ons can literally take one's page to an advanced level, all within a few minutes.
Editing options (designs)
To make the page look more appealing to users, WPBakery offers paddings, colors, and other options. Users can tweak the color and use the same color everywhere on the page with just a click; it's literally a time-saver!
WPBakery, even while the time of editing takes utmost care of pages overall responsiveness. The templates instantly adapt to the website to all types of devices and mobile versions. There are even multiple settings available for users to fine-tune the responsiveness of the site.
Compatible with Woocommerce and SEO Yoast
If you are someone running a Woocommerce store, you can edit it to the next level with WPBakery. The plugin offers shortcodes, and even the content elements are fully compatible with ecommerce plugins for WordPress. The tool is even compatible with the best SEO plugin for WordPress – Yoast SEO.
Elementor Features
Elementor is a lot popular because of its drag and drop editor feature. With this feature, you can customize your pages quickly, all within a few seconds.
Attractive templates and widgets
The best part about Elementor is its highly attractive and customizable templates. Roughly, Elementor offers 300+ templates (more are added every month) that can quickly work with any business. Also, users can come up with their own unique template by customizing each section and adding widgets accordingly.
Highly responsive editing
With Elementor, users create 100% mobile responsive websites, and even you can. And if necessary, users can change the responsiveness of the site according to different devices. The mobile editing feature of the plugin allows users to change font size and shape, column width, and overall layout.
Theme builder and popup builder
This feature is not yet available in WPBakery, and that's what makes Elementor stand unique. With this feature, users can basically create popups without any restrictions or limitations with targeting options. On the other hand, users can even build themes according to their own needs without any coding skills with the theme builder feature.
The Navigator feature by Elementor allows users to go through every layout or every website page and quickly make changes. There are also indicators available for users to navigate pages quickly.
Global colors and font types
Elementor is popular for the colors and font types it offers to its users. Their library is full of global colors for websites who are looking forward to scaling their business globally.
With Elementor, users can add or make changes in the background of the WordPress site. They can even add posts, videos, or images for users to make the site look more attractive. Users can even add more layers of colors and customize them according to their brand's tone.
With Elementors, mobile editing tools, users can create 100% responsive websites that literally work on all devices and mobile versions. The plugin also automatically changes the settings to improve the site's responsiveness. However, if you want any particular font size on your site, you can make changes with this editing tool.
Advanced price tables often attract customers to E-commerce stores, and Elementor truly offers store owners access to the best features to make their site look more attractive. There are filters available for users to categorize products easily. Along with these, users can even create my account page, single product page, checkout page, payment page, and more with Elementor.
With Elementor, apart from landing pages, users can create contact forms, subscription forms, and login forms, all within a few clicks.
---
WPBakery Vs. Elementor: Major Differences
A few differences we spotted
Before pointing out the differences between both the tools, here are similarities, you would love to look into:
Both the tools have extreme editing functionalities
Both the tools have premade templates available
The are multiple design features available in both the tools
Woocommerce builder available in both
Now comes the differences part,
No doubt WPBakery offers unique features, but it does not offer a theme builder as of yet.
Pop-up builder is not yet available in WPBakery, but I think they are coming up with it very soon.
Elemental integrates well with CRM, social media platforms, email marketing tools, and other popular apps. On the other hand, WPBakery integrates well with 500+ add-ons and 15+ pre-defined web page layouts.
As far as customer support is concerned, WPBakery offers better support compared to Elementor. They offer online support, access to the video tutorial, and lifetime updates about new features through newsletters and blogs. On the other hand, Elementor offers video tutorials and access to its knowledge base to the users, followed by access to a GitHub community.
Users can use Elementor for free, whereas they will have to buy their regular plan to get access to WPBakery features.
---
WPBakery Vs. Elementor: Pricing Plans
Which WordPress page builder is affordable?
WPBakery Pricing
The best part about WPBakery is it never confuses users with multiple pricing plans. They don't even offer a free plan or a free trial period for users. However, their regular plan is highly affordable, and if you are a business owner and wish to use WPBakery for the majority of your needs, the extended plan would work best for you!
Single side
Free regular updates
Premium support
Access to the complete template library
It can be used in a single SaaS application
Free regular updates
Premium support available
Theme integration
WPBakery also offers huge discounts on bulk licenses, starting from 20+ licenses. You simply have to contact the team, and they will assist you with the same. One can even check out WPBakery for free without even buying it by visiting the WPBakery's online demo site and creating a personal demo sandbox.
WPBakery Support
Since there is no free plan available here, WPBakery offers priority online support to all its users for free. They even offer extended support to their users through their knowledgebase, blogs, video academy, newsletters, tutorials, and documentation. Lastly, WPBakery also offers ticket support for users to reach out early and get the best-dedicated support.
Elementor Pricing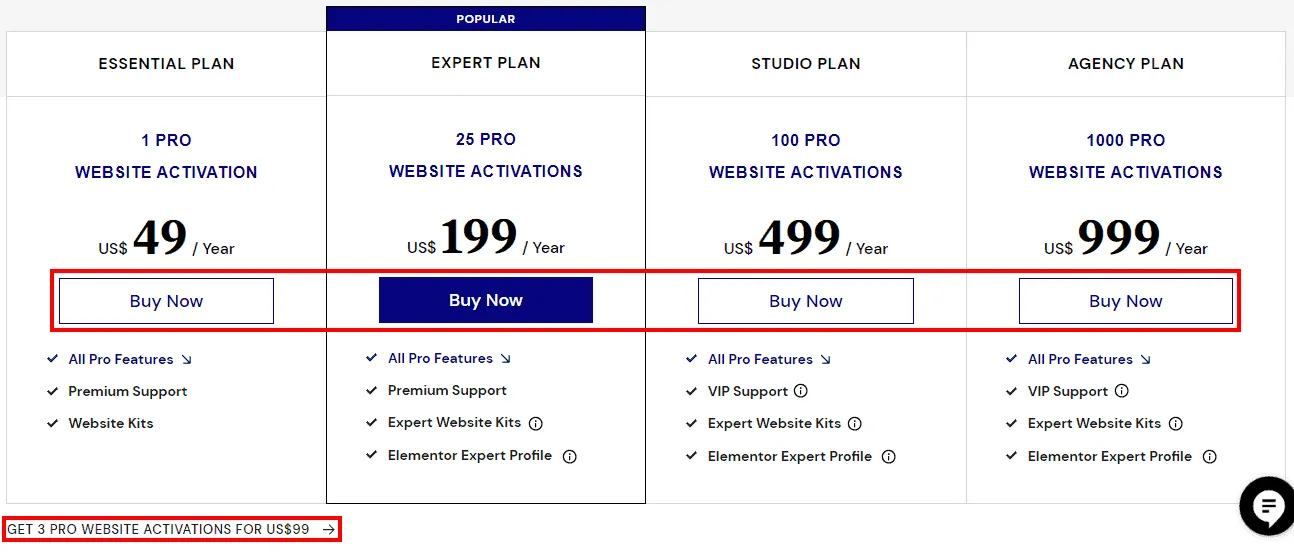 Elementor offers four different pricing plans to its users, and apart from this, it even offers a free plan. If you don't wish to buy any of the plans and simply move ahead with the free one, there's no such credit card required for the same.
Moreover, with all the paid plans comes a 30-day money-back guarantee, that even, no questions asked. And if you are still in doubt about which plan would best suit your business, you can talk to the team, and they will assist you with the best possible suggestions within 1 day on average.
Essential Plan – $49 per year
1 Pro website activation
All Elementor pro features included
Premium support
Website kits
Expert Plan – $199 per year
25 Pro website activations
Access to Elementor Expert Profile Community
All Pro features included
Expert website kits
Premium support
Studio Plan – $499 per year
100 Pro website activations
Live VIP support and priority responses
Expert website kits
All Pro features included
Access to Elementor Expert Profile Community
Agency Plan – $999 per year
1000 Pro website activations
All Pro features included
Extended VIP support and priority responses
Expert website kits
Access to Elementor Expert Profile Community.
The best part of Elementor Pricing plans, you can always upgrade them according to your business needs. For this purpose, all you have to do is click on the Upgrade now button available on your desktop, pay the extra amount, and you are all set! Lastly, Elementor accepts all major payment methods – credit cards, PayPal, and Stripe.
Elementor Support
If you are an Elementor pro user, the plugin offers pro support, available round the clock. It even offers support through a help center, video tutorials, knowledgebase, and FAQ pages. There's also dedicated Facebook and GitHub community access given to users to connect with like-minded people and get inspiration.
The best part, Elementor expert network profile is Elementor's verified global discovery network where developers, designers, marketers, and web creators, can connect and collaborate. One can even use their Elementor Expert Profile to hire or get hired as a creator!
---
WPBakery Vs. Elementor: Pros & Cons
WPBakery Pros & Cons
Easy to use and light interface

Multilingual support

Multiple varieties of content blocks are available

Pre-made templates available that can be saved for future use

Frontend and backend editor

Works with multiple themes

No need for programming knowledge/skills
No free plan is available

Steep learning curve

Expensive for beginners

Not as many features available as Elementor

Shortcode based plugin
Elementor Pros & Cons
Features are regularly updated

Extreme customizations can be done

Easy to understand

Works with all themes

Open source plugin

Comes with various third-party plugins

Creates websites quickly

Has both Woocommerce builder and theme builder
The white label version is not available as of yet

Many users still face customer support issues

No lifetime plans are available
---
🌟 Top FAQs on WPBakery & Elementor
What is WPBakery used for?
WPBakery is the page builder plugin for WordPress that allows users to create beautiful pages and layouts with minimal effort. WPBakery page builder plugin gives its user full control of their website. As we all know, building a website isn't always as simple as it seems, but by using WPBakery, you can create any layouts of your dreams as it does not require having any programming knowledge.
Is WPBakery good?
Yes, WPBakery page builder is the #1 WordPress page builder plugin used by millions of people to date to build any layout with no deep understanding of programming languages.
Can I try WPBakery page builder for free?
No, WPBakery doesn't offer any free plans. However, you can view how the tool works before buying it by voting on WPBakery's online demo site and creating a personal demo sandbox.
Does WPBakery offer any pre-made templates?
Yes, WPBakery offers free and premium layout templates that you can use on your WordPress websites.
Does WPBakery page builder work well with my theme?
Absolutely! WPBakery page builder works easily with your WordPress theme with no other problems.
What is Elementor used for?
Elementor is the best web creation platform that makes it easy for you to create an attractive, professionally-styled WordPress site. Elementor's intuitive interface allows you to create dynamic websites without prior coding experience.
Is Elementor good?
Yes, Elementor is a popular, #1 web creation platform for WordPress offering multiple features and functionalities to users, all for free to create responsive web pages and sites.
Does Elementor charge any hidden fees?
No Elementor does not charge any hidden fees to its users. The user only needs to pay for the particular subscription.
Is Elementor good for SEO?
Well, this is the most popular question that many people ask. The answer to this question is yes. Elementor is the best website builder, which is good for your WordPress SEO.
Is Elementor good for beginners?
You can build beautiful responsive websites in minutes with Elementor's beginner-friendly drag-and-drop editor. This amazing page builder allows you to build custom sites that look great across all devices and screen sizes. Elementor gives you full control of your site from design to the back end, getting exactly the results you want with just a few clicks.
What are the features included in the free version of Elementor?
The free version of Elementor never comes with all the pro features. However, you will get access to – a drag and drop editor, responsive editing, 50 widgets, global editing, global colors, global fonts, motion and interactions, 10 website kits, designer-made templates, a landing page builder, and more.
---
Conclusion: WPBakery Vs. Elementor
Which one is the best landing page builder?
This review was quite an extensive one, we know, but to get extremely honest here, both of these page builder plugins are awesome. But when it comes to choosing one, when you are tight on budget, Elementor must be your pick. This is because WPBakery doesn't offer a free plan, and on top of it, if you wish to try both these plugins, the best suggestion we would give is – to invest in the basic plan of WPBakery and make the most out of the free plan by Elementor.
Coming to usability, we have used both the tools and trust us, Elementor is much more beginner-friendly than WPBakery. The interface is not just eye-catchy but even easy to understand and work with. Editing in Elementor is much easier and quicker than in WPBakery.
In fact, when it comes to adding new features to the tool, Elementor wins here too. The team always has something new to offer to their users. In all, we find Elementor to be power-packed with powerful tools for design, marketing, content creation, social sharing, and more. The best part? They have an active online community for extended support, giving more benefits to each buck spent.
Elementor worked for us; WPBakery might work for you. Every business has its own demands, and as far as this comparison is concerned, we have made sure to put all the best features of both the tools. Make a wiser decision, and let us know what you think about Elementor and WPBakery?
Also read: