Sometimes, as a writer or marketer, you're not able to create your own content. If you're having trouble producing quality articles for yourself, Writesonic provides an AI-powered content creation tool. In this Writesonic review, we'll look at how it works and whether it's the best AI writing tool for you.
Writesonic is among several new AI content creation tools designed for small business owners. It offers an easy way for anyone who wants to create content for landing pages, product descriptions, ads, and/or blogs by simply entering some basic details. It claims reasonable accuracy rates and high readability scores. Writesonic stands out among the rest because it provides high-quality and exciting articles. Its many features help you write click-worthy content in just a few clicks! Let dive deeper into this detailed Writesonic review.
Detailed Writesonic Review
Writesonic is an AI-powered content generation tool that allows any user to create original content for websites or posts. With just a few words, you tell Writesonic what you want to write for, and it returns a range of generated results.
Writesonic has robust technology that guarantees every article generated is readable, free from plagiarism, and sounds like it was written by a real person. It comes with lots of tools that let you easily generate any kind of content you want. It's a reputable tool that has gotten lots of positive feedback from other content creators.
👉 How to Get Started With Writesonic?
Writesonic's AI helps writers write better content for any platform, including social media posts, blogs, websites, etc. It claims to use an advanced copywriting algorithm for its AI-generated ad hooks. You can use it for writing entire articles too.
You first need to create a new project. Next, choose a template to add a title and some keywords for each page. If you want to include additional words or phrases, you can always go ahead and add them. You don't need to go into too much detail here, but providing keywords can help you produce better content. Once you have entered your desired keywords and phrases, follow this with an introduction. But, if you're running out of time, you can choose to let the AI write the text instead. It may be worth trying again, but it will cost an additional use credit. The upside to this is that you'll receive 5 results within seconds.
Once you have your title, keyword list, and introduction ready, it's time to generate the rest of the content.
Writesonic can produce content just as well or even better than some professional writers. Writesonic can create texts within minutes. Content creation costs aren't too high, considering how fast they can be created. It's perfect when deadlines are approaching or if you need something done right away. You can test out the software by using their free version.
There are many ways you can access additional credits after you have subscribed to a plan. It also gives you opportunities to obtain additional free credits as well, but even if you need to buy additional use credits, you can buy them at very reasonable and cost-friendly rates. You can use generated content from Writesonic for drafts that you can then edit. But you will need to make sure it reads well and looks good before sharing it publicly.
You use this tool by choosing options and then following instructions. It guides you through every step of the way.
After creating your first project, you can select one of 40+ templates and create AI content.
There are various ways to customize content generation within the software. You could use it, for example, just generate an intro – or write a Facebook ad. Writesonic writes better short-form content than long-form content when compared. It even has an excellent idea generator that provides interesting writing prompts you can use for inspiration. It basically generates different options for you to choose from or edit depending on a specific topic or keyword. It helps if you're struggling to come up with topic ideas for articles.
What Can Writesonic Write for You? [Use cases]
If we want to fully understand how Writesonics works and its various types of articles, we need to take a closer look at their underlying models. Writesonic has its own proprietary artificial intelligence along with incorporating GPT-3 as well. GPT-3 is an incredibly advanced model that can create content and make it read as if it has been written by a human, all while boasting more than a hundred billion machine learning parameters.
It's actually even better than Microsoft's NLG model, which had just 10 billion machine learning parameters. It generates text that sounds natural and which can be used for any type of content ranging from short texts to long-form content. One reason why Write Sonic was able to consistently produce high-quality content for its clients is that they use this model.
Let's now take a closer look at the various kinds of content that Writesonic can create for you:
1. Website Copy
Writing web page copy can be exhausting and time-consuming, especially when you're just beginning it from scratch. It doesn't matter whether they're headings or landing pages; Writesonic can create compelling content for them. With this tool, you can easily generate content for any page on your site without needing to hire a writer or sit at a desk writing articles by yourself.
2. Digital Ads Copy
If you're already aware of how effective social media advertising is, you know why you must create ad copy. You can now use Writesonic to create compelling ad copy for your online marketing campaigns. For now, you can only write for Google and Facebook ad copy. However, Writesonic promises its clients that it will soon be introducing an online tool for creating catchy Instagram and Twitter ads.
3. Blog Post Content
It's the most common kind of content generated by Writesonic. To ensure that your blog keeps on attracting readers and an online community, it is important that you write consistently and publish regularly. Writing posts for your blog yourself can be hard and time-consuming. With Writesonic, you don't need to worry about any of that because they take care of everything. It will help you come up with blog post ideas, introductions, outlines, and even whole blogs if you want them. With no human help, you can easily create an entire blog post using Writesonic.
4. eCommerce Copy
Ecommerce stores must not just focus on selling products, but they must also write product descriptions, feature their products, title them appropriately, and advertise for them too. Writesonic can also create this kind of content within minutes. If you're selling products online and on websites such as Amazon, rather than wasting hours every day creating product descriptions, you could always use this writing tool to create marketing content for your products.
5. Copywriting Formulas
Writesonic uses two copywriting formulas, including PAS (Pain-Agitate-Solution). This formula follows these three steps when writing articles: identify a problem, agitate the problem, then provide a solution. Many articles are written to solve specific problems; therefore, they're often quite useful for writing long-form marketing copy. Another framework that it uses is AIDA which means Attention, Interest, Desire, and Action. There are four main steps involved in making a purchase decision.
Writesonic uses AI techniques to train itself on how to use both PAS and AIDA in an article so that it can prompt its readers to take action after they finish reading the article. There are several different kinds of content that can be created using Writesonic. This AI tool can write a host of different content types such as personal bios, growth ideas, YouTube video copies, press releases, and much more!
It's because there are so many different kinds of content generated by this tool that it's very useful for freelancers who want to write any kind of article.
Latest Upgraded Features of Writesonic
Quite recently, Writesonic has come with three new features, which we will look at in our review.
Instagram Caption Generator
Captions are a crucial aspect of your Instagram post, as they provide a hook, allow followers to understand your unique tone of voice and values, and help you show them CTAs on how to act on your posts and videos. Now you can create seriously engaging Instagram captions with just a few clicks using the Writesonic Instagram caption generator. It would also help you to create attention-catching Instagram captions.
By using Writesonic's Instagram Caption Generator, you get the following benefits:
You can caption your Instagram posts just the right way.
You can generate creative Instagram captions in just a few seconds.
This AI Writer would help you develop perfect captions for all your Instagram posts.
Twitter Tweet Generator
For all Twitter users, this feature of Writesonic is going to be really handy. By using Twitter Tweet Generator, you can generate twitter tweets and make your tweets more engaging and trendy. By using Writesonic's Twitter Tweet Generator, you get the following benefits:
You can create Tweets that grab attention.
It would also level up your Twitter Game
Just imagine how an AI would write tweets for you?
Questions Generator
You can generate unique questions for your blog and content, which would grab attention to your blog and generate unique interest among your audiences. You can create polls by which you can seek answers regarding any particular issue. This can further help you make thought-provoking social media posts requiring you to create polls and seek opinions. By using Writesonic's Questions Generator, you get the following benefits:
You can stop thinking instead. Start asking!
Create exciting questions that would keep them thinking.
If you are short on words, Let AI generate questions for you.
Photosonic AI Art Generator
The Photosonic AI art Generator is one of the latest features offered by Writesonic. Photosonic lets you create art using AI, all you need to do is start with detailed input on how you want AI to create art for you, and voila!! You have your art created by the instructions that were given to you. In simple words, Photosonic is a web-based tool that creates art using the text-to-image AI art generation. In addition to all this, what's worth mentioning over here is that Photosonic is free to use and can help you generate 20 AI images on the go, which can also be increased by sharing Photosonic with your friends, and just in case you wanna buy more credits, you can even buy more credits to generate AI image powered images, you can choose your way along different options such as:
Premium subscription
Monthly subscription
Annual subscription
Pay-as-you-go payment option
Just in case you are wondering whether the images generated using Photosonic can be used commercially? Yes, you can. By scrolling down the official website, you can see that they clearly state that you can use the images generated using AI with your input can be used for your personal or commercial use, as long as you follow the set of rules and terms of service. So, if you are an internet marketer, the Photosonic AI art generator will be a cherry on top.
Writesonic – Best AI Article/Blog Post Writer?
Short answer: Yes!
Long answer: Writesonic generates blogs and articles that are well-written and high-quality at the click of a single button! Writesonic creates original articles and blog posts that are easy to read and understand and will help you reach your audience faster.
It cuts down the time it takes to research articles and generates high-quality content that is accurate and in context. It lets you customize the style of your blog and gives you well-thought articles that will bring you all the clicks!
Writesonic helps you create articles and blogs with ease, so you can say good riddance to writer's block and bring all your ideas to fruition with this excellent AI blog post generator.
The Song Lyrics Writer
Writesonic has brought in this new feature, especially for all the lyrics writers out there. Many people find it challenging to express their thoughts and feelings through words, and for those who may do, many are too nervous. But Writesonic has introduced a pretty quick and fun way by which you can create original song lyrics in seconds. Isn't that awesome? This feature would help all the new songwriters to engage their choice of words better and create lyrics that would justify their rhythm. You just have to let go of your creativity block and sing your heart out so that you can create an unlimited supply of inspirational lyrics.
Stories Creators
This is also the latest addition to the list of features offered by Writesonic. Story creation is something that has been challenging for ages, and people who wish to engage in such a task need to be creative. Most of them find it difficult to find engaging creativity that can explicitly create content that would be just perfect for their audience. But Writesonic has changed the game entirely with this game-changing feature which is beneficial for storytellers as well as marketers. Anyone who is just beginning to write stories can also find this feature handy. Using this feature, you can create more powerful and engaging stories that can let your audience stick to their seats and listen to your story.
Apps and SMS Notification
As notifications have become increasingly common these days, users are often bombarded with dozens of notifications across multiple apps, making them less likely to keep an eye on their favorite apps and less likely to respond. With so many other messages vying for your attention, it is easy for your notifications to get lost in the shuffle.
But Writesonic has come up with a solution by which you can make your SMS and notification stand out from the rest. Writesonic has offered two new feature upgrades which can just change the scenario and help you write more standout SMS and notifications.
Learning how to craft a great ad might feel like an overwhelming task. Choosing the right words, using the right tone and sharing the correct information will make your campaign more successful. Finding the pieces that fit together most effectively is just a matter of finding them. And while writing Google Ad, titles are the first thing that you must write. These headings can just be the deal breaker at times between a click or a scroll.
But With Writesonic, you can create engaging Google Ad Titles which are short, punchy and eye-catching and can compel your potential customers to buy your product.
Google Ad Descriptions V2
After the title comes the descriptions. And how can Writesonic leave that? It helps you in that as well. It can be very challenging to differentiate your headline in Adwords as few characters are available. But a good and accurate description is a place where you have no excuses. Writesonic can help you create V2, which is perfect for creating high-quality descriptions that follow Google's guidelines better. Remember that these description lines can make you stand out from your competitors and push help the consumer convert.
How does Writesonic Works?
It's really simple to generate articles using Writesonic. Many people assume that interacting with an AI requires a lot of effort. But that is totally not the case. Writesonic makes creating content easy and quick.
Here's an overview of what happens during the process of creating content for your blog using Writesonic.
The first thing you need to decide is which kind of content you want to create. We've already mentioned several different kinds of copies that this AI could produce. You just need to choose which content you want to create. You might create an offer for people who visit your site via social media ads, a landing page, a blog post, etc.
Next up, you need to describe what kind of content you want for each section. Because without guidance from you, Writesonic AI will generate generic text for you. You should provide the AI with enough contextual clues so that it knows which articles to generate for each user. Writesonic uses that description to create content that matches the keywords you entered into its interface.
After choosing an appropriate topic for which you want to write an article, insert a short description into the text box provided. Writesonic will use your instructions for creating multiple copies. Generate content allows you to create content from scratch within minutes.
You'll be able to view the generated article on the Writesonic dashboard. You can change the text to fit your needs with ease and then store it or publish it elsewhere. You don't need any special skills to create good content using Writesonic.
Who is Writesonic for? – Writesonic Reviews
Writesonic was created by writers for writers. With its help, you won't need to write everything yourself! It provides you with high-quality articles, so you don't have to worry about writing them. There are four main groups of people who can benefit from using Writesonic:
1. Digital Marketers
The first group for which Writesonic is designed are digital marketers. Successful digital marketing campaigns require more than simply creating content. To get started, you need to figure out which products you want to sell, create an effective marketing strategy for them, and then track everything from there.
Writesonic provides you with high-quality content for your business so that you don't need to spend time creating it yourself. Many online marketing professionals have to hire writers for their blogs because they're too busy running their own businesses. But unlike writers, Writesonic is always open for business. It's affordable and allows you to determine which types of content you want to be published.
2. Bloggers
To run a successful blog, you need to publish content consistently. It's essential to keep up with blogging if you want to retain your readership. Bloggers often struggle with writer's blocks when they feel emotionally drained and don't know what to write next. Again, Writesonic makes blogging easy for you by providing tools that help you create beautiful content quickly and easily. With its ability to generate high-quality articles quickly, you can easily write new posts without having to spend hours researching topics first.
You just need to give the AI some lines of description and then sit back and watch the magic happen. As long as you've got Writesonic, your blog will always be up to date.
3. Ads Agencies
Advertising agencies always need new ads. Small ad agencies often lack the resources to create as many advertisements as they want. Write Sonic can help you with that! With this AI tool, you'll be able to come up with compelling ads for your clients that will help them generate more leads.
4. Ecommerce Brands
Content and eCommerce go together. Big eCommerce sites such as Amazon even rely on affiliate marketing reviews in order to sell their products. It's critical that you have the right writing tools at hand whether you're running your business yourself or if you're employed by someone else who owns one. Running an online business from scratch is already tricky enough without having to deal with everything else at once too.
A tool such as Writesonic can help you create high-quality articles quickly if you're having trouble writing them yourself. Besides driving traffic to your e-commerce store through blogs, Writesonic can also help you write product descriptions for Amazon, Facebook Ads, Twitter Ads, Google AdWords, Pinterest pins, Instagram stories, YouTube videos, etc. Which will help improve your brand's visibility.
You may be surprised at how well this AI-powered content generation tool works for you!
Is Writesonic a Legit Content Generation Tool?
Writesonic is an effective writing platform to help structure your written content. After having tested out the software for some time, we found it meets most expectations very well.
Ease-of-Use: The UI was a little confusing and could use an upgrade. There was some confusion when using certain features, which took up time during workflow.
Features: It has plenty of features that allow you to create content for different types of projects.
Customer Service: While we didn't need to call them directly, they had some excellent tutorial videos and troubleshooting guides for their products.
Value for money: Writesonic is less expensive than most other content generation AIs, and whatever price you pay for it is worth every penny.
Mostly free from plagiarism: The content seemed to be free from plagiarism based on our tests. But when the length of the text increases, so too did the number of plagiarized texts.
Writesonic Pricing Plans – Is Writesonic Free?
You can select one of four price options at Writesonic. They offer different price points for their services so that people who want less expensive solutions can get them at an affordable rate. We'll take a closer look at these products from Writesonic, which will help you see which ones fit your needs best.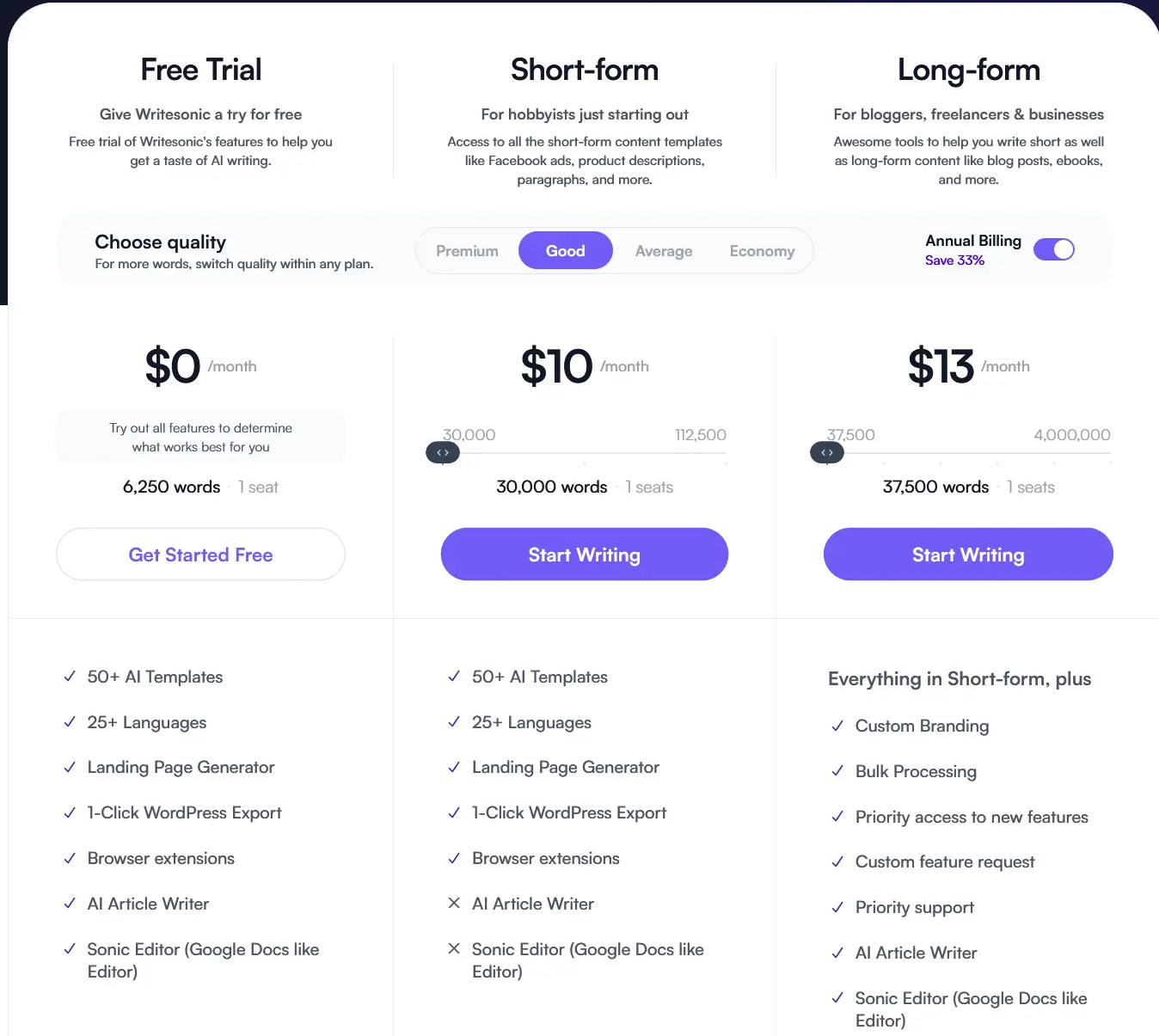 Free Plan – $0/mo
Best article generator tools allow their clients to experience what they can do for them. Writesonic does fall under this category as well because it offers you a free package that lets you test out its features by providing you with around 6000+ words, with all its basic features, 25 languages and 1 user seat.
Short-form Plan – $10/mo
If you're looking for a plan that can help you in content generation in short form. The short form plan starts from $10/month. You can access the plan for different options like Premium, Good, Average and Economy. The $10/month short-plan gives you access to 12000 words for Premium selection, whereas the Good option selection lets you get around 30000 words, the Average option gives you access to 60000 words, and the Economy option gives you access to 90000 words for the same. Well, it is worth mentioning that all these options are available for a single seat.
Long-form Plan – $13/mo
This plan starts at the price of $13/month. In addition to all this, it is worth mentioning that the long-form plan is best suitable for business owners, bloggers or freelancers. The plan starts with 112,500 words for a single seat and gets upto 12,000,000 words for 10 seats at a cost of $666/month.
Latest Writesonic Features: Complete Package
In addition to all the features mentioned above, Writesonic has recently come up with some excellent features that can help make things better for you and your business. Some of the features that Writesonic already offered were Content generation in both short-form and long-form. In addition to all this, you can also generate product descriptions, social media posts, sales emails and much more. These features can be beneficial for freelance writers and marketers. The latest Writesonic features include:
Twitter Tweet Generator: No doubt that Writesonic offers some great features that can help you in almost everything when it comes to writing and generating content using AI. Twitter tweet generator can help make tweets better for you and make a better impact on your audience.
Instagram Caption Generator: One of the issues that people like us have to deal with is caption creation; you can make your way around Instagram caption generation using Writesonic, so all this can be really helpful for marketers and social media marketing.
Question Generation: One of the other latest features that are not found in most of the AI copywriting tools is Question Generator; this can be helpful in several ways if you are a content writer or for business owners who might be looking to create some stuff for their clients or their own business.
Active to Passive Voice Converter: One of the other features that can help you in creating more engaging content is the active to passive voice converter; you can make your way around all this using the feature offered by Writesonic, which as a result, can help in generating more engaging content for your business.
Full Article Paraphraser: One of the features that already existed in Writesonic was the paraphraser, but the full-article paraphrasing was missing on some level; well, Writesonic has now come up with paraphrasing for the full article; all this can be really helpful in several ways for writers and freelancers.
Bulk Generation of Content: Bulk content generation can help make things compelling and more efficient. This is one of the latest features which Writesonic offers.
Instant Article Generator: This feature is basically more of an automated version of the Article Generator 3.0, you can use a new article generator to generate articles without selecting the intro and the sections, and the AI automatically selects the best sections and generate articles accordingly.
Apps and SMS Notification: Having a better connection with audiences through SMS and App notifications is a crucial component of marketing, but creating appealing copies for them can be challenging in itself. Writesonic provides this terrific feature to remove the barrier that has hindered the creation of appealing copies for App and SMS notifications.
Song Lyrics Generator: Writesonic offers this excellent feature to generate lyrics for songs; well, it is one of the latest features offered by Writesonic.
In addition to all this, we have also come across Writesonic, and they'll also be delivering some other additional features in the near future.
Writesonic Pros & Cons
We'll take a closer look at both the advantages and disadvantages of Writesonic so that you can get an idea of what they offer before you use it.
Pros of Using Writesonic
With Writesonic, you can rest easy knowing that you're going to generate high-quality content every time. Most AI-powered article generators don't produce high-quality content.
Finding an article generator capable of understanding your description and producing high-quality content that matches the context you want is rare.
Articles created by this AI tool use the AIDA and PAD writing formula. So they'll get engaged by your audience or readers and create original content free from any kind of plagiarism.
It has an extensive set of features for formatting articles. You can use Writesonic for anything from landing page templates to complete blogs.
With its powerful features, Writesonic is basically your one-stop shop for any type of content you might want to create.
It also supports multiple languages. Bloggers and digital marketers today often find themselves interested in exploring new markets.
However, due to language barriers, it becomes problematic. With Writesonic, there is no limit to creating content. It supports all languages with a natural flow and readability.
You shouldn't overlook the free package that Writesonic offers.
Most artificial intelligence (AI) writing tools require you to pay for their services before you can even test whether the articles generated by them meet your needs. Writesonic offers a free trial membership with 10 credits which you can use for premium services.
It lets you create lots of content quickly. Getting content from Writesonic is quick and easy. You can create a blog post within minutes. If you had written the same content by yourself, how long would it have taken?
Cons of Using Writesonic
One big drawback of using Writesonic for writing is their lack of ability to create high-quality research-based content. All content generation tools suffer from the fact that artificial intelligence has not reached that stage yet.
Unlike humans who excel at researching and compiling information from various sources, Writesonic doesn't have much access to any kind of deep research.
If you want content that has been thoroughly researched or writes about unpopular subjects, then you might not be able to generate quality articles using this tool.
Writesonic Reviews & Testimonials from Customers
Top FAQ on Writesonic Review
Does Writesonic offer any free plan?
Yes, if you want to try this amazing AI writing assistant for free, then Writesonic offers a Free plan to all its new users. The Free plan of Writesonic gives you 10 credits with some basic features.
How does Writesonic work?
Writesonic is the best AI copywriting tool that offers the highest quality content that helps you easily rank your blog, website or landing page higher on search engines. The AI of Writesonic is designed to understand what people want, and then it generates content accordingly. It writes content in 18+ languages. The AI-powered content generated by Writesonic allows you to drive more traffic to your site.
Who is Writesonic suitable for?
Writesonic is designed for all kinds of business. This leading copywritng tool can be used by marketing teams, agencies, and E-commerce brands to generate high-converting copy.
Who owns the generated content by Writesonic?
If you sign up on Writesonic, then all the content/copy generated by Writesonic in your account is owned by you only. You can use the Writesonic content for either personal or commercial purposes.
How is the output quality of Writesonic?
Writesonic helps you create killer content without any hassle. It's a powerful writing assistant that generates in-depth and consistent content that converts.
Can I get a discount on Writesonic plans?
You can subscribe to yearly plans on Writesonic to get discount as compared to monthly billing.
Which is better; Writesonic Vs. Rytr?
Both Writesonic and Rytr are excellent copywriting tool that offers some impressive features. Rytr offers 20+ use cases, and Writesonic supports 50+ content types. Writesonic offers a 7-day money-back guarantee included in all its plans. On the other hand, Rytr does not offer any money-back guarantee. Writesonic is one step ahead of Rytr as it is the all-in-one copywriting tool for all marketing experts.
What are the other best Writesonic alternatives?
Check the following list of other Writesonic alternatives and competitors:
Rytr
Jasper
Anyword
CopyAI
Copysmith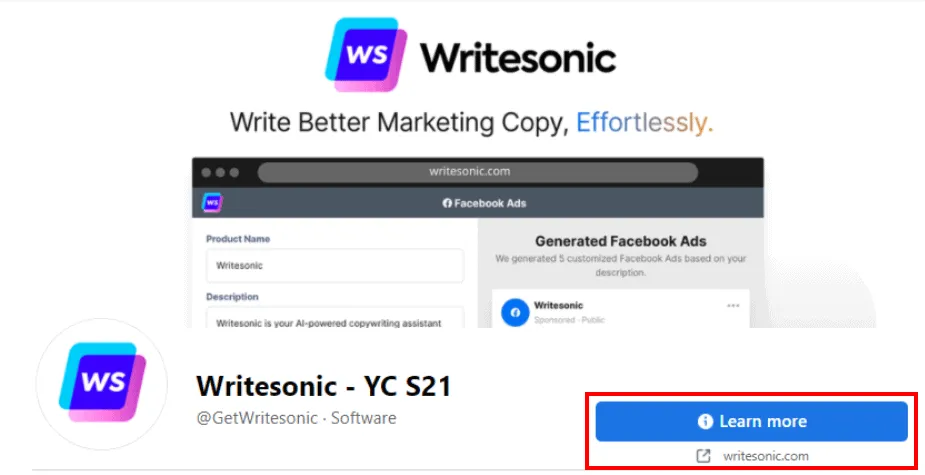 Conclusion: Writesonic Review 2023 | Should you really go for it?
Content creation isn't something we need to dread any longer. Regardless of the reasons why you want to write, everyone agrees that writing sometimes isn't as enjoyable as they might think. Sometimes we just don't feel creative enough to write articles for our blogs. Writesonic is an easy way for anyone to create high-quality content quickly. Content creators need to be using tools like Writesonic because they're so versatile and easy to use.
It's even better than we thought! You get to experience what the tool can actually do with its free plan. Users can use this free trial period to get familiar with Writesonic and see if they want to continue using it for more extended periods. We hope that this in-depth Writesonic review has helped you make a better decision when it comes to actually trying out the product for yourself.
Struggling to find the time to write an article or blog post and worry about SEO? Save time and energy with Writesonic – your AI-powered writing assistant. Writesonic is the AI writing assistant for bloggers, content marketers, ecommerce business owners, etc. It's a revolutionary tool that helps you write blog posts & articles quickly and easily, with the perfect SEO keyword, headers, and subheaders without any manual work.
Quick Links:
Affiliate Disclosure: This post may contain some affiliate links, which means we may receive a commission if you purchase something that we recommend at no additional cost for you (none whatsoever!)