Searching for a ZonBase detailed review while saving some extra bucks using Zonbase coupons? If yes, this Zonbase review is for you. Well, there are hundreds and thousands of tools available in the market. This is where Zonbase can help you get along with the best features and in-built tools to make your Amazon selling operations better in terms of management and optimization.
We have come across many Amazon sellers' tools so far, but what makes Zonbase a better choice among many is the easy-to-use interface while coming across product listing, listing optimization, search for hot products, sales trends, and much more. In addition to this, you can also get yourself an excellent deal by getting a Zonbase Free trial using the link given in the description.
If talking about the features and tools offered by ZonBase, you can look after some excellent features for product listing, PPC campaigns and much more. We'll take a deeper dive into these features so that you can have a good understanding of Zonbase.
What is ZonBase? – ZonBase Review in a Nutshell
ZonBase is software made exclusively for Amazon vendors by which they can do product research and keyword optimization along with listing their products on a proper shelf of Amazon. Plus, this ZonBase Review is going to show you the various aspects of this tool, which has helped numerous Amazon Sellers to scale up their business. Also, it will guide you about its benefits and how ZonBase earned the trust of many sellers when they included this successful tool in their armory. Zonbase is web-based cloud software that provides 13 tools for Amazon sellers along with three key processes, which are product research, sales optimization, and listing optimization for all the products on their site.
Similar to the features and tools usually offered by most Amazon seller suites, ZonBase offers an easy-to-use interface while making it useful for Amazon sellers. Some of the features that make Zonbase an excellent choice are as follow:
Profits (Financial Management)
These are some of the primary key features which are offered by Zonbase, making it a good to go choice for Amazon sellers. These features are further categorized into more features such as Zonresearch, Page One, PPC Autopilot and much more. We'll be getting to them later in the article.
Why Should You Use ZonBase?
Amazon sellers do require accurate data, which can make them stay ahead of the competition. Many of the sellers fail only because they rely on instinct or other people's suggestions, but they don't feel the need to gather some information on their own by which they can analyze themselves and see what has actually worked in the past and what likely it is to go forward with a particular product.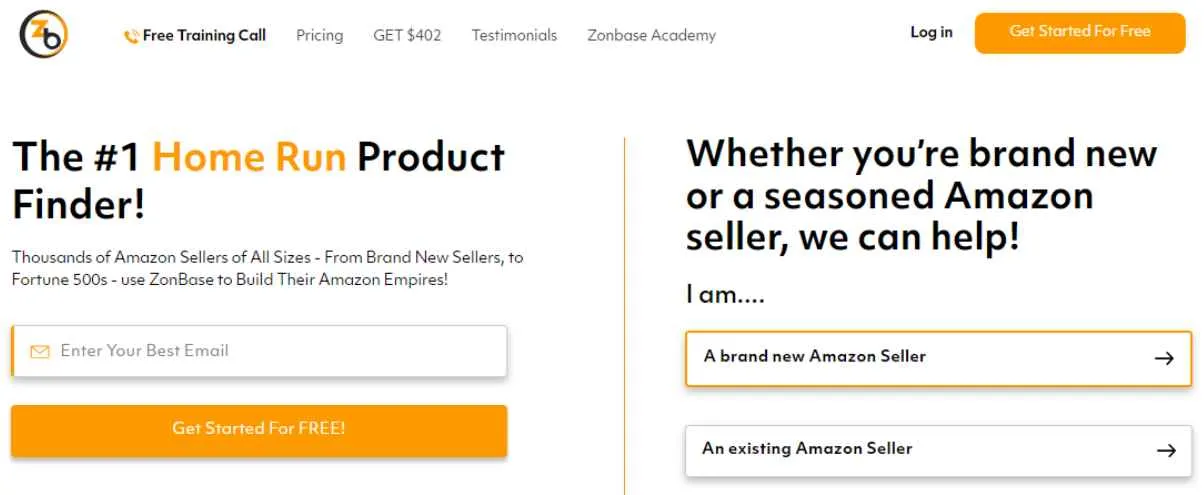 And to help you all out of this dilemma, ZonBase is here as it provides you with in-depth information by which you can access past sales data and make an informed decision about which products and keywords are more profitable in the future without having to spend hours researching online. Plus, there are also many hot items that are also updated hourly that can influence your choice, and you can also give them due consideration before making your final decision.
We did use Zonbase and were impressed with how it can turn around your business more efficiently. You even don't have to spend many hours stressing through hundreds of product detail pages and wasting your time. In short, you can make a better-informed decision about your Amazon seller business by using Zonbase, which is also easily accessible with a single click of a button.
As an Amazon seller, having an eCom suite is pretty crucial. It is highly recommended to do because of the tools and features that you can get along with; this includes some essential features such as getting known about the sales trend, performing product launches, searching for profitable products, inventory management, etc. And this is where Zonbase can help you with everything I mentioned above. In addition to that, the easy-to-use interface, when added with all the features, somewhat makes Zonbase an excellent choice overall among Amazon sellers.
ZonBase Features at a Glance – What is ZonBase Good for?
As an Amazon seller, you need to get along with almost everything single-handedly, and this is where the real hassle and hustle starts. And this is where an Amazon sellers' suite can help you manage things in a single place. These tools and features offered so far can be used for multiple things and can be used to make your way around selling operations. So, let's take a detailed overview of all the features offered by Zonbase.
1. ZonBase Review – Product Research
Getting along with an excellent product research tool can be a tricky thing. As an Amazon seller or someone who is needed to get along with similar selling practices, product research can be considered one of the most important things overall. I have come across many tools and features that focus on Product research, and Zonbase covers most of the features and tools, making it an excellent choice for sellers. Here are some of the important features which are included in the Product research section offered by Zonbase:
ZonResearch: The ZonResearch feature offered by Zonbase Product research is one of the star features for Amazon sellers; it lets you get along with the Filteration of Amazon products. The section basically lets you explore some sections such as categories, filters and advanced filters. You can explore category options such as apps & games, appliances, pet supplies, etc.
In addition to this, you can come across some other filter options, including revenue range,  price range,  reviews, keywords and even the type of sellers, such as Amazon, FBA, and FBM. These filters can help you get along with a more targeted product research, resulting in finding that perfect product for your business and selling practices.
Chrome Extension: No doubt that the Chrome extension can be called off as an excellent tool for making things better for everything on the go. The Zonbase Chrome Extension lets you get along with product research and analyze different parameters such as sales, revenue collected, etc. This, as a result, can help you in making things better for the product research while using or exploring Amazon.
Other important features include Hot Products, Product Validator and Sales Estimator. These different features and tools can be called off great usage under different parameters.
2. ZonBase Review – Sales Optimization
No doubt that Sales Optimization can be called off as an important parameter when it comes to Amazon selling. As an Amazon seller having things managed for sales is a bit crucial, and this Sales Optimization comprises a number of things. Well, Zonbase has covered a lot of them, including:
Keywords: No doubt that having a good analysis for keywords can make your product listed better in almost every aspect. As using keywords can help you in coming across a number of things which include increased sales, and better listing optimization, resulting in more ROI.
Reverse ASIN: Well, as an Amazon seller who might be working alongside an Amazon sellers tool, reverse ASIN is counted among one of the important features. The reverse ASIN feature enables you to make your way around searching and extracting the details all from the ASIN number; the reverse ASIN also makes you explore around some other important information.
Page One: This feature lets you explore different aspects of the PPC campaign, including the 30-day coaching and support and optimized listing. You can get along with PageOne within 2 different pricing options, including one for $397/keyword launch with some limited options, whereas $497/PPC + Keyword launch with additional features such as 30 days of fully managed PPC, customized PPC campaigns, Boosting organic rank, personalized expert strategy and much more.
PPC Autopilot, ZonTracker and Alerts: These are some of the other features offered in the Sales optimization section; these different features and tools can be used for different features; for example, the ZonTracker can be called a useful feature as it will let you come across different things like keeping track of the product that you might have added.
3. ZonBase Review – Listing Optimization
This section offers some excellent features in terms of the listing, and this basically includes some features such as Listify, Listing optimizer and Photo Enhancer. These different features can help in making things all set for your product listing over Amazon. Overall, this section is all set for helping you out in listing and its optimization. You get to come across different aspects of listing optimization under features:
Listify: This feature enables you to get along with optimized product listings with all the keywords. As a result, this can help you in getting along with some great opportunities in terms of making things better.
Listing Optimizer: The Optimizer by Zonbase focuses on some other aspects such as Keywords, titles, product descriptions, and backend keywords. In simple words making your Amazon product listing more optimized and better in customer POV.
Photo Enhancer: There is no doubt that Images are considered the most important thing for customers. Having appealing and eye-pleasing photos for your product can be one of the essential features, and this is where a photo enhancer can help you make your product photos better. Whereas if you have low-quality pictures, then people will not be able to see the value in your product and will not purchase it. And with ZonBase Software, you can improve any photo within seconds by adding depth perception into sharpening lines and corners. You can also correct color discrepancies like white balance issues between light sources.
4. ZonBase Review – AMZ Manager
This section is more dedicated to the store management part; as an Amazon seller, managing your store efficiently can be considered as one of the major aspects, and the AMZ Manager by Zonbase can help you in managing things under different parameters. If talking about the features offered, the AMZ Manager lets you get along with features such as:
Store Manager: The store manager lets you get along with some of the important features, which include Gross revenue, store performance, store summary (including COGS, PPC, storage, etc.) and much more.
5. ZonBase Review – Profits
No doubt that this section can be called off as one of the most important parts of Amazon's selling practices. Well, Zonbase has got things done to some extent, including sections/options:
Profit Dashboard: The dashboard basically lets you get along with getting along with the PPC campaigns, insights on inventory levels, store performance, etc.
Reports: This section will let you get along with the reports on the profit you might have made while also getting along with some other data reports (profit reports) to make better strategies alongside.
Expense Manager: As an Amazon seller keeping an eye on the expenses seem to be very important in terms of management and everything. And this is where the expense manager by Zonbase can come out to be helpful.
6. ZonBase Review – ZonPPC
The ZonPPC lets you get along with some excellent features in terms of campaigns and marketing stuff. As an Amazon seller or even someone indulged in business, performing a good marketing campaign is always counted as one of the most critical aspects of your business. Well, Zonbase offers 2 different sections under the ZonPPC, which include:
PPC Dashboard: The dashboard basically gives you an overview of the PPC and related things that might be getting done from marketing/campaigning's POV.
Ads Manager: This feature/section lets you get along with some of the ads management and other things at a single, basically how your ads are performing, which one should be paused, continued or aspects similar to that.
7. ZonBase Review – Need Help
This section is dedicated to the customer service part; well, this customer/user help does not include the support like you get to talk to a customer care executive but the experts who have been into business for quite some time now. The need help section lets you get along with:
Free Training Call: You might have already got an idea of what free training call refers to; the training call by Zonbase can help you understand how exactly the tool can help you or what are the features it offers. So basically, a free training system on the call.
Zonbase Learning: Like most Amazon seller tools available in the market, Zonbase also offers a learning section that can help you make your way around the tool while getting along your journey as an Amazon seller, whether you are a beginner or an expert.
Blog: No doubt that blogs can help you understand a lot more when it comes to learning new stuff, so this is basically what Zonbase blogs can help you with.
Since we are all done with the features, it's time to get along with the Zonbase Plans, so let's take a look at the plans and ways so that you can save some extra bucks on the Zonbase plans as well.
ZonBase Pricing Plans – ZonBase Discount Offer
Unlike most of the Amazon seller and FBA tools available in the market, Zonbase has got 2 different pricing plans making it easier to choose among users. These different plans include:
Standard Plan – 47/Month or $444/Year
The Standard Plan costs around $47/month, making it an excellent choice overall. If we compare different tools and features offered by Zonbase Standard Plan, the features are somewhat limited, and you cannot access Chrome Extension.
10/Day ZonResearch
10/Day Keyword Base
10/Day Reverse Keywords
40/Day ZonTracker
40/Day Sales Estimator
10/Day Hot Products
10/Day Listify
1 Store integration Alerts
1 Store Integration Profits
Legendary Plan – $97/Month or $804/Year
The Legendary Plan costs around $97/month and has got excellent features in terms of the numbers, if we compare these numbers of searches, etc. The Legendary Plan offers quite an appreciable amount of features and everything.
250/Day Chrome Extension
250/Day ZonResearch
250/Day Keyword Base
250/Day Reverse Keywords
1000/Day ZonTracker
1000/Day Sales Estimator
250/Day Hot Products
250/Day Listify
1 Store integration with Upto $30k Ad Spend/ Month ZonPPC
3 Store integration Alerts
3 Store Integration Profits
Is Zonbase really a Helpful Tool for Amazon Sellers?
Yes, we will say its more than a helpful tool for Amazon sellers. With many FBA tools around the arena, effective usage is something that many sellers don't pay attention to. All the tools are easy to use even if you don't have any experience of being a seller initially. Zonbase will directly provide you with the hot selling products which are selling well, so your competitors don't stand a chance against you.
For all the newbies who are out there dreaming of becoming an Amazon seller, Zonbase is the tool that you can bet on before you start your Amazon seller journey. This tool specializes in finding the products that can serve you good profit based on what niche they are marketing into. Plus, it also creates a PPC campaign to drive traffic back on these listings, so it becomes easy to decide how much inventory is needed at any particular time. And to learn this tool, where there are various step-by-step guidelines and interactive tutorials.
ZonBase Affiliate Program – Earn 50% by Referring
ZonBase has quite a unique and different affiliate program. While other Amazon FBA tools will offer you a 10-20% commission, with the ZonBase affiliate program, you get a chance to earn 50% of every revenue generated with the ZonBase from people you refer.
Now that's something we call impressive commission on each sale you refer to and recognition as one of their affiliate partners. You will get paid every month via PayPal after the completion of the 60-day conversion window.
You only have to fill out a simple application form which takes a few minutes, and their team will get back to you.
After that, you will get your personal affiliate link from them once you are approved, which will also help in tracking all the referrals coming from you.
Lastly, you can share this link with your audience and start making good money with every sale you make.
There is no doubt that the ZonBase Affiliate Program is the best affiliate deal in the industry.
ZonBase Best Alternative – Best Competitors of ZonBase
ZonBase Vs. Helium 10
Helium 10 is a popular and all-in-one solution for Amazon FBA Business that includes from product research to SEO to refunds and fraud protection. You can term it the ideal FBA tool available across the board by which Amazon Sellers can scale up their business.
Hundreds of businesses and entrepreneurs are using Helium 10's e-commerce suite of tools and managing their products and selling them by finding keywords, identifying trends, improving listings, streamlining ad campaigns and much more. Helium 10 uses powerful algorithms and filters based on product categories, monthly sales reviews, ratings, and plenty more and organizes findings for future reference. Plus, it also has features like Black Box, which enables teams to search for opportunities.
Helium 10 is also useful for product seasonal demand to analyze it using graphs and charts, as well as check out the keyword ranking in relation to your competitors. It also helps you to measure search traffic for a few Amazon ASINs. It also gives the sellers the ability to copy ASINs in bulk and also use them to make targeted ads for their products. Even users can see how many units are left in stock for specific listings and use this information to find out how much they can make after factoring in their Fulfillment by Amazon (FBA) fees.
Sellers can even create email sequences using well-established custom templates for order delivery, or event triggers and orders can be seen at a single place on the dashboard. In short, everything you need to make a six figures business is right in your dashboard.
What are the benefits of Helium 10?
More powerful, Faster product research
Analytics that help in Decision-Making.
Helps in writing listings
Provides you with thousands of keywords in no time.
ZonBase Vs. Jungle Scout
Founded in 2015, Jungle Scout is somewhat ahead of ZonBase and since then has changed Amazon sellers' lives forever with their mind-blowing tools. Jungle Scout is on a mission to provide robust and in-depth data to businesses and brands so that they can grow their Amazon business.
Jungle Scout is the best all-in-one platform. It has a strong data-driven approach that helps Amazon sellers and brands succeed on Amazon through product research, market insight, brand and listing management and much more. Since its inception, they have served over 500,000 consumers.
The Jungle Scout dashboard is very intuitive and helps sellers to have a quick look at the status of their business from the last week. Sellers can see in-depth information like total sales, profit margins and sales volume from the moment they log in with the new sales widgets. Also, they are also able to keep tabs on their PPC advertisement as well.
Overall we will say it is an amazing tool to do a market search and uncover all the winning products. It also helps in estimating sales, keyword research and also spying on competitors, all from a single and convenient dashboard.
What are the Benefits of Jungle Scout?
Helps you execute market and keyword research
Creating and optimizing product listings
Check out the trending product categories and brands
Evaluate the emerging search trends
Identify your competitor's strategies.
ZonBase Reviews & Customers Testimonials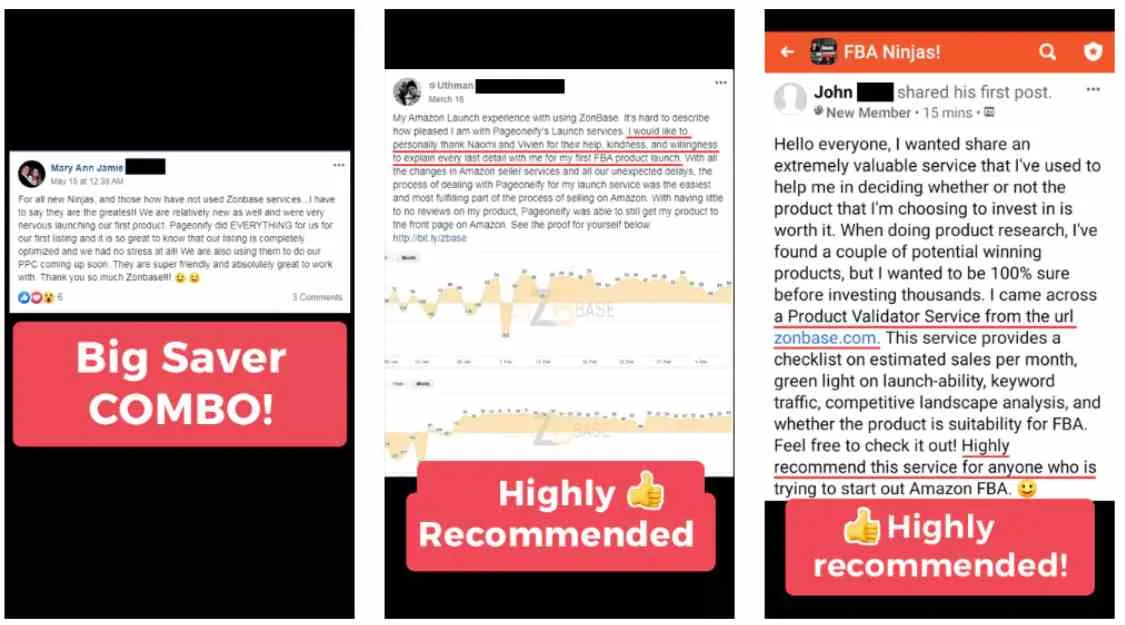 Top FAQ on ZonBase
What exactly is Zonbase?
The Zonbase software suite is a collection of various Amazon seller software that each performs a specific task for your Amazon business. These important tasks include keyword research, listing optimization, and product research.
Is Zonbase real?
Zonbase is software for Amazon vendors that has been voted the most accurate and best-value software today. It's an all-in-one software containing all the tools and services Amazon sellers require to conquer the Amazon marketplace.
How many keywords do I need to rank for?
We recommend starting with one to three keywords. To determine whether their service delivers and whether Amazon buyers purchase your products naturally. You can get more advice from their live online consultants.
How long until the promotion starts?
Zonbase can have your promotion up and running in less than 24 hours, depending on how quickly they receive the information they require from you.
Does it matter how frequently keywords are used?
There is no benefit to repeating keywords, so they use their keyword data of over 15 million keywords to see what other keywords buyers are searching for when looking for your product. The idea is that each keyword used by buyers must appear at least once in your listing.
Is there any Zonbase free trial?
Yes. Zonbase does offer you a 7-day free trial period which you can utilize to test out all the features of this tool. This, we guess, is enough time to test the tool out and determine whether Zonbase is the right tool for your business or not.
How much is Zonbase?
Well, ZonBase comes with two plans: The Standard Plan costs $37/month and $444/year, while the Legendary Plan costs $67/month and 804/year.
Who owns Zonbase?
Kevin David is the face behind Zonbase. He is the Founder & CEO of Zonbase. He is a leading Amazon seller, eCommerce expert, and serial entrepreneur and has over 10 years of experience in building and scaling numerous online businesses.
Can you use the Zonbase Chrome Extension in your free trial?
Yes. When you sign up for a free trial account and choose any plan, you get to try out the Zonbase Chrome Extension.
Which are the Marketplaces supported by ZonBase?
When we did the ZonBase Review, it supported marketplaces in the United States, Canada, United Kingdom, Spain, Italy and Germany.
Will you have to Enter your credit card details when you signup for the Free trial of ZonBase?
Yes, you have to. However, you will not be charged during the free trial, so you don't have to worry. But if you don't like ZonBase and are not moving ahead with any of its paid plans, make sure you cancel your free trial account before it ends. Other wise, you will be charged automatically.
How to cancel Zonbase subscription?
The best part which we like about Zonbase is that your subscription is not tied to a contract, and you can cancel at any time. As you cancel it, your subscription will end after the current billing cycle, and you won't be charged going forward.
And to Cancel your Zonbase account, you can follow the following steps: 
1. First, head to your account name at the top right corner of the Home Screen
2. Then click on My Profile
3. After that, Select "Billing."
4. Finally, click on "Cancel Account" and follow the steps until the process is completed
ZonBase Facebook Group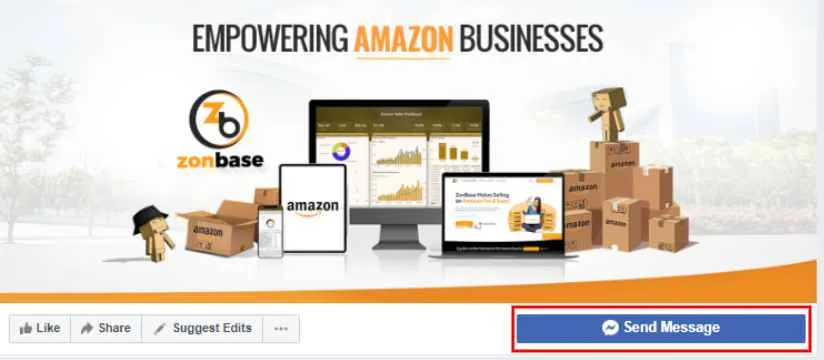 ZonBase Twitter Group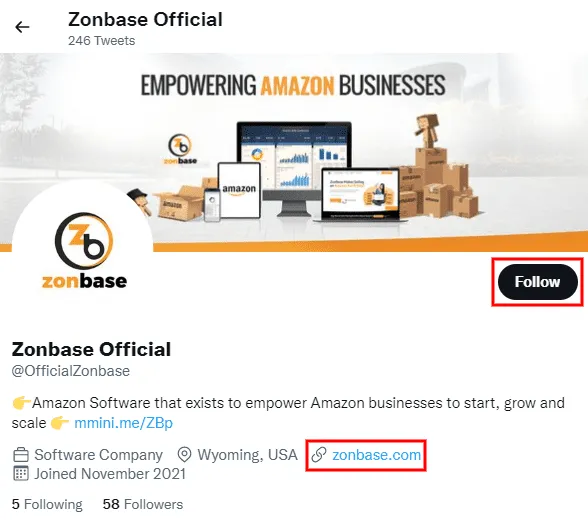 Conclusion: ZonBase Review 2023 – Should you go for this tool?
Like some of the top-tier players in the market in terms of Amazon FBA tools, Zonbase can be considered an excellent choice. Some of the features that make Zonbase an excellent choice is its features, some of them are as follows:
Product Research
Sales Optimization
Listing Optimization
Profits
ZonPPC
In addition to all the features I just mentioned here, the easy-to-use interface is pretty excellent. So, if you are someone who is looking for an Amazon sellers tool at an excellent price point along with the easy UI, Zonbase can be called off as an excellent choice.
Hopefully, this Zonbase review has helped you in getting a bit known to the tool for your Amazon selling practices.
ZonBase Review – Use ZonBase to build your Amazon empires!!
If you are an Amazon seller and want to automate your Amazon business and make data-driven decisions; Zonbase is the only software that you should rely on. This all-in-one software offers all the tools to the Amazon vendors that help them to take their AMZ business to the extreme level. This software offers 13 tools such as keyword research, product research, listing optimization, PPC advertising, etc. Use Zonbase and conquer the Amazon marketplace.
Positive
It offers a 7-day free trial.
Free Amazon training.
Easily discover a winning niche in seconds.
Uncover trending products every day.
It offers a powerful Chrome extension.
Negatives
More pricing plans are needed.
ZonBase – #1 Amazon Product Research Software
Sign up for Zonbase 7 day free trial period and test all its tools for free.
Also read: