Blockchain Life 2023, the 10th International forum on Blockchain, cryptos, and mining will be taking place on February 27th-28th, 2023, in Atlantis the Palm, Dubai. The event will be an excellent opportunity for investors, crypto, Blockchain, and mining enthusiasts. Having started its history in 2017, the forum quickly entered the TOP-3 world events in the industry of digital assets.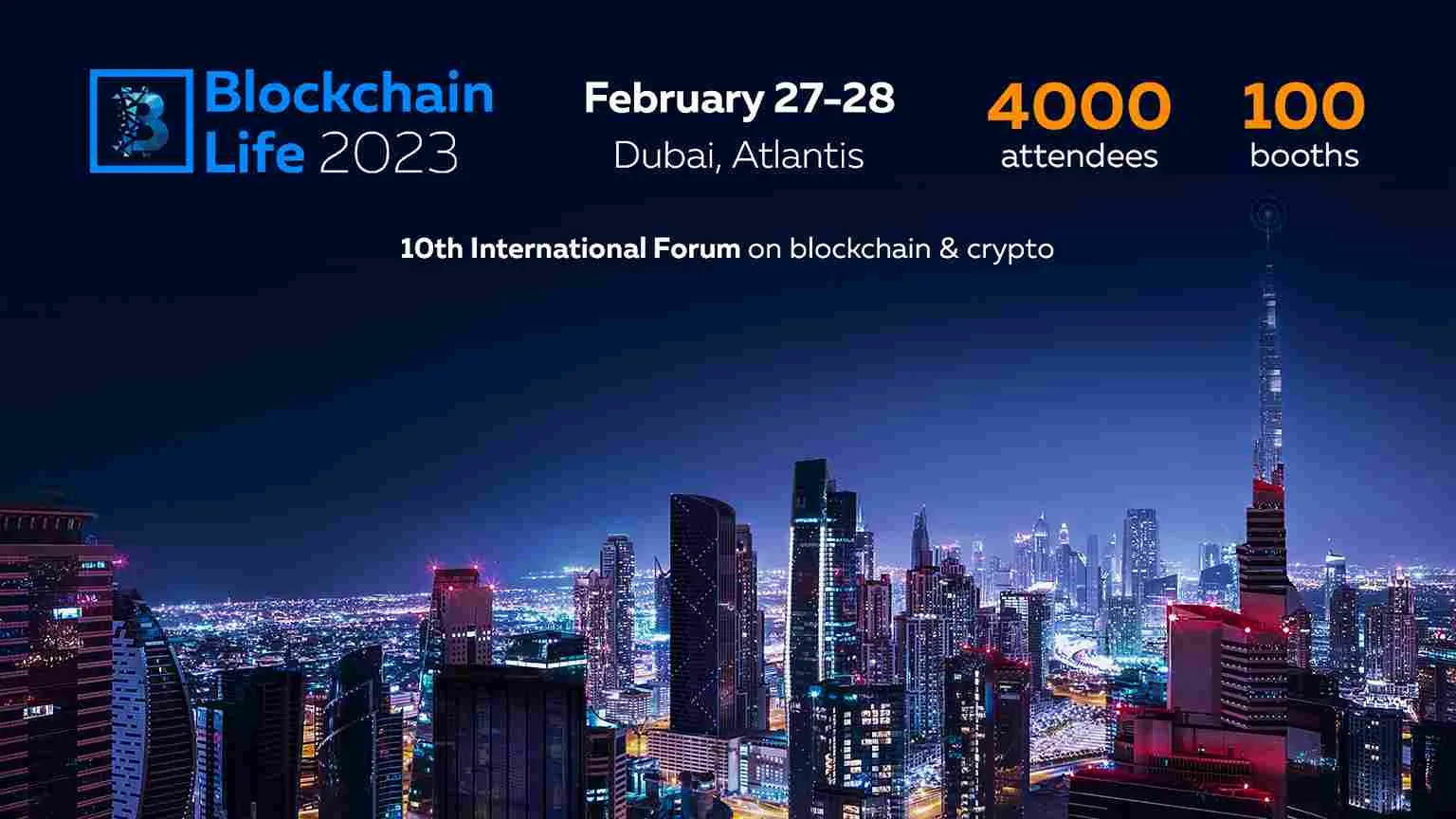 The forum is attended by key industry players, government representatives, heads of international companies, funds, investors, promising startup teams, and beginners. The event will be attended by 4000 attendees and will have 100 booths, making it a huge event in the crypto ecosystem. Blockchain Life 2023 will be hosting around 70 speakers, along with some of the top crypto companies.
What are the Topics that Blockchain Life 2023 Covers?
Blockchain Life 2023 will be covering some of the most important and common topics that play quite a crucial role in the crypto ecosystem; this basically includes Blockchain, Cryptocurrencies, Minning and Startups. This is just the tip of the iceberg, as the event will be covering all of these topics along with some other topics in quite a broad manner. Let's take a deeper overview of some of the topics that will be conversed in Blockchain Life 2023.
Blockchain
The Blockchain is quite a broad topic to consider, whereas the forum will be coming up with a thorough discussion over sub-topics in Blockchain as:
Implementation of blockchain technology in international business
Blockchain and government: taxpayer's dream?
Types of blockchain platforms and their application features.
Risks and limitations of blockchain technologies.
Tokenization in real estate.
Blockchain in the banking sector.
Technology development prospectives: 2023.
Opportunities and possibilities for cross-chain ecosystems.
Impact of blockchain technologies on the labor market.
And much more.
Cryptocurrencies
The forum will be covering some of the excellent sub-topics under the Cryptocurrencies topic; these sub-topics include:
What are Tier 1 crypto funds investing in for 2023?
Altcoins. Which ones to choose for investments in the nearest future before they go to the moon?
Bitcoin cycles. What's next?
Trading and investment. Advice, tools, and recommendations from leading traders and analysts from top funds.
Institutional investors' impact on the crypto industry.
Crypto industry legalization. World practice in 2023.
Futures contracts, options, and margin trading on top exchanges.
Electronic wallets in 2023. How to store cryptocurrencies safely?
Legal aspects of cryptocurrency circulation.
And much more.
Startups in the Blockchain Ecosystem
There has been substantial growth in terms of Startups; this basically includes covering up subtopics like:
Tokensales: how to invest, first steps.
Key features of successful crypto startups.
Global Move-to-earn trend: case analysis.
How can a startup attract funds and private investors? Legal aspects of the fees.
How to create a successful crypto fund. What to start with?
How to place your token on the exchange and manage its value?
Project marketing in 2023. Which factors affect funding?
Perspectives and possibilities of Defi cross-platform
Development of Play-to-earn and Metaverse directions. Symbiosis of the digital economy and the world of computer games. How to find and invest in the best projects in the most innovative areas?
And much more.
Mining
No doubt that mining is quite an important pillar when it comes to cryptocurrencies and the blockchain ecosystem. The Blockchain Life 2023 will be covering some of the sub topics like:
Investing in mining as an alternative to investing in tokens.
Equipment placement: the best countries and regions.
Best manufacturers of mining equipment in 2023.
Proof-of-Work vs. Proof-of-Stake and other consensus algorithms.
Future of mining till 2030. What to expect in the nearest future?
Alternatives in the mining industry: green mining, mining on hard discs, etc. The future of mining.
Technological solutions for the mining industry.
Venture investments in mining companies and more.
What Can You Expect from Blockchain Life 2023?
As mentioned above, Blockchain Life 2023 will be getting along some excellent and thorough discussions based on cryptocurrency, mining, startups, and blockchain. Whereas, if we look into Blockchain Life 2023 from an events perspective, here are some of the few important things that are worth mentioning:
Networking with 4000 attendees from all around the world and personal acquaintances with the first persons and companies of the industry.
Exhibition area with 100 booths of digital companies.
World experts' speeches in the conference hall
Greatest AfterParty on the luxury yacht "LOTUS."
During the event, participants will have the chance to find promising startups to invest in, meet new business partners, and learn about all of the relevant ways to make money with digital assets. A discussion of the latest trends will also be included, including metaverses, NFTs, Defi, P2P trading, digital asset arbitrage, and more. The Blockchain Life 2023 will take place on Feb 27-28 in Dubai, Atlantis the Palm.
Speakers in Blockchain Life 2023
The 2023 will be hosting some of the leaders for the event; these include Founders, CEOs, Vice Presidents, Crypto experts, Traders, Analysts, and more.
Blockchain Life 2023 Tickets
Three different ticket types are currently available in Blockchain Life 2023; these 3 different ticket types include the Standard, Business, and VIP ticket types.
So, what are you waiting for? Just get along with Blockchain Life 2023 and upscale your overall experience in the crypto ecosystem. Network with the leaders in cryptos, blockchain, mining, and startups that are in your industry.