Are you looking for an all-encompassing marketing tool for your website? You might have a look at the SEMrush, a comprehensive tool for digital marketers who want to get an edge over the market competition.
In this post, you will get a detailed ✅SEMrush Review along with the SEMrush coupon and free trial offers. So, let's first have a look at the coupons for saving your precious money on the subscriptions.
Read On!!
---
About SEMrush
SEMrush was established in 2008 and is an acclaimed tool for SEO of your website. According to the US Search Awards 2019, MENA Search Awards 2019, Interactive Marketing Award 2019, and SEMY Awards 2019, SEMRUH is the best digital marketing tool.
Around 5,000,000 users have already saved their time and money by using the tool. For the last twelve years, SEMrush is offering compelling tools to manage your website's SEO, traffic, content, PR, social media marketing, and advertising. It is also an excellent spy tool for competition analysis as it assists in peeking into your rival's best PPC campaigns, ranking keywords, and more.
SEMrush solutions are helpful for e-commerce, enterprise, and competitive research. By collecting and processing massive volumes of data, it offers its users the best and available products. If we look at the figures, SEMrush has dealt with around 19 billion keywords, 142 databases, 685 million desktop domains, 32.7 million mobile domains, and 80 million keywords.
---
SEMrush Coupon Codes 2023 – 30 Days Free Unrestricated Trial
SEMrush is offering days trial on pro plan 14 days on Guru. We have an exclusive SEMrush trial offer where you can get extended trial up to 30 days with full access feature. Click on the below coupons to use any of them.
FREE
Get SEMrush Extended 14-days Trial Deal
Try Semrush Guru for 14 days with complete features and no restrictions. Create projects...
Show More
Try Semrush Guru for 14 days with complete features and no restrictions. Create projects and get detailed insights on tips to increase traffic and automation recommendations. Try the most advanced SEO and Digital Marketing Toolkit now.
Show Less
---
👉Steps to Avail the SEMrush Discount Coupon
BloggingEclipse exclusive SEMrush coupons offer a 30-day free trial on the all-in-one marketing platform. Just go through the instructions below and get the advantage of the SEMrush coupon.
Go to the SEMrush special landing page to active special 14 days deal.
Click on the "Try for Free" or Subscribe button. Try for Free button will give you access to the features of your selected plan for 30 days. Subscribe button will straight away ask for the payment to be made.
Now, after selecting either of the options, you will be directed to the next page for sign up and account creation or SEMrush.
After creating your account, you will be guided to the checkout page for filling in your card details.
Confirm the plan selected and enter your credit card details, and then scroll down for filling in other information like name, email, address, business name.
In the end, just go through the details to confirm that every information entered is correct and then press Place the Order button.
After placing your order, you will receive a confirmation mail, and then you can start using the services of SEMrush.
The SEMrush coupon steps given above will get you the desired deal. So, don't waste your time and get a powerful platform to enhance and strategize your online business. The SEMrush coupon will offer a 30-day free trial on all the plans irrespective of their price.
Now let's jump to the SEMrush Review to get a brief idea about what this product does.
---
Why Choose SEMrush?
SEMrush has everything required for running successful PPC campaigns. It is indeed the most beneficial tool used to leverage advantage from your competitors, and develop perfect content and advertising strategies. Four main features that make SEMrush an ideal tool for every digital marketer are listed here..
---
SEMrush eye-opening features
Analytical Reporting
Acquire detailed info about your competitors' plan of action in screening advertising, link building, paid, and organic research. Organic research allows every user to look for competitor's best keywords, find new natural competitors, fetch position changes reports, competitor's pages and subdomain reports, and much more.
Advertising research allows users to evaluate rival's budget and ad keywords, observe landing pages, ad copy, finding new competitors in Google ads, and localizing your ad campaigns geographically. The advertising tool gives you a synopsis of your competitor's GDN strategies and explores display ads. You can also spot new publishers, see ads from all devices, and target the right audience with the right set of techniques.
The user can also conduct an in-depth link analysis, comprehending referring domain authority, checking backlink types, and finding you links geolocation. Keyword research helps in getting the right keywords for SEO and PPC, accumulate phrase matches, related keywords, long-tail keywords, and explore multinational and multilingual environments.
The product listing ad defines your rivals and their product feed along with their top-performing ads. Furthermore, traffic analytics helps in finding a firm's site traffic and online performance, new market opportunities for investment, and niches. You get to understand your rival's behavior, media consumptions, and qualify leads, potential partners, and prospects.
Market explorer feature helps in analyzing the new market and niches; setup industry benchmarks by acquiring in-market audience acumens.
---
PowerPacked Tools
The tools help users in going through, fusing, and envisaging SEMrush data to evaluate competitive domains and assess keyword complexity in a few clicks.
The users dealing with keyword complexity will be able to find keywords with less competition and evaluate the level of difficulty immediately. Domains can be compared sidewise so that you can look out for familiar domains and distinctive keywords along with data visualizing. Charts help in analyzing the domain's key visibility stats and perform the competitive assessment in a flick.
You get timely reports of all your accumulated data in one accessible format so that you can design, share, and schedule them as per your feasibility. The Keyword Magic tool deals with keyword finding, segmenting, saving, exporting, and creating the top list. The CPC feature allows in discovering, checking, and comparing CPS region-wise and finding ideas for A/B testing and experiments.
The SEO writing assistant enhances and adjusts your content for target keywords and readability. You get the plagiarism free content by maintaining your brand. Through topic research, one gets the idea about the trending topic and its most popular headlines.
---
Manage your Projects
With the project tool, one can start their global campaigns for their site along with the methodology to know the rivals, keyword rankings, and on-page health from a single interface. The tracking helps in trialing keywords, exploring local rivals, keyword tagging, and focus on different devices. Site audit assesses your site's wellbeing, prioritizing bugs for fixing, and ensuring safety with HTTPS checks.
Social media tracker allows in pulling out rivals' analysis to create a win-win plan of actions while social media poster helps in organizing social accounts. You can save time with automation features and evaluate your content's performance. Further, brand monitoring lets you assess brand repo by finding new opportunities, tracking backlinks, and learning from rival's strategies.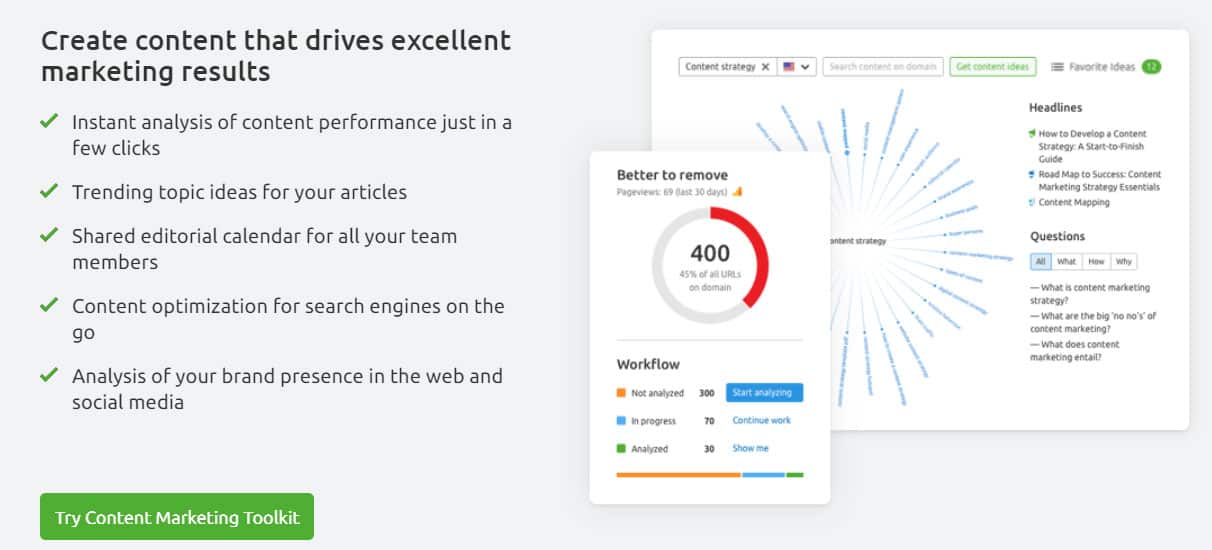 On-page SEO checker scrutinizes and compares Google ranking and top 10 performers, and get actionable suggestions based on data collected. The backlink audit tool is for securing a backlink profile by removing potential harmful backlinks and sending the toxic backlinks to the Google Disavow tool. One can combine analytics and search console data and check keyword ability via organic traffic insights.
You can evaluate your website's content, measure the externally published content, and comparing various content pieces with the help of a content analyzer. PPC keyword tool is for collecting, optimizing, and managing keyword lists via many channels while cross-checking negative keywords and refine keyword lists with suggestions.
If you want to build receptive HTML ads for your GDN campaigns, find creative ad ideas, and insert related extensions, use the Ad Builder tool.
---
Complete Marketing Solutions
To ensure that you excel in all your marketing approaches, SEMrush solutions help you in creating, organizing, and measuring your campaigns with all online mediums with easy and ready-to-use manuals. You can leverage market intellect and make better decisions by SEMrush's Market Explorer by finding competitor's traffic distribution, top players, marketing tactics, and get insight into your target audience.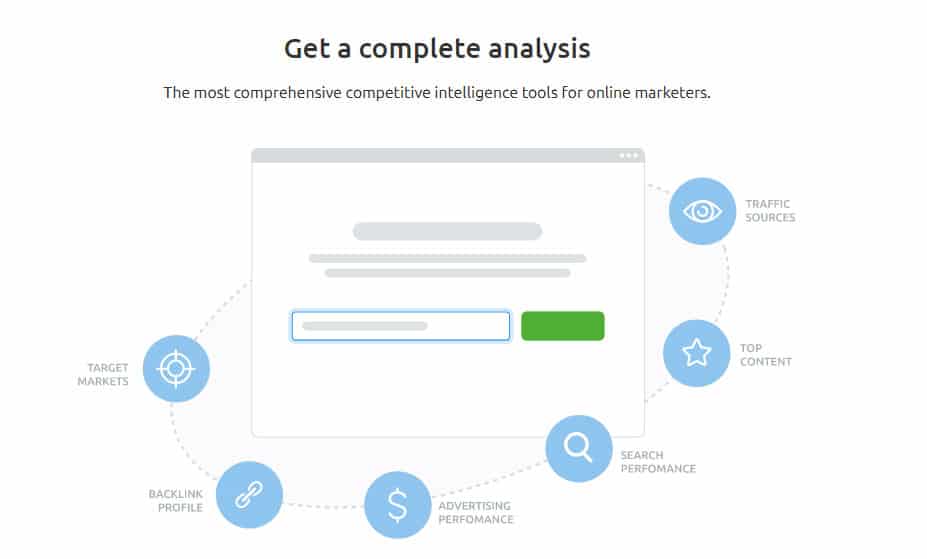 The solutions can help SEMrush users in monetizing audiences by optimally utilizing CPC Map, On-page SEP Checker, Display Advertising, and SEO Writing Assistant. You can fetch quick analysis, find your competitors, compare keyword portfolios, create Keyword Master Lista, and track performance by using the top tools for each step in the Keyword Research Process.
SEMrush Content Platform is the best solution for finding a topic, creating a content plan, arrange content, analyze mentions, optimize articles, getting a template, improve content as per guidelines. You do not need any social media tool as you get to do everything from this single platform.
You can analyze social performance, 24/7 social content on all social networks, and tweak your campaigns based on benchmarking data.
---
SEMrush Pricing
SEMrush plans and pricing are designed to suit everyone's budget and feasibility. There are three plans segmented as per different marketing levels. The Pro plan is priced at $99.95 p/m, Guru plan at $199.95 p/m, and Business at $399.95 p/m.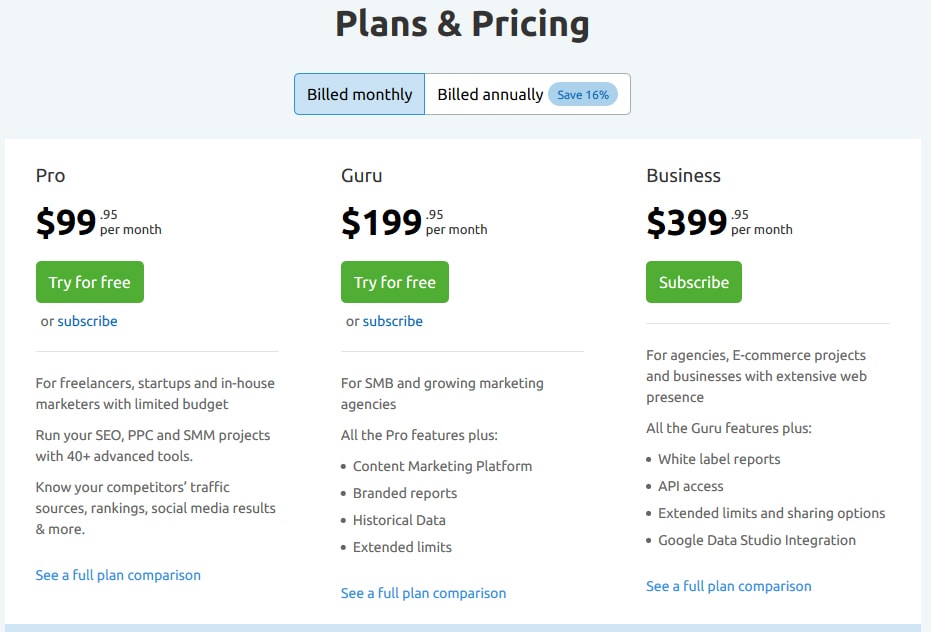 If you go for annual billing, it will definitely save your money. If the marketing needs of your business require more customized solutions, then the Enterprise plan will help you find the exact suite of features.
The Pro plan suits the business requirements of bloggers, start-ups, and internet marketers with a restricted budget. If you are one of the SMBs or growing marketing agencies, the GURU plan will suit your needs. And the Business plan is for the ecommerce projects, agencies, and businesses with high web impact.
---
SEMrush Help & Resources
As by now, you have all the relevant info about SEMrush features and tools. Furthermore, SEMrush also offers various resources to help and guide its users. It provides extensive knowledgebase to answer all prominent queries, SEMrush Academy offering free online courses and exams covering all aspects of digital marketing.
SEMrush API helps in driving valuable data on rivals' digital marketing activities without passing via the pre-defined user interface, doing it automatically. SEMrush community offers information through webinars, blogs, and events. It also has various partner programs to help the marketers to flourish in their respective fields.
In case of any urgent issue, you can ask questions from the customer support team for assistance, request a demo to see the real action or contact sales team for any inquiry related to SEMrush purchasing and licensing. You will find active SEMrush social accounts on Facebook, Twitter, LinkedIn, Instagram, YouTube, and Pinterest.
---
Pros & Cons Of SEMrush
Pros
Tactful advertising
Full Webiste project auditing including keywords, content and backlink ideas.
Backlink auditing
Extensive social media reach
Cons
Technically advanced for beginners

Lacking White Label reports
---
🌟 SEMrush FAQ
Can a user cancel or upgrade subscription anytime in the future?
First of all, SEMrush offers a 7-day money-back guarantee to all the users. If you are not happy with services, you can cancel anytime within these seven days. And also, you can upgrade, downgrade or cancel your subscription at any point in time.
What are the payment methods accepted by SEMrush?
SEMrush accepts all cards like Visa, MasterCard, Discover, American Express, and Union Pay. Wire transfer and check or money order are allowed under special request.
What about refund policy?
SEMrush offers a risk-free 7-day money-back guarantee on all plans. You just need to send an email at – [email protected] or write them through their contact form to get a refund within seven days of signing up renewal, or first payment.
What will happen to the projects in the case when someone cancels the subscriptions?
The projects will be active for 30 days after canceling your subscription. If you wish to renew your account within the grace period, the projects will remain at their place. In case you don't renew your account, your projects will vanish.
Will the user be charged for the subscription automatically after seven days of paid trial?
Of Course, if you forget to cancel your plan within the 7-day paid rial, you will be automatically charged for the monthly plan.
---
Conclusion: SEMrush Review Updated 2023 | Should you go for it?
SEMrush is a great marketing tool for SEO experts. It offers all the required data to make your campaign a successful one. The toolkit allows you to create, plan, organize and enhance your website from all aspects of content building, marketing, ranking, targeting, and SEO. It is indeed the world's leading competitive research platform for all digital marketing.
So, don't forget to use SEMrush Coupon to save your precious money on the subscriptions. I hope you liked the SEMrush review, and if so, then don't forget to share it with your friends. If you have a question in your mind, do reply us back via the comment section below.
Happy Marketing!😊
Your online marketing doesn't have to be complicated as long as you use Semrush. With Semrush, you can get the best results from your online marketing efforts. You can do SEO, content marketing, PPC, social media marketing, competitor research, and many more with just one tool. Experience the power of SEMrush with its large list of features, including real-time search and discovery.🥈
Affiliate Disclosure: This post may contain some affiliate links, which means we may receive a commission if you purchase something that we recommend at no additional cost for you (none whatsoever!)