Are you currently using any cloud VPS provider like DigitalOcean, Vultr, AWS,Upcloud, etc?
 If yes then you know how hard it is to manage a cloud hosting if you are less technically sounded?
Here we are talking about Cloudways which is #1 managed cloud platform and lets you hose your website or app on your favorite cloud provider with 100% support, managed infrastructure and lot more.
Numerous cloud hosting provider does not offer support for your apps or website and its become a headache for normal internet marketer or blogger as they can't customize their website,.Can't install SSL in one click. Hence we need a platform to manage all this stuff so we can manage all our websites on cloud servers with ease.
Managing applications have become easy with the cloud platform, and Cloudways is one such platform that allows you to manage high-performance applications in a sophisticated way. Cloud solutions are growing immensely and being used by many organizations due to fast speed and no space issues.
---
Cloudways Special Promo code (Highest saving offers)
Want to try cloudways for one month free? We have this exclusive coupon here where you can get free 30 days trial + $15 Credit to try their services. It means you can deploy a server to create websites/apps and run free for 30 days, and you can continue to pay later. Click on the below coupon button to activate the discount.
If you are looking to save money on the best-managed cloud hosting platform, check out these some exclusive cloudways promo code which enables $30 free credits and even a 20% discount for three months.
Click on the below coupon to activate the offer instantly
[affcoups id="10183″] [affcoups id="12370″]
Cloudways $15 Free credits
Cloudways is running special promo where you will get $15 free credits to your cloudways account .
Activate this offer and use promo code "
BLOGGINGECLIPSE
" at the time of registering on the first step.
---
Cloudways Review: Should you go for the Managed Cloud?

Why settle for fewer resources for your website when you have a cloud hosting with no space issues and fast blazing speed. Cloudways enables newbie's and experienced bloggers, website designers to use applications easily. Moreover, there is no need to install PHP, varnish, Linux and other scripts. All this has been eliminated by Cloudways effectively and precisely.
---
What is Cloudways:
Cloudways was established in 2011 with more than 50 professionals working to date and supporting the customer's needs as and when required. With a dedicated team and unending effort, the company is growing with pace.
The names behind this company are Pere Hospital and Aaqib Gadit who have put in all the efforts to bring this company in the book list of every user. The company is located in Malta and has branches in Spain and the UAE. That means Cloudways has spread its business worldwide.
Cloudways offers a "Managed cloud hosting platform for everyone." It provides cloud hosting like no other companies with ultimate support, smooth scaling, 100% website migration, backups, Free SSL and lot more.
One can choose their favorite cloud provider (for example DigitalOcean or vultr) then pick your app from the one-click install apps like Wordpress, Joomla, Magento, etc. or even deploy cPanel or Plesk and your web app will be live in minutes… You can also access files, MySQL databases, SSL certificates, Domains, backups, etc. easily via cloudways robust built dashboard.
If you re looking to host your website to cloud VPS on budget cloud providers like Vultr, Linode, DigitalOcean, Then it is the best idea to use Cloudways as it offers complete management, control panel to manage your website, app and control your cloud server easily without any coding knowledge
Cloudways Managed Hosting: Features & plans
• Multiple cloud infrastructures:
There are many places where you can choose the cloud infrastructure such as Google, Digital Ocean, Vultr, and Kyup. Deploying the applications becomes quite easy with multiple cloud infrastructures.
• Multiple app support:
All PHP based applications are supported by Cloudways, so if you want to run web apps based on PHP, then this is the jackpot for you. A single click would give you access to these packages and also a plain PHP as per your requirements. You can instantly deploy WordPress, Magneto, Joomla and dozens of CMS apps for your website and start using them in less than a minute.
• Dedicated resources:
Cloudways offers dedicated RAM, CPU, IP and other features for the specific cloud server. You can get complete control and access to cloud servers for creating applications easily.
• 100% SSD based hardware:
Isn't it great to have SSD storage that provides a fast loading time of web pages? Well, Cloudways managed to host support only cloud providers with SSD storage to reduce the loading time further. All these features are classified as per the plans and the cost of it. Some of the popular plans are shown below:
• Ironclad security:
As cloudways is a managed cloud hosting platform, Their security experts are constantly on the watch OS patches, firmware upgrades regularly on the cloudways platform.
• 24/7 Human-based support
This is the best feature you will love on cloudways, If you go with any other cloud VPS provider like digitalocean or Vultr you will not get any professional human-based technical support and cloud provider usually only offers tutorials and guides, but here on Cloudways, their support team will assist you any time through live chat & ticketing system. Cloudways support system has been ranked #1 in the online cloud industry.
They support their clients a level extra by reaching via phone call and also ask for suggestions, problems, etc..
• Free complete migration:

No worry about which environment you are or which hosting you are using, cloudways have converted everything. They offer free professional migration from any app or website to your cloudways accounts for free. One your account is activated you can quickly request migration from their support team and they will take care of all technical things and will make sure your website or app is up and running on cloudways server.
Cloudways also offers free WordPress migration via Blogvault, its very easy and straightforward, Al you need to do is install cloudways migrate WordPress plugin and authentic migration by entering your credentials, and all process is automatic via a secured server.
• Free Wordpress caching plugin + Cloudways CDN installation
Cloudways have launched this super exclusive WordPress cache plugin called "Breeze" It makes your site 200x faster by reducing HTML requests, compressing codes, creating a static cache and a lot more tweaks which enable your WordPress site ultimate fast.
Moreover, one can also just choose Cloudways CDN and install it in ma click on your Wordpress app to get faster page loading and content delivery via Cloudways CDN (CDN pricing is paid as you go plan)
No need to worry if your website crashes or server stopped working. With cloudways 100% auto-healing servers, most of the complicated issues within the servers are resolved with auto-healing restarts.
• Free LetsEncrypt SSL with one-click installation
No need to worry about purchasing and installing SSL certificates on your serves to make your website encrypted. With one click Free auto SSL installation, You can install Free lets encrypt SSL certificates on your applications or websites and use it for the life as it is self-signed and automatically gets renewed.
Cloudways Managed Cloud Hosting specifications:
1-Click CMS Apps (WordPress, Magneto, Joomla, etc.)
Cloud Servers with SSD flash drives, Thunderstruck Optimization, etc..
1-Click Critical Server Operations
Built-in MySQL Manager with Web Console Access
Managed Security with 24/7 monitoring
Automated Backups & restore
Multi-Cloud Deployment + 15+ Monitoring Metrics
Server Parameters Changes
24x7x365 Chat Support & 24x7x365 Ticket Support
Easy deployment on Google cloud Engine using Cloudways:

Image source: https://www.cloudways.com/blog/infographic-google-compute-engine/
---
Why should you switch to Cloudways?
This is the time for cloud websites and almost all severe bloggers, internet marketers and online companies are using cloud VPS services to power their portals. Gone are those days when we use to fear about the budget for buying a VPS hosting as now you can get cloud VPS hosting as low as $10 per month with the managed interface and dedicated support with cloudways
If you are a blogger, internet marketer and want your website or WordPress blog to be hosted on cloud VPS servers without any hassle then cloudways is the only platform as you get full dedicated support, free migration, free self-signed SSL certificate, access to MySQL database, access to file manager via FTP, easy adding domain and migrating sites and much more with an ease.
---
Cloudways Startup Program Review:
Cloudways have recently launched its new startup program which offers private cloud hosting & digital marketing benefits to startup communities. Their new program allows Startups to register with this program and get success in the online industry.
Whether your startup is bootstrapped or funded, This innovative program by cloudways is a one-stop solution for mentorship, growth tools, and free Managed Hosting credit.
Cloudways Startup program benefits & features:
Up to $50,000 managed cloud hosting credit from Cloudways
Exclusive discount on premium gworth tools from cloudways partnes.
Extended technical support and consultation round the clock 365 days form cloudways customer support team
Get Mentorship & Growth Resources for steady startup growth.
FREE access to Premium Add-ons (Worth 500$)]
Access to community of experts and startups founders.
If you are launching, growing or expanding your business, the Cloudways startup program is for you. Join it to get huge discounts on managed cloud hosting and dozens of growth tools to succeed and succeed in your business.
Detailed info on the Cloudways startup program can be found on their official page.
---
Cloudways managed Cloud hosting video demo:
---
Best Cloud Hosting for WordPress with CloudWays
Cloudways live and breathe WordPress. With a maximum of sites running on the WordPress platform, Cloudways offers extensively managed platforms for WordPress with ultimate tools like CDN, Breeze cache plugin for WordPress, ultra-fast servers, Cloudways cache mechanism, One-click WordPress installation with cloudways optimization and much more.
If you are looking to host a WordPress site on cloud VPS to scale your website speed and attract more visitors, Cloudways is the only choice as it offers the highest performance at cost-effective pricing.
---
🌟Cloudways FAQ
What is Cloudways?
It is a complete managed cloud platform that enables you yo hose your website on your favorite cloud providers like AWS, Google cloud, and maintain it using cloudways technologies with ease.
Do you need to pay Cloud providers differently if you use Cloudways?
No. If you are using AWS and managing your webiste with cloudways, You don't have to pay differently to both. You just need to start your subscription with Cloudways using single billing. All is taken care of by Cloudways
Does Cloudways offer free trial?
Yes Cloudways offer 14 days full trial along with 24/7 human support via chat and call.
Is Cloudways reliable?
Cloudways is undoubtedly most reliable as it works directly with top cloud providers and also providers numerous tools for optimization and off-site backup along with powerful firewall and major security features on the box.
How do you pay to Cloudways?
It works on a pay as you go basis or monthly billing. YOu need to add your credit card or PayPal to set up recurring billing.
---
Conclusion: Cloudways Review + Promo code
If you are looking for a cloud-based platform to host your site, you don't need to think much as Cloudways offers remarkable features with excellent quality, ensuring that you get what you want and don't settle for anything less than expected.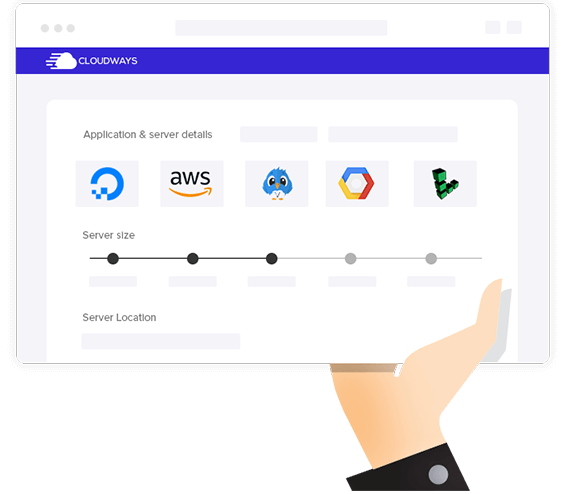 30-Day money-back guarantee is also there to ensure you that if you don't find the service satisfactory, then all your money will be reimbursed. Cloudways is a simple and most cost-effective way to use managed cloud hosting platform and host your websites worry-free.
After looking at the features that Cloudways offer, you don't need to roam around and search for other cloud hosting companies. This is the best that you can get in the market.
I hope this cloudways Review helped you better understand managed cloud platforms and how to start with them. Do let me know your thoughts in the comments section below.🙂
Highly Recommended
Cloudways is the ultimate managed cloud hosting platform that mainly focuses on your business. Cloudways hosting guarantee excellent performance and avoid all the web hosting hassles. With Cloudways, the user does not need to worry about the complexities of setting up your website, as it enables you to go live in a short time.
Pros
It offers a free trial along with free migration.
Free SSL certificate.
Excellent customer support.
Unlimited applications
Cloudways – Managed Cloud Hosting Platform
Get a seamless web hosting experience with Cloudways today.