Do you always think that creating profitable Ad campaigns can be really tough? No, not with the right monetization tool like MagicAdz. MagicAdz is a top Social Ads Intelligence tool endowing you to create successful Ad campaigns by tracking your competitor's most profitable social campaigns with detailed analysis of affiliate offers, safe page, and money page.
No doubt, the competition levels are spiking in the market, and marketers like you and me have to face tough, challenging environment when it comes to creating remunerative campaigns on various social channels like Facebook, Twitter, Instagram, etc. Either we are left with the choice of spending heavily on the advertisement or to use a powerful tool like MagicAdz that offers a complete solution for your social marketing needs.
---
MagicAdz Review – Affiliate focused Social Ads Spy tool
Social media platforms have taken the credit of being the most preferred platform for placing advertisements. The reason behind this mantle is that the ads placed are inexpensive and contain top-quality traffic. It is a fact that in the past few years, the ad expenditure on social media platforms is expected to rise by 30% and will jump to an average of 121 dollars.
Most advertisers make a significant mistake by first finding a suitable eCommerce product, find out about the competition, and then leverage the robust marketing spy tools. But my friend, the process must go the other way round. To save your time and energy, first, find an empowering spy tool like MagicAdz and then leave the rest of the process to it.
I am saying this because you have ample of tasks involved in any of the ad campaigns started n social media. Hence you need time to look at other prospects and functionalities to make make it work optimally. So why not use a tool like MagicAdz that can simplify the marketing process by just clicking twice on your screen.
MagicAdz Introduction
MagicAdz cuts through the noise and unveils the most bankable campaigns to you. It helps in finding the most fetching ads from your competitors or industry. You can optimize your campaigns by collecting actionable insights. With MagicAdz, you don't have to guess the prospects as the action starts from day one itself.
MagicAdz is a universal ad spy tool for your particular requirements and marketing goals. The customized solutions are best suited for marketers, eCommerce, affiliates, and affiliate networks.
---
How MagicAdz is different from other Facebook Ads Spy tool
You might have used numerous FB ads spy tool that shows all Ads via keywords or domain but you don; 't know which ad is actually running from an affiliate and which is going to an affiliate offer.
MagcAdz filters out affiliate ads and shows you ads by affiliate offers or using keywords. it not only displays the ads creative but also shows the suspected money page and safe page the advertisers are using and which redirect method is being used. It also shows which affiliate campgian is being run on the particular ad form which network.
---
MagicAdz coupon code (Updated 2023)
if you are looking to save extra money on this affiliate focused social intelligence tool, then here we are with an exclusive MagicAdz coupon that enables you a 15% recurring discount for life on all plans along with the free trial.
Click on the above "button" to reveal the exclusive MagicAdz promo code for an instant discount.
How to apply MagicAdz coupon code?
At first, click on the special button below to visit MagicAdz.co
Now on the magicAdz website click on "get MagicAdz now"
Select any plan as per your choice. You can either go with monthly or yearly billing. (Anual plans are cheaper)
You will be redirected to the signup page.
On the signup page fill your email, password, country. In the filed of coupon code enter "BloggingEclipse" to get 15% recurring discount
That's it! After your 1-day free trial, You will be charged 15% less for every billing. You may link your credit card or PayPal to confirm your account. If you are not satisfied with the service, you can cancel the plan within 1 day of your free trial period.
---
MagicAdz Features at a glance
The MagicAdz features will help you no matter what kind of product you are dealing with; the solution will be handy and resourceful for your campaign.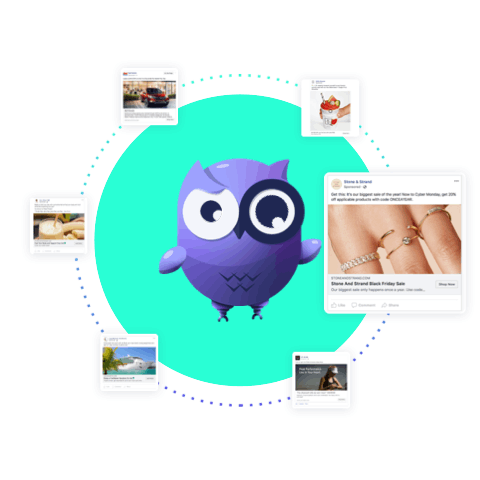 Let's discuss the individual role played by MagicAdz for marketers, affiliates, eCommerce, and affiliate networks.
For marketers
Find the right ads: Marketers get the opportunity to browse through millions of new or archived ads from 50 plus nations.
Narrow your search with the right keywords: customize the hunt with the right keywords used inside the ads, comments, landing pages, etc.
Separate by ad forms and audiences: Marketers can categorize the ads based on a targeted audience, engagement rate, and ad type.
Ad info & performance: One gets all the relevant info and the statistics from every advertisement. The performance levels can also be judged to make the right decision for the future.
---
For eCommerce
1-click e-commerce ads: Seep through 1-click eCommerce ads from giant platforms such as Shopify, Magento, and WooCommerce.
Analyze eCommerce trends and ads: Devise the best performing e-commerce ads and ongoing drifts in the industry with the help of MagicAdz.
Search high-paying products: One can find best-selling products for their e-commerce websites that yield more profits.
---
For Affiliates
1-click Affiliate Ads: Separate out affiliate ads with 1-click by their type or any of 22 plus verticals.
Explore Ads: Explore all the affiliate data behind each ad like redirect path, trackers, etc.
Download Affiliate pre-landers: Install successful pre-landers to utilize as a template with 1-click.
Find new affiliate offers: Search through the current affiliate offers and find the best ones to run. You will get insight on which offers to ignore and which one to accept.
Realize all affiliate offers: One can get all the information behind each offer, like their ads, traffic, network, etc. It will help you in deciding over the most profitable one.
---
For Affiliate Networks
Discover fresh advertisers & publishers: Lookup for the up-to-the-minute affiliate offers to run and all their info and stats.
Snoop on your affiliates: Go through the ads your rival affiliates are using, and find out exactly how they promote. You can utilize the same for better ROI.
Interpret your market share: Canvass how you base against your challengers and realize your market share.
---
MagicAdz Subscription plans
MagicAdz is more than being a social ads intellect tool — it's a dignified way to work. Enterprises that swap to MagicAdz run their campaigns more effectively than others. You can refer to the pricing policies and choose the best plan for you. The signup process will not take more than 30 seconds, and you also get a one-day free trial.
There are four plans for individual needs.
The Essential plan is best suited for beginners and is available at $89/monthly user.
The Pro plan is for businesses that require affiliates and ecommerce ads and priced at $179 /monthly user.
The premium plan is for those who want to explore full funnels, offers, eComs, and affiliate ads. And the Enterprise plan is the best match for agencies and large enterprises looking for tailor-made solutions.
All the month-wise subscriptions are paid by credit card, PayPal, Bitcoins, and yearly plans get one more benefit of paying through bank transfer. The flexible policies allow you to cancel your subscription anytime, but if you cancel in the middle of the month, the remaining amount will not be refunded.
And in case you want to upgrade or scale your existing plan, then you can do it without any second thought to it. The amount remaining in your previous plan will be subtracted from the new plan as a discount.
If you are still not satisfied with the plans and features are given and want more, just connect to the live support staff to discuss the scenario and get your plan customized as per requirement.
---
Why Affiliate Marketers should use MagicAdz?
What makes MagicAdz a fantastic tool? Look at the points given below to find out more about the efficacy of MagicAdz.
Independent modules for keeping marketers and affiliate on different positions
A vast database of 50 plus nations Facebook ads
Search and separate out affiliate ads so that you can find the most suitable ones by applying 45 plus differentiated signals- time, duration, likes, comments, first scanned, last scanned, etc.
Download competitor's real landing pages with zero proxies
Catch up with the actual affiliate info, including tracker URL, geo info, etc.
Marketers can see offer info, info page, and ads working on the same offers.
---
👉MagicAdz Tutorial – Find most profitable Ad campaigns and affiliate offers
So if you are new to social intelligence tool, let's start with this short guide to help you find top $$$ making ads running on FB along with its secret strategy.
When you log in to magicadz, you will see two options – Ads and Affiliate Offers. You may directly search ads running on FB with various filters or you can browse the best affiliate offers and then check all those profiting ads running a particular affiliate offer. Isn' it exciting? Let's get started…
Lets first check the Ads Section of MagicAdz
On the Ads dashboard, you can find all running FB ads and even search them using some great filers like Country, dates, minimum to maximum clicks, Ad Type, language, vertical and affiliate ads. On Affiliate ads, you can even view the safe page and money page using its intelligence tool.
When you click on the particular ad you can view more data like a landing page, creative – image or video, Ad info with landing page URL, Facebook post URL, Facebook Page link, offer link, geo, and age.
You can also see if the ad is on affiliate offer or normal and does it has a safe page or any redirect chain.
Now let's see the other section called "Affiliate offers"
When you click on the affiliate offers section you will see some stunning affiliate campaigns which are currently getting paid FB traffic. It shows you offers from various niches. While top vertical in FB ads are CBD, health – Weight loss, Nutra, crypto and online games.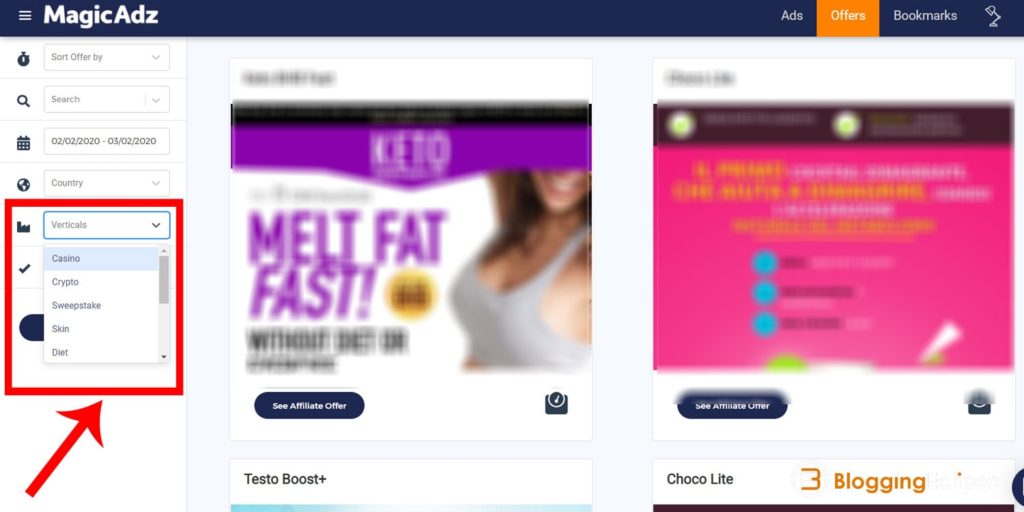 You can browse affiliate offers from different verticals, country, keywords, dates or by affiliate point of view (Safe page and money page)
Just click on any offer and you will see some amazing statics like detailed offer info, GEO for the offer, how much ads are running on it and how much total advertisers are there. It also shows you detailed traffic, offer page, etc..
Now you may click on "See more ads running this offer" to check all $$$ making Ads for the particular offer. (See image above)
That's It. In this way, you can find profitable ads running by your competitors or other affiliate marketers in your verticals.
If you are not able to cash out form your affiliate facebook ads, MagicAdz can be a real goldmine for BH affiliates and media buyers.
---
MagicAdz Pros and Cons
Pros
huge database daily updated.
hunt by geo, domain, and offer.
a hassle-free download of landing pages.
advance search and filter tool.
separate out affiliate ads only features.
explore millions of social media ads.
Cons
a little heavy on pockets of beginners
only 1-day free trial
---
Browse Best cloaked affiliate Ads and landing pages
Cloaking is most common in PPC and FB Ads nowadays. Smart marketers are using Cloakers, ref-hiders, and other stuff to show different pages to bots and companies and different pages to users.
MagicAdz ads intelligence helps you view both the safe page and money page so you can see how other marketers are performing and what tactics they are using. It's worth a try.
---
🌟 F.A.Q on MagicAdz
What Payments does MagicAdz Allow?

Unlike other Fb spy tools, which is only limited to paxum or crypto payments. MagicAdz allows credit cards, debit cards, and Paypal for its subscriptions.

What is Money page option in MagicAdz?

Marketers who use traffic protection tools to hide their actual landing pages form all bots and spy tools. MagicAdz is way smarter on it. It also enables you to view all these hidden landing pages or money pages and all their URLs with redirect chains clearly under its dashbaord. So in this way, you can see the ads which are not visible in other spy tools.

Is MagicAdz only limited for affiliate marketers?

NO. this tool is built for affiliates, media buyers, and Drop-shippers. This is the only tool that offers you to browse Fb Ads via affiliate offers and ads. With having ecom vertical and dozens of CBD, health,m Nutra ads showing up. It is equally built for affiliates and drop-shippers.

Can you opt for a custom subscription?

Yes. If any of the current plans are not suitable for you, You can create a custom plan by directly contacting its founder level team.
Also Read: Top 6 Best Facebook Ad Automation Tools
---
Over to you
Now, as you have seen the complete list of commendable features of the MagicAdz spy tool, it's worth for the novices as well as power-packed for professionals and affiliates and media buyers. Such intelligence tools empower the user at their level best. With MagicAdz, you will free yourself from other tedious functions (like finding the competition level and the right product for your campaign), which would otherwise consume a hell lot of time.
By using this tool, you are exposed to various advanced marketing options and a vast database to turn over as per your suitability. If you are satisfied with the MagicAdz review, then go ahead and buy its premium plan using the above mentioned discount coupons. If you need any other info, then comment below so that we can help.
Do you still think that running an Ad campaign on social media can be a combative job?