Are you an affiliate marketer or drop-shipper?
Looking to save money on social Ad intelligence tools? Here we have an exclusive Adspy Coupon that enables you 🔥$150 savings with the free extended trial.
Facebook Ads are the greatest source to generate quality traffic and increase sales or conversions. If you know a profitable running Facebook Ad, you can get tons of ideas and optimize your Facebook ads campaign to boost sales.
It's called Facebook Ads spy or Ads intelligence. AdSpy is one of the most cost-effective and largest FB ads spy tools packed with unique features. It lets you browse the most profitable Facebook ads on any niche, topic, keywords, country, or affiliate, and let you know its details, including performance, demographics, and offer link.
Here, we have featured our honest and trustworthy ✅AdSpy Review 2022 that includes all of the detailed insights of AdSpy.
Best Adspy Coupon Codes (100% Verified- July 2022)
If you are just looking for Adspy coupon to save money on Adspy subscription 2022. Just use any of these below-given promo codes to save $150 OFF on your subscription with Adspy.
$150 OFF
$150 AdSpy Coupon (Get $50 OFF on First 3 Months)
Without Facebook ads intelligence, it is almost impossible to build a profitable Facebook Ad campaign. You can check the ads, their titles, creatives, conventions scope, and a lot more. AdSpy can help you determine competition brands and view competitors' ads to uncover thriving new products and ideas.
Let's check out a detailed AdSpy Review and a special AdSpy coupon code that gives you a $75 discount for the first month and an extended AdSpy free trial with over 2000+ ad views.
---
Detailed AdSpy Review [The #1 Facebook Ads Intelligence tool]
There is plenty of Facebook ads spy tool available in the market. Some of the most popular are Adplexity, PowerAdSpy, Boost2Pro, BigSpy, etc. AdSpy is different from all the above. Being drastically cheap in pricing and having a better ad database.
AdSpy gives you competence data from social sites from a global database. If you are searching for an easy or efficient way to track and identify money-making FB Ads, then you should try AdSpy for free. Facebook ads always a goldmine for affiliates as the PPC industry is very competitive now, and some marketers say there is more competition on Google PPC than organic SEO.🤐
One can search by advertisers, domain, keyword, niche, vertical, geolocation, and a lot more. Despite being very cost-effective in pricing, It has the highest ad database over 90 million+ ads from Facebook itself.
Ads spy tools have fully changed online marketing. You don't have to worry about wasting your budget on testing numerous creatives and ads as you can always find the best running ads by your competitors.
---
🔥AdSpy Features at a Glance
Unlike other social media spy tools, AdSpy strives to provide with hottest and latest Ads. You can search for any campaign using its advanced search tool; let's read each of its features in detail.
🏅 Built for Affiliate Marketers
AdSpy is built by Affiliate marketers. Hence it is mostly focused on marketers. It shows Ads of internet marketers instead of big brands. Also, it lets you search by Affiliate ID and affiliate networks.
If you have any special offer by your affiliate network, You can search using offer ID and see how others are promoting it. It also bypasses cloaks to ensure you have correct information straight from landing pages.
📃 Complete Social Media keywords
Reveal the ads that you need to see in one place with one tool. AdSpy is the only ad tool that incorporates top social media data. Check out what hasn't worked and ads with the highest money-making potential.
✨ Not only Keywords
Unlike other ad spy tools where only KW search is the primary method. AdSpy lets you filter and work on advanced ad intelligence. Find ads by Affiliate offers, Affiliate networks, vertical, country, newest ads, or longest-running advertisements from FB.
💻 Huge Data
Data you can't ignore. AdSpy displays over 89.9+ million ads on its platform. You can find the hottest ads in the particular vertical or longest-running ad from an affiliate offer or advertiser.
Leave no stone unturned by viewing ads in 88 different languages across 203 nations. Controlling by facets ad filters, you can gather a massive amount of data that your campaigns need.
🎯 Accurately Demographics
Using a huge network of contributors and service providers, the tool accurately determines who an ad is trying to target based on gender, location, age, and interest. Check out our competitor's dominating ads in regions and markets that you are still unaware of.
While searching for any ads or campaigns, demographics are the best hint to start on particular campaigns. Adspy algorithm detects which age group users are mostly targetted and also which region. You can see complete technology used on the landing pages, site, and redirect chain that helps you analyze how the campaign or particular affiliate offer is being used on the ad.
🌎Affiliate Offers [Special Adspy feature]
If you are fed up with ads from brands and looking only for Affiliate network Fb ads then Adspy will save a lot of time. Its unique algorithm enables you to view social Ads by filtering affiliate networks and even affiliate id. Hence you can check which super affiliates are spending heavily on FB and replicate their ads or make a super ad campaign of it.
✅AdSpy data curation
AdSpy has a huge volume of data and outranks its closest competitors with having the highest pool of data. Adspy database is enough to make decisions on your niche FB ads. If there is any hot selling product that you need to know as a drop shipper, Adspy already knows about it way before. Try searching for any KW or just simply browsing as by categories or filters and you will know about its huge database of ads.
😊Searching Ads by Reactions
The best part of Facebook is, People can react to post ads by their expressions instead of writing long comments. AdSpy unique feature enables you to search millions of ads by reactions. You can combine reactions with other filters to get the most out of this super Ad Spy tool.
🚀 Advance Search Box
Search by advance filters like tag, age range, country, gender, daily links, total links, category, or ad creation date. This is the best feature that enables you to get data on very specific ads for your business.
$150 OFF Adspy Coupon
$50 OFf for first three months of AdSpy Subscription
---
AdSpy Pricing (Exclusive 🔥$150 OFF + $75OFF Adspy Discount coupon)
AdSpy is drastically cheaper than all saturated ad intelligence tools in the market. By using an additional AdSpy promo code, you can save $150 on two monthly subscriptions or $75 on a first-month subscription.
The default AdSpy pricing is $149 monthly. However, by using our special AdSpy discount, you can get the first-month subscription at $75 only. This makes 50% savings for all Plans. Additional get 1000 ad views free.
Update 🎉 July 2022: We have a new Adspy coupon that gives you a total $150 discount. Use our special coupon code BLOGE50 to get $50 OFF each month for the first three months + a Free trial of ad views.
The Adspy premium plan comes with virtually unlimited fair usage and no restrictions on ad views, data downloads, etc.
Before signing on AdSpy, don't forget to signup using our special deal link or apply our special code "BLOGGINGECLIPSE" to get an extended free trial and the highest saving of $75 OFF instantly.
There are many websites claiming for higher coupons like $175 off or more, they don't work and actually are fake, Adspy only offers discounts up to $150 off total on first three months, Or you may use the highest instant saving AdSpy coupon of $75 OFF for the first month.

Once you buy Adspy using or coupon and need any help in go-through through the tool, or tutorial, Simply contact us and we will try our best to help you find profitable products or niches using Adspy Tool.
---
Adspy for Affiliate Marketers (Goldmine🥇)
In the current situation of COVID 19, many affiliate marketers have seen a huge drop in recent and sales. Most dropshippers were affected, However, the situation is now getting better, and a lot of opportunities have arisen. Facebook ads volume has also increased very fast.
It's time to start your Facebook ads campaign with an in-depth strategy. It's always better to get an idea of always successful FB ads, so you don't waste the money.
Also If you combine the best running ads to create a unique powerful Ad for FB or instagram, You get a very high conversion rate and amazing ROI.
Try it today with exclusive AdSpy free credits to get started with a 1000+ ads view. You can use the advanced search to find the most relevant advertisement along with its creatives. If you are looking for more BH FB ads, try MagicAdz.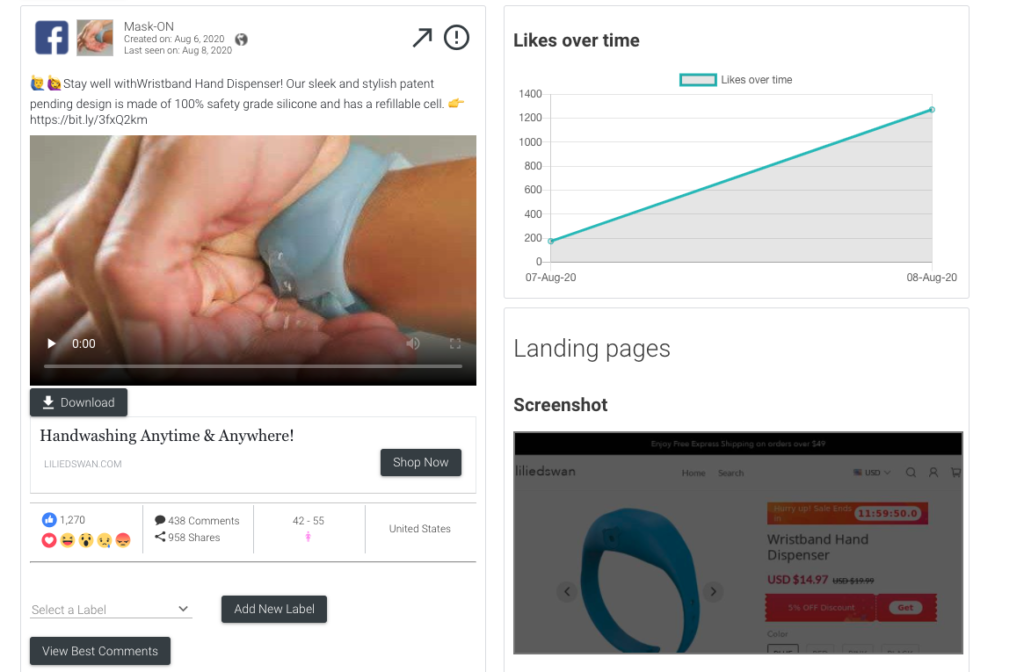 AdSpy is undoubtedly the best ad spy tool for Facebook and Instagram. With advance search campaigns, It displays your winning and profitable ads on your query.
As an affiliate marketer just check out the ads running by Affiliate networks and you will find thousands of affiliate offers that are promoted on Facebook and Instagram. You may clone any ad or create better to dominate others.
---
Adspy helps to give the best-running Facebook ads on almost all categories, keywords. It enables you to save time and manpower as you can instantly see the creatives of your competitors and also analyze which ads are converting. Before subscribing to a paid plan, you can opt for a free trial and use your 1000+ free Ad credits to browse your favorite ads.
Make use of the AdSpy free trial today!
Adplexity🆚 AdSpy
Adplexity is indeed the biggest name in Ads intelligence and media buying agency. Adpolexity has different tools for every purpose like Adplexity eCommerce, Adplexity Native, Adplexity push, etc. Adplexity does not have a specialized tool or variant for FB ads. Also, any of its tools start from $149 per month.
While Adspy is completely focused on FB and Instagram and has the highest ad database over 90 million + database. Adspy also enables you to browse ads running by affiliate networks – This is the biggest USP of the tool.
Compared both in terms of prices and productivity, Adspy is the clear winner on FB ads intelligence.
Adplexity is more into native, mobile, carriers, and adult ads, While Adspy, is a pure FB and Instagram Ad intelligence platform.
Adplexity does not offer any free trial, while you can try Adspy free trial.
---
AdSpy 🆚 PowerAdspy
PowerAdspy is one very popular tool when it comes to social media and PPC ads spy. It undoubtedly has one of the biggest ad databases and gives you much more features. While on the other hand, AdSpy just has FB and IG Ads.
We still prefer Adspy over PowerAdspy because it's very cost-effective.
Poweradspy is very expensive as its highest plan is $349 per month while Adspy plan is $149 per month and that too comes with an additional discount using Adspy promo codes.
Adspy gives virtually unlimited searches on its subscription. There are no complex pricing plans or different levels of subscriptions on Adspy.
If you are just looking for FB and IG profitable ads from the largest ad database, Indeed Adspy is a clear winner from all its alternatives.
---
How quick is Adspy support?
To be honest the tool is very simple and you don't need any support actually. It's completely bug-free. however, the Adspy support team is available via email and ticket system.
When it comes to other ad spy tools, reply time is usually within 24 hours, but on Adspy I am amazed to see instant and 15 mins ETA replies.
---
Why Should you subscribe to AdSpy?
If you are considering buying an Ad Spy tool for your business, then adspy is the right pick for you because of several merits. Especially if you are an affiliate marketer, then it's undoubtedly an excellent tool for you. It gives all the critical insights you will need to boost your business to the next level.
Bathroom Waterproof Phone Box
https://t.co/gpCt3uC2p7#dropshipping#ecommerce#tools#phoneaccessories#bathroom#bathroomaccessories pic.twitter.com/o5MaisF8UO

— AdSpy (@adspytool) December 20, 2020
However, each tool has its own cons, and Adspy has the same because while using the tool, we have experienced that the site of timeout searching for ads. Sometimes, the ad which we have found earlier was not available even after searching in the search bar, but that can be resolved by resetting the search page.
If you liked the features of the tool, and are looking forward to using it just for a while, then go with the free ad credits available for the new users, and catch up on creative ads by scrolling. Adjust the search term to see more relevant ads and use the coupon code BLOGGINGECLIPSE or AFFTWEAKS to get the best discount for Adspy in the market!
---
ADspy for Dropshipping! How it works?
Dropshipping is incomplete without paid ads on Facebook, Instagram, and other social media. While a maximum of the traffic and sales are delivered from social media campaigns, There are thousands of profitable ads running on a daily basis. Drop shippers get most of their sales from Facebook ad campaigns that convert like hell.
Adspy is one such FB ads spy tool that enables you to search eCommerce, Shopify platform runs Ads on Facebook using its search filter. For example, when you switch on Shopify or Woocommerce platform you will see thousands of ads with links to a Shopify store and they are most probably dropshipping stores. You get actual product data + explore more profitable niches.
Since the worldwide pandemic of Covid-19, the Dropshipping business has increased in 2021 eCommerce is going to rise to the next level. Find out highly profitable dropshipping products Ads that are already converting well on Facebook or Instagram using Adspy. Do not forget to use our Exclusive Adspy Coupon codes "BloggingEclipse" or "BLOGE50" to save up to $150 on your paid subscription.
$150 OFF
$150 AdSpy Coupon (Get $50 OFF on First 3 Months)
$75 FREE
Free Extended Trial on Adspy with $75 Discount [2022 Offer]
---
Adspy for Affiliate Marketers! How to find the most profitable opourtinuty
Are you into affiliate marketing and still looking for the best CPA offers that allow social media promotion or FB Ads? Or if you even know the right affiliate campaigns that are being promoted on FB, but you don't know which creative or ad will give you results? Adspy is here for affiliate marketers,
Adspty is my favorite Ad intelligence tool when it comes to finding affiliate offers by CPA networks. Thanks to its Affiliate network features.
When browsing AdSpy, select the affiliate network filter and select the Affiliate networks you work with Or any of the affiliate networks. It will show you ads that are 100% redirecting to that affiliate offer either directly or with a pre-lander.
This gives you more insights and a better way to understand which ads are performing well on FB, and you can instantly clone and run yours. This beautiful feature of Adspy that enables you to find affiliate ads can surely increase your affiliate marketing ROI and ROAS by 600% minimum. Try it out.
$150 OFF
$150 AdSpy Coupon (Get $50 OFF on First 3 Months)
---
How is the Adspy Support Team?
The tool has more than 1.2 million active users, and handling all of them is a massive task in itself. However, we are pretty impressed by the customer support team of Adspy as they never compromise on quality support.
Through our personal experience, whenever a user complains about anything about the features or glitches, a member of the ad spy tool reaches within 24 hours, by mail or through a call. Many users got their issues resolved with the team within minutes of complaining, which is quite impressive too!
---
🌟 AdSpy FAQ
✅What is AdSpy?
AdSpy is the powerful and largest Facebook and Instagram Ads spying tool across the globe. It enables you to search around 20 million ads from over 150 countries.
✅What type of data does AdSpy provide?
As compared to the other spying tool, AdSpy offers multiple search options. It gives data such as Demographics, Landing Pages, Redirection URLs, and your competitors' technology.
✅Does AdSpy provide a free trial?
Yes, AdSpy offers a FREE trial of 2000+ Views. You can go for AdSpy free trial if you are a new user. Create a free account on AdSpy to spy on your competitors.
✅Does AdSpy provide any discount coupon code?
Yes, AdSpy provides a special coupon code that you can use to get a 50% off deal. You can use our AdSpy coupon code "BLOGGIGNECLIPSE" to get a $75 Discount from the first month or a Coupon "BLOGE50" to get $50 OFF for the first three months. (Total $150 discount)
🛒How to Find Dropshipping Ads on Adspy?
Dropshipping mostly relies on FB and Instagram ads. there are tons of great products that are heavily sold using Facebook paid Ads. You can find thousands of winning dropshipping and Shopify ads on AdSpy.
✅Does Adspy help spy affiliate marketing Ads?
AdSpy enables you to view profitable FB ads running by Affiliate marketers. You can search y Affiliate networks, affiliate offers, and even affiliate ID. It has most of the top affiliate networks in its panel, just click on any of them to view which affiliate offer is being promoted via Facebook Ads.
Is Adspy Worth your money?
Adspy subscription is the most cost-effective compared wiwth other Ad spy platforms. It offers virtually unlimited ad views along with the highest filters. IN just one month of subscription you can make better ROAS and ROI with your ads.
---
Conclusion: Is Adspy worth It in 2022?
If you are a marketer doing Facebook ads, AdSpy undoubtedly is the best deal for you. It's like once in a lifetime opportunity. With the cheapest pricing and highest ad database of over 100+ million, AdSpy is a considerable choice. If you want to take your eCommerce business to the next level, you should definitely use AdSpy at least once and use our exclusive coupon that gives you AdSpy a free trial and discount.
Enjoy the exclusive Adspy coupon to get the highest discount up to $150 on your premium subscription.
Try its free trial plan with a 1000 ads view, and you may subscribe using a special Adspy coupon code to save money. Don't forget to use the coupon "BLOGGIGNECLIPSE" while signing up to get 75% OFF for the first month!
Happy Monetizing!!🤑🤑
🚀Best Ad Spy tool
Adspy is undoubtedly the best Facebook Ad spy tool that hours the largest database of active ads in multiple niches. Competitive intelligence helps drop shippers, affiliate marketers to find winning ads running on Facebook and Instagram. Adspy is most cost-effective and has virtually unlimited usage (FUP). Try Adspy free using 1000 free ad credits with this
special link
and use Afdspyt coupon:
BLOGE50
to get %$50 OFF for the first three months (Total $150 discount)
Biggest Ad Database
Cost-effective pricing
216 countries
17,419,000+ Advertisers
Uncover profitable products
No oberlo intergation
Ads only from FB and IG