Are you also inclined towards starting your online business with Amazon?
Then, probably this post will be helpful for you to know the Top 9 Amazon Product Research Tools and how to thrive in the online industry. Well, looking at the present technological advancement and tilt towards income generating sources, most people desire to become their own bosses.
But do you think that its easy to become your boss and start your own business without losing time and money? Definitely not, the money-making journey is not at all easy if you do not have the right guidance or tools to help you through. Before stepping in this deep ocean, you need to do a lot of research and spend several sleepless nights to know the right product or service to invest in.
Also, if you are thinking of starting your business with Amazon, then it is going to be a hard-hitting affair. The competition is high, the product range is vast, and the whole journey is very tricky.
Now you might come up with the argument that there are many ways to find high ranking products like reviews, user ratings, notifications, etc. But is that all? Do you think that you can succeed in the Amazon plethora just like that?
Well, my friend, you will need a strong backing to make your investment worth your time. To avoid the time-consuming and nettlesome part, you can make use of the Amazon product research tools. The tools will make your success journey easy, as well as hassle-free.
To conquer the competitive world, you just need to use one of the best Amazon product research tools and target your potential customer along with craved profits.
---
Why Use Amazon Product Research Tools?
The Amazon product research tools will not only help you analyze the current market trend to select the winning or kickass product but also give you an insight into the product you will be dealing with.
The right tool will help you in choosing the right product with low competition rate, high demand, decent profit margins, no legal issues involved with the shipping, etc. In all, you will get the whole idea about the product that you will be selling on Amazon to start your career as a businessperson.
I hope you might have understood the role of Amazon product research tools for your online business. So, let's get to know the leaders in this field and check the list of 11 top Amazon Product Research Tools 2023. 
---
Top 11 Amazon Product Research Tools (Updated 2023)
Helium 10 is a powerful software for amazon seller that contains dozens of tools. All the tools offered by Helium 10 helps Amazon seller to find high ranking keywords, spy on competitors, identify trends, and many more.
This tool allows you to uncover product ideas and dive deeper into the market to validate and research those ideas. Helium 10 provides more than 10 tools to Amazon sellers to make huge income without extra effort and time.
Inside the Helium 10 dashboard, you will find various tools like Black Box, Magnet, X-ray, Cerebro, Frankenstein, etc.
Features of Helium 10:
It offers a product research tool that helps you to discover the top and winning products that you can easily sell on Amazon at a high margin.
It provides a listing optimization tool that helps you to build and optimize your product listing.
Helium 10 easily allows anyone to do profitable keyword research to find the right customers.
One can also track their keywords, which includes their rank, Amazon badges, etc.
You will also get Helium 10 Chrome Extension that you can install in your browser and scrape data from Amazon.
---
AmzChart is an amazing and completely free tool that helps Amazon sellers to do product analysis and research on Amazon. If you use this tool, then you will get exactly what you are looking for.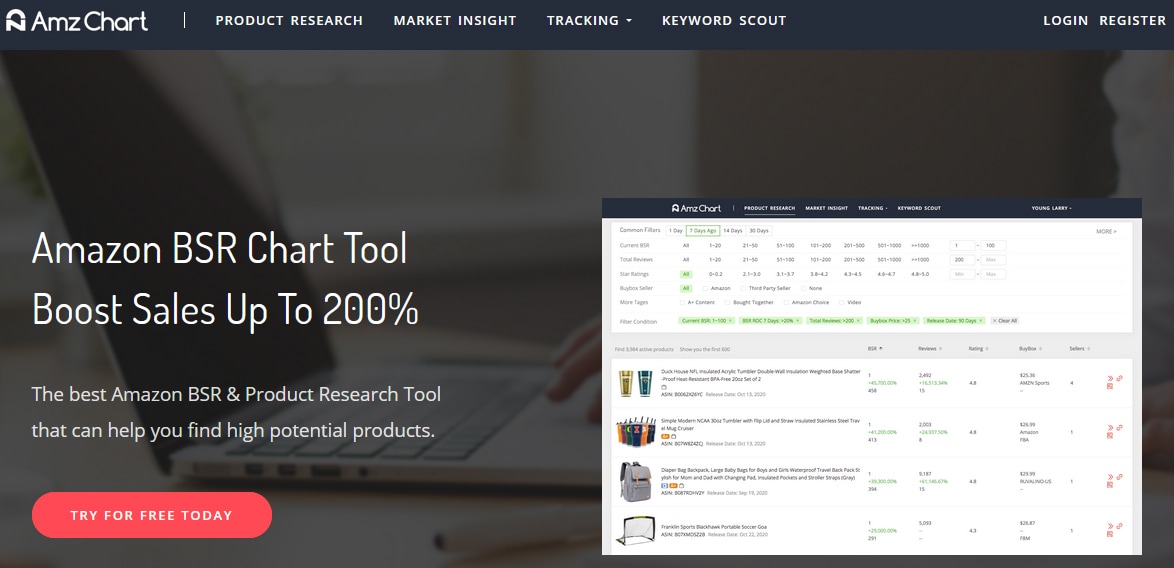 It is one of the best Amazon BSR & product research tool that enables Amazon sellers to find high potential products. One can easily spy on competitors to stay ahead of them. 2,000+ merchants used AmzChart to boost their sales by 200%.
If you are looking to grow your Amazon business, then you can try AmzChart for free. AmzChart is the most accurate Amazon BSR Chart tool that finds top-selling items on amazon.
Features of AmzChart:
It helps you to search for hot-selling items through Amazon BSR.
It also helps you to discover niche categories to propel your Amazon BSR.
AmzChart easily allows you to spy and track your competitors.
It has a keyword scout tool that optimizes your product listing.
You will receive professional guidance on how to rank your products on Amazon.
---
JungleScout is the number one tool for Amazon sellers and thus topper our list of best Amazon products research tools. Going through the reviews, JS is the most trusted product research tool among the users. Its mechanism helps you in finding, launching, and selling Amazon products.
The top publication houses like Forbes, HuffPost, Inc. have addressed this tool as the most helpful for data-driven product research and the one that does the heavy lifting on big data analytic.
Well, the words don't like and nor does the success rate for 25000 plus users who have benefited from the tool and written their success stories with golden pens. And all this comes under one plan of $39/mo along with a 14-day risk-free money-back policy.
Features of JungleScout:
Influential Product Database and Tracker for uncovering profitable products.
Integrated with Chrome extensions for exploring opportunities and bulk request reviews.
Ideal keyword scout for discovering keywords and optimizing listings.
Complete supplier database for finding the verified suppliers.
Launch products confidently with genuine reviews and rankings.
Comprehensive Sales Analytics for tracking profits and managing your Amazon finances.
---
AMZScout designs software for both the novices and knowledgeable Amazon Sellers. They assist Amazon businesses to find juicy product ideas, calculate the market volume within a conferred niche, create a pricing strategy, amend Amazon SEO & PPC, and analyze the rivals.
AMZScout is long-familiar in the Amazon seller community and is persistently ranked as one of the top five products in its niche. It has empowered many famous YouTubers and bloggers like Tanner.J.Fox.
The tool claims to find you a bankable product that will at least make you $3000/mo. The per month cost of the tool comes to $44.99/mo, and a lifetime plan costs you $199.
Features of AMZScout:
Explore bankable products to sell
Analyze the growing trends in the market
Substantiating your niche idea via understanding the competition, demand and profitability ratio
Spy on your rivals listings and strategies through product history graphs
Get accurate financial reports calculating your investment and profit
Anticipate future competition by planning your strategy to avoid market saturation
---
If you are tired of searching profitable products with time-sucking insaneness, then ASINspector might help you to get over it. To find and channelize fast-selling, high-ROI products to rapidly develop your business, you need to get ASINspector Pro right away. With ASIN, one can find fantastic products to sell on Amazon, eBay, Shopify, or other ecommerce platforms.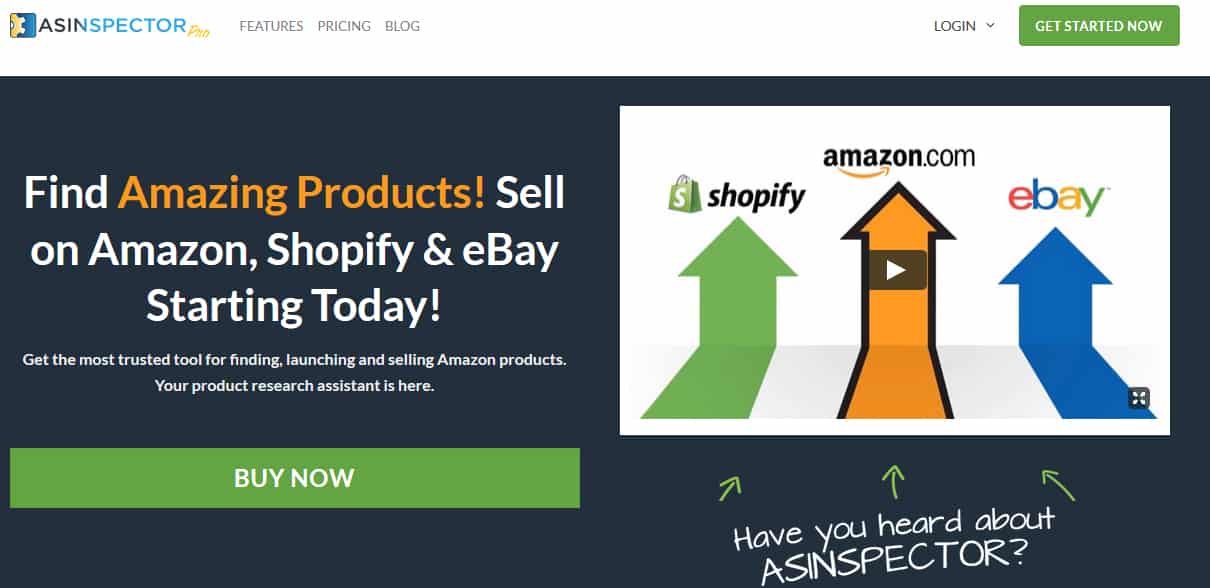 ASINspector has around 30,000 happy sellers who have saved around thousands of research hours. It is the ultimate spy software that fetches you instant sales trend data, sourced and profitable products, unique ideas, and get an unfair advantage over the competition.
Features of ASINspector:
Unveil fast-selling, high ROI products using these specific features:
Best-seller rankings
Mobile scan
Intelligent filters
Idea generator
Accurate revenue estimator
Research your niche
Easy product sourcing
Star rating stats
ASIN import
Reverse search
head-to-head product pricing
Store and save your favorite searches
---
Unicorn Smasher is again a wonderful tool for Amazon sellers to get thriving results. It will help you in getting the data-driven accurate results by avoiding the guesswork out of product selection. Save your time and get quick metrics you want to see in the browser and let you comprehensively manage all your research.
Unicorn Smasher also integrates with AMZTracker for an inside edge to gain the confidence of sellers. Just enter your prospective competitors' database in the On-Page Analyzer to see if they're optimized, then snoop on their direct daily sales in the Sales Tracker.
Features of Unicorn Smasher:
Organized dashboard
Sales estimates
Canonical URLs
Variation statistics
Favorite items saved
Discreet sharing tool without giving away your niche
AMZ Tracker integration
Fulfillment details by knowing who against FBA, FBM
Chrome extension integration and full customer support
Multiple seller counter and in-browser analysis
---
Keepa is yet another Amazon product research tool that is expeditious and simple to use. The tool is quite advanced, and experts can make the most of it. It provides the user with the brilliant pricing graphs, including drop analysis, comparing international prices, latest product info, deals, etc. with notification alerts and browser extensions.

You can access the free version from the app store without record. You get hands-on the most updated database for chrome extensions for better results. Keepa research tool is best for those who want to gain profits by introducing quality products in the market.
Features of Keepa:
Quick and straightforward product finder
Accomplished tracking options
Sellers gain access to the top product lists
Notification fro any price drops or increase
Full access to product details via rating, reviews, and keywords
---
Sonar is a free Amazon keyword research tool from Sellics. The keyword suggestion is driven by actual customer search inquiries of Amazon shoppers. Their internal formula discovers what customers are searching for on Amazon and collects the search queries in the Sonar database. Sonar offers a 14-day trial period, and the full plan will cost you $9.99/mo.
When compared to other tools, Sonar provides a free of charge set of features like reverse ASIN, search, keyword translator, PPC keyword display, and Sonar keyword index checker. Sonar only includes keywords for which ASIN is ranking on the very first page of the search engine. Sonar is available for the Amazon US and EU markets.
Features of Sonar:
14-day free trial
Maximizing ad visibility
Numerous searches worldwide
Explore long and short long-tail keywords
Generate PPC keywords and export to a list
---
Over 20k Amazon sellers and agencies have used AZDataStudio to discover juicy product ideas, monitor progress, and valuable keywords. It is the best tool for beginners to analyze product data immediately without wasting time. The Starter plan of AMZDataStudio is priced at $97/mo, while Standard and Business plans are fixed at $197/mo and $397/mo, respectively.

Other keyword research tools might not show you results for all the ranking keywords as the ranking, and targeted keywords of the product will be different.
With AMZDataStudio, you will not face this issue as it rules out the less ranking keywords automatically and ranks for aimed at keywords. You can similitude the rankings with current product trends, Amazon selection badges, and competitors.
Features of AMZDataStudio:
Precise tracking with all variants
Comparing of ranking with your competitors
Compare the trend of multiple keywords
Track your Amazon choice badges
Ranking modifications and Page alters
Save favorites, add notes and filter with ease
Reverse ASIN Pro and PPC
Backend search term extractor
---
SellerApp boosts your Amazon business by connecting you to all different points- marketing, operations, and sales in a single platform guaranteeing growth and success. SellerApp claims to have satisfied 97% of its users by offering 44% increased revenue and 2.3x sales revenue. It is indeed an all-encompassed solution for every Amazon seller.
The list of free tools offered by SellerApp are- FBA Calculator, Amazon Keyword Tool, Product Sourcing, Listing Quality Checker, Trademark Search, Product Description Editor, Duplicate Keyword Remover, Amazon ACoS Calculator, and Amazon Sales Estimator.
The subscription starts at $99/mo for tracking 50 products and $199/mo for 100 products.
Features of SellerApp:
Top-selling product ideas
High-quality keywords
Advanced listing optimizer
Automated PPC analyzer
Professional support and consultation
Sales and stock tracking
Free Chrome extension
Personalized onboarding
Best Amazon training sources
Multiple access
7-day free trial
---
CCC is a free Amazon product research tool that tracks millions of products and notifies you when the price falls. They help you in deciding when to buy a product through Amazon Price Drop Alerts, Amazon Price history Charts, and Browser AddOns. The supported countries include China, Australia, Canada, Italy, Japan, Spain, UK, France, Germany, and the US.
CamelCamelCamel was founded in 2008 by Dan. Amazon price tracking tools include Browser-addons, Wishlist Synchronization, and Bookmarklet. The tool is helpful for newcomers, entrepreneurs, and specialists as well who want to make the most out of Amazon selling business.
You don't have to create a separate account for tracking prices and products and can sign up directly from Facebook, Google, or Twitter account.
Features of CamelCamelCamel:
Free for using any tool
Price Drop and Availability Alerts
Price History Charts
Amazon Product Research
Google Chrome, Firefox, and Safari Extensions
Amazon Locales Support
Optional registration
Twitter notifications
Wishlist Import
Camel Price Watch Management Interface
---
🌟 Amazon Product Research Tools FAQ
✔Do all Amazon Product Research tools offer a free trial?
Yes, mostly do odder 7 to 14 days free trial period, but a few offer money-back policy.
✔Do all research tools work on all extensions?
Not all. Most of them are chrome extension compatible, while a few like CamelCamelCamel is compatible with Google Chrome, Firefox, and Safari extensions also.
✔Does it require to have an Amazon account to use AMZScout?
No, it is not necessary for an individual to have an Amazon account to use AMZScout.
---
Final Verdict
By using these top Amazon product research tools, you can easily spread your wings and explore the market with lots of potentials. The above listed best Amazon product spy tools will help you in analyzing the product market based on prices, reviews, ratings, keywords, PPC, sales, etc. Furthermore, the tools can help you to categorize as per your niches and develop the business globally.
If you think that we have missed any other product research tool that might be beneficial for Amazon sellers, then please do not hesitate to jot it down in the comments below. 😊