Looking for the best email campaign managing tool?
Well, In this post, we have featured ✅Moosend Review along with Moosend Discount Coupon updated for 2023.
One of the best email marketing services, Moosend, is going to get under the microscope today.
According to the email marketing and marketing automation platform's homepage, Moosend is "The All-in-One Marketing Platform Your Business Deserves".
It's one of the newest and, therefore, quite quickly developing platforms. Founded in 2011, Moosend is a tool that can be both affordable and pretty quick, with a very short learning curve and all the tools needed for businesses to nail their email marketing and marketing automation game.
But let's see exactly what this platform can provide, in terms of automation, tools, and all that jazz.
---
🚀First Up: Email Marketing
According to the website, "Sending great emails was never simpler." and let me tell you, they're right about that one.
This platform has one of the most intuitive user interfaces. When you attempt to create your first email campaign, you'll automatically see that you need zero code and, therefore, zero developers.
The drag-and-drop email editor makes things almost too easy, but if you're not one to create unique designs-maybe you're not up to it, or maybe you need to save some time there's the option of the free email marketing templates.
Moosend can provide at least one for each occasion, all tried and true to the email deliverability testing and optimized for mobile devices.
Mind you, apart from ready-made templates, and you can use any and all visuals you want, including video in email marketing. Which you already know is not a fad and can promise to boost your email campaigns' overall performance.
With Moosend, you've got endless visuals and integrations with your favourite services, such as GIPHY or even Instagram, for that boost on your Instagram marketing efforts.
Just use what you feel would work best for your campaign at any given time and add it to your email's design. Moosend can promise it will be tested to work on all devices.
Of course, optimized and responsive emails can't do much if you don't have the tools that will show you when and how those emails need to be sent.
So, another email marketing feature Moosend can provide, would be segmentation and personalization. Moosend can allow you to segment by demographics, which is the simplest choice, or kick it up a notch with segmentation based on past purchases and viewed products.
The same, of course, can happen with personalization, too. You can segment and personalize based on user preference, user behaviour, location, gender, you name it.
Creating automation workflows has never been easier, much like sending those cart abandonment and similar product recommendations.
But let's move on…
---
Marketing Automation Comes Second
Just as important as email marketing and optimized campaigns, Moosend's marketing automation tools are easy to learn, even easier to use, and will help you boost your marketing game in no time.
I'd like to say a thing or two about personalization again. So, let's assume that you want to send out a highly segmented, highly personalized email marketing campaign.
You can choose your triggers, and you can choose the time when the recipient will receive their email, you can even test the recipes Moosend has found to be most useful, or create your own.
Just check this video out, and you'll see exactly what I mean!
Of course, personalization is not the only thing that comes with the advanced marketing automation tools this platform can provide:
An automated onboarding series will begin by sending out triggered email campaigns upon user sign-up, including a welcome email.
An automated abandoned cart series will be next up if the user leaves something in their cart. If they purchase, next up will be a thank you email. If not, there's the abandoned cart email for you!
Automated lead scoring is here for you as well. Just set it and sit back as it "spits" out data on the prospects that qualify as sales opportunities and those that qualify as confirmed customers. You won't have to do a thing.
Your own marketing automation designed specifically to entice users that haven't interacted with your brand and emails.
The VIP offers made for those big spenders you'll love.
Create the emails and the circumstances for your prospects to become customers with careful conditioning, just by setting an automated workflow and allowing it to work its magic.
So, first set the triggers: What will make the automated workflow send out your email?
Then, set the conditional steps: How are you going to filter?
Lastly, set the action that will occur: Will you send an email to the filtered contacts? Help them unsubscribe?
All of that is easy, broken down into steps, and works like a charm. But I bet you think there's something missing, don't you?
Moosend's got you covered with powerful reporting and analytics tools that can give you all the data you need, from the number of clicks and scrolls and the devices your users love, to their actual location on the map.
This allows you to easily decode data and create reports with all of the real-time actions of the recipients of your email campaigns, thus helping you make all of the important decisions in a jiffy.
And lastly, when it comes to automation tools, Moosend can integrate with all your favorites. So don't worry if you're not sure about a feature, there's definitely an integration for that.
---
Landing Pages, Anyone?
One of the features that everyone loved, landing pages work like a charm and are the perfect tool for lead generation and to convert leads into sales.
Landing pages are for everyone, and every marketing action can support a landing page, from an email marketing campaign to an interactive campaign designed to get leads.
Moosend's the landing page editor is just as easy as the email editor. Drag-and-drop allows you to use any element you'd like, including one of the best conversion-wise: Countdown timers that create urgency.
Again, if designing is not exactly your thing, and the ready-made landing page templates can come to your rescue, saving you time and energy.
Optimized for all devices with ultra-fast loading times that can help you with anything from rankings to conversion and leads, Moosend's landing pages are a must-try-and a must-have, come to think of it.
Oh, and one last thing: Moosend's landing pages come with success boosters because the devil is in the details.
You don't have to worry about changing your brand's trademarked font or whether your landing page is GDPR compliant. This platform's got you covered right off the bat.
---
Fourth and Final: Subscription Forms
We all know them, and as marketers, we adore them. And they're the platform's newest feature that promises to boost conversion and grow your email list while you sit back and relax.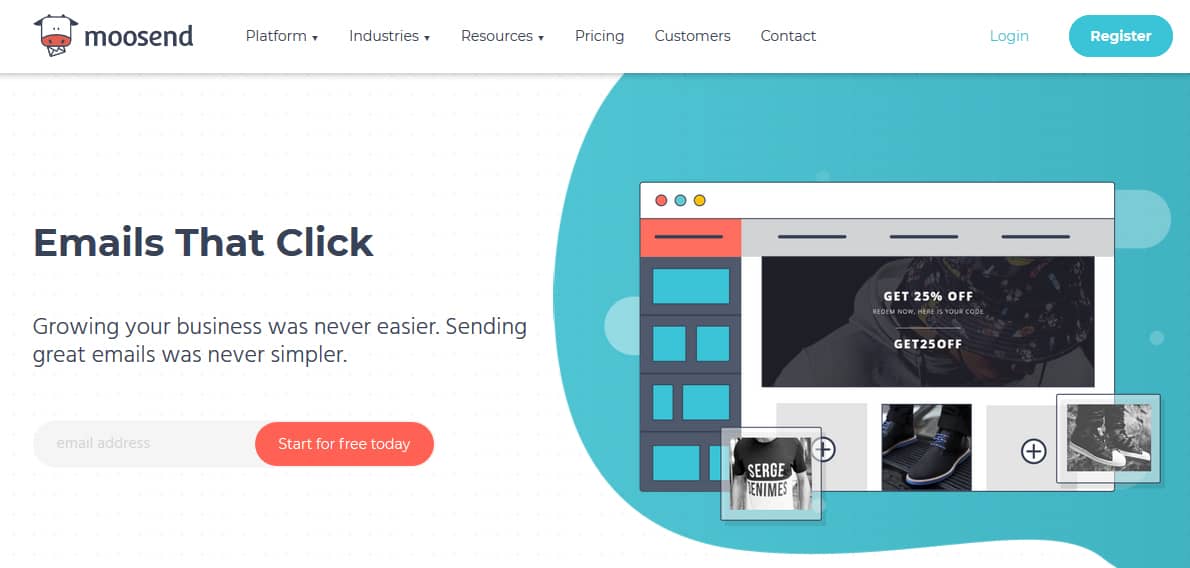 Let's talk design first: They're easy to make, they're responsive, and, of course, some templates can make your subscription form happen without you breaking a sweat if you don't want to.
Your subscription forms can look and feel different, too, seeing as the platform doesn't offer just one type of subscription form.
So, let's see what we've got:
A modal pop-up if you want to remain classic and use the most common subscription form.
An inline subscription form that will appear as your users are already committed to reading the corresponding page.
A floating bar at the top or bottom of the page. Discreet and pretty, they allow visitors to pay attention to them when they want to.
A floating box that stays in place while your user is scrolling and reminds them of the reason why they should follow through with the form's CTA.
A full-page subscription form that will appear and take up the space of your entire page-impossible to miss!
Of course, that wide variety of subscription form types comes with a wide variety of customization tools.
So, there is the drag-and-drop editor I talked about at the beginning, but what else is there, when it comes to subscription form creation?
What your visitors will see and when they'll see it is totally up to you and your needs. You can display your subscription forms on specific pages, specific devices, for users that have chosen specific cookies.
What is more, you can create different forms for different locations of the globe and even operating systems. And again, if you need to do something that the platform doesn't really support. There's surely an integration for that!
Moosend's subscription forms are designed to save you time and effort, as they allow you to transfer the collected data anywhere you need through your automated workflows and connect them with all the tools you're using.
But the most important part is the fact that, much like when it came to landing pages, one small mistake can make everything less effective.
This is why Moosend has come up with features like countdown timers that will engage and make the user's mind go "Oh, I need that!" email notifications for new signups, even labels for your forms and embed codes, making them almost too easy to manage.
---
🌟 Moosend FAQ
What is Moosend?
It is an email marketing service provider that provides world-class features to you. This software allows you to manage your email marketing campaign efficiently and effectively.
How do I create my Moosend account?
To create your Moosend account, you need to follow the below steps.
1 Click on the Sign-up button, which is present on every Moosend page. 
2 Provide all the credentials.
3 Click on the Create your free account button.
What payment methods can I use?
You need to add a new payment method, whether you go for a subscription or a Pay-as-you-Go. You can either use your Credit Card or your PayPal account.
How do I cancel my Subscription Plan?
If you wish to cancel their Subscription Plan, you need to contact their support via the Live Chat or email [email protected].
---
Conclusion: Moosend Review Updated 2023 | Should you try this marketing platform?
Moosend is a great choice for a small business, an entrepreneurial venture, a blogger, an affiliate marketer, or a solopreneur. If you're looking for an email marketing and marketing automation platform that will give you more for less, then it's for you.
The platform is packed with features and can take your marketing game to the next level, with hyper-personalization, behavioral email automation, segmentation like no other, and the trusted landing page and subscription form features.
So, whether you're a start-up or a fortune-500 company, give this platform a quick trial. I promise you won't regret it!😉
Moosend Review
Email marketing is still one of the most effective channels you can use to grow your business. Moosend is a powerful email marketing platform that creates smart email campaigns for you and helps you get results in a fraction of the time. With Moosend, your emails will be highly personalized and customized to your audience's needs.
Pros
Drag & drop automation editor.
Email automation templates.
100+ Integrations are available.
Supports A/B testing.
LiveChat Support
Moosend – # Email Marketing Solution for Profitable Businesses
Try Moosend now and test its email marketing features for free.