Does your website run on the WordPress CMS platform?
Then this post will help you with beneficial information on ✅Top 9 WordPress Translation Plugins review. In this ever-changing and technically advanced world, one has to adapt as per the requirements of customers.
We tell you this because the competition and the challenges in the market are extremely hard-bitten, and to do good in online business, you can't leave any stone untried.
---
WordPress Translation Plugins (Introduction)
Today, we have everything online- from important information to product and service selling. All websites are dealing with some of the other things to fulfill the demand of huge masses worldwide.
To facilitate this, they have to make everything available online and want customers to understand products and services in their language. Language is, for sure, an impediment when it comes to reaching a different layer of audience.
No website is limited to a particular region or language as people from all over the world have access to the stuff present online. For this, you need to have your website in almost all major languages for the target audiences globally.
If you are creating an e-commerce or elucidative WordPress website, WordPress gives you a wide variety of features and themes to create the best website.
Though English is a predominant language, your website must still deliver content to those who don't interpret it. WordPress solves this language interpretation problem by offering translation plugins. It assists in displaying content in multiple languages.
About Translation Plugins
The translation plugins add more weight to your blogging journey by adding more ease to every piece of content. This not only increases apprehension ability but also increase your user base. Your site visitors will be able to see the content as they want it.
There is no rocket science behind it, but simple AI technology that simplifies the process of translating posts, themes, and other thingamajigs.
Subsequently, there will be an extended market for your products and services, and the users will respond positively if you use these WordPress translation plugins. There are lots of translation plugins available for various CMS platforms in the market.
Here we are listing the Best 9 WordPress Translation Plugins easily accessible in the market for your polyglot websites.
---
✅Top 9 Best WordPress Translation Plugins (Updated 2022)
The following WordPress Translation Plugins easily integrate with your website and translate specific content to the required language without perturbation. Most of the plugins are free and SEO affable so that they can be used on any multi-language website of yours.
To better navigate your website, one must also understand the difference between using a subdomain or sub-directory multilingual website.
To give you a brief idea – Sub-folders or sub-directories are easy to build and set up but lose value when it comes to creating a multilingual website. To have a better navigational facility attached to your website, subdomains play an influential role.
It is because there is no need for a separated category, and it gives more area for other folios or more potpourri of content.
Well, you can know more about it in our upcoming related posts, but for now, we will discuss only the WordPress translation plugins or, in other words, the best URL structure for a monolingual website.
TranslatePress is SEO friendly and offers multi-functional features to any user of your website. One will have a superior way of interpreting the WordPress website and going multilingual, straightaway from the front-end using a cordial user interface.
The interface lets you easily translate the whole page in one go, comprising output from shortcodes, forms, and page builders. It also functions flawlessly with WooCommerce.
The plugin is free, but if you want premium versions of pro-add-ons, you need to pay for it. The free add-on includes Language by GET parameter.
In contrast, pro-add-ons include Extra Languages, SEO pack, Translator account, Navigation based on Language, Browse as User Role, Automatic User Language Detection, and DeepL Automatic Translation.
Features Of TranslatePress:
Full compatibility with plugins and themes
Live preview of your translated pages
Supports automatic and manual translation
Incorporates with Google Translate
Native Gutenberg support
Translates manifold HTML elements collectively
---
GLT is the first choice for multilingual websites. It has all the attributes required for being the best translation plugin. Google Language Translator plugin is now a component of the GTranslate unit.
GTranslate is a leading and the most reliable website translation services provider since 2008 and caters to more than 500.000 multilingual websites internationally.
Its premium add-ons include multilingual SEO, Search engine friendly URLs, Yoast SEO compatibility, language hosting, live chat support, and translates metadata, JSON objects, schema.org microdata, AMP pages, Proxy, and more.
Features Of Google Language Translator:
Independent Google automatic machine translation
Choose to conceal "Suggest better translation" pop-up
Choose to conceal Google top frame after interlingual rendition
Google Analytics segregation
Translates site, posts, pages, categories, tags, menus, widgets, themes, plugins, etc.
Floating language selector
Translate WooCommerce
---
The plugin lets you link up unlimited websites with each other. You can easily set a primary language for each site, make connections, and start penning. You get a new tract to create a connected post on all the connected websites automatically.
They are approachable via the post/page editor screen, and you can shift back and forth to interpret them.
Unlike others, there is no lock-in effect. When you incapacitate your plugin, all sites will still work as separate sites without any data-loss or scraps output. The Language Manager offers 174 linguistic processes, and you can alter them.
Features Of MultilingualPress:
Support for top-level domains per language
Automatic hreflang support
Support for customized posts
Automatically redirects to the user's preferred language version of a post.
Twin websites where one is used as a template for a new site and copy all: Posts, attachments, settings for plugins and themes, navigation menus, categories, tags, and custom taxonomies.
Synchronized scrap for moving the related post to the trash with a single click
User ad hoc language settings for the back-end
---
Weglot Translate translates your entire post into any language without the need for coding. It offers a single-handed dashboard to modify translations or deploy to experienced translators, to guarantee that your translations are of the eminent quality.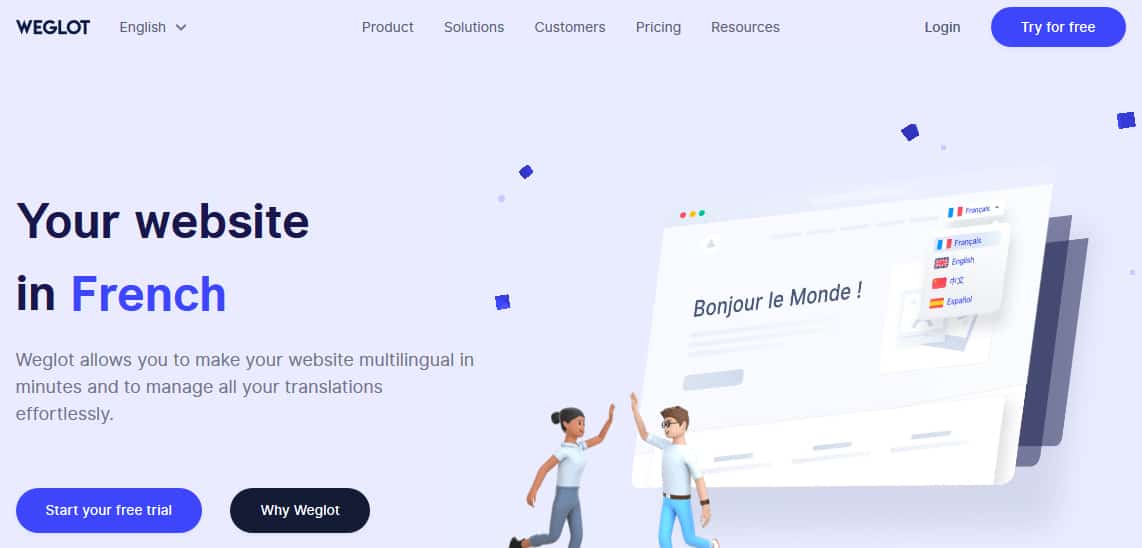 Weglot is free for small websites handling 2000 words in the single translation language. The premium plan is available for large websites, depending on your requirements. It also offers a 10-day trial program to all subscribed users along with robust customer support.
Features Of Weglot:
Can translate over 100 languages
Fully integrates with all themes and plugins
Trusted by e-commerce firms, SaaS companies, mobile app landing pages, corporates, blogs, etc.
Available for both human and automatic translation
Content is by default perceived and translated
Translations modified in real-time
Revamped SEO in fresh languages with devoted URLs
---
It offers useful cloud-based localization and interlingual rendition for WordPress by streamlining the procedure of creating and sustaining your multilingual website. Lingotek Translation Management System helps your business attain nouveau-riche markets and clients.

If your budget is low, then machine translation is a good option for your website if you require instant results and average quality. It promptly and automatically interprets your site by utilizing the mercantile API for Microsoft Translator (up to 100,000 characters).
Features Of Lingotek:
It is a cost-efficient, quick, high-quality plugin
RTL language scripts are supported
Translate posts, pages, media, categories, post tags, menus, widgets
Supports customized posts, tailored taxonomies, viscid posts, and its formats, RSS feeds and all default WordPress widgets
Customized language switcher is offered as a widget or in the nav menu
By default copies meta, tags, groups when adding a new post or page translation
Multilingual admin interface
---
Xili-language offers a multilingual website a machine-driven choice of language (.mo) in theme accordant to the language of the up-to-the-minute post(s) or page.
Theme's activity can be meagerly illustrated via settings, hooks, and API. It is good to go plugin for CMS developers and designers.
It is an educational platform in steadfast dynamic since 2009. the Xili-language trio uses WordPress Core functions and features like tailored categorization, API, meta box, pointer, help, libraries. The options are adaptable. The Xili-language plugin does not supersede the source or the editor.
Features Of Xili Language:
Ease of use and reliable source
Not compatible with all WordPress plugins
Compatible with WP JSON, REST, API
User can choose the language of his dashboard
Decipherable interface with various titles (and links) to help you write/edit/modify articles and their reiterations
Offers a machine-driven selection of language in theme as per the language of showing post, series of posts, page or articles
---
WPML runs a multilingual website with a single WordPress installation. Select languages for your website and start interpreting content. It comes with over 40 languages. You can also insert your language variable utilizing WPML's language editor.

It sets up different language contents in the very domain (in language directories), in sub-domains, or entirely divergent domains.
Its AI is brilliant and offers premium quality service when compared to others. More than one million websites run on WPML. They go out of their way to assist their users and offer timely, apt, and knowledgeable support.
Features Of WPML:
Available in both Multilingual Blog & Multilingual CMS versions
Powerful translation management
Creates and operative with multilingual e-commerce sites with WooCommerce
WPML frees you from the trouble of refining PO files and uploading MO files
Inexpensive Professional Translation
Works with most of the WordPress Themes
Reliable Support and Proactive Development
---
Polylang lets you generate a bilingualist up-to-the-mark WordPress website. There is a premium as well as a paid version of the plugin.
You first create posts, pages, categories, and tags like regular ones, and then specify the language for each of them. The interlingual rendition of a post, whether in the option language or not, is elective.
Features Of Polylang:
Supports RTL languages scripts and automatically downloads and updates WordPress language packs
Translates posts, pages, media, categories, post tags, menus, widgets
Supports default WordPress widgets, tailored posts, taxonomies, formats, sticky posts, and RSS feeds
The words are either set by the content or by code in URL, or you can use one different subdomain or domain per language
Automatically copies categories, post tags, and meta when inserting fresh post or page translations
---
Since 2008, GTranslate is a stellar website translation services provider. As per the statistics, it powers more than 500.000 polyglot websites internationally.
It utilizes Google Translate machine-driven translation service to interpret the WordPress site with Google quality. With 103 accessible languages, your website will be accessible to more than 99% of internet users.
Its premium variants are fully SEO friendly which will increase your global traffic and sales. This translate plugin is a budget-friendly multilingual WordPress solution that integrates automatic and human translations and is easy to employ.
The paid version has additional features like search engine friendly URLs, JSON and AMP translation, user dashboard with analytics, live chat support, language hosting, image localization, etc.
Features Of GTranslate:
Translates posts, pages, tags, categories, menus, plugins
Supports the right to left language
Floating language switch
Conceals "Suggest better translation" pop-up and Google top framework after transformation
Mouse over the result
Accessible modes dropdown, Flags, Flags with the drop-down, Flags with language names and codes, Language names and codes, Globe, Popup, etc.
Multilingual interface and language names in native alphabets
---
🌟 WordPress Translation Plugins FAQ
✅ What is a multilingual WordPress website?
A multilingual WordPress website is used to serves the same kind of content in various languages. This website allows user to select their preferred language using a dropdown link.
✅ How do I make my WordPress site multilingual?
It is very simple to make your WordPress site multilingual. Follow these steps: Go to Settings > General > Site Language, and select a new language (or you can even install a new one). 
✅ Are multilingual sites allowed in WordPress?
WordPress does not allow multilingual or bilingual blogs, but you can use plugins developed by the WordPress community. These plugins enable you to create a multilingual blog easily.
✅ Does Polylang work with Elementor?
Yes, Polylang easily works with Elementor. One can connect Polylang for Elementor work with both, Polylang Plans (Free + Premium).
---
Conclusion: Top 9 WordPress Translation Plugins Updated 2022
In this world, you will find people from various cultures speaking and apprehending different languages. To be in the flow of nature, every online blogger or business owner must present his thoughts, beliefs, products, and services to the interested people around.
The top WordPress Translation plugins will solve your communication problem and expand your scope to run a prosperous website.
We will recommend TranslatePress for newbies as it translates the content manually. It is user-friendly, SEO compatible, and an excellent plugin for bloggers who have no experience running multilingual websites.
For automatic translations, you can use GTranslate as it is quick and even free version has many useful features.
Therefore, the use of these top WordPress translation plugins will increase your website traffic. I hope this post helped you to understand the benefits of using the translation plugins.😊